Updates on Reopening SVA
Click below for info on our plans for 2021-2022, including the vaccine requirement for all students, faculty and staff.
'It Was Kind of the Last Real Bohemia': Art Legend Kenny Scharf on Early '80s NYC and SVA
June 15, 2016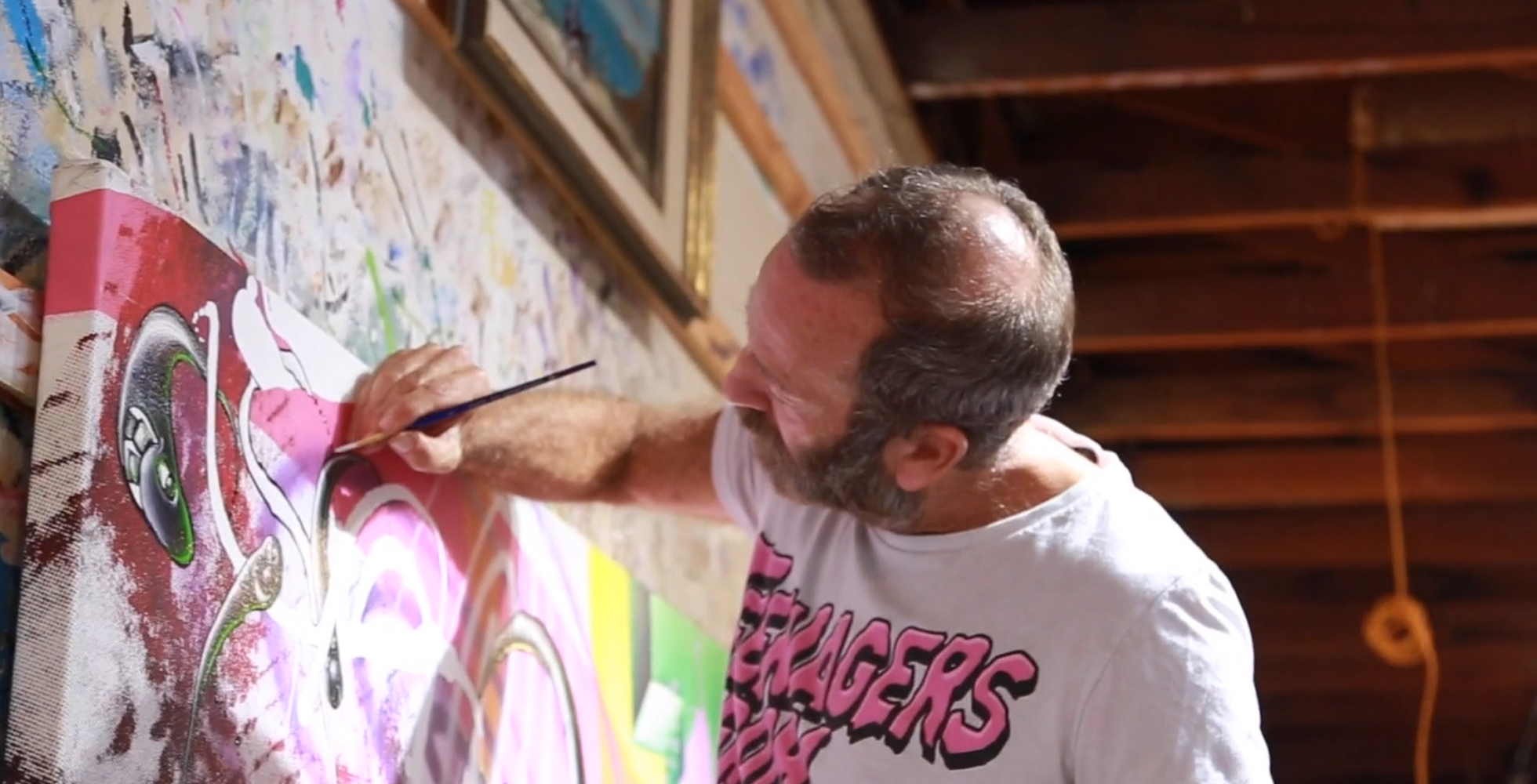 "I'm working while we speak," artist Kenny Scharf (BFA 1981 Fine Arts) says over the phone from his Los Angeles studio. "So there's no rush."
Scharf is painting the backs of televisions, to be exact, just the latest additions to his large, unorthodox body of work. Over a four-decade career, he has created everything from black-lit installations to pool floats to assemblages of plastic flotsam, in addition to his many paintings, sculptures and murals. "I like to do a lot of stuff," he says. Asked once how he'd like to be remembered, he answered: "as a non-classifiable artist."
In the early 1980s, Scharf, along with Jean-Michel Basquiat and fellow SVA classmate Keith Haring (1979 Fine Arts), emerged from New York's street-art subculture to become one of the decade's most celebrated art stars. He has worked steadily ever since. A self-described "pop surrealist," Scharf employs a range of techniques, media and allusions to create hallucinatory worlds filled with floating donuts, Hanna-Barbera characters and bright-colored, often-anthropomorphic blobs.
SVA Features | Kenny Scharf
Many of these worlds can currently be seen in "Kenny Scharf," a career-spanning exhibition on view at the Nassau County Museum of Art through July 10. The artist himself will make an appearance at the museum this coming Sunday, when he will be on hand to "customize"—that is, spray paint—a select number of attendees' cars, free of charge, for his "Karbombz!" series. (Interested auto owners can email karbombz@kennyscharf.com for more information.) Scharf, who has long personalized everyday objects as part of his practice, calls customizing cars "the ultimate. Not only is a car so big versus other appliances or things, it's everywhere, it moves around, and it's such a part, unfortunately, of most Americans' and most people's daily routines."
Scharf recently took some time to talk about art education and how New York City has changed.
There's some great archival material in your SVA Features clip, and not long ago MoMA acquired many of your old videos, which feature such notable late '70s, early '80s New York figures as Ann Magnuson, John Sex [a.k.a. John McLaughlin, who also studied at SVA] and Keith Haring. [Watch some of them here.] There's so much interest, still, in that era. Does that surprise you?
Not really. It was kind of the last real bohemia or avant-garde before everything got co-opted by MTV and then the Internet. We had time to work and develop while no one was watching. Now everything gets gobbled up so quickly.
When I moved to New York, I had a fascination and love for the Beat Generation and for Warhol and the Factory, and we emulated them. Back in the late '70s you could still create that fantasy because everything was cheap. You could live as an artist and have an audience of other artists and be part of other artists' creations. That's getting harder and harder to do.
There's a lot more pressure to succeed, and people now think of success as money, and a lot of kids need to work really hard to survive. Unless they have a lot of money, they don't have a lot of free time.
What's your impression of New York these days?
It's funny—now that I don't live there anymore, every time I come it's a different experience. A lot of my recent projects haven't been in Manhattan, so I've been going to New York and not even going to Manhattan. I see Manhattan, but I'm in Brooklyn, Queens, the Bronx.
I did a giant project out in the Bronx, a 300-foot mural, and I'd never really hung out there before. Everyone's moaning about how New York's become a big mall, but it's still New York in the Bronx, for sure. It was like re-experiencing the New York that I'd moved to back in the late '70s. The people are really "New York" in their outlook, in the way they talk and dress and live.
I've been in L.A. since 1999 and moved here full-time a couple of years ago. New York will forever be my city, but I don't really feel the urgency I used to feel when I was younger, that I had to be in New York. New York is a struggle. I'm getting older. I have grandkids now, who I love so much, and they live down the street. I like my garden, the easy life.
What I was doing was threatening to people, and it made me realize that art was still able to offend.
You say you came to New York looking for bohemia. Was there anything in particular you were looking for at SVA?
I really wanted to learn craft and technique. The "artist" part is something you can't teach—you can talk theory 'til your face is blue. I wanted to know how to paint. So I found people who could teach me skills, like photo-realist painting, or how to use fan brushes to make things look airbrush-y.
Even still, I think art schools are focusing more on theory, and craft is not looked up to.
In your video interview, you say that if an art teacher hates what you're doing, "it's probably a good sign."
[Laughs] Yes!
Was there resistance to your work when you were a student?
I had some great teachers throughout my education—at SVA, I remember Judy Pfaff, Elizabeth Murray and Barbara Schwartz. But as an art student, you're always going to meet teachers—and students!—who have a very fixed idea of what art is.
I was doing things like melting plastic dinosaurs onto TVs, and laughing while I was doing it, and people would get so mad. That doesn't seem like serious art. It seems like a joke.
"You can't do that! That's wrong." When someone says that to you and you're an artist, it immediately excites you because you know you're doing something right. What I was doing was threatening to people, and it made me realize that art was still able to offend.
Art doesn't have to be this suffering, brooding existence. "Oh, you're not allowed to laugh!" Who said that? Where is this rule? I thought the rule was you did anything you wanted, that you made up the rules.
This interview has been condensed and edited.
"Kenny Scharf" is on view at the Nassau County Museum of Art, in Roslyn Harbor, New York, through Sunday, July 10. Scharf will be customizing cars at the museum as part of his "Karbombz!" project this Sunday, June 19, from noon to 4:00pm.