Updates on Reopening SVA
Click below for info on our plans for 2021-2022, including the vaccine requirement for all students, faculty and staff.
MoMA Design Store Unveils Latest Products of MFA Products of Design
January 24, 2018
MoMA Wholesale, a manufacturer and distributor of design-centric products operating as part of The Museum of Modern Art, recently released its 2018 catalog, advertising all of the household items, travel gear, jewelry and gifts that the brand will sell this year—whether online, in MoMA Design Stores or through its more than 1,000 retail partners around the world. As with last year's edition, this year's catalog features a number of products by SVA MFA Products of Design alumni. All were developed while the designers were students in the program, as part of the graduate department's unique and ongoing collaboration with the renowned brand.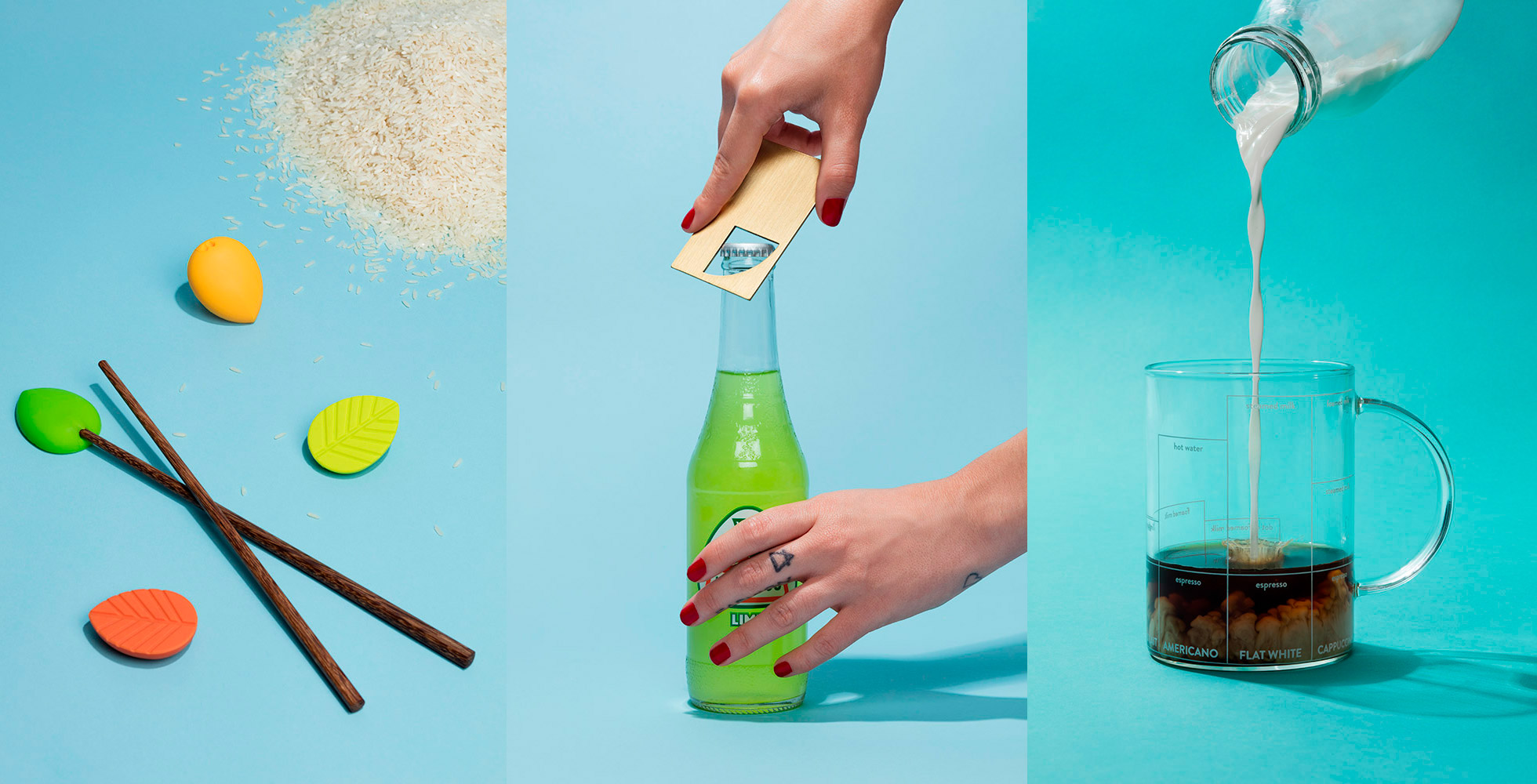 Credit: Photographs by Jacqueline Iannacone (BFA 2012 Photography), styling by Megan Wilde
"It's been one of our most positive and successful partnerships, with one of the highest volumes of products we've moved forward with," says Gabrielle Zola, MoMA's manager of business development, who, along with Chay Costello, MoMA's associate director of merchandising, meets with the students throughout the year to critique their ideas and, ultimately, decide which to pursue. In between these visits, MFA Products of Design faculty member and SVA GroundFloor Incubator Director Sinclair Smith—an industrial designer himself—provides feedback and technical support as students work out their pitches and prototype their creations. Royalties from any sales are paid to the product's designer, designers retain intellectual property rights to ideas that MoMA Wholesale declines, and product packaging and advertising includes the designer's name and calls out the brand's collaboration with MFA Products of Design.
"We cherish this relationship," says MFA Products of Design Chair Allan Chochinov, who initiated the partnership in 2013 at the suggestion of faculty member Paola Antonelli, who is MoMA's senior curator of architecture and design. "A product has to meet the highest standards of design and manufacturing quality to have the MoMA logo put on it, so this is an extraordinary honor and a tremendous opportunity for our students."
As the collaboration enters its fifth year, the partners are looking into expansion via SVA Destinations, the College's series of short-term, travel-based educational programs. Made in Yame: Traditional Craft and Contemporary Product Design in Japan—open to both design students and working professionals—offers three weeks in Yame, a city in Japan's Fukuoka prefecture, during which participants work with local artisans to develop potential MoMA Wholesale products. "The goal is to shine a light on a region with an extraordinary and diverse craft tradition," Smith says. "By creating contemporary designs using traditional techniques and selling them through MoMA, we hope to help keep those craft industries alive and provide a meaningful experience of cultural exchange for everyone involved."
In the meantime, keep an eye out for the following products, all of which were designed by members of MFA Products of Design's classes of 2016 and 2017, several of which are available for online order or pre-order now and all of which are due in stores by early spring. And watch this space for new product announcements in the coming months (and years) as MoMA and MFA Products of Design continue to work together to re-imagine the role of design in our everyday lives.

Set of six coasters, $28
Not only were these colorful coasters—ridged with interlocking geometric shapes and made with dishwasher-safe silicone—the first MFA Products of Design idea to make it across the development finish line, they were also featured prominently on the front and back covers of MoMA Wholesale's winter 2017 catalog. Having been told MoMA was interested in tabletop items, Khunprasert arrived at her concept obliquely, drawing abstract shapes and then imagining possible materials with which they could be made and functions for them to fulfill.
To see more of Khunprasert's work, visit panisaobjects.com.

Spinning paperweight, $48
De la Hera Gomez's spinner, introduced by MoMA Wholesale last fall, is made of bone china and engraved with overlapping spiral patterns, which create a hypnotic optical effect when set in motion. The idea, he says, was to create a desktop item that encourages meditative work breaks for users to clear their thoughts and refocus their attention.
To see more of de la Hera Gomez's work, visit oscardelahera.com.

8.25-ounce glass, $16
A one-size-fits-all mug, the Multi-ccino features marks indicating the proper measurements of ingredients for six espresso and coffee drinks—from the simple single shot to the more elaborate cappuccino (equal parts espresso, steamed milk and foamed milk).
To see more of Corn's work, visit joshcorn.com.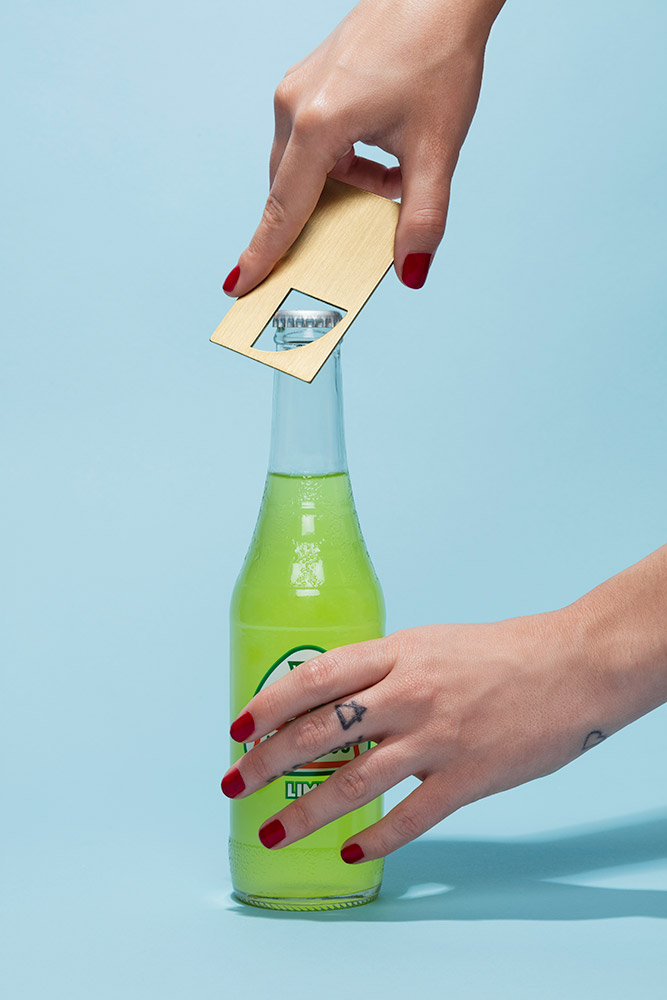 Credit: Photographs by Jacqueline Iannacone (BFA 2012 Photography), styling by Megan Wilde
Divine Proportion Bottle Opener
Bottle opener, $18
Pipson's opener offers convenience, functionality and durability: Made of sturdy brushed brass, its credit-card size and slimness allows for wallet storage. Its real appeal to aesthetes, however, may be its clever use of the so-called golden spiral, an age-old touchstone for classically proportioned compositions and designs.
"Instead of using the spiral as a tool to find or define perfect proportions," he says, "I wanted to find functional moments within the spiral's geometry." By cutting out the spiral's curve as contained within a square, Pipson found he had an ideal lever for prying off bottle caps.
To see more of Pipson's work, visit oscarpipson.com.

Oscar de la Hera Gomez
Chopsticks and chopstick holder, $32, early 2018 release
"Disposable chopsticks are terribly wasteful," de la Hera Gomez says, "but everlasting ones are hard to keep in pairs." His Ambi set, which pairs durable wenge chopsticks with a leaf-shaped silicone holder, seeks to solve that problem. As a bonus, the holder—which comes in two shades of green, yellow and red—doubles as a tabletop place setting for the sticks.

Potholder and coaster set, available in two colorways, $40, early 2018 release
Forney's tic-tac-toe–inspired trivets—the small stands that keep hot pans and pots from scorching tables—embody the whimsical and fun-loving aspects of the MoMA brand, reimagining what might normally be considered drab, utilitarian kitchen items as the building blocks of a beloved childhood game.
To see more of Forney's work, visit alexaforney.com.