Updates on Reopening SVA
Click below for info on our plans for 2021-2022, including the vaccine requirement for all students, faculty and staff.
SVA Alumnus David Heredia On the 'Freelance Hustle'
The author and illustrator will talk at the SVA Theatre on Thursday, January 30, to discuss the entrepreneurial life.
January 24, 2020
SVA alumnus David Heredia (BFA 2000 Animation) has been in the freelance game for so long he's now literally written the book on the subject. Self-released in December, The Freelance Hustle is part practical how-to, part motivational guide. It is a natural continuation of Heredia's own career, mindset and efforts to help other artists over the years, and, in an event hosted by SVA Alumni Affairs and Development and BFA Animation, the designer, animator and educator will be at the SVA Theatre on Thursday, January 30, to discuss his journey thus far.
"As artists, we are taught to put a portfolio together so that we can go work for someone else—nothing wrong with that. However, I feel students should be encouraged to be their own boss," Heredia says. While at SVA, with a part-time job, a full-time class schedule and struggling to make ends meet, he started offering custom cartoon designs to colleagues for $50. Heredia now manages his own multimedia studio and facilities freelancing workshops, covering everything from building a personal brand and social media to online fundraising campaigns and contracts.
He is also the founder of Heroes of Color, an educational company that works to promote inclusiveness and empower people of color by providing cultural and professional development through the arts. The company shares a name with Heredia's preschoolers' board book—Little Heroes of Color, published last year by Scholastic Press—and an ongoing series of animated shorts by the artist, which focus on the stories of heroics individuals whose contributions have largely gone unrecognized. From the Harlem Hellfighters, an all-black military unit that fought in World War I, to Gaspar Yanga, leader of a slave rebellion in Veracruz, Mexico, in the early 1600s, Heredia aims to showcase 50 trailblazers from a range of races and ethnicities. A recent award from Black Public Media will allow him to fund four more episodes, currently in production.
"Being self-employed is not for everyone," Heredia acknowledges. "But the skills you learn in the process are transferable to any industry. You develop skills of negotiation, you build confidence, you create a stronger work ethic, you are empowered and most importantly, you begin to realize your own worth."
Before his official event, we spoke to Heredia about his mission, past mistakes and what the audience can expect next Thursday.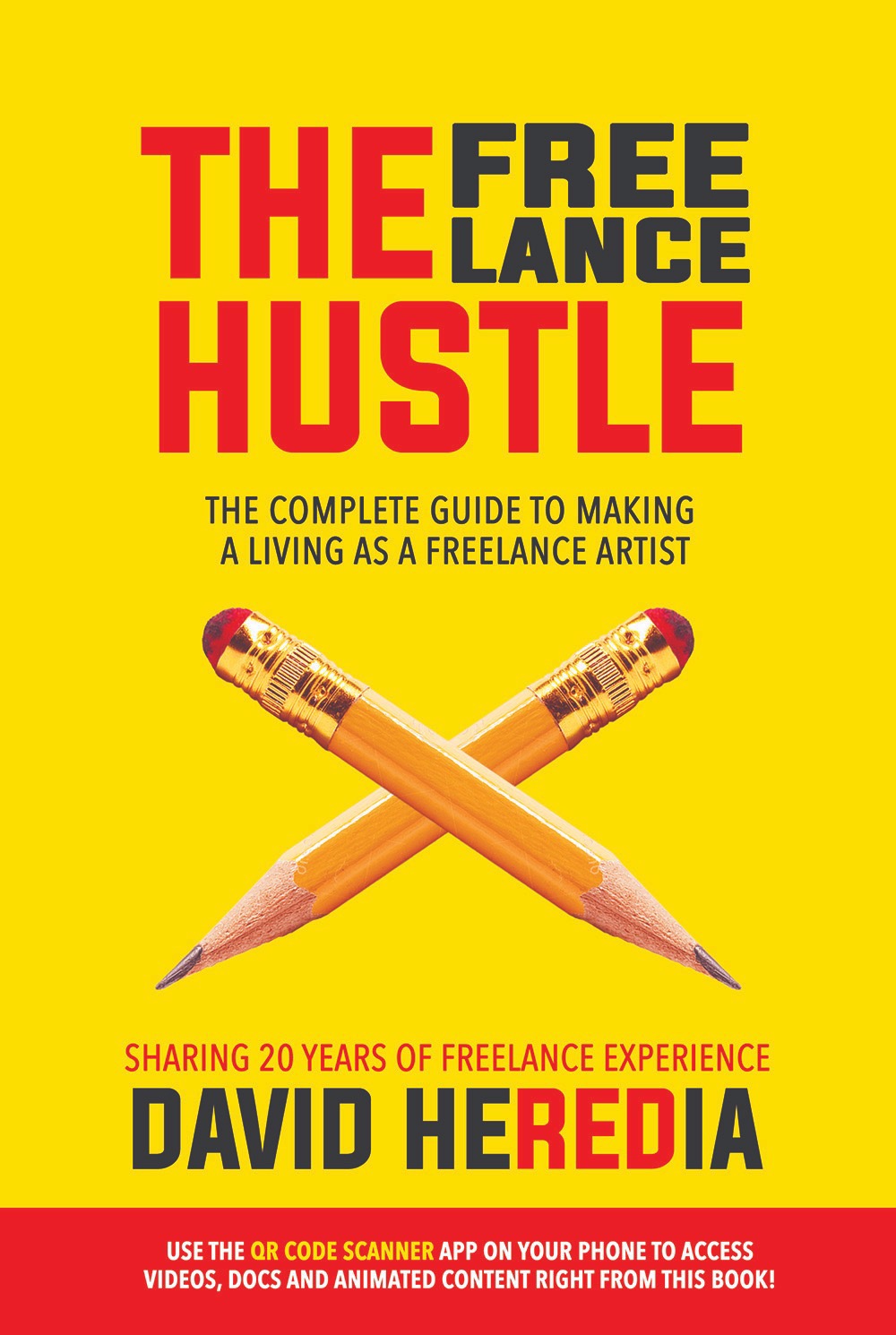 Credit: Heroes of Color LLC
Your Business of Freelance workshops and The Freelance Hustle are two sides of the same coin—what prompted you to take on this particular topic and in these formats?
I have always wanted to be an educator and one of my goals has always been to become a college professor. My obstacle is that colleges wouldn't hire me because I don't have a master's degree. So, I decided to create my own college program. And to assess the need of my program, I had to do some research. After taking many classes at several different colleges since graduating SVA, I noticed most curriculums designed for art majors had one thing in common: a missed opportunity to empower artists to be their own boss! What prompted me to create the Business of Freelance workshop was the desire to help aspiring artists become more knowledgeable in the business of art.
Another hurdle was the fact that in order to teach my program, I had to wait for college budget approvals, I had to wait and see if classroom space was available, etc. I realized that the quickest way to increase my reach and desired impact was to create a book. I took the best stories, lessons and tips from the past 20 years of my freelancing experience and organized a manuscript that became The Freelance Hustle.
So what's one thing you wish you had known as a freelance artist just getting started?
Many things! However, what sticks out the most to me was that I wished I would have learned how to negotiate, read and write contracts early on. I have been screwed out of many deals simply because I did not know what I agreed to. Also, I didn't know that as a creator, I could retain my intellectual property rights. I thought I automatically had to give them up once a client paid me. Little did I know that everything is negotiable. Even if you land a small project with an individual, it's still good practice to draft up an agreement that outlines the "who, what, when, where, why," of your work-for-hire project. This way, there are no surprises.
What are you most interested in talking about with the SVA community during your upcoming event?
Talking to them about realizing their worth and helping them to land some paid freelance gigs. The Q&A session is my favorite. I love to be a resource for aspiring entrepreneurs. I remember studying at SVA; professors would bring in industry professionals who were out there doing it. They would come in, take our questions and give us a little assurance that we had what it takes to make it in the industry. I hope to provide the same level of inspiration to students who want to get out there and make a living. There is a lot of money to be made out there—it just depends on how badly they want it.
An Evening With David Heredia, Freelance Entrepreneur will be held Thursday, January 30, 6:30 – 8:30 pm, at the SVA Theater, 333 West 23rd Street. The event is free and open to the public, but the first 50 SVA students who register and attend the event will receive a complimentary copy of The Freelance Hustle. Follow Heredia on Instagram @_heroesofcolor.