Updates on Reopening SVA
Click below for info on our plans for 2021-2022, including the vaccine requirement for all students, faculty and staff.
SVA Alumnus Koren Shadmi on 'The Twilight Man,' a Graphic Novel about Rod Serling
October 15, 2019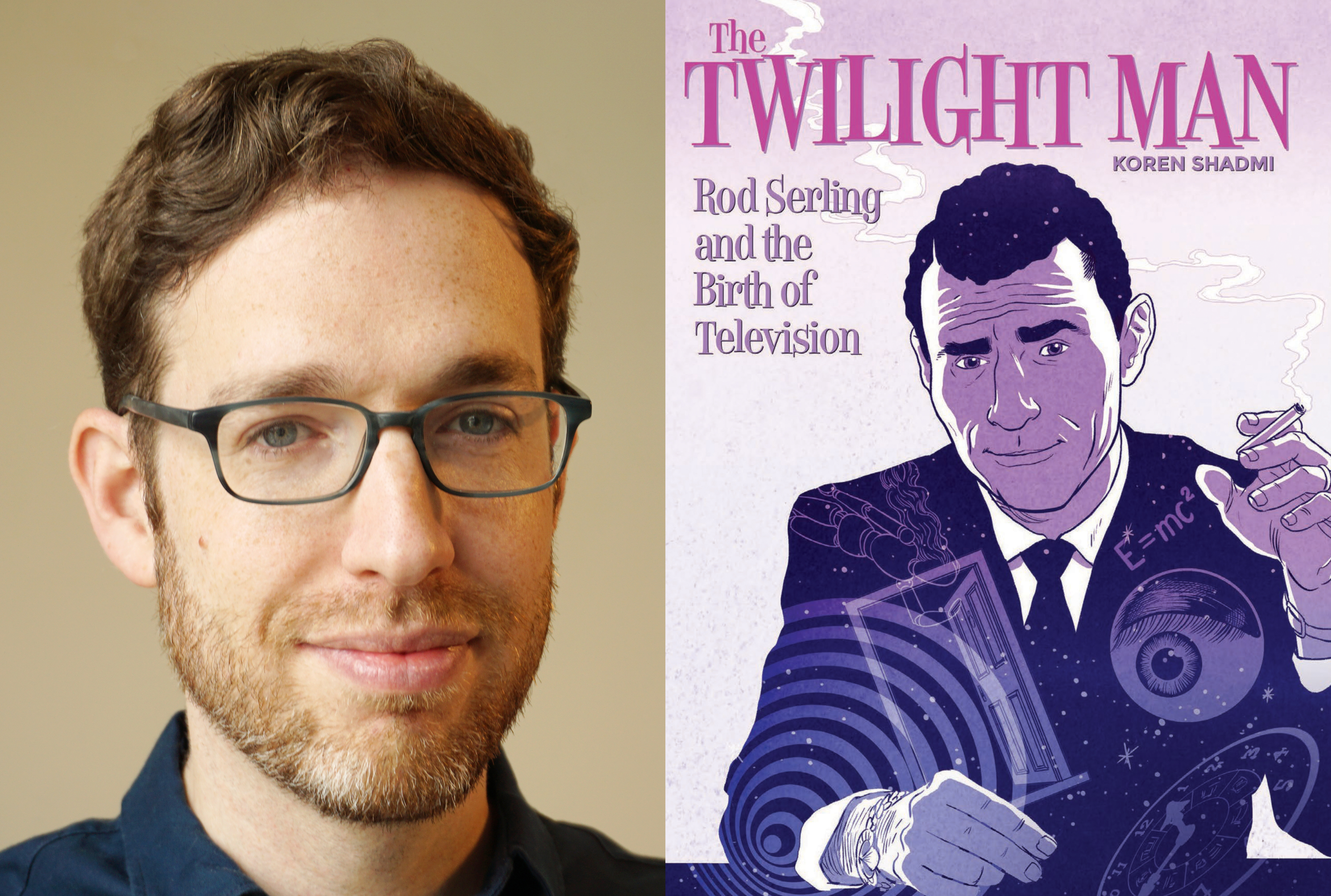 Credit: Mary Abramson/Superfan Promotions LLC
Earlier this month, fans of The Twilight Zone celebrated the 60th anniversary of the seminal television show, which aired its first episode on October 2, 1959. The series was created by Rod Serling, who was raised in central New York, served in World War II, and ultimately turned out to be "the most powerful creative force at the start of television," according to illustrator, cartoonist, storyteller and BFA Illustration faculty member Koren Shadmi (BFA 2006 Illustration), whose new graphic novel, The Twilight Man: Rod Serling and the Birth of Television, was just released.
Having grown up in Israel, where the show didn't air, Shadmi didn't see an episode of The Twilight Zone until he was in his early 30s, but it prompted a great desire to learn more. "When I was watching it, I got really curious about, who was this guy? Who's the presenter and the creator and the writer?" Shadmi said in a recent interview with Forbes. That curiosity culminated in this 168-page graphic novel detailing Serling's life, including his time as a paratrooper in the war, the challenges he faced when trying to break into television and his career after The Twilight Zone.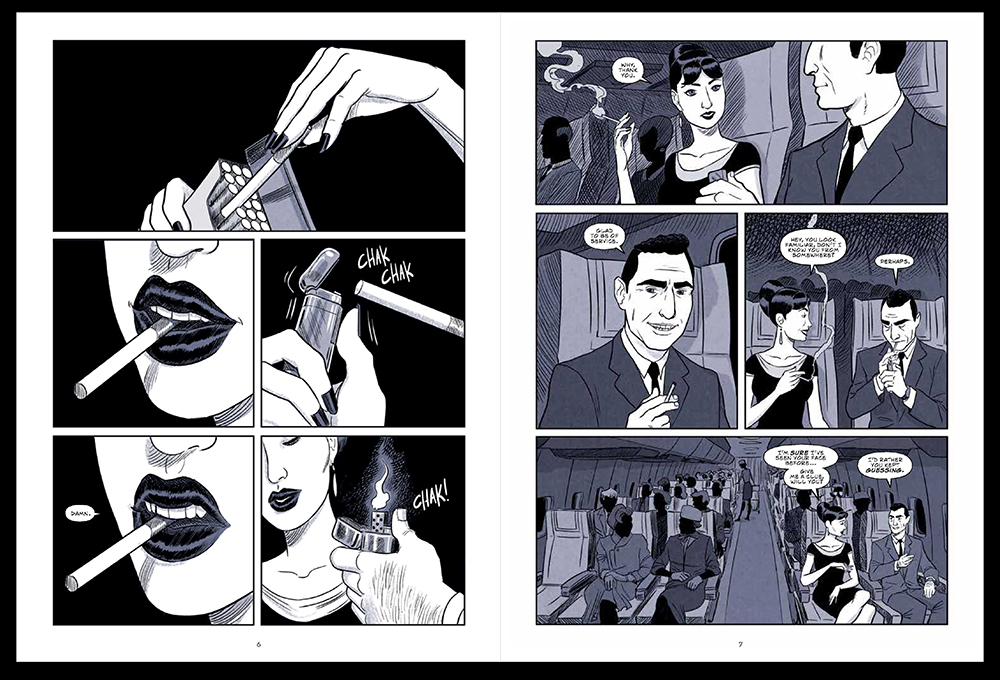 Credit: Superfan Promotions LLC.
Serling's intention was to find a way to criticize current affairs using the medium most popular at the time, Shadmi explained at a Twilight Zone screening event he hosted at SVA a few weeks ago with two other Serling experts, Nick Parisi and Arlen Schumer.
"He put really heavy topics in The Twilight Zone that weren't ever addressed on TV, and since it was disguised as sci-fi, networks saw it as just a hokey show about aliens," Shadmi explained. So they aired it. "It is the quintessential surrealist TV show—a way to respond to a traumatized world," he added. Shadmi illuminated this point by screening his favorite episode, "Eye of the Beholder," which addresses social issues that were at the forefront in the 1960s: the civil rights movement, racism, hatred and bigotry. In a world that is still tormented by similar evils, Serling's work remains relevant and eye-opening.
Shadmi has written and illustrated several graphic novels over the past 10 years, but this study of Serling is his first work of nonfiction. "[I enjoyed] the research and being almost like an archeologist for someone's life and finding out information and trying to decide what goes into the book, what doesn't go into the book," Shadmi said in Forbes. A few weeks ago, he joined his fellow experts and Twilight Zone enthusiasts for Serlingfest in Binghamton, New York, Serling's hometown, to debut The Twilight Man and learn even more about his lasting impact.
Read our Q&A with the man behind The Twilight Man below and buy the book here.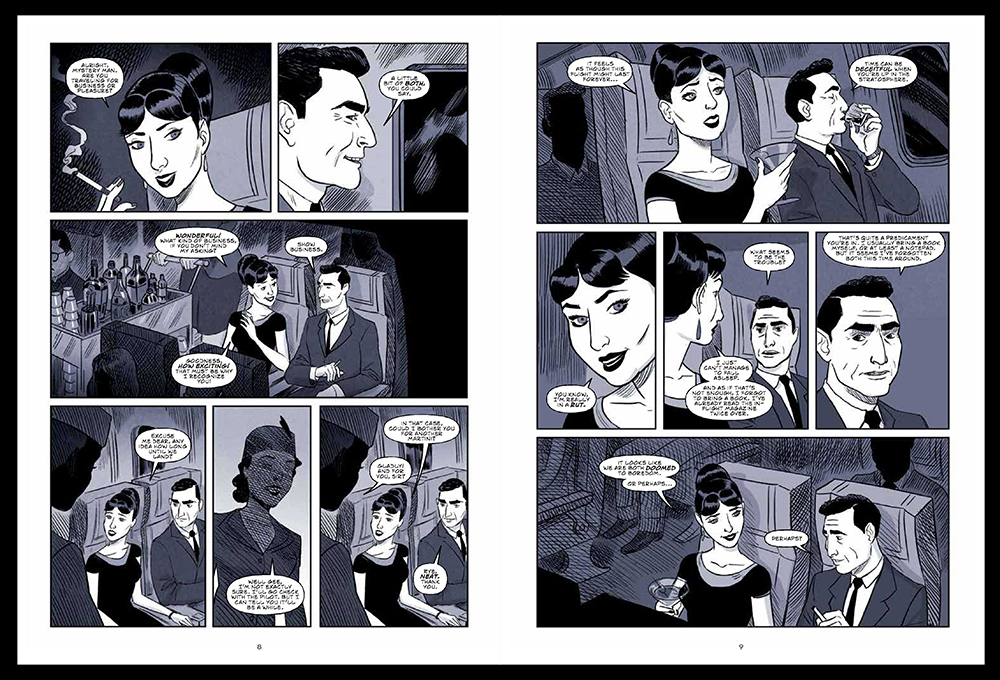 Credit: Superfan Promotions LLC
You've said that you started watching The Twilight Zone later in life. What drew you to the show? Did you have any idea that such a project would emerge from it?
No, I didn't realize that it would lead to such a big project. I discovered The Twilight Zone when it first became available to stream on Netflix (I grew up in Israel, where the show never aired). When I watched the episodes, I felt a strong connection to the material and visuals and felt the show was way ahead of its time. I was also curious about the enigmatic host and creator, who would sometimes introduce the show with an eternally lit cigarette in hand. Once I started reading about Serling's life, I realized that there's a lot of potential here, and it would make for good material for a nonfiction biography.
How long did it take to write the book?
It took about six to eight months to write the script and another year to draw the book. I was mostly using books, biographies and interviews as my reference.
How was Serlingfest? Are there any highlights you'd like to share?
It was great! The crowd was super enthusiastic. I was happy to go there since I read about his hometown during my research, and there's even a Twilight Zone episode that is basically set in Binghamton (although he renames it in the episode). It's called "Walking Distance" and is maybe Serling's most biographical episode. I got to see the Rod Serling Gazebo and the carousel, which is referred to in that episode.
Do you feel that you relate to Rod Serling in certain ways—for instance, as a visual storyteller? If so, do you think that influenced your writing of the book?
I can definitely relate to some of the things Serling struggled with, especially how hard it is to create something authentic without it being ruined on the way out to the world. That being said, he was in a very different medium where the stakes were bigger and there were a lot more people involved. With comics you have less people telling you what to do.
Have you heard from Rod Serling's family about your book?
I met Rod's daughters during my visit to Binghamton and they were both super nice. I gave them copies of the book and hope they enjoy it. I think it's mostly a favorable view of Serling and I mostly focused on his career and not so much on his personal life in this biography.
Who are your greatest influences?
As far as comics go, I love Moebius, Blutch and Robert Crumb, to name a few.
What is the most important lesson you try to teach your students at SVA? As an alumnus turned faculty member, do you carry lessons you learned as a student into your teaching style?
I teach a class called Pictorial Problems, which is the main illustration class for juniors. I try to be as honest as possible with my students and prepare them mentally for the world outside, which is a lot harsher than the warm SVA bubble. I urge them to use reference a lot, since a lot of students think they can make everything up from their head, but they are not at that place yet. I think studying at SVA really helped me in my teaching—I can channel some of the ideas I absorbed back when I was a student into my current classes.