Updates on Reopening SVA
Click below for info on our plans for 2021-2022, including the vaccine requirement for all students, faculty and staff.
Before & After SVA: Ben Cone Goes the Way of Self-Starting Freelancer
September 13, 2018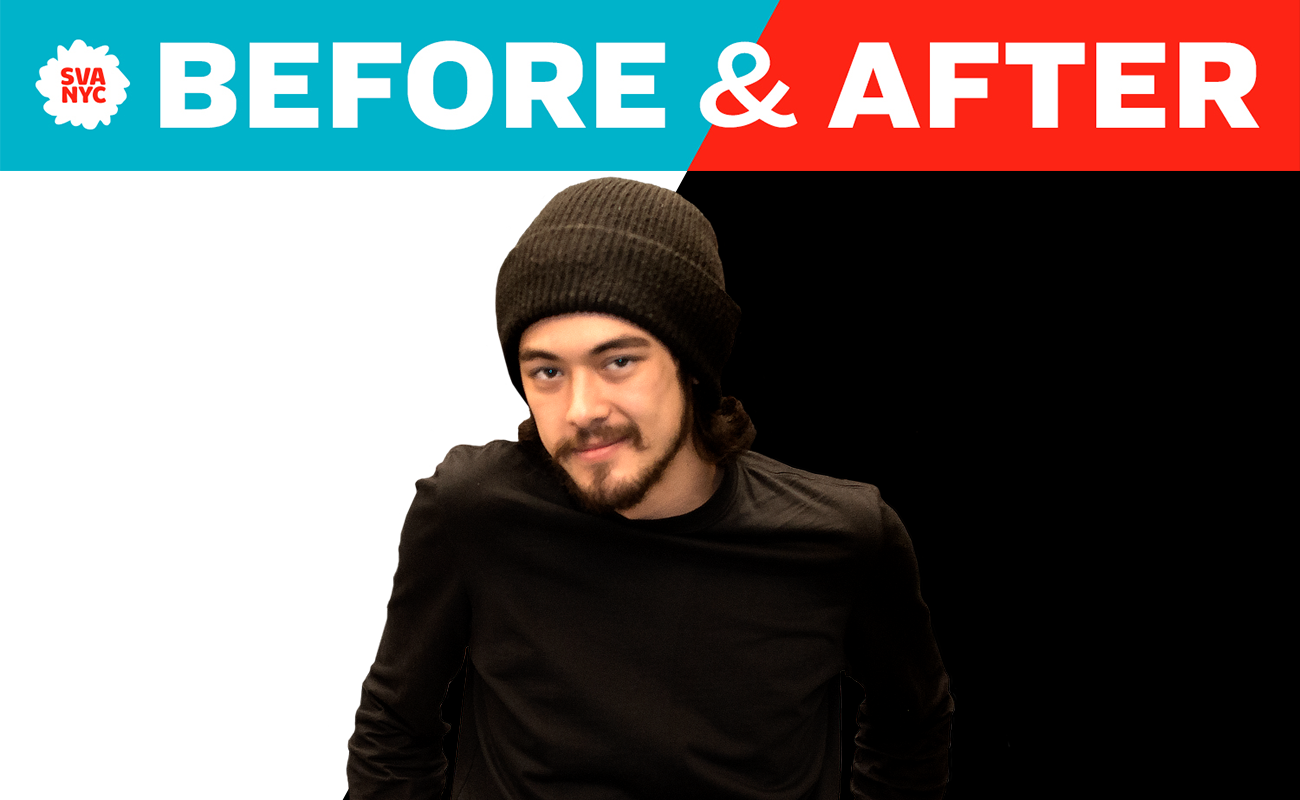 Ben Cone graduated from SVA in 2017 with a BFA in Computer Art, Computer Animation and Visual Effects. We caught up with him to see how he's doing, what he's learned and what advice he can pass on.
What have you been doing since graduation?
Since graduation, I worked at a studio, disliked it and started freelancing from home. I've been doing motion graphics work, and I'm teaching myself Houdini [a 3D animation software] so that I can make more of what I want to make.
What has the transition from full-time student to professional been like? What are the challenges?
The transition isn't as scary as I thought it would be. I was lucky to have made some valuable connections and friends at SVA who have been advocating for me since graduation. My most recent two jobs have been recommended to me by someone at SVA, so the transition has been great.
SVA Features: Before & After SVA: Ben Cone
SVA Features asset
Have your goals changed at all since graduating and working in the "real world"?
My goals have definitely mellowed out, if anything. I used to want to be a million things at once and try everything I could, but I realized I was never really getting the depth on any one thing I needed to truly succeed. So now, I've shifted my focus to projects I'm more personally invested in, whether it be working with friends or just something I'm more passionate about than advertising.
What advice would you give to incoming freshmen to get the most out of their education at SVA?
Being an art student is one of the highest points in an artist's life because it's one of the few real chances of infinite exploration. Personally, I took every single homework, every assignment and every essay as a chance to build myself as an artist. Rather than copying the simple homework exercise, I would try to "flex" in a way and see how I could push that new exercise to really grow my artistic muscles. Don't waste your time.
What advice would you give to incoming freshmen to get the most out of their relationships with their peers?
I think an essential part of being an artist is learning how to give and constructively take criticism. Find one or some close friends you can trust, and share your art with each other always. If you have a new idea you're unsure about, tell your friend and get another perspective. Maybe they'll help you figure out that one detail you couldn't quite piece together, or perhaps they point out that someone on the Internet did your idea way better already. Whatever the case may be, it's important to have an inward and outward flow of creativity.
To read more Before and After SVA interviews, click here.
SVA Features: Before & After SVA: Ben Cone
SVA Features asset