Updates on Reopening SVA
Click below for info on our plans for 2021-2022, including the vaccine requirement for all students, faculty and staff.
BFA Computer Art November Recap
December 3, 2019
SVA Features: BFA Computer Art November Recap
SVA Features asset
Buck Studio spoke at the SVA Theatre on Nov 19th to share content that they produce and opportunities for working with them. Buck is a collective of designers, artists and storytellers collaborating to create commercial content. The studio makes use of 2d animation, design, and computer animation to produce their work. The event was cohosted by BFA Computer Art, BFA Animation, BFA Design and MFA Animation. Buck has had many SVA alumni among their employees including BFA Computer Art 2009 graduate Jordan Harvey.
SVA Features: BFA Computer Art November Recap

Disney Animation Studios Visual Effects Supervisor Steve Goldberg gave a talk at the Computer Art Department on Nov 21st. Steve has worked at Disney since 1990 and has been a part of classics such as Aladdin, Pocahontas, The Lion King, and Tangled. Steve discussed his role in Disney's new Frozen 2 film, sharing breakdowns from the movie and the journey from storyboards, to pre-vis, to final work. Steve also shared his experience in the field and how his background in computer science and traditional sculpting has played an integral role in where he is today.
SVA Features: BFA Computer Art November Recap

SVA Computer Art alumni and Pixar artist Christina Faraj visited the department Nov 25th to talk about her experience as a student and life after graduation. Christina graduated from the BFA Computer Art department in 2016, and she and her co Director Alice Gavish's senior thesis film was nominated for a College TV Award in 2017. Christina currently works at Pixar Animation Studios and has played a part on films like Coco and Incredibles 2. She spoke about her time at SVA and her path to becoming a set dresser and modeler, moving across the country to work at Pixar and navigating being a new hire, and living on her own for the first time.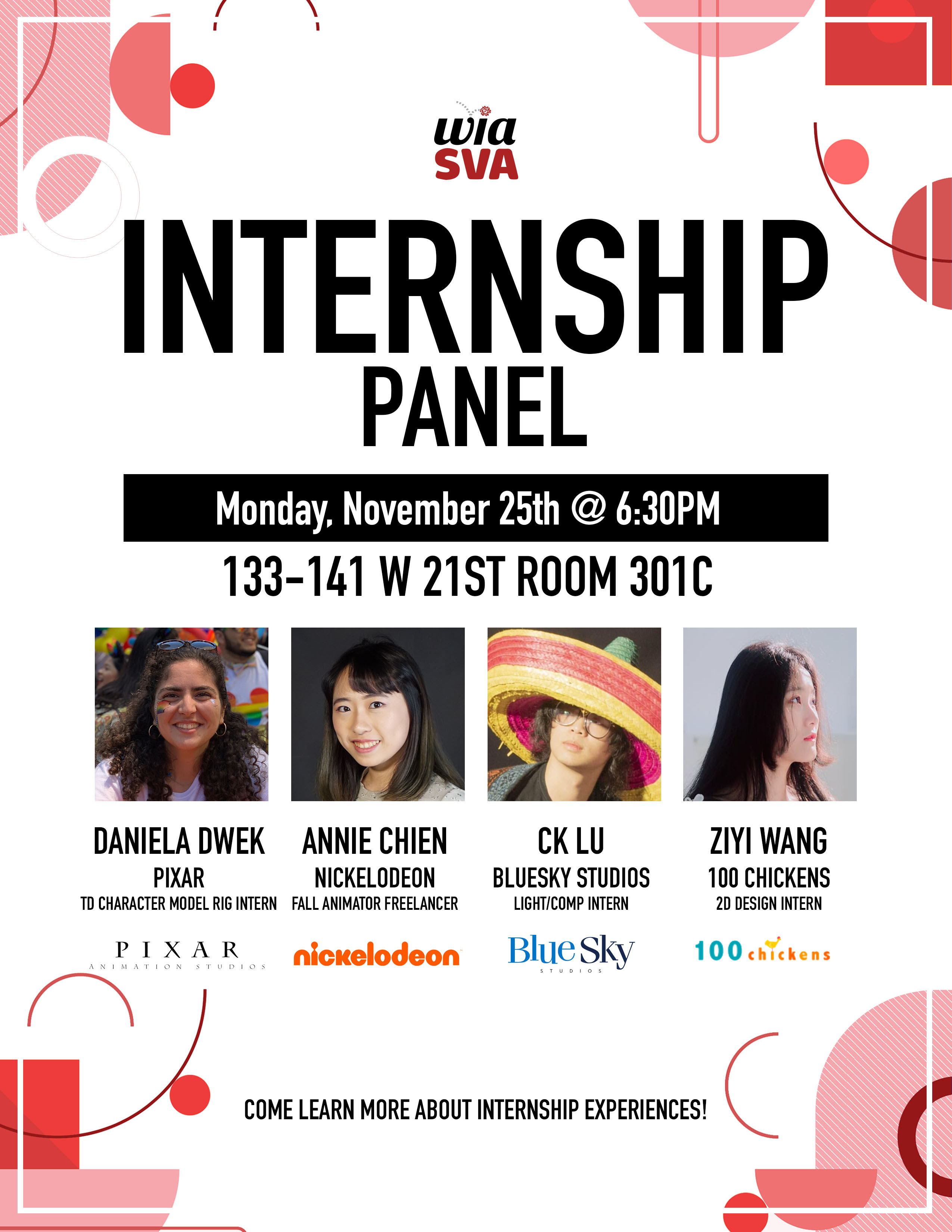 The Women In Animation SVA student chapter held an internship panel on Nov 25th at the Computer Art department. Current BFA Computer Art, BFA Animation and MFA Computer Art students shared their experiences interning at the studios Pixar, Nickelodeon, Blue Sky and 100 Chickens. The panelists discussed the application process and their time spent as interns getting hands on experience making character model rigs, animating, lighting, compositing, and 2D designing.