Updates on Reopening SVA
Click below for info on our plans for 2021-2022, including the vaccine requirement for all students, faculty and staff.
SVA At Annecy 2018: Bill Plympton, Titmouse, Women In Animation and More
June 25, 2018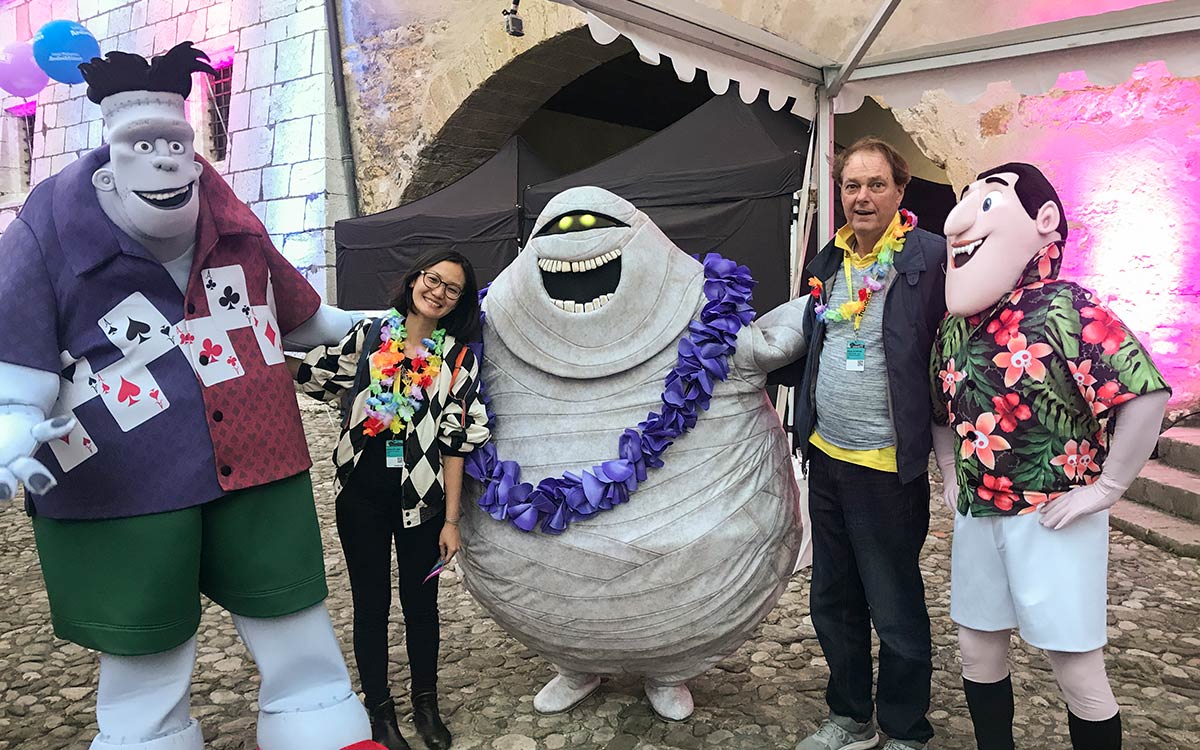 The annual Annecy International Animation Festival is a must-attend event for those in (or aspirating to be in) the animation industry, and 2018 was SVA's seventh year with a major presence. As the only U.S. college in Mifa (the international animation film market), SVA attracted interest from international students, faculty and the over 3,000 industry professionals who attended the festival. Created in 1960, Annecy is the oldest and largest animation festival in the world, with over 117,000 admissions and 10,000 participants from 88 countries.
The SVA team in attendance included: Jimmy Calhoun, Chair of BFA Computer Art, Computer Animation and VFX; Hsiang Chin Moe, Faculty and Director of Operations in MFA Computer Arts; Mark Minnig, Manager in BFA Animation; Angie Wojak, Director of Career Development; Deanna Demaglie, Administrative Assistant and Laura Nitz, Faculty and Project Coordinator of BFA Computer Art, Computer Animation and VFX; India Lombardi-Bello, Administrative Assistant of MFA Computer Arts; Sam Lee, Assistant Manager of BFA Animation. The team had the opportunity to meet and socialize with industry professionals from international companies such as Google, Netflix, Pixar, Sony Animation, Walt Disney Animation, and others. Wojak said, "The Annecy festival is an amazing showcase for SVA talent and also a great place for us to build bridges to animation, VR, and technology studios around the world."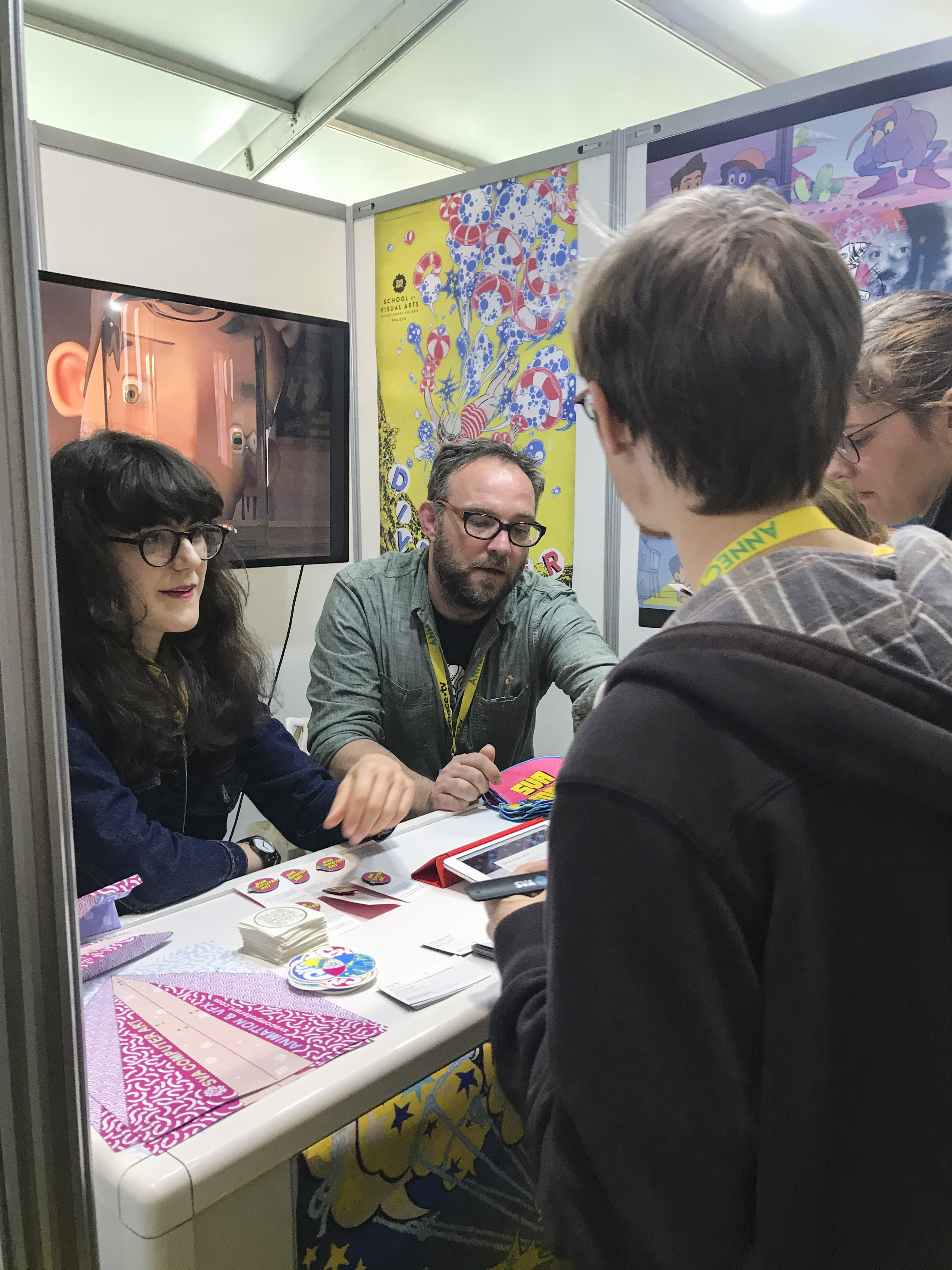 Hsiang Chin Moe moderated a Mifa Special panel, Tickle Your Brain with VR, where she gathered artists, developers and producers to share what drives their VR ideas and production challenges. The panel featured Chris Prynoski (BFA 1994 Animation), Co-founder of Titmouse; David Eisenmann, Technical Project Lead and Senior Producer at Google Spotlight Stories; Paul Du Bois, Software Engineer at Google AR/VR, and animator Bill Plympton (BFA 1969 Animation).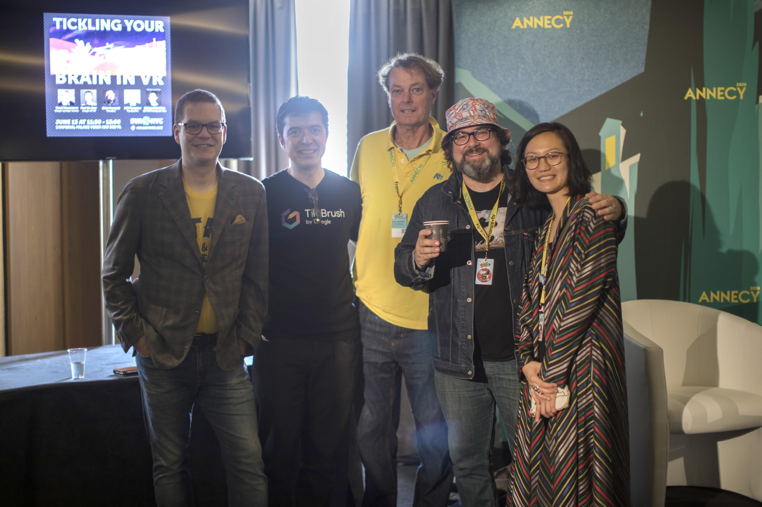 Crafting Your Career in Animation was also moderated by Hsiang Chin Moe and featured recruiters and artists from Titmouse, LAIKA, Illumination Entertainment and Illumination Mac Guff. Panelists shared their insights on how to stand out from the competition with advice on reels, portfolios, getting (and staying) hired and even starting their own studios in the future. This well-attended panel hosted over 200 students from all of the world, including Israel, Brazil, India, Denmark and many others. "I can't be more grateful to have the opportunities to work with all the studios while representing SVA," Hsiang Chin Moe said. "I am able to connect with industry, festivals, artists and young talents on so many different levels and I am excited to bring all these great experiences back to the College and share with our students."

SVA was well-represented by several alumni including Carlos Saldanha (MFA 1993 Computer Art), director of Ferdinand for Blue Sky Studios, who gave a talk about the making of the animated film and offered a behind-the-scenes look at the Academy Aaward-nominated feature. Inspired by the beloved children's book and set in the beautiful landscape of Spain, Carlos spoke about how he expanded the story and developed new characters and adventures, as well as how Blue Sky designed a world with an aesthetic that was authentic and organic. Carlos also spoke on a Women in Animation Panel regarding supporting talented women in the animation industry.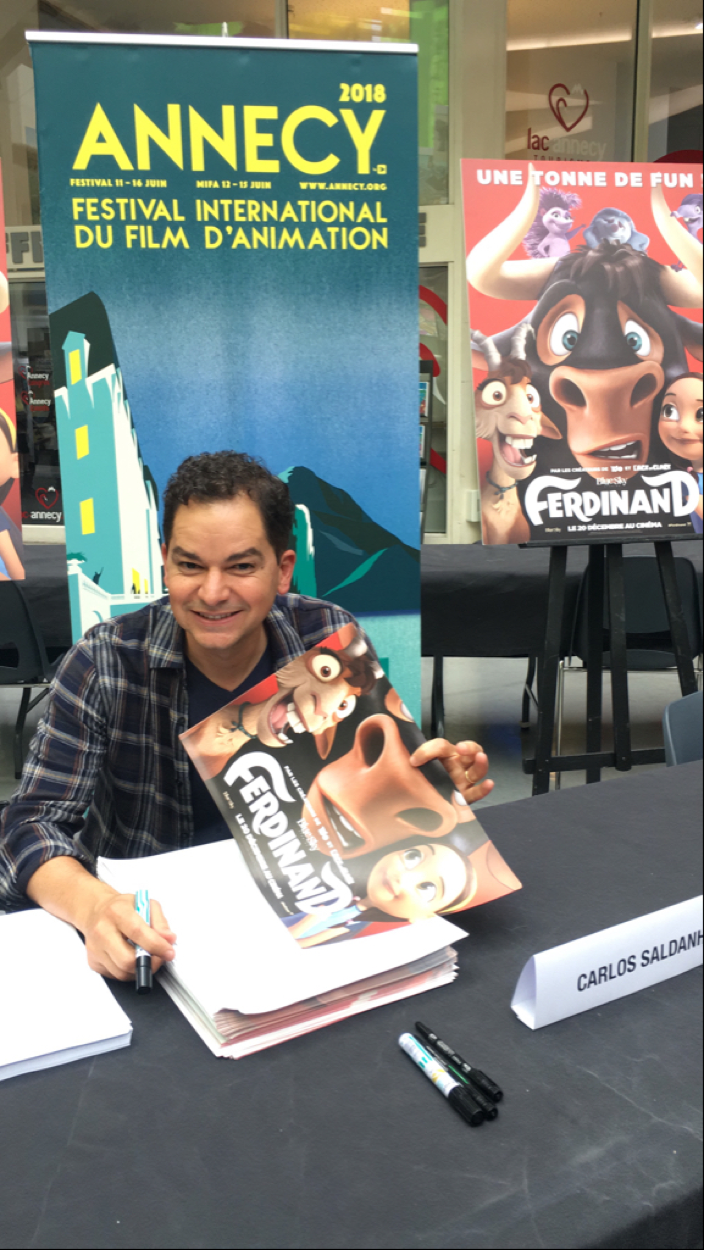 Chris Prynoski (BFA 1994 Animation), co-founder of Titmouse, participated in the SVA VR panel where he shared his insights on his collaboration with Tilt Brush by Google and Smash Party VR experience with Viacom NEXT. In addition, Titmouse, for the second year in a row, presented the Midnight Specials as part of the Annecy Festival special programmes, showcasing their dark, spicy, off-the-wall, extravagant and crazy animated films.
Celebrated animator Bill Plympton (BFA 1969 Animation) spoke on the SVA VR panel and shared his experience on working with Terrence Masson, Chair of MFA Computer Arts for the VR artist residency program. He talked about how Terrence's team turned his 2D vision into a VR experience and the new approaches he wanted to keep exploring. Plympton also shared his new project with the audience and participated in an autograph event.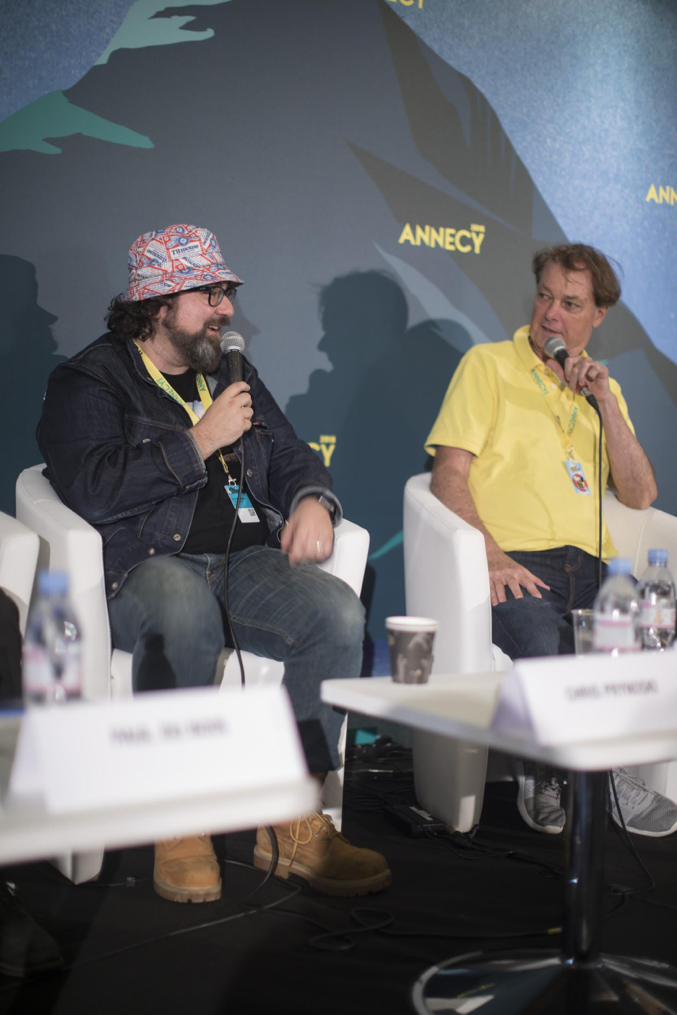 The Women in Animation World Summit from the Women in Animation organization and Les Femmes S'Animent was supported by DreamWorks Animation, Netflix, Walt Disney Animation Studios, Blue Sky Studios, Paramount Animation, Pixar, Sony Pictures Animation, Warner Bros. Animation, and many other international animation organizations. Panels included Inclusion and Intersectionality presented by Julie Ann Crommett, VP of Multicultural Audience Engagement at Walt Disney Studios and WIA Secretary; What 50/50 Means to Allies, moderated by Mark Osborne, Director of The Little Prince and WIA Chair of Male Allies; A Conversation with Women Directors moderated by DreamWorks Animation's Bonnie Arnold, who heads up the WIA's advisory board; and Developing Diverse Talent, moderated by Fox Family president Vanessa Morrison.
SVA is a college affiliate of WIA. Our own Hsiang Chin Moe is the co-Lead of the WIA New York chapter and she will be working alongside with many industry professionals and SVA alumnus to provide great support and networking opportunities for women in the animation industry.