Updates on Reopening SVA
Click below for info on our plans for 2021-2022, including the vaccine requirement for all students, faculty and staff.
SVA First Person: Disney's Special Presentation of 'Moana'
November 21, 2016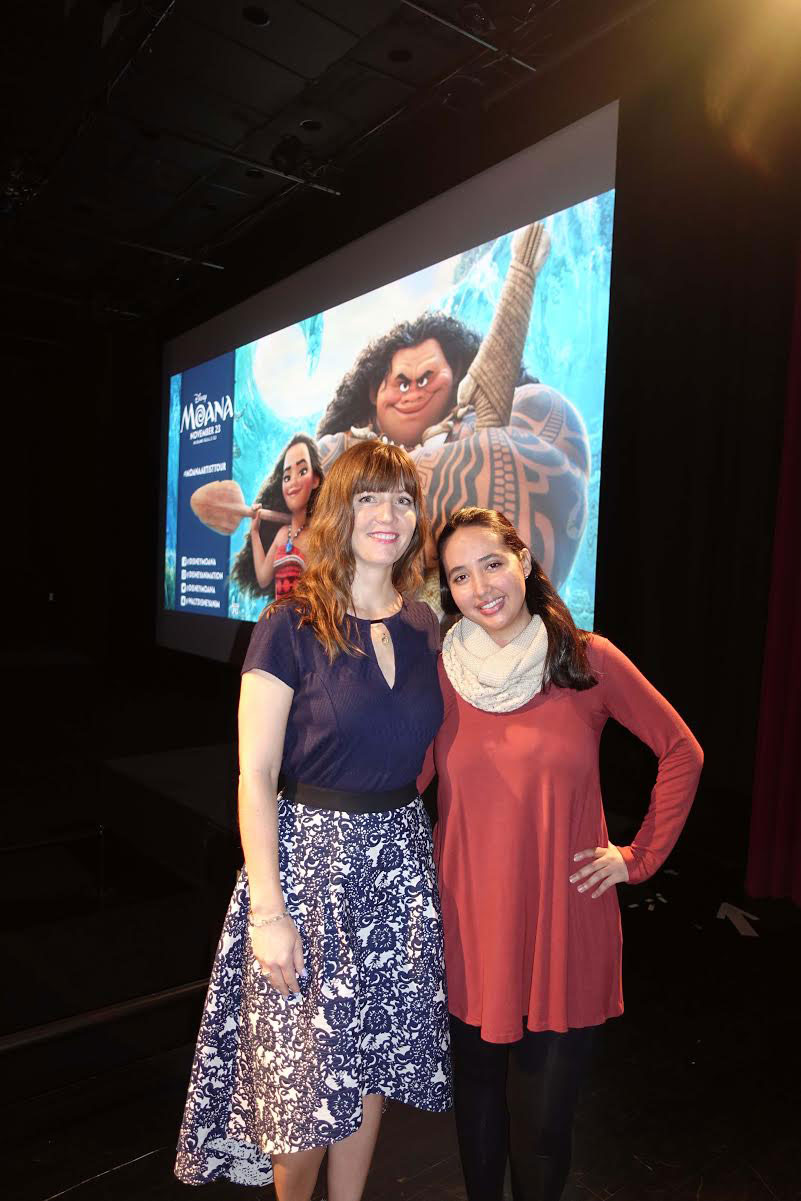 Borregales, a BFA Computer Art, Computer Animation and Visual Effects student, wrote about her experience for SVA Features.

I had the incredible honor of assisting the BFA Computer Art, Computer Animation and Visual Effects department with hosting Disney's special presentation of Moana, which featured a talk by Jessica Julius, senior creative executive at Walt Disney Animation Studios.
Before the presentation, I got to sit down with Julius to talk about her history at Disney. She has been part of the company for about 12 years now, starting in 2004 in the marketing department before transitioning to development in 2005, where she finally found where she was meant to be. Since then, she has had the opportunity to work on every Walt Disney Animation Studios feature film, starting out with Bolt and now currently promoting the upcoming film Moana. It was incredible to see her enthusiasm and her energy while talking about how honored and lucky she has felt to be part of such amazing films.
Julius's presentation of Moana was outstanding and truly inspirational. She really went into depth about the incredible amount of research that her and the rest of the team do for a film. For Moana, the directors knew they wanted to make something really special after being inspired by stories of the demi-god Maui. With this in mind, they set out to various Oceania islands for research. These trips would turn out to be life-changing experiences for them. They were taken back by the culture of the people and their stories of their islands and ancestors. Julius showed us some videos of their adventures and it was incredible to see how the filmmakers truly connected with everything and everyone around them. And so, with all this, they went back to the studio to create the most challenging film that Disney has ever made to date.
SVA Features: SVA First Person: Disney's Special Presentation of 'MOANA'
SVA Features asset
After the trip videos, Julius went on to introduce us to the characters Moana, Maui, Hei Hei, Pua and the rest of the gang. It was amazing to see how much effort was put into the creation of these characters and their islands, as evidenced through the numerous concept paintings and animation tests she showed us. Julius's job is to research and help develop as much of the story as possible and her and the team would constantly refer back to their story trust team in the islands to make sure that every aspect of Moana truly embodied their culture. We got to see some unfinished clips of the movie, which looked incredible. The clips showed some of the special and fun moments that Moana goes through throughout the film. We also listened to some of the great music soundtrack for the film and the artists behind them.
I was truly moved by how much Disney cared to create a film so special to a culture. The people of Oceania really wanted us to emerge in their past and present, and to see who they are as people, and Moana did it. I couldn't be more proud and appreciative to have gotten a chance to see the beautiful history of this film and kudos to Julius, who without her astounding research, booking flights and meetings, and support to the directors, this film could not have gotten to where it is now. I hope everyone who sees this film is inspired, moved and taught that this earth is extraordinary and full of beautiful places and beautiful people.
Editor's note: MFA Computer Art, BFA Animation and Career Development also helped host this event.