Updates on the 2020-2021 Academic Year
SVA continues remote instruction, with select facilities accessible by appointment. Click below for updates.
3D Design Students Fashion 'One of A Kind' Artworks Along Madison Avenue
October 31, 2017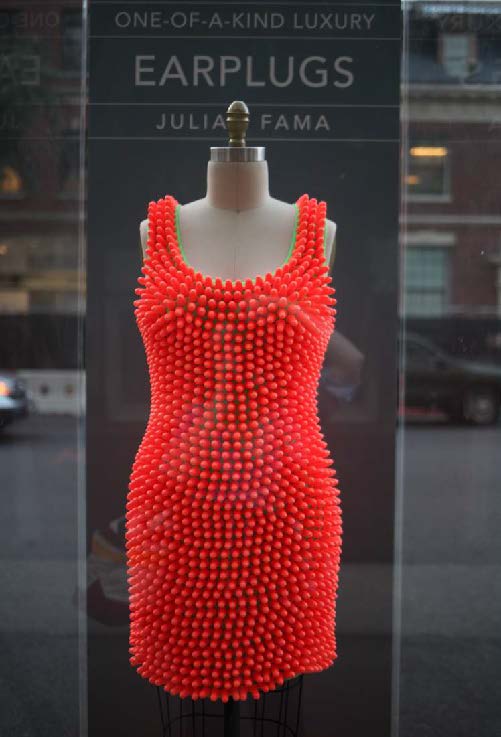 A group of 20 BFA Design students are making their mark on Madison Avenue, with an exhibition of 14 original fashion ensembles currently dotting a stretch of the luxury shopping strip on the Upper East Side. Each piece is made out of a single material and installed in its own glass case; objects on view range from a flapper-style dress constructed out of silverware to a slinky number made, appropriately, out of Slinkys to packing-peanut pajamas. The exhibition, on view through November 15, is being held as part of the Madison Avenue Business Improvement District's ongoing One-of-a-Kind Luxury event.
The Madison Avenue BID approached SVA's 3D Design Chair Kevin O'Callaghan (BFA 1980 Media Arts) with the exhibition proposal, having worked with the educator and designer this spring for another public installation, this one celebrating Madison Avenue Watch Week. O'Callaghan in turn brought the opportunity to the third- and fourth-year students in his Three-Dimensional Design course. He and the students had roughly two weeks to execute their projects, from conception to construction to installation.
"I became intrigued by the 'one' in One-of-a-Kind," O'Callaghan says. Accordingly, he asked students to choose just one item to use as their material. He and his students' designs focus on re-use and working within constraints, which meant keeping budgets low and using unconventional and inexpensive materials. O'Callaghan supplied the dress forms (as well as display stands and vitrines) but left the other choices to students, who settled on things like RAM chips (a common source of e-waste), orange earplugs (a design workshop staple) and teabags.
Included in each piece's display case is a small card identifying the material used and quantity thereof, as well as stats that put the often staggering amounts in some perspective (a suit made of 900 wheat stalks contains enough grain to make seven sandwiches; shoes made of 288 pencils could write 12.9 million words). Mert Avadya (BFA 2018 Design) made a dress out of 12,500 pennies. "I used pennies to underline the money that we spend on fashion," Avadya says, whose base material cost, apart from the wire used to attach the coins, was under $30.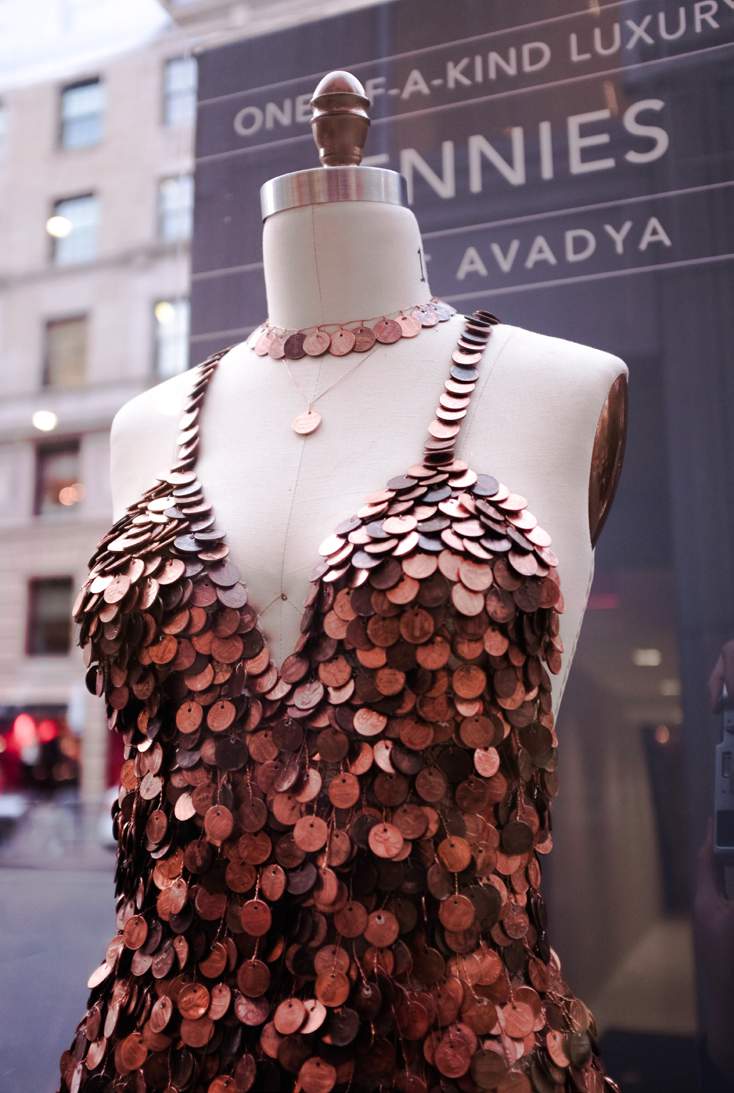 A 1920s-style dress made by Filipa Mota (BFA 2019 Design), which stands in front of the Dolce and Gabbana store on the corner of East 69th Street, was built of forks and spoons salvaged from thrift and vintage stores. It was not easy to find enough for her 491-piece construction, nor was it to fasten them all together. "It took a few tries—stainless steel is really smooth so it doesn't adhere easily," Mota says. "And then of course the weight of it was a challenge—the dress is super heavy and it's hard to work against gravity!"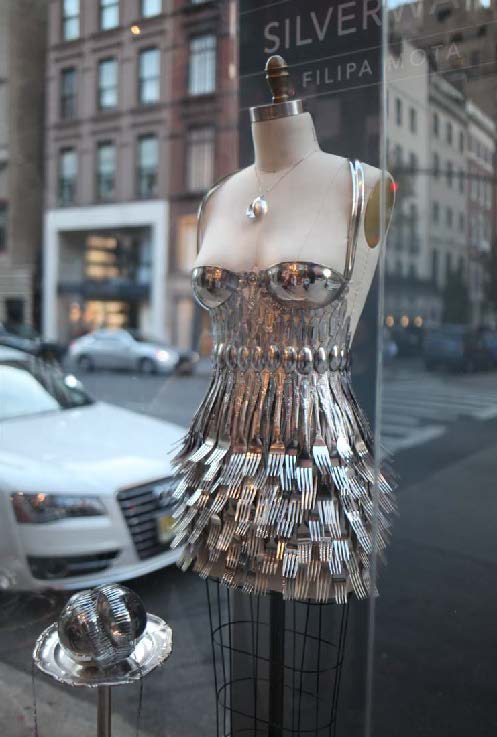 "While other students only used hundreds of a small object, I took liberties and interpreted it as only using one material," Fernando Alvarenga (BFA 2018 Design) says of his white, paint-pour dress. He also found his learning curve to be a steep one: even after practicing on a Barbie torso to see what the material would do, it wasn't until the halfway through the over 300 pours and 4 gallons of paint used in the process that Alvarenga felt he could finally manipulate it.
"If you learn the integrity of materials, you learn what they can and can't do, there isn't any project that you can't tackle," O'Callaghan says. Alvarenga concurs. "I was told that this project was impossible to create. I took that as a challenge," he says. As a result, "[this] project became more personal to me than any other I've worked on."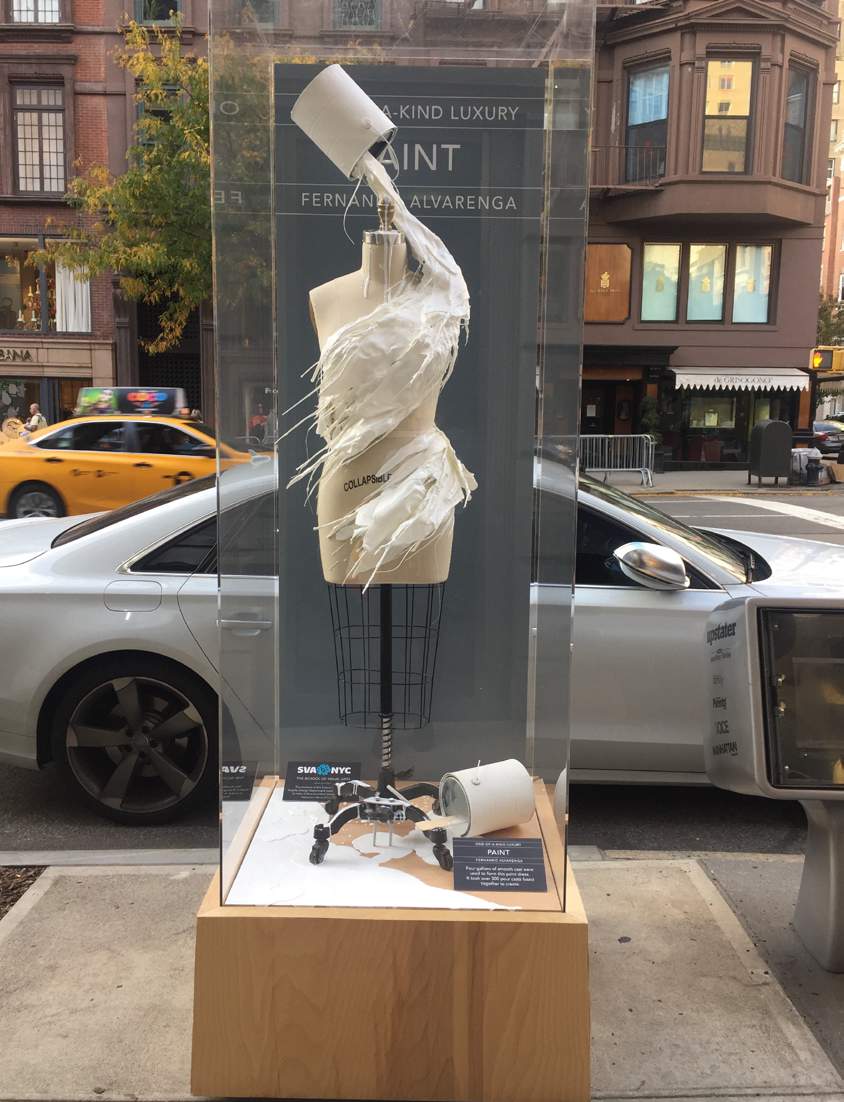 Another crucial component of the assignment for O'Callaghan was the physicality and manual fabrication required, an aspect Mota appreciated. "Something great was that it was all built by hand; [for me], as a graphic designer we tend to be glued to our computer," she says.
Thus far, response on the street has been positive, from neighborhood stores and institutions, including the Met Breuer, and visitors alike. "People are amazed that there is art on the street like this, in glass cases," O'Callaghan says. "I'm being told that it's kind of a game-changer, bringing the art to areas that don't have the facilities to [show] art."
Mota in particular was able to interact with viewers when the group had to perform a repair on her piece after installation and passersby were eager to engage with her. It was a new experience for the young designer, and O'Callaghan points to it as proof of the value of getting the students out in the streets: "I think that when they can use their incredible personalities and the fact that they're young artists [to talk to people about their work], that's the worth of these exhibitions."
The One-of-a-Kind installations are on view until November 15, between East 61st Street and East 76th Street on Madison Avenue. There will be a walking tour led by Kristen Taekman and the Madison Avenue Business District on Saturday November 4 that will feature the sculptures tied into displays of unique items in the participating stores.