Updates on the 2020-2021 Academic Year
SVA continues remote instruction, with select facilities accessible by appointment. Click below for updates.
Letter-Perfect: Subway Series Hall of Famer Paula Scher [Video]
February 19, 2019
SVA Features: Avoiding Subtlety: Subway Series Hall of Famer Paula Scher [Video]
SVA Features asset
Described as the "master conjurer of the instantly familiar," by the Ted Talks organization and known as a rock star in design circles, Paula Scher is one of the most influential graphic designers in the world. Her works can be found in major cities around the world, but they have a notable presence in New York City, where they're visible as you take cash from a Citibank ATM, as you wait in line at Shake Shack and as you eat your breakfast at Tiffany's. SVA has been fortunate to call Scher one of its faculty members for the last 35 years and has thus recently granted her a spot in its SVA Subway Series Hall of Fame, where she joins Milton Glaser, George Tscherny, Ivan Chermayeff, James McMullan, Marshall Arisman, Dee Ito, Gail Anderson and Bob Gill.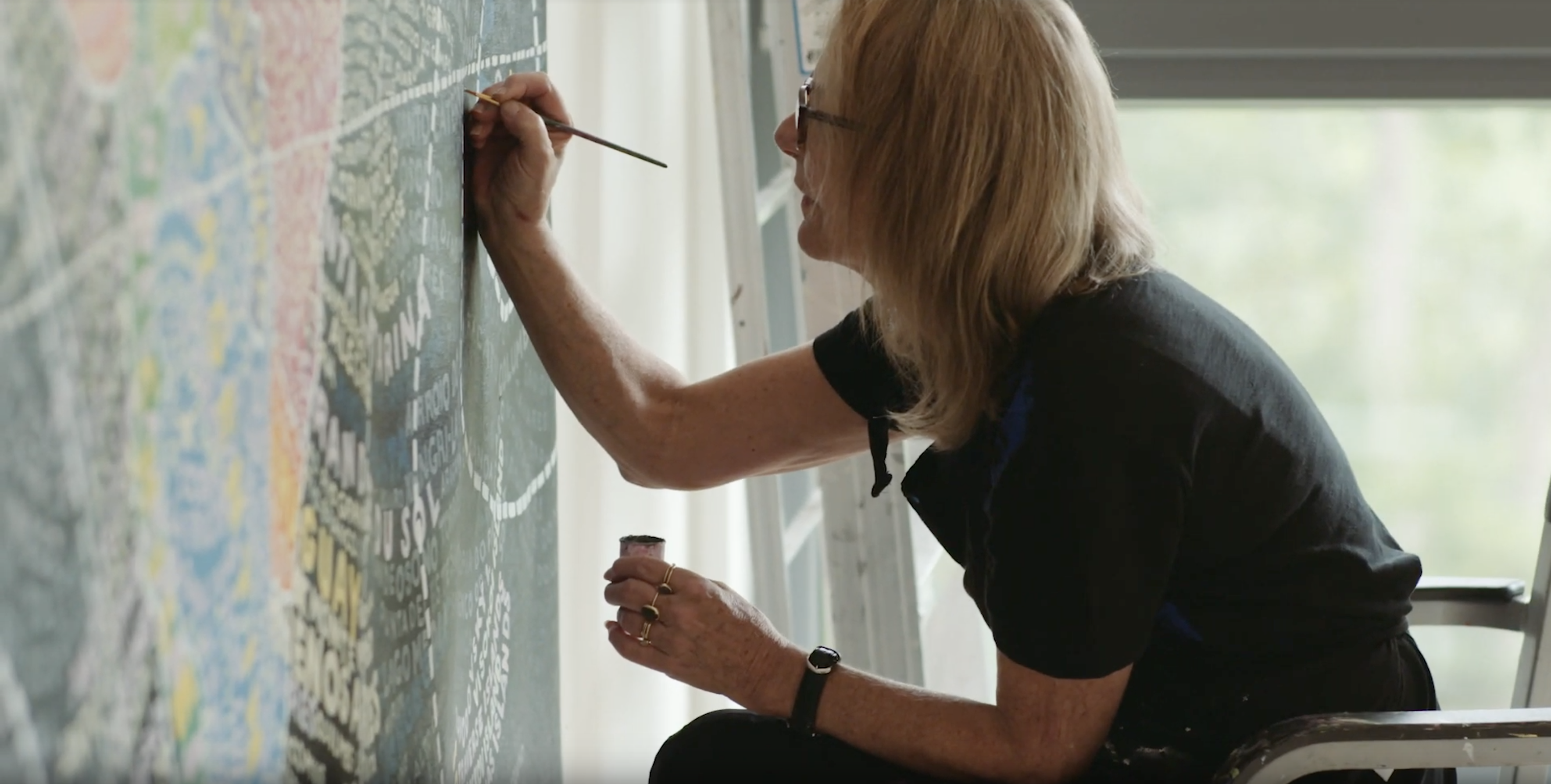 As a longtime partner of the legendary design studio Pentagram—the first female principal in its history—Scher has created identity and branding systems, environmental graphics, publication designs and promotional materials for clients from a wide variety of business sectors, including Bloomberg, Jazz at Lincoln Center, the High Line, Coca-Cola, Microsoft, and many more. Her work, known best for its deft, expressive use of type, has earned her the most prestigious accolades in the design industry, including the AIGA Medal, the Type Directors Club Medal and the National Design Award for Communication. To balance this work with her need to reconnect with "the craft of making things," as she says, she delves into a personal passion: a map painting series. In the video, she says the maps really started as "jokes," but she realized that they had potential as large-scale paintings. "Someone says, 'Oh you know you misspelled blah blah,' and I say, 'So what?'" She laughs. "It's not like a map–it's a painting."

In her version of the "Art Is…" SVA subway poster (see below), the handwritten letters are composed of a long list of people that Scher admires—inherently providing the answer to the question. In the subway, "you need something of enormous power and scale," she explains. "Subtlety doesn't work in the subway at all." And Scher's poster "was designed to be interactive….People were supposed to write their own names on it," not unlike the current SVA Subway Series poster by Julia Rothman.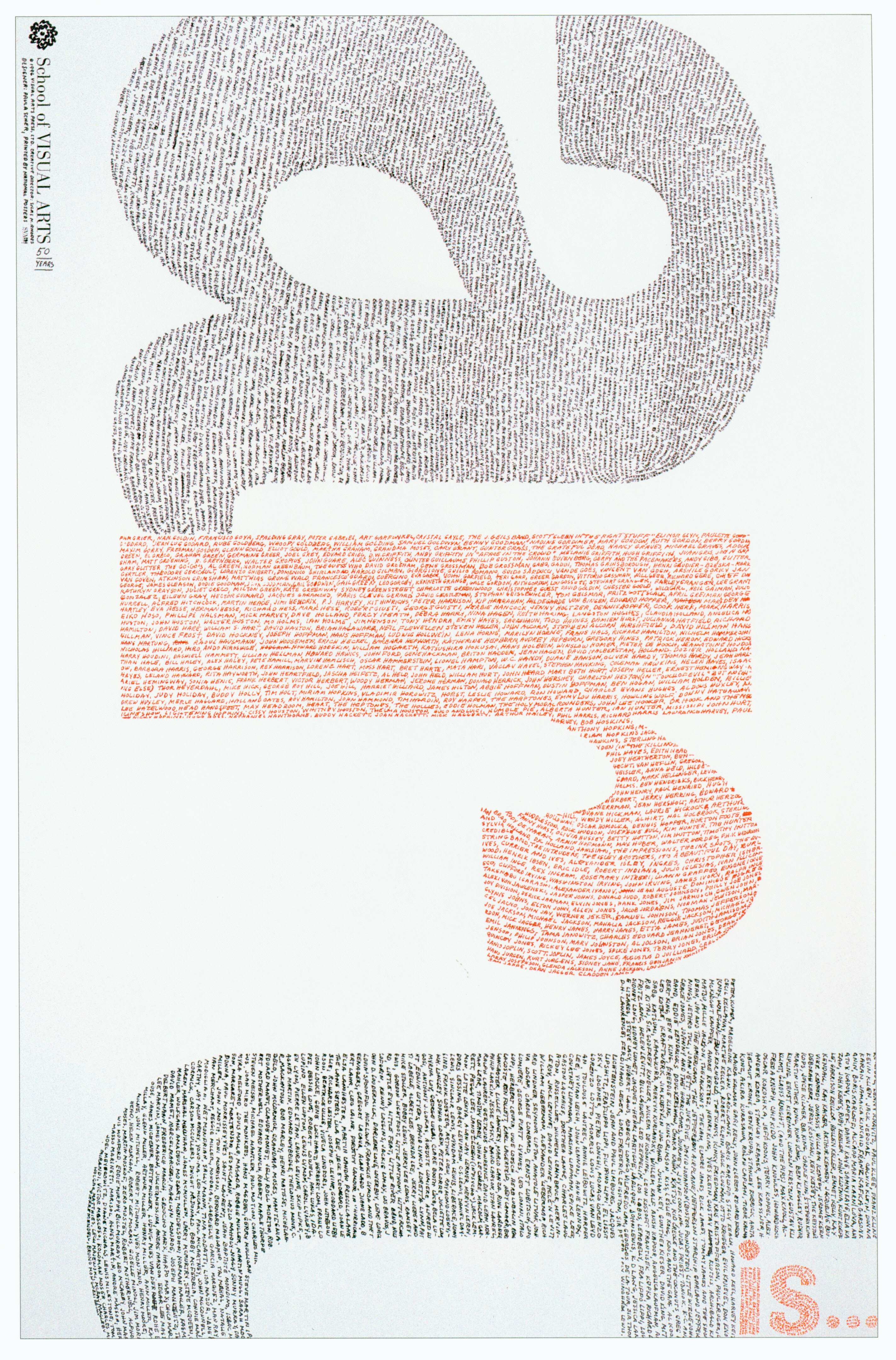 For its ongoing Subway Series, SVA commissions faculty members—all practicing professionals—to showcase their talents, reach new audiences and promote the College with a series of posters designed for display in New York City's subway system. Past contributors include Pablo Delcan (BFA 2012 Graphic Design), Louise Fili, Steven Heller and Yuko Shimizu (MFA 2003 Illustration as Visual Essay), among many others. SVA Executive Vice President Anthony P. Rhodes has served as creative director for the posters since 2007.

Watch the video to hear more from Scher about her design and painting processes, and what she believes is the spirit of SVA.