Updates on the 2020-2021 Academic Year
SVA continues remote instruction, with select facilities accessible by appointment. Click below for updates.
New SVA Books to Gift this Holiday Season 2018
December 4, 2018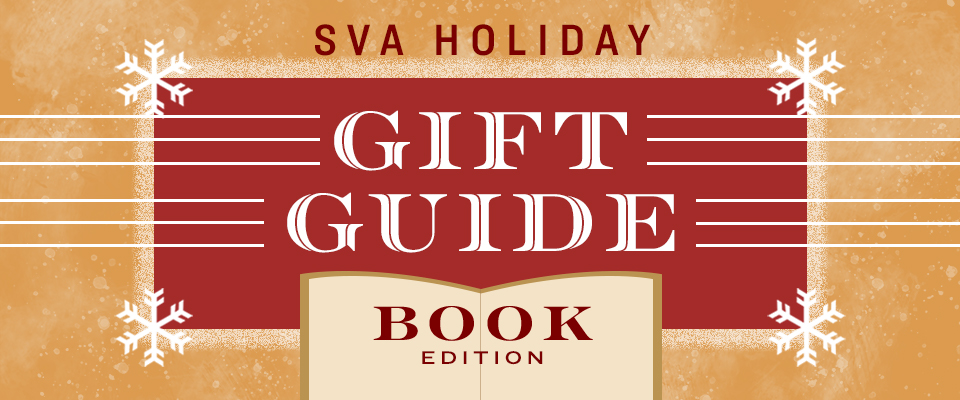 To follow yesterday's holiday gift guide, here is a roundup of books that were written or illustrated (or both!) by talented SVA alumni and faculty. Scroll down for a selection of books in a variety of genres that are sure to please everyone on your "nice" list.

Children's Books

SVA Features: New SVA Books to Gift this Holiday Season

SVA Features: New SVA Books to Gift this Holiday Season

Blackbird
Sam Humphries, illustrated by Jen Bartel (BFA 2009 Illustration)
Comic book series, $3.99 per issue
Come Again
Nate Powell (BFA 2000 Cartooning)
Hardcover, $24.99; e-book, $21.99
The Weatherman
Written by Jody Leheup, illustrated by Nathan Fox (chair, MFA Visual Narrative; MFA 2002 Illustration as Visual Essay)
Comic book series, softcover/e-book, $3.99 per issue (both formats)
D C-T!
Joana Avillez (MFA 2012 Illustration as Visual Essay) and Molly Young
Hardcover, $20; e-book, $10.99
The Umbrella Academy: Hotel Oblivion
Gerard Way (BFA 1999 Cartooning), illustrated by Gabriel Ba
Comic book miniseries, $3.99 per issue

Illustrated Nonfiction

SVA Features: New SVA Books to Gift this Holiday Season

SVA Features: New SVA Books to Gift this Holiday Season

Sagmeister & Walsh: Beauty
Stefan Sagmeister (faculty, MFA Design) and Jessica Walsh (faculty, BFA Design)
Softcover, $39.95
The Intergalactic Design Guide: Harnessing the Creative Power of Social Design
Cheryl Heller (chair, MFA Design for Social Innovation)
Hardcover, $30; e-book, $29.99
Design for Children: Play, Ride, Learn, Eat, Create, Sit, Sleep
Kimberlie Birks (MFA 2011 Design Criticism)
Hardcover, $59.95
Milton Glaser Posters: 427 Examples from 1965 to 2017
Milton Glaser (acting chairman, SVA Board)
Softcover, $29.99
Free Hand New Typography Sketchbooks
Steven Heller and Lita Talarico (co-chairs, MFA Design)
Hardcover, $55.00; softcover, $37.50

Photography

SVA Features: New SVA Books to Gift this Holiday Season

Taradiddle
Charles H. Traub (chair, MFA Photography, Video and Related Media)
Hardcover, €40

Seabird
Bobby Doherty (BFA 2011 Photography)
Hardcover, £35
Born Free and Equal: The Story of Loyal _______-Americans
Joseph Maida (chair, BFA Photography and Video)
Hardcover (edition of 20), $245; softcover (edition of 300), $45

The Untamed Eye
Stephanie Pfriender Stylander (BFA 1983 Photography)
Hardcover, $45
Almost Naked
Shen Wei (MFA 2006 Photography, Video and Related Media)
Hardcover (edition of 500), €45

Bonus Book