Updates on the 2020-2021 Academic Year
SVA continues remote instruction, with select facilities accessible by appointment. Click below for updates.
SVA's Eric Corriel Brought 'tiny trump' to 2019's D.C. Women's March
January 22, 2019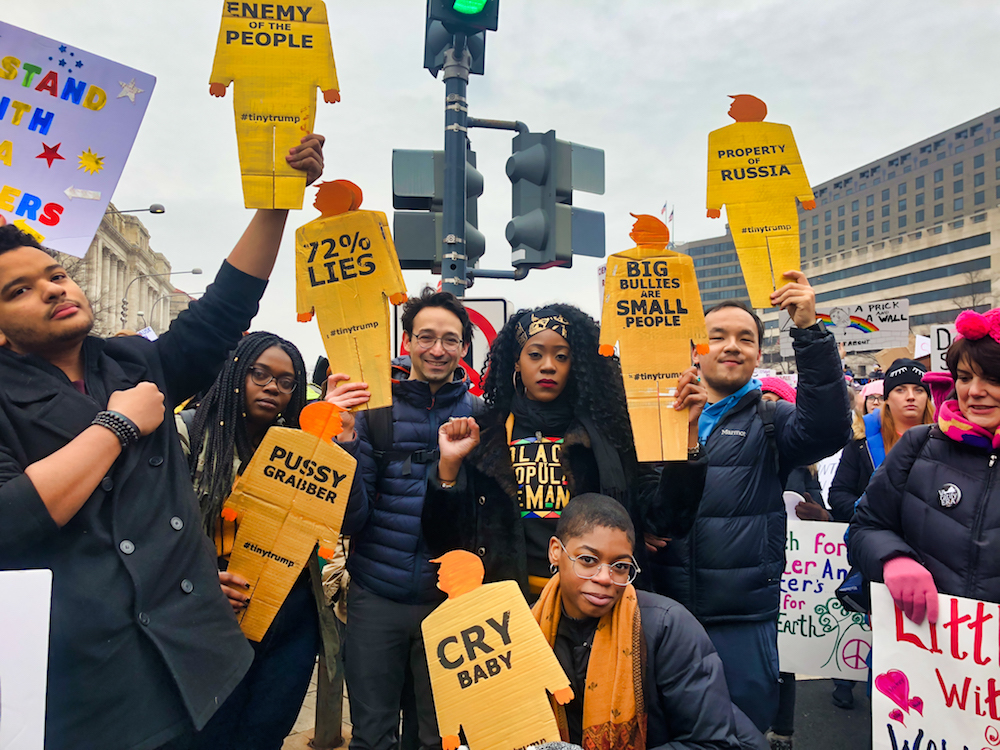 People from across the country came together to protest the bigotry and inequality of the Trump administration this past Saturday at the third annual Women's March in Washington D.C. Among the dissenting signs and banners as far as the eye could see was the burgeoning social phenomenon tiny trump making its march debut. Created by SVA staff and faculty member Eric Corriel—the senior digital strategist of SVA's design studio, the Visual Arts Press, who also teaches classes in BFA Design, BFA Visual & Critical Studies and MFA Design—tiny trump is an art installation that engages the public and encourages people to place these totems all around their communities. "I do not see a big man when I look at Donald Trump," says Corriel, regarding the diminutive designation. "Quite the opposite. I see a small-minded and petty man. So small. I see tiny trump. And I am not alone."
With a group of SVA students and 500 tiny trump cutouts in tow, Corriel made his way to D.C. to protest and further amplify the project. "The Women's March has become the single largest, annual showing of resistance to this administration and I wanted to make the biggest statement I could," Corriel says. "That meant Washington D.C., the Women's March, making 500 tiny trumps, and engaging an energetic group of passionate people to help put all the pieces together."
Standing two feet small, emblazoned with bold statements like "Enemy of the People," and "Property of Russia," written across the cutouts, the myriad tiny trumps quickly caught the attention of other protestors, and one by one they were taken and placed all over the rally—balanced on fences, hung up on street signs, and held high in many protestors' hands. "People really got a kick out of them! All 500 tiny trumps were gone in less than an hour. I think people found them funny yet poignant; they were requesting more for their friends, inquiring about the project, and holding them high as they marched," Corriel says. "It also helped that the students had great energy and acted like natural salespeople. They were so effective at handing them out that there were certain sections of the march where it seemed like a one-to-one tiny trump to protester ratio."
Accompanying Corriel were SVA students Monique Boss (BFA Fine Arts), Lewis Derogene (BFA Fine Arts), Arnold Lau (BFA Film), Kristin Okwedy (BFA Fine Arts), Yinja Wen (BFA Graphic Design) and Nikki Woods (BFA Graphic Design). They were joined by Pratt adjunct professor Effie Vision. Remembering the vibrant energy at the march, Okwedy says, "Seeing so many people march for something so important and being a part of that amazing experience was life-changing for me. As I saw people holding the tiny trumps, I realized that we all have the power to make this crazy man who feels so big, feel so small with the power of our words and the power of working together."
Check out the tiny trump website and Instagram page to stay up to date with all the latest appearances.
SVA Features: tiny trump Joins the Women's March
SVA Features asset