Updates on the 2020-2021 Academic Year
SVA continues remote instruction, with select facilities accessible by appointment. Click below for updates.
The SVA Community's Pride Train Subway Campaign: Love Trumps Hate
"We love this city and we all felt like we needed to do something to let everyone know that there are still good people in the world."
June 12, 2018
Necessity may be the mother of invention, but a sense of urgency also breathes life into a creative response. Last June, President Trump, a leader who campaigned on the idea that he would govern as a friend and ally to the LGBTQ community in the run-up to the election, made an unthinkable about-face: unlike past presidents, President Trump didn't acknowledge June as Pride Month (and has yet to do so again in 2018).
The failure to recognize Pride Month felt like a step in the wrong direction. Disturbed by this, and also noticing a growing number of alarming hate crimes in the wake of the administration's policies, enterprising SVA faculty and alum Thomas Shim (BFA 2011 Graphic Design) and then-students/now-alumnus Ezequiel Consoli (BFA 2018 Design) and Jack Welles (BFA 2018 Design) sprang into action and came up with the Pride Train initiative: a clever guerilla campaign masquerading as MTA service announcement posters. The message: no intolerance is tolerated in our city.
"We love this city and we all felt like we needed to do something to let everyone know that there are still good people in the world, with a good heart, that care about everything they do," the Pride Train group said. "To let them know that they are loved and that, no matter what our current government says, New York has been and will always be a safe space for our differences to be cherished and valued."
The Pride Train mission statement is simple: to make a difference and contribute, even in a small way, to create a better place for everyone.
Now in its second year, Pride Train is taking off. Since its launch in June, related posters, stickers, flyers and ephemera are everywhere—especially amplified by social media—and the campaign has been received press in Ad Week, Refinery 29, Time Out New York, Gothamist, AM New York, Curbed, New York 1 and many more.
"Pride Train is not only about the LGBTQ community. This is about everyone who has ever felt like they were not included or has experienced hate," the collective says. "We're trying to scream louder than the hate in this country and to let YOU know that you're loved, and are not alone and that we'll have your back whenever you may need it."
We'll admit there's an extra sense of pride knowing, the project is SVA-driven and it represents what makes our school, community and surrounding city special. This week, we spoke to the Pride Train Team about the campaign, its message of positivity and the idea that love always trumps hate.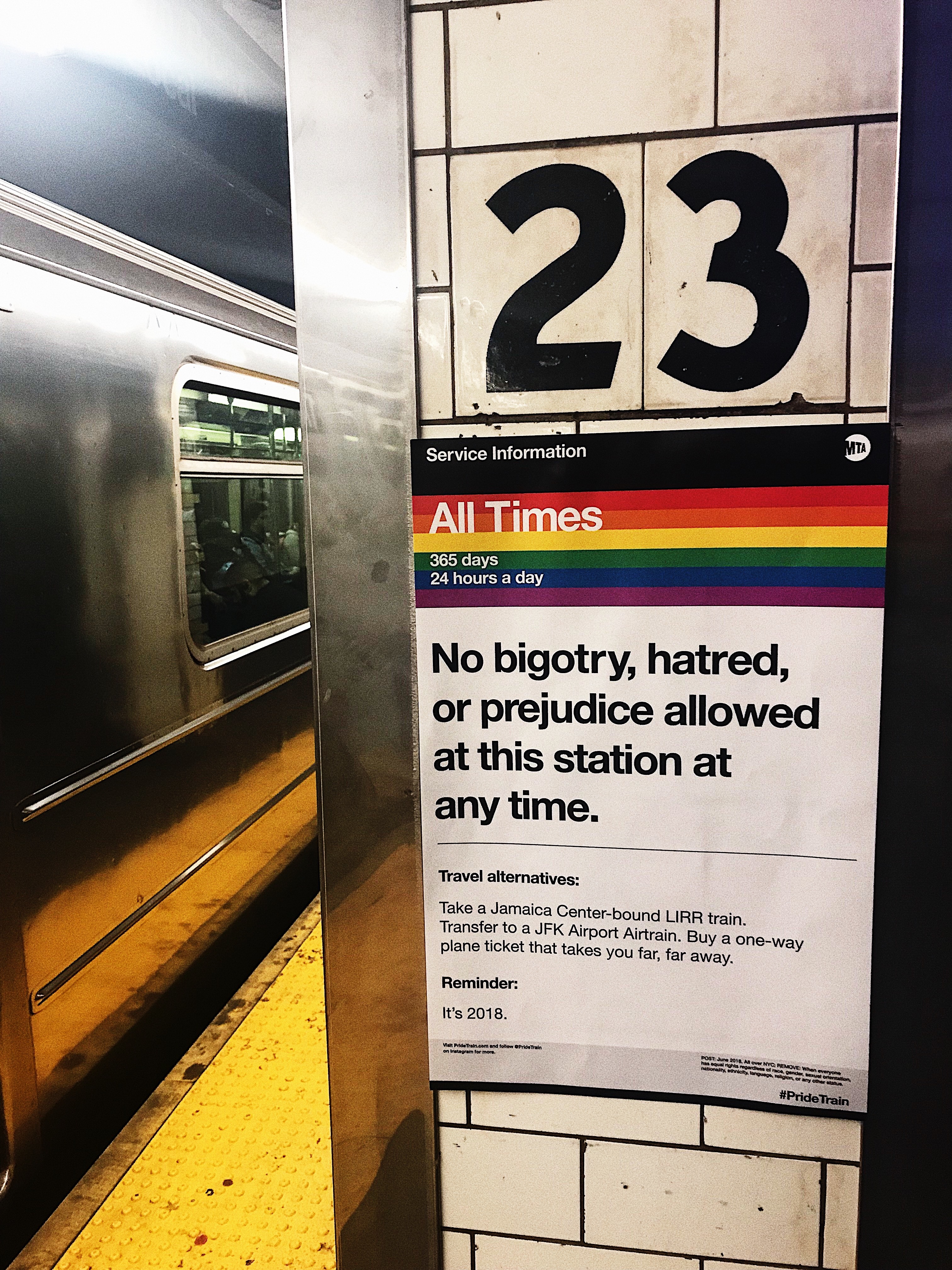 How did Pride Train begin?
Pride Train began in 2017 just as a guerilla project outside of school. It was created by Professor Thomas Shim, and students Ezequiel Consoli and Jack Welles. In 2018, Kyle Harrison, a friend from Baruch College, joined the project. But beyond that, we have so many amazing collaborators helping us out behind the scenes who are just as essential to the project as any of us.
What's the reaction been like?
The response has been incredible and it keeps getting better as the project grows. It's both humbling and amazing to see how much love this world, and city has. Reading comments like "This is what makes me love NYC" is especially great because it makes us feel like we're making a positive impact on the city we love so much. The feedback truly cements the fact that there is more love in this world than hate.
Does the MTA know about it? Have they said anything about it?
The MTA knows about it but has yet to make any statements. We'd love to work with them to expand the project even further if possible. They do remove the posters, however.
Aside from spreading the core ideas of pride, what do you hope people take away from the campaign?
Pride Train stands for more than just sexuality. We want to promote inclusion for all people, regardless of their status. We're hoping to create an impact of any kind, even if that impact is as small as making someone smile on their morning commute.
The actor Pedro Pascal just gave the Pride Train campaign a shout out on Twitter. Any other notable supporters?
We've been getting a pretty good amount of support from influential people. Last year, RuPaul, Ashton Kutcher, Broad City, Edward Granger, and Yael Stone all gave us a shout out. This year we're hoping for similar support.
Be sure to share any Pride Train posters that cross your path. For more, follow Pride Train on Instagram, Twitter and Facebook