Updates on Reopening SVA
Click below for info on our plans for 2021-2022, including the vaccine requirement for all students, faculty and staff.
Poetic Algorithms: Student Exhibition
April 4, 2018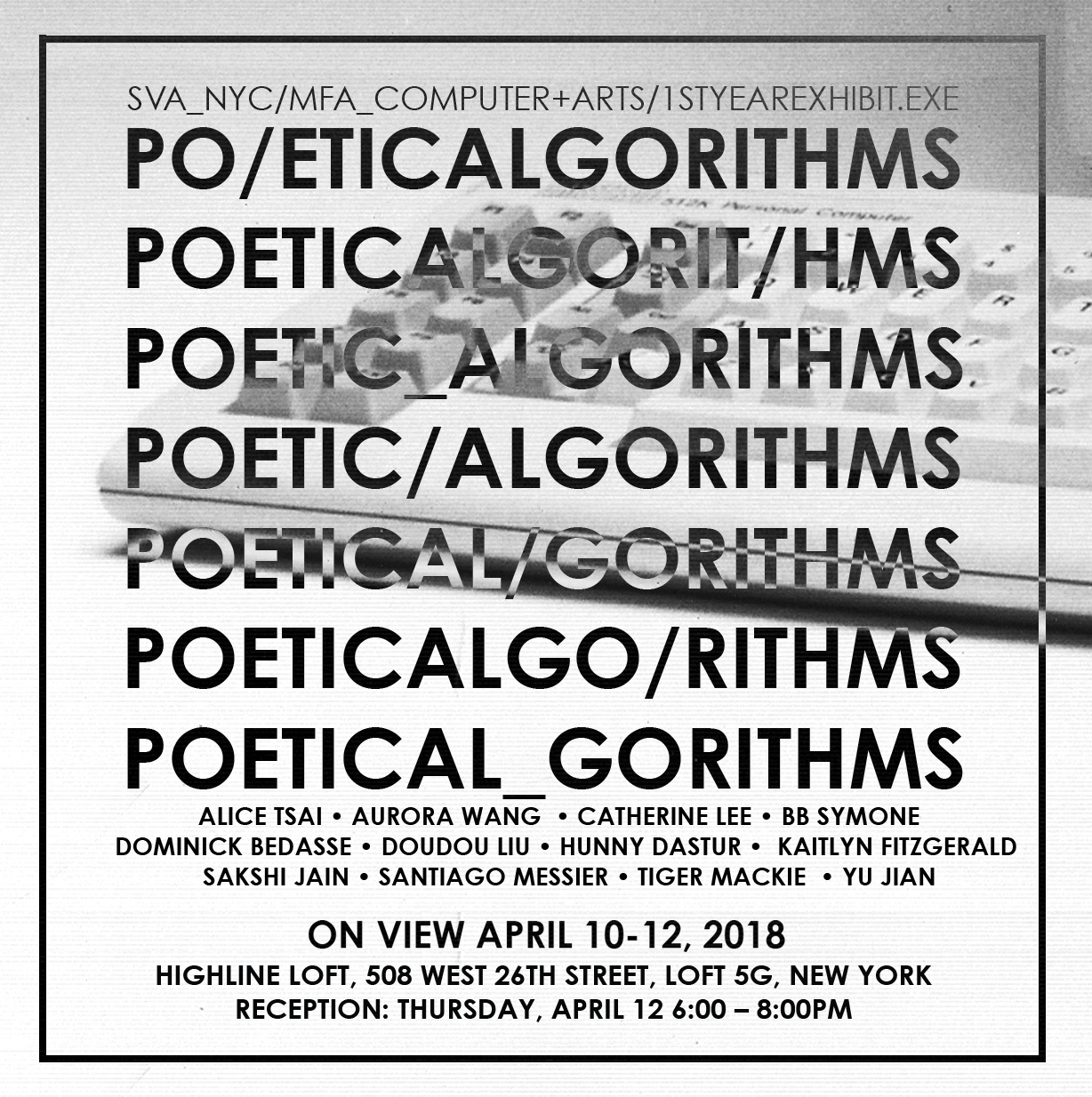 The MFA Computer Arts Department at the School of Visual Arts (SVA) presents Poetic Algorithms, an exhibition of videos and installations by first year MFACA students. The exhibition will be on view from April 10 to April 12, 2018 at the Highline Loft 508 West 26th Street, between 10th & 11th Ave, Loft 5G, New York City. The gallery is open 10am-6pm.

Poetic Algorithms explores the possibilities of technology and how it impacts the way we see the world. In a world of constant motion, technology has become a key figure in how we experience our surroundings. It has helped us confront our problems but has also brought new issues to the table. Artists in this exhibition created works to examine these subjects by using a variety of media, including video, animation, projection mapping, and sculpture.
With the use of Processing and digital painting, Kaitlyn Fitzgerald explores the transformation from human to machine, with the center of that transformation being our phones. Through an interactive sculpture with filmed and animated components, Tiger Mackie meditates on America's culture of mass production, and illustrates the vicious cycle of consumerism generated by capitalism. Dominick Bedasse reflects on the census data of prison populations within the United States with Processing elements.
Other artists in this exhibition include Ling Hsiu Tsai, Catherine Lee, Devan Worth, Doudou Liu, Hunny Dastur, Sakshi Jain, Santiago Messier, Xuchen Wang, and Yu Jian.
SVA Features: Poetic Algorithms: Student Exhibition
SVA Features asset
SVA Features: Poetic Algorithms: 1st Year MFACA Exhibition