Updates on Reopening SVA
Click below for info on our plans for 2021-2022, including the vaccine requirement for all students, faculty and staff.
'Spider-Verse' Wins Best Animated Film; SVA Alumni & Faculty Celebrate Their 2019 Oscar Wins
February 25, 2019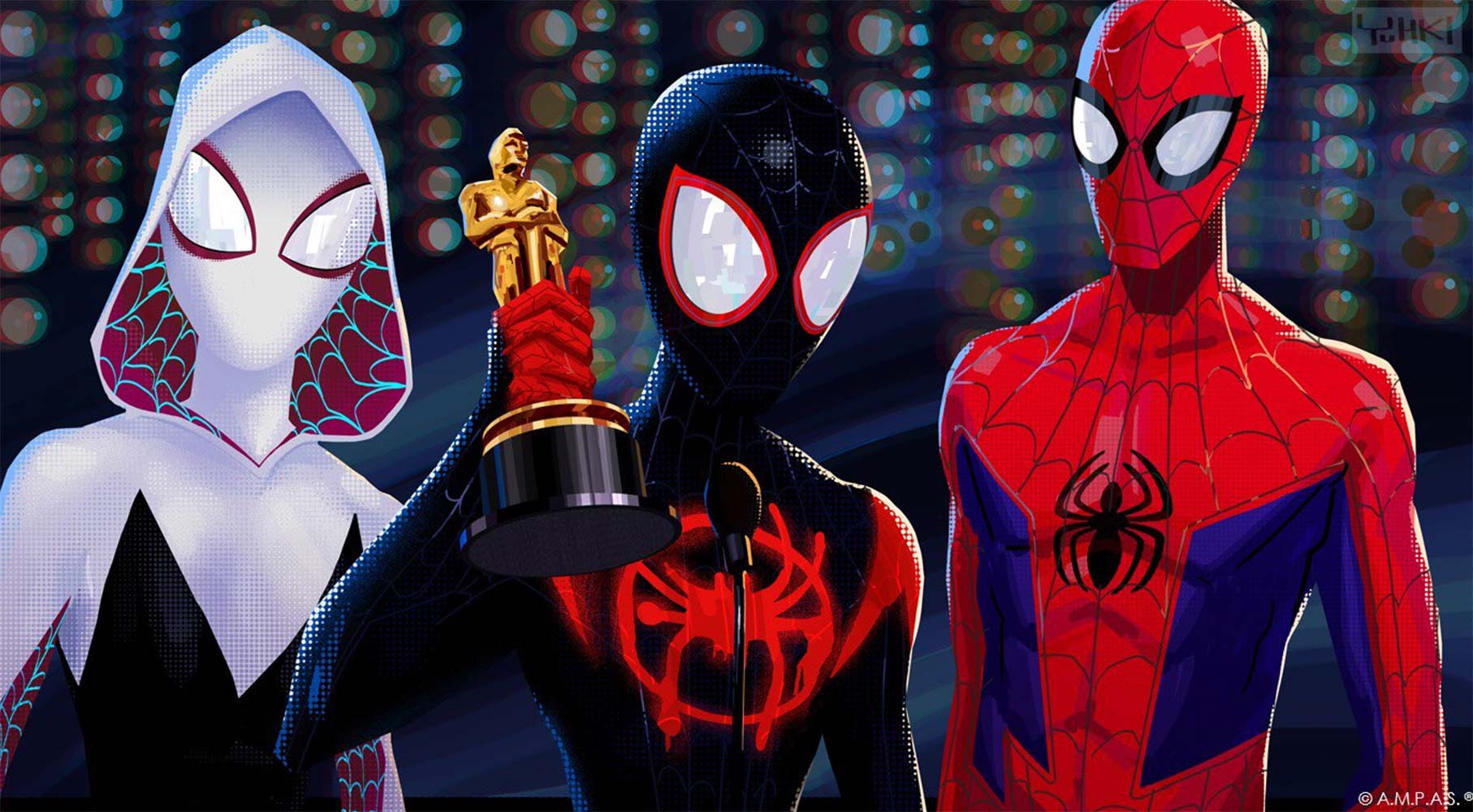 Running at a brisk three hours and fifteen minutes, the 91st Academy Awards ceremony presented by the Academy of Motion Picture Arts and Sciences (AMPAS) moved along at a fast clip last night. Even better, there were champagne bottles to be popped on behalf of SVA. With millions of people watching from around the world, a number of the critical winners were connected to members of the SVA community who worked on several of these Oscar-lauded pictures.
The groundbreaking Spider-Man: Into the Spider-Verse broke the Pixar/Disney winning streak and won the statue for Best Animated Feature. Directed by Bob Persichetti, Peter Ramsey and Rodney Rothman, the dynamic superhero film involved SVA alumni working as key animators, including David Han (BFA 2008 Computer Art, Computer Animation and Visual Effects), one of the lead animators on the picture who also won a special animated guild Annie Award prize for Outstanding Achievement for Character Animation in an Animated Feature Production in the run-up to the Oscars. SVA's Gyuhyun Kim (MFA 2012 Computer Art), Tatchapon Lertwirojkul (MFA 2007 Computer Arts), and lighting lead Chris Hung (BFA 2001 Computer Art) also worked on the movie, which has grossed over $350 million worldwide. A sequel should be announced any minute now.
RELATED: SVA Alumnus David Han Talks About Working On The Dazzling Visuals Of 'Spider-Man: Into The Spider-Verse'
Marvel's Black Panther was also a big winner, taking home three Oscars. The SVA artists that worked to create the world of Wakanda included Visual FX artist Wendi Harris Wu (MFA 2014 Computer Art), visual FX supervisor Gong Myung Lee (MFA 2004 Computer Art), and animators Eugen Sasu (BFA 2004 Computer Art) and Ruel Smith (BFA 2004 Computer Art).
While Incredibles 2—which contained half a dozen SVA alumni among its animated members—was shut out, the animated giant that is Pixar wasn't left entirely in the cold. Bao, the poignant story of a mother and dumpling/son, won the Oscar in the Animated Short Film category. This lovely and endearing short featured work from key sets artist Ivo Kos (MFA 1991 Computer Art) and character developer and animator Nancy Kato (MFA 1991 Computer Art).
Lastly, the vertiginous National Geographic documentary Free Solo won Best Documentary at the Oscars last night. BFA Film and Animation faculty Tom Fleischman was the re-recording sound mixer on this doc about the first person to free solo climb Yosemite's 3,000ft high El Capitan Wall without ropes or safety gear—one of the greatest athletic achievements in human history.
RELATED: SVA Alumni are All Over the 2019 Oscar Nominations
Filmmaking is a collaborative team effort, so congrats to Tom and all the alumni that worked hard on these Academy Award-winning films.