Updates on Reopening SVA
Click below for info on our plans for 2021-2022, including the vaccine requirement for all students, faculty and staff.
Terrence Masson Named Chair of MFA Computer Art Department at SVA
January 6, 2017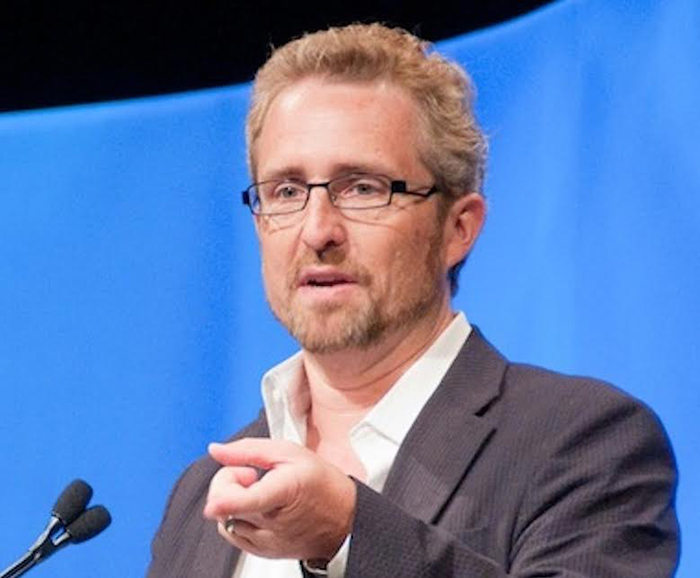 SVA President David Rhodes has announced the appointment of Terrence Masson as chair of the College's MFA Computer Art Department, effective January 1, 2017. Masson will succeed Bruce Wands, who, after serving 22 years as department chair and more than 32 years as an SVA faculty member, will assume the title of department chair emeritus.
Terrence Masson brings over 25 years of education and production leadership experience to his new role. As executive professor of animation and founding director of Creative Industries at Northeastern University, he led creation of the undergraduate Game Design and Interactive Media programs in the university's College of Arts, Media and Design. His book CG101: A Computer Graphics Industry Reference (New Riders Press, 1999) is a standard text worldwide for studio executives and students alike. He holds an MFA from William Patterson University and a BFA in graphic design with an art history minor from University of Massachusetts, Lowell.
As an animation and visual effects artist and producer, Masson has worked across the film, broadcast, video game and interactive media industries. He has earned credits on more than 20 feature films, including Hook (1991), True Lies (1994), Interview with the Vampire (1994) and three Star Wars movies. He has supervised numerous interactive projects, such as SimCity4 (2003), Bruce Lee: Quest of the Dragon (2002), Batman Dark Tomorrow (2003) and Alter Echo (2003). Masson also developed the original CG pipeline for the hit animated series South Park, in 1996, and his short film Bunkie & Booboo won first place in the World Animation Celebration in 1998. His latest startup, Building Conversation, provides augmented reality visualization services for the architecture and real estate industries.
Masson's interests are reflected in his involvement with various industry organizations, including SIGGRAPH. A member since 1988, Masson has served as 2006 Computer Animation Festival chair and SIGGRAPH 2010 Conference chair and is currently the ACM SIGGRAPH Outstanding Service Awards chair. He is also a member of the Producers Guild of America and the Visual Effects Society, serves as an ACM Distinguished Lecturer, and has been involved with the FMX conference since 1999.
"I'm incredibly excited to join MFA Computer Art as Chair at the celebration of its 30th anniversary," says Masson. "SVA puts students first above all else. One hundred percent of SVA's world-class faculty are working professionals and artists helping to keep SVA's curriculum and instruction innovative, adaptable and relevant."

As chair, Masson will lead SVA's MFA Computer Art Department, which includes approximately 85 students and 40 faculty. The MFA Computer Art Department, established in 1986, was the first graduate program in the U.S. to focus on computer art with a multidisciplinary approach to computers and emerging technologies and has a network of one thousand alumni who have created a tradition of excellence. Dedicated to producing digital artists of the highest caliber, the department guides each student in the development of a personal artistic style in a course of study that is individually tailored to meet his or her needs. Students come from around the world to study in this two-year, 60-credit MFA degree program, which has distinguished itself with eight Student Academy Awards.

Related article: From Pixar to Beyoncé: Celebrating 30 Years of Pioneering Computer Art