Updates on Reopening SVA
Click below for info on our plans for 2021-2022, including the vaccine requirement for all students, faculty and staff.
Alumni Scholarship Award Winner's Book Explores Courage, Empathy and Creativity
"Don't be afraid to try something new and fail, you're still young and one failure doesn't mean the end of everything."
May 8, 2019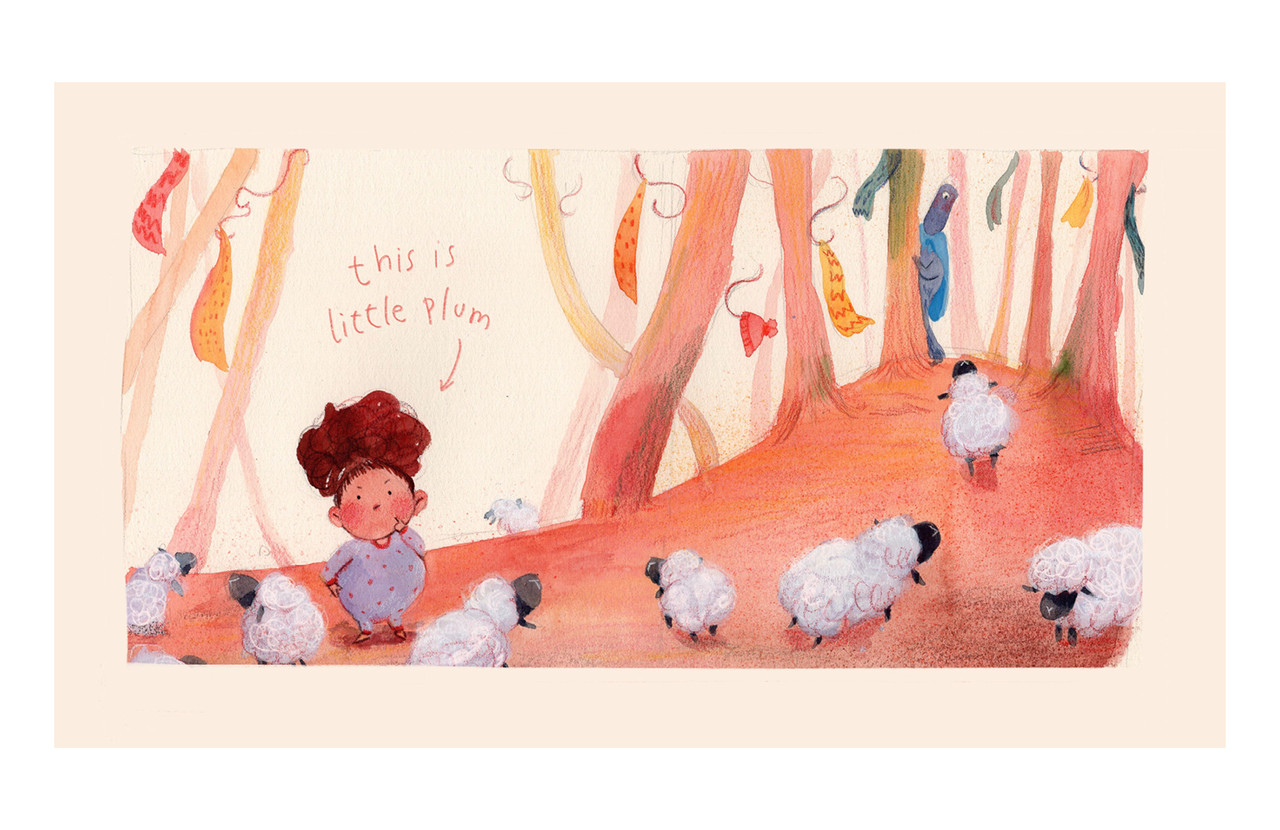 Over the next few weeks, SVA will be highlighting some of the many outstanding projects by its 2019 Alumni Scholarship Award winners. Today's featured works are by BFA Illustration student Lian Cho, whose 32-page children's book, Little Plum and The Closet, follows the story of a young girl who must confront the monster in her closet. By overcoming her fear she dives inside the closet only to discover an exciting new world and a monster who isn't so scary after all.
Tell us about your project. What inspired the idea?
Little Plum and the Closet has been an idea that I've been stewing on for the past couple of years. One night I was having trouble falling asleep and came upon the thought of counting sheep to help with sleep and how ridiculous the idea was in that it never seemed to work. Then the idea came to mind of these sheep emerging from the dream, and waking up to find the sheep you count inside your bedroom. Over the years the story has compounded and grown more sophisticated and finally, with the help of David Soman, my children's book class instructor, we were able to distill the idea down to a simple form. I wanted to tell a story similar to my own, with, of course, some added fantasy and flair. Little Plum and the Closet tells the story of a young girl who moves to a new house and has to confront the fear-inducing "knock-knocking" coming from her closet. She decides to toughen up and investigate only to find a magical world inside her closet and a monster who just wants a friend. When I was four, I moved from Taiwan to New Zealand, and I knew that I wanted to put some of these experiences into the story, as I personally know all too well the loneliness and fear a new situation can place in any new immigrant, young or old. I was also deathly afraid of the dark as a child, and the book is my way of confronting my own fears and learning that there isn't anything scary about it at all once you get to know it.
What most surprised you once you started working on the project?
Definitely how hard it was to distill a complex idea that I had been sitting on for years into something that could be fit into a 32-page children's book without making it too overwhelming for the reader. The story has been through many iterations over the past couple of months and has shifted dramatically from what I first envisioned it. Although the story is not perfect even now, I think this project has taught me many things about illustrating and writing my own picture book, especially how difficult it can be, despite how simple picture books may seem.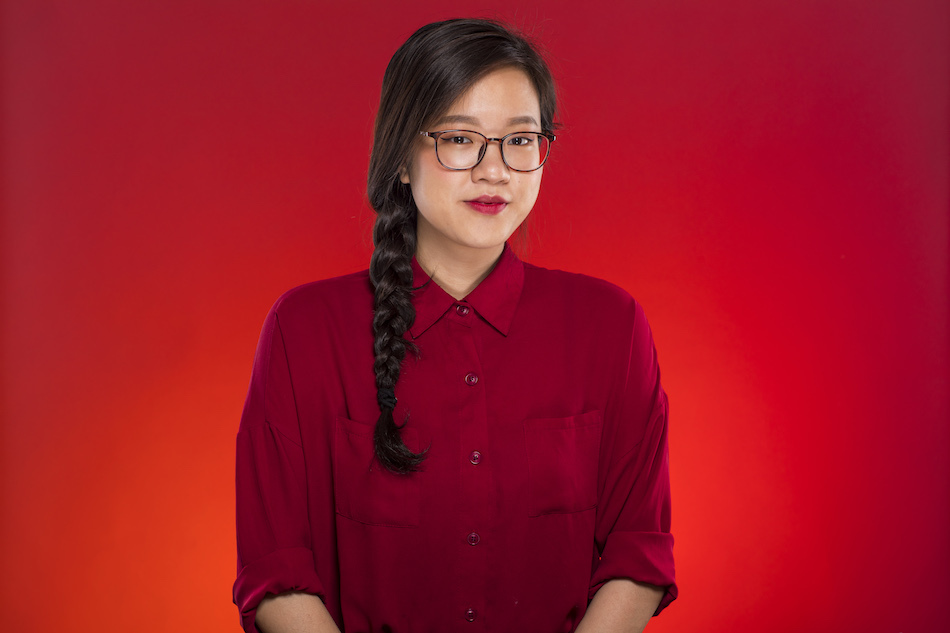 What was a highlight of living and studying in New York City?
For me, I love the different cultures and experiences that are packed into this city. I can take the subway and find snacks I thought I could only find in Taiwan, or I can walk to the Met and look at paintings hundreds of years old from France. Studying in New York has been a great experience as it forces me to be more independent and to broaden my outlook on life. Another great part of New York is that many publishing houses tend to be here, meaning I can quickly meet with art directors and editors without having to send elaborate emails back and forth.
What is something you learned at SVA that you'll always take with you?
I learned that it isn't about how hard you work, but how smart you work that matters in the end. Many students work hard and push themselves to the brink of exhaustion and end up burning out and not taking good care of themselves. I know this because I was one of them and after burning out junior year, I decided to take time to take care of myself mentally and physically. It's okay to not be working 24/7 and pulling all-nighters because, in the end, the work you make when you are happy and healthy will be far better than something you crank out at 4:00am for a 9:00am class. Another important thing I learned is to simply do work that you like. People are attracted to passion, and when you make work for other people, it's hard to be happy or excited or passionate about it. Plus, if you end up getting hired for creating work that you hated making, where would the fun be in that?
Was there a teacher or class that was essential for you?
David Soman's watercolor class was essential for me, not just for learning watercolor but for painting and approaching color in any medium. His watercolor class taught me to be brave and confident in my work, something crucial for watercolor, as the medium tends to dry quickly and be difficult to reverse. Gregory Crane's painting class was also essential for learning color theory purely through practice as I don't use oil paints anymore but have learned so much about color that I can apply it to my work in any other medium. Bruce Waldman, Julia Rothman, Aya Kakeda and Sam Weber were also great instructors who worked in different fields and were so inspiring.

What was your favorite piece of advice a teacher or student shared with you?
David Soman once told me that when you hit a tough challenge and try to work through it, "It's not the pain of 'can't,' it's the pain of growing." I think that's really important because many times when we hit a tough point, especially in creating art, we want to give up because we feel like we can't make it work. But in the end, just like athletes, the muscle has to hurt before it can grow.
What advice do you have for next year's students going through your program?
Try as many different things as you can. You're not going to learn much taking classes from the same instructors and working in the same medium every semester. The whole point of school is to learn and experiment in an environment where the stakes aren't as high. Work hard in your classes and actually absorb and listen to all the information the teachers give because sometimes the information isn't explicitly said, it's shown. Don't be afraid to try something new and fail; you're still young, and one failure doesn't mean the end of everything.
This interview has been condensed and edited.

For this year's SVA Alumni Scholarship Awards, a record 68 students were chosen from a pool of over 270 applicants and were granted scholarships worth more than $60,000 for projects as varied as design products, animation, painting and photography. For more information about the Alumni Scholarship Awards and to see a complete list of this year's recipients, click here.

For more information about SVA's BFA Illustration program, click here.