School of Visual Arts Exhibits Emerging Artists at Major Art Fairs for Miami Art Week 2019
Work On View at UNTITLED Art Fair, PULSE Art Fair and Satellite Art Show
November 25, 2019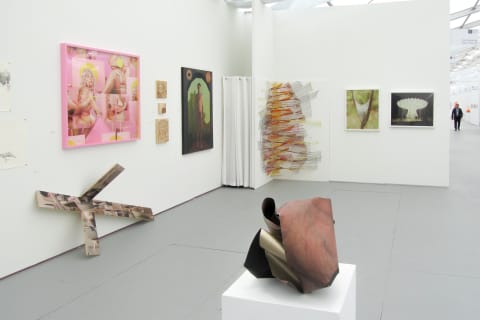 November 25, 2019 — Miami Beach, FL — School of Visual Arts (SVA) will present more than 20 emerging artists at three prestigious fairs during Miami Art Week, taking place December 4 through 9 in Miami, Florida. Recent SVA alumni will exhibit work in UNTITLED, ART (Booth C37), PULSE Art Fair (Booth 414) and SATELLITE Art Show, spanning a range of mediums including photography, sculpture and painting to explore identity, the altered perceptions of observed realities and themes that reflect the power of nature, beauty and transformation of the ordinary.
UNTITLED, ART is an international, curated art fair founded in 2012 that focuses on curatorial balance and integrity across all disciplines of contemporary art. This will be SVA's first year exhibiting artwork in UNTITLED Miami. The featured artists, all 2019 graduates, include Timothy Bair, Haijing Chen, Hannah Fitzgerald, Hailey Heaton, Kyle Henderson, Dylan Prince, Dana Robinson, Arantxa Rodriguez and Paul Simon. For more information on UNTITLED, visit untitledartfairs.com. Artworks available for purchase are listed on premiere digital marketplace Art Space.
PULSE is an experiential collection of galleries celebrating its 15th anniversary this year, and will feature work from SVA's BFA Photography and Video alumni, curated by department chair Joseph Maida. Work by Mars Hobrecker, Logan Jackson, Jinsil Lee, Francena Ottley, Sarah Teller, Victoria Helena Queiros de Assis e Silva and Yuan Zhang will exhibit at PULSE. This group of artworks by recent alumni represents the diversity of approaches explored with technical and conceptual rigor in SVA's BFA Photography and Video program. For more information on PULSE, visit pulseartfair.com.
SATELLITE, named Miami's Best Art Fair in 2018 and organized by SVA alumni Brian Whiteley, Quinn Dukes and AnnaLiisa Benston presents interactive projects by young dealers, artist-run spaces and non-profits. This year, visitors can expect 30 immersive and otherworldly installations by organizations and artists from across the country and abroad, including from SVA's own MFA Fine Arts and MPS Art Practice programs. Alumni artists include Annie Kim, Carla Maldonado, Emily Klass and Jon Gomez. For more information on SATELLITE, visit satellite-show.com.
"SVA Galleries has been presenting the work of recent alumni during Miami Art Week since 2007, we were the first college to do so," says Dan Halm, curator of the SVA Galleries booth at Untitled, Art, "Being included among the high caliber of galleries during the week allows SVA to introduce the art fair participants to curators and fair goers from all over the globe,
while offering a level of visibility that will benefit those participants far beyond their inaugural presentation and throughout their careers."
Other SVA alumni will exhibit work at fairs including NADA Art Fair, Aqua Art Fair, Art Basel and CADAF, as well as in Miami bus shelters, as murals in Wynwood and in various other locations around the city.
For nearly two decades, SVA has presented recent graduates at numerous art fairs throughout the country. The exposure has garnered exhibition opportunities, gallery representation and commissions for public artworks that have allowed SVA artists to advance their careers.
School of Visual Arts has been a leader in the education of artists, designers and creative professionals for seven decades. With a faculty of distinguished working professionals, a dynamic curriculum and an emphasis on critical thinking, SVA is a catalyst for innovation and social responsibility. Comprising 6,000 students at its Manhattan campus and 38,000 alumni in 75 countries, SVA also represents one of the most influential artistic communities in the world. For information about the College's 31 undergraduate and graduate degree programs, visit sva.edu