Updates on the 2020-2021 Academic Year
SVA continues remote instruction, with select facilities accessible by appointment. Click below for updates.
Art Is Attire: SVA Students Get in Style this Season
December 6, 2018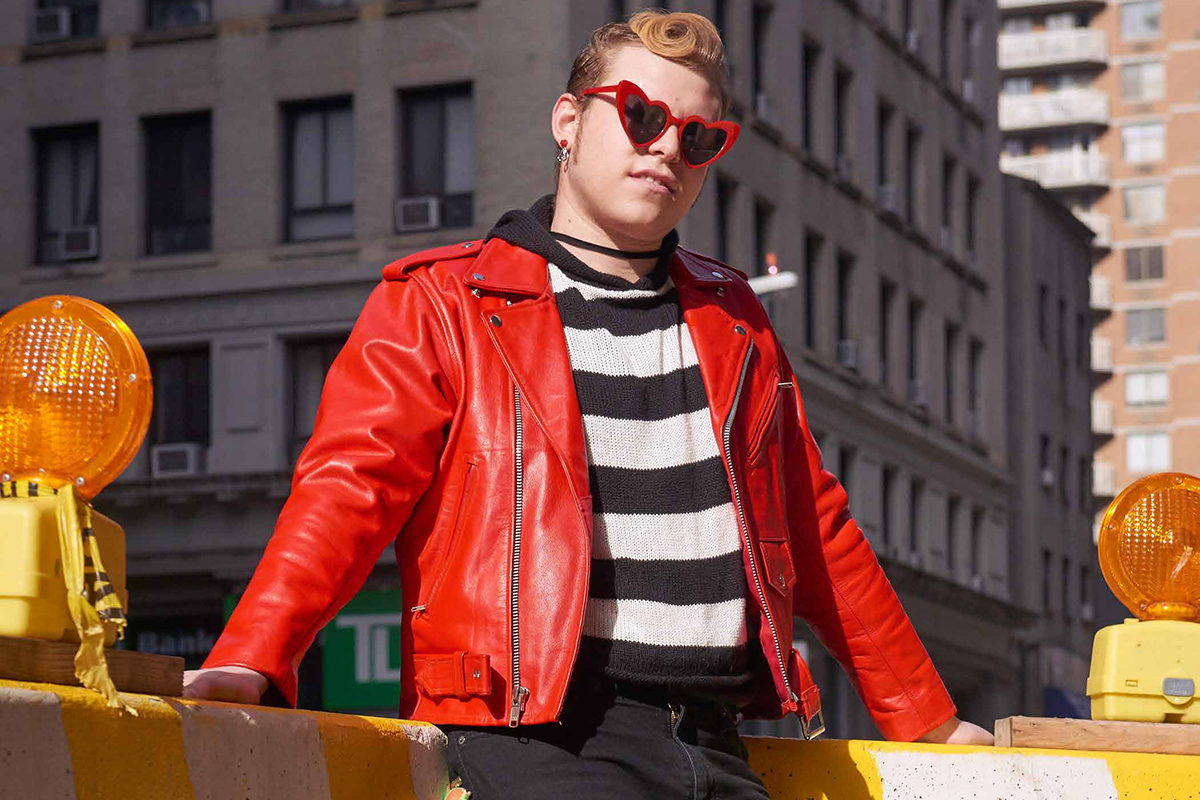 Art students have unique concerns when it comes to their personal style. Fourth-year Lewis Derogene says she loves to show her personal style with accessories because, "As a fine arts student, my clothes will be ruined from paint or resin, but I can walk around with messed-up clothes and still look good because of my earrings and scarves."
SVA students are resourceful for finding one-of-a-kind items. Recent graduate Trevor Munch says his grandmother's mothball-filled closet is a gold mine—as are trash receptacles in Brooklyn's Greenpoint neighborhood. "People throw out the most amazing things," he says. "I once found a '60s Harley-Davidson jacket in a dumpster." Fourth-year student Jackson Dahl found his striped hoodie in the lost-and-found of his residence hall's laundry room. (We assume all efforts were made to locate its original owner.)
Other students find gems online. Amazon and shopgoodwill.com are good resources if you don't want to leave home.
SVA Features: Art Is Attire

Cassandra Nunez, fourth-year student, BFA Cartooning.
How often I change my hair color: About once a season. Any color palette as long as it's neon.
Describe my style: Faery punk, rainbow goth or neon cute with creepy undertones and some rockabilly overtones.
My fashion inspirations: Harajuku street style, Melanie Martinez and No Frills Twins.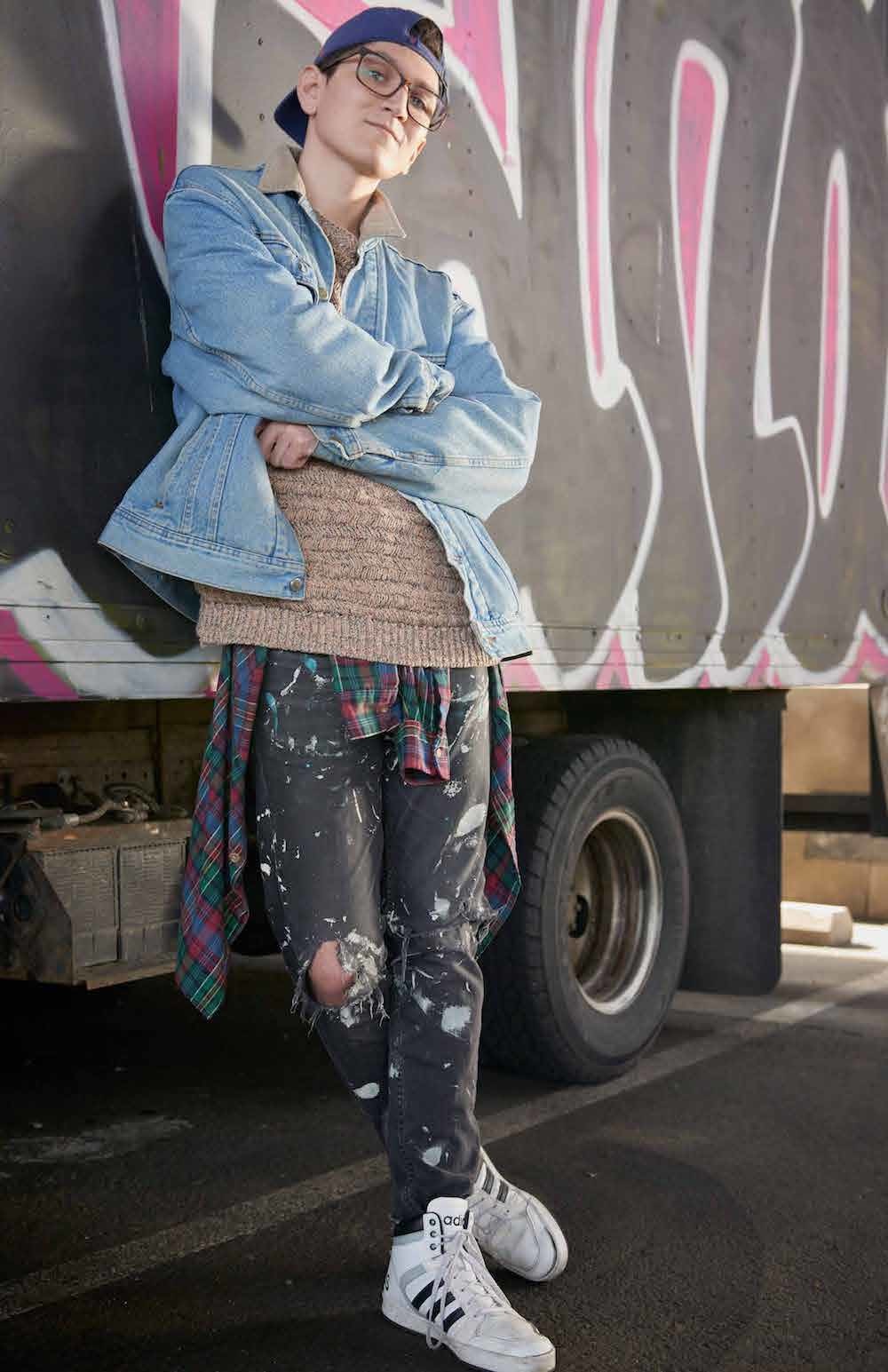 Jonathon Yellowhair, alumnus, BFA Animation.
Fashion tips: Don't be afraid to mix materials: denim, wool, flannel.
Most important accessory: Shoes that are comfortable and cool.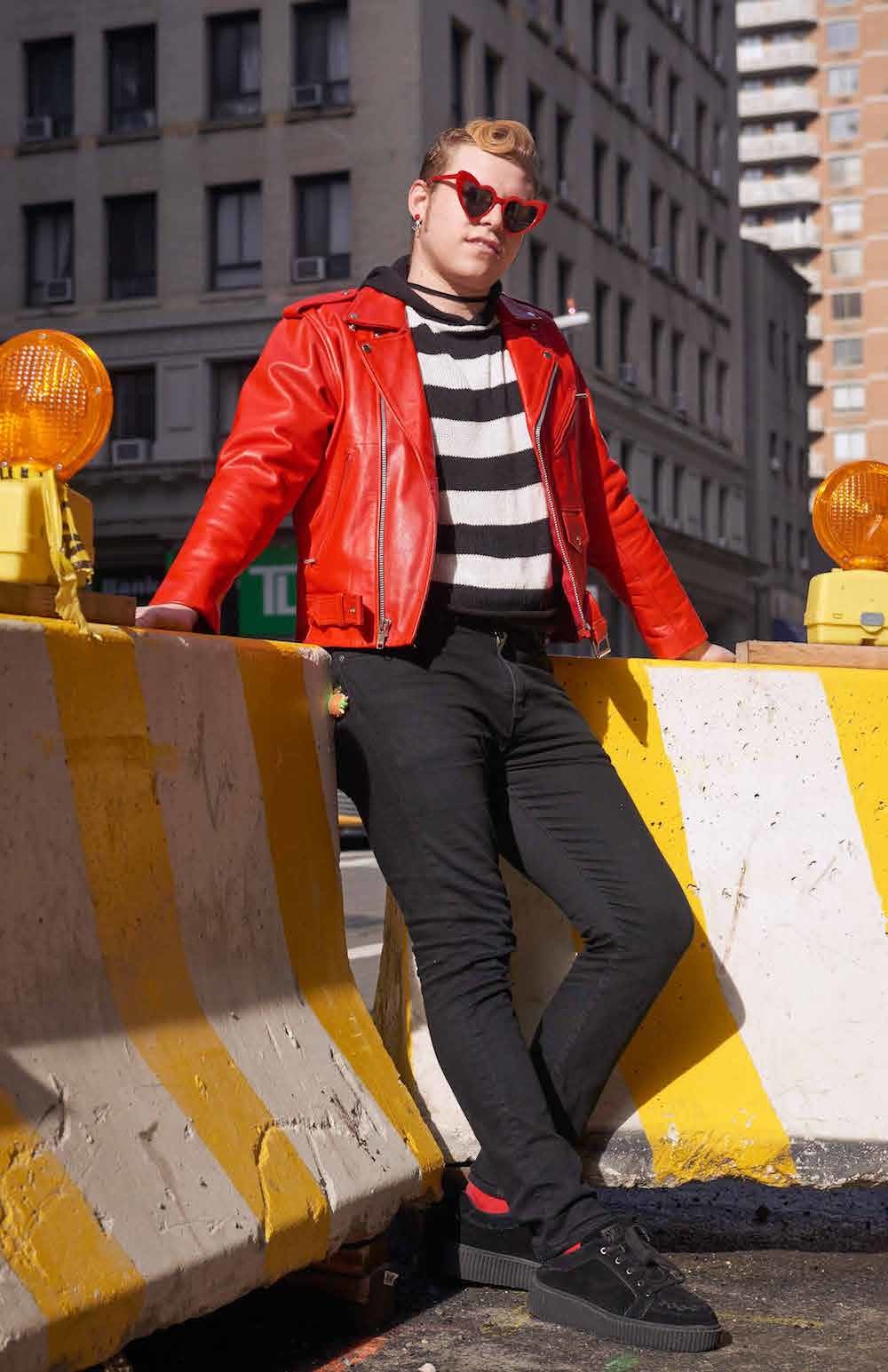 Jackson Dahl, fourth-year student, BFA Interior Design.
My fashion inspirations: '50s rockabilly, '70s punk and '90s grunge.
My favorite clothing items: Jackets—biker, jeans, fringe. And if it comes in bright red, I have to have it.
My favorite accessories: Heart-shaped sunglasses, chokers, platform shoes.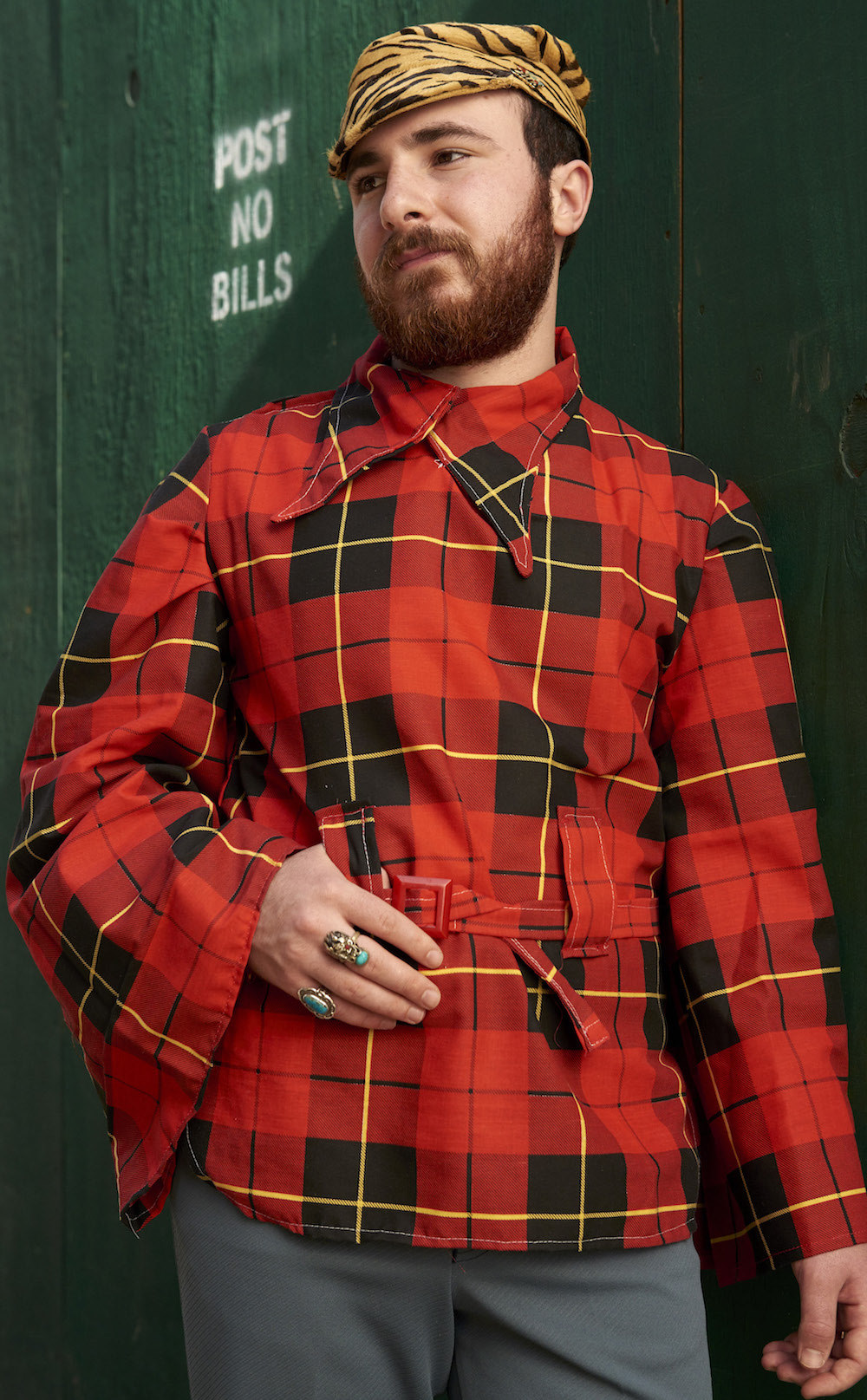 SVA Features: Art Is Attire

Lewis Derogene, fourth-year student, BFA Fine Arts.
My favorite clothing pieces: High-waisted pants, overalls and jumpsuits.
My style in a few words: A balance between comfort, modesty and a touch of authority.
My fashion inspirations: From artist friends and thrift shops.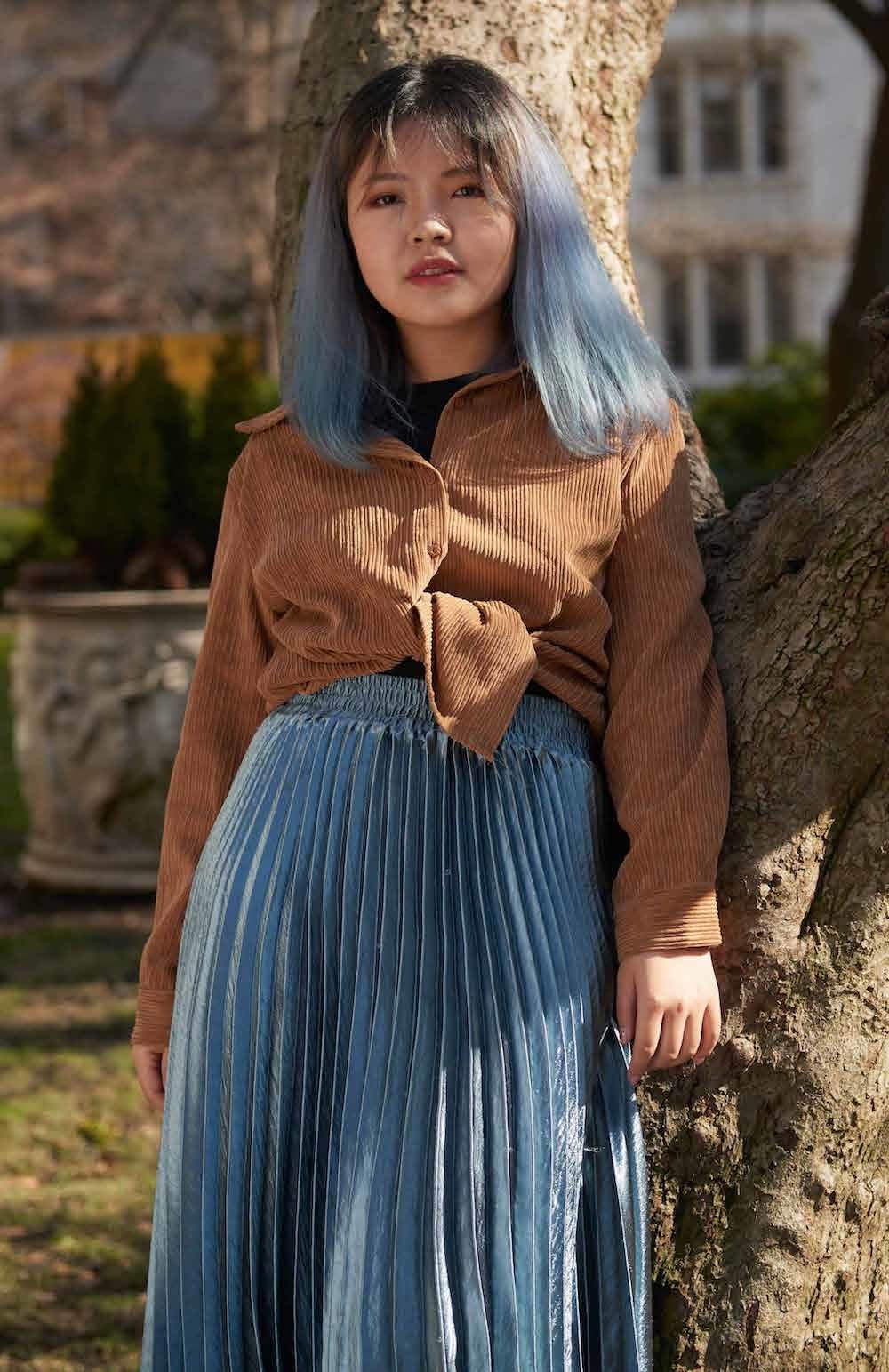 Shuqi Yang, fourth-year student, BFA Design.
Where I got this outfit: The skirt is from Anthropologie and the blouse is from Oak + Fort.
My style in a few words: Joyful and comfortable.
My fashion inspirations: Leandra (Medine) Cohen (Instagram: @leandramcohen) and Wenjie (Instagram: @yaludaily).
A version of this article appears in the fall 2018 issue of SVA Style.