Updates on the 2020-2021 Academic Year
SVA continues remote instruction, with select facilities accessible by appointment. Click below for updates.
Introducing the 2019 – 2020 SVA Shuttle
September 18, 2019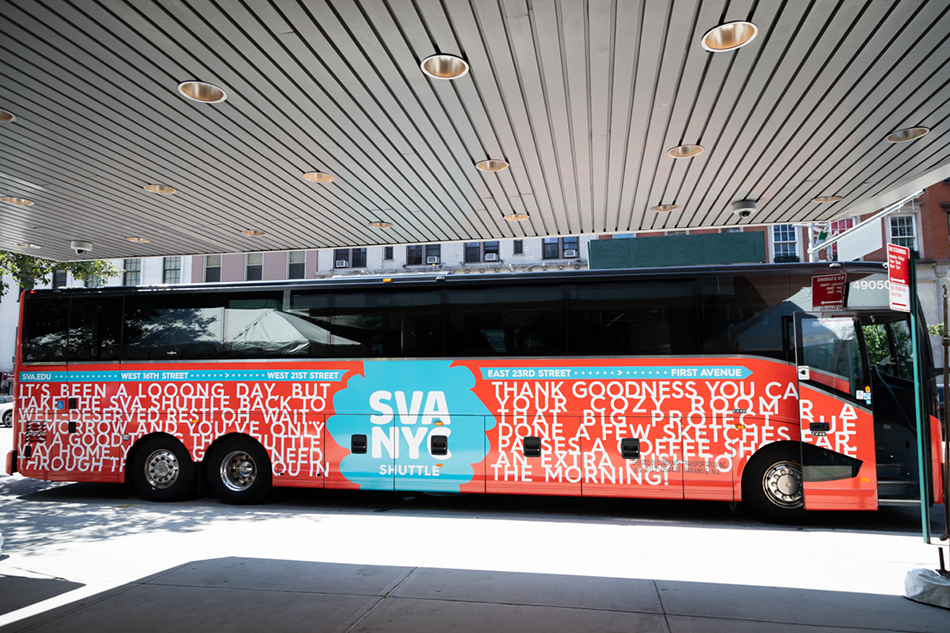 For the past few years, SVA students have been riding around campus in style, courtesy of the College's in-house design studio, Visual Arts Press (VAP). Under the supervision of VAP Creative Director (and BFA Advertising and BFA Design Chair) Gail Anderson (BFA 1984 Media Arts) and Senior Art Director (and BFA Design faculty member) Brian Smith (MFA 2006 Design), the SVA shuttle bus, which takes students crosstown to various SVA academic buildings and residences, gets an annual exterior makeover, with a new design that broadcasts the creative spirit of the SVA community and enlivens an otherwise drab-looking vehicle.
"These shuttles look dreadfully generic on their own," Smith said. "Our bus is a part of our brand and our students' experience here, so it must reflect the energy and creativity that our students display every day in their classes."

The bus design for the 2019 – 2020 academic year, as seen above, is text-based, and intended to capture the stream-of-consciousness thoughts common to any art and design student—for those early mornings when they're still waking up on their way to class or the studio, or at the end of another demanding day when they're looking to unwind. This particular design challenge was a wholesale re-think, due to a change in the make and model of the bus itself, which is now much larger with the ability to transport many more students.
"We really had to think on our feet and rework a lot of ideas that just didn't work with this new shape," Smith said. "We also learned from mistakes: don't cover up the windows of the shuttle, making it too dark inside for our students, just because you can!"
Typically, the VAP likes to involve its student interns in the shuttle design project, as it presents a rare opportunity to work on something large-scale that has everyday, real-life applications. "Students really get a lot out of this process because they rarely get to work on this scale in any of their classes," Smith said.
Traveling back and forth from SVA buildings on the East and West sides of Manhattan each day, the SVA shuttles run from 8:10am to 10:05pm, Monday through Friday, and are free to ride for all students, faculty and staff. SVA ID required. For more information on the SVA shuttle, click here. Meanwhile, take a look at the slideshow below to check out details from this year's shuttle and some past years' designs.
SVA Features: SVA Shuttle Bus Fall 2019