Updates on the 2020-2021 Academic Year
SVA continues remote instruction, with select facilities accessible by appointment. Click below for updates.
Louise Fili's Newest SVA Subway Poster Will Make Your Mouth Water [Video]
The designer and Masters Series recipient discusses her latest eye catching creation
August 29, 2016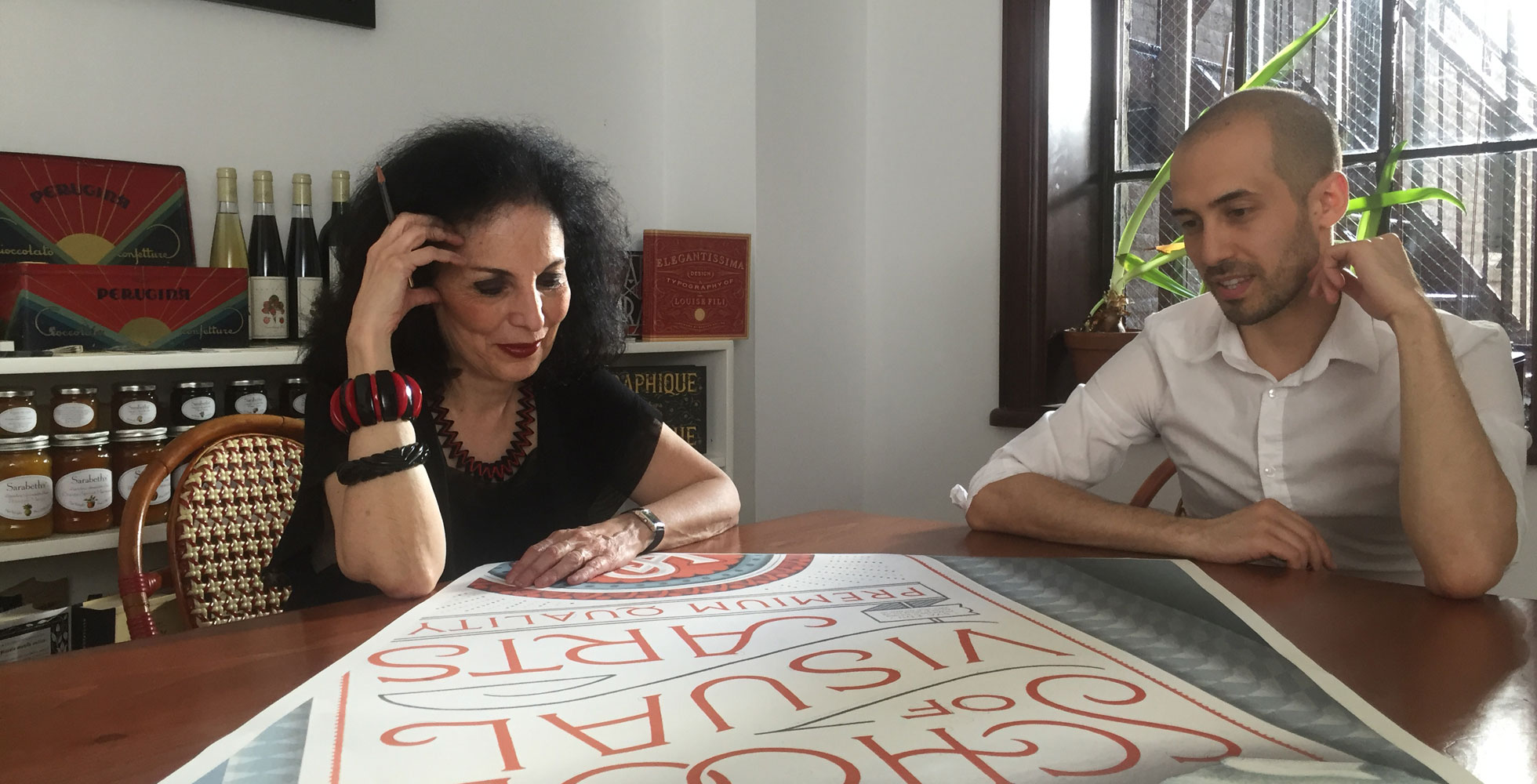 MFA Design and BFA Design faculty member Louise Fili is no stranger to the demands of the New York City subway. Last week, the College released her third SVA subway poster, which can be found in stations throughout the New York City system.
In the mid-1950s, SVA took to the platforms of New York City's subway with advertising posters that were both thought-provoking and eye-catching, featuring the work of legendary artists like Ivan Chermayeff, Milton Glaser and George Tscherny. All practicing professionals on the faculty at SVA, they used the poster commission to explore what it means to be an artist and to hone their own artistic voices. SVA Executive Vice President Anthony P. Rhodes has served as creative director for the posters since 2007.
SVA will also honor Fili with the 28th annual Masters Series Award and Exhibition this fall. "The Masters Series: Louise Fili" will be the first comprehensive retrospective of the designer's influential career and will include her book jacket, branding, food packaging and restaurant identity work. Heller Films produced this short film about Fili's process and inspiration for this new poster and we asked the designer what we might expect in her Masters Series exhibition.
SVA Features: Louise Fili's Newest NYC Subway Poster Will Make Your Mouth Water [video]
SVA Features asset
SVA: What's it like to see your work in the subway and know that millions of people are looking at it every day?
LF: It's very exciting. When our mosaic poster was released, I loved standing on the platform to watch the reactions—many people would try to touch the poster to see if the tiles were real. I look forward to seeing how people respond to this one.
SVA: What visual style has been your greatest inspiration?
LF: Italian and French design from the 1920s-30s has always been my greatest inspiration, although for this particular project, I looked to the Object Poster, or Sachplakat, which was a popular style in Germany in the early 1900s and eventually made its way to Switzerland. The composition focuses on a central object—which is the best way to reach an audience on a moving train.
SVA: In October you will be honored by SVA with the Masters Series, an annual award exhibition to honor great visual communicators. Can you tell us a bit about what we can look forward to in the exhibition?
LF: Kevin O'Callaghan is creating a series of environments that will showcase my food packaging, restaurant work, and books. And did I mention a Parisian kiosk and a gelato cart?
SVA: You've designed book covers, food packaging, restaurant identities, and launched and relaunched brands. Is there anything you have yet to design that you would love to try your hand at?
LF: For several decades I have been photographing shop signage in Europe, primarily for my own reference and enjoyment. At a certain point, the quality of digital photography had improved so much that I could consider putting these images into a book. The first was on Italian signs, the next was Paris, and now I am finishing up Barcelona. In each instance, I have felt a sense of urgency to record the signage before it all vanishes.
SVA: Knowing what you know now, what professional/personal advice would you give your 21-year-old self?
LF: Combine graphic design with something that you are passionate about.
"The Masters Series: Louise Fili" will be on view from October 14 through December 10 at the SVA Gramercy Gallery, located at 209 East 23rd Street.