Updates on the 2020-2021 Academic Year
SVA continues remote instruction, with select facilities accessible by appointment. Click below for updates.
Louise Fili's Lovely New Stamp for the U.S. Postal Service
January 5, 2017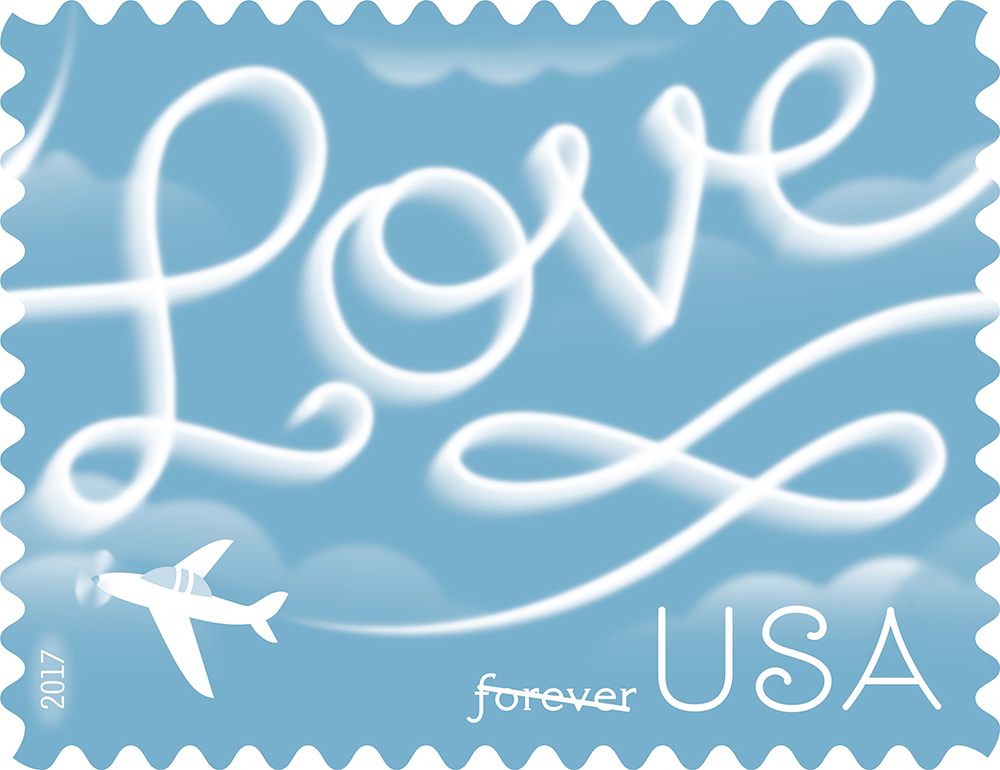 MFA Design and BFA Design faculty member Louise Fili had to shrink the size of her work in order to expand its scope with this soon-to-be-released design: a postage stamp commission from the United States Postal Service. Coming out on January 7, the stamp depicts the word "Love" spelled out by a skywriting plane in wispy cursive across a blue background of cloud-dotted sky. The small aircraft performs a punctuating flourish underneath the heartfelt message, smoke trailing from its tail. (Aviation enthusiasts should note that the initial design was in fact tweaked along the way to ensure that the appropriate plane for skywriting was represented.) Fili designed the stamp several years ago and Jessica Hische, her senior designer at the time, did the illustration.
"I am always looking for new ways to use illustrative typography," Fili said, adding that the idea of using skywriting had intrigued her since her book jacket days at Pantheon Books, where she served as art director for more than 10 years. A skywriting demonstration recreating Fili's design is planned for the official launch ceremony of the stamp at the Planes of Fame Air Museum in Chino, California. Fili also previously designed the Love Ribbons stamp, again illustrated by Hische, which the USPS issued for Valentine's Day in 2012 and ran with 250 million impressions.
The skywriting stamp's issuance comes on the heels of Fili's Masters Series Award and Exhibition, awarded by the College last fall and on view at the SVA Gramercy Gallery from October 14 through December 10, 2016. "The Masters Series: Louise Fili" was the first comprehensive retrospective of the designer's influential career and included her book jacket, branding, food packaging and restaurant identity work, showcased as a series of built environments. The Masters Series was instituted in 1988 by SVA founder Silas H. Rhodes as an award and exhibition honoring great visual communicators of our time.
For more information about the stamp, click here. To see more of Fili's work, visit her website.
Related post: Louise Fili's Newest NYC Subway Poster Will Make Your Mouth Water [Video]