Updates on the 2020-2021 Academic Year
SVA continues remote instruction, with select facilities accessible by appointment. Click below for updates.
Meet House of Collections: A Seoul-Based, SVA Alumni-Run Art Collective
October 4, 2019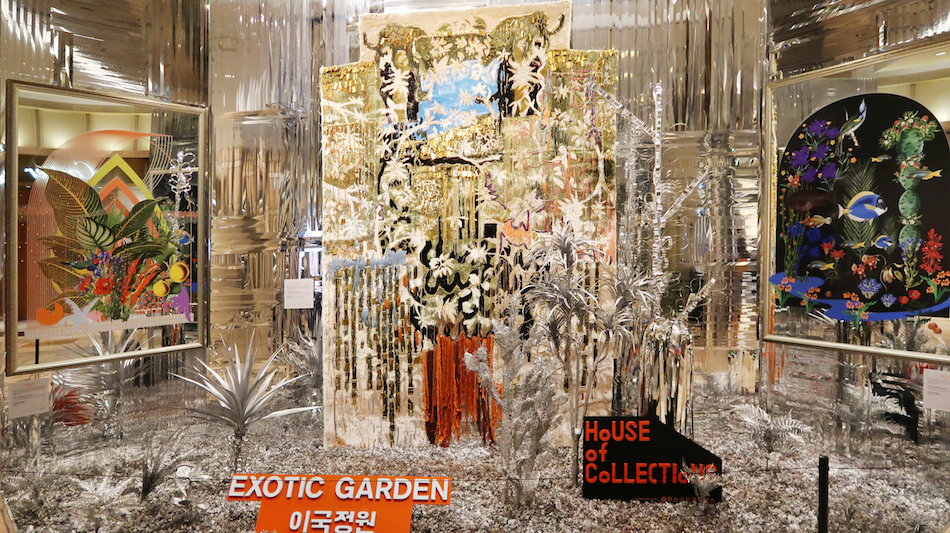 The 2018 project "tangible/intangible," comprised of home products by the multidisciplinary creative group House of Collections, was inspired by three locations—desert, garden and space—that founders Jungmi Cho (BFA 2009 Graphic Design), Ji Youn Hong (BFA 2010 Fine Arts) and Jina Lee (BFA 2010 Fine Arts) had either "visited or dreamed of visiting." Their "tangible" carpets and mirrors, richly layered with vibrant shapes, colors and botanical images, invite people to step into the fantastical worlds of HoC's collective imagination. The collection's Desert carpet, made with 25 colors (the industry standard is seven or eight) is alive with Memphis-style waves and squiggles, bold geometric shapes, Ben-Day dots, flowers and palm fronds. Their Jewel Garden mirrors likewise incorporate brilliant colors, geometric grids and natural elements to both "reflect reality" and offer viewers new environments to explore.
Displayed in the new retail shop Art in House by HoC, in central Seoul's Jung district, such "living products" reflect their philosophy that people should "experience art in daily life," not just within the confines of a gallery, Hong says. The trio have been unbound by convention since meeting at SVA a decade ago and staging a show of their art in an Upper East Side apartment when gallery access proved too difficult. Reconnecting in Seoul a few years after graduation, they formed HoC in 2015 and have since created installations and gallery exhibitions throughout the city; their commercial include Fendi and Lotte department store. While they reject the idea of a house style, nature in all its glory—even when reproduced using artificial materials—is a recurring theme, seen in recent installations like "Blowing Romance in Water Garden," created for luxury salon A. by BOM, and "Exotic Garden," done for Lotte.
"The garden connects human and nature," Lee says. "In the garden, we always feel relaxed and find beauty. Art has the same function."
A version of this article appears in the spring 2019 issue of the Visual Arts Journal.