Updates on the 2020-2021 Academic Year
SVA continues remote instruction, with select facilities accessible by appointment. Click below for updates.
Meet the SVA Alumni Guiding Photography and Design for 'The California Sunday Magazine'
December 5, 2019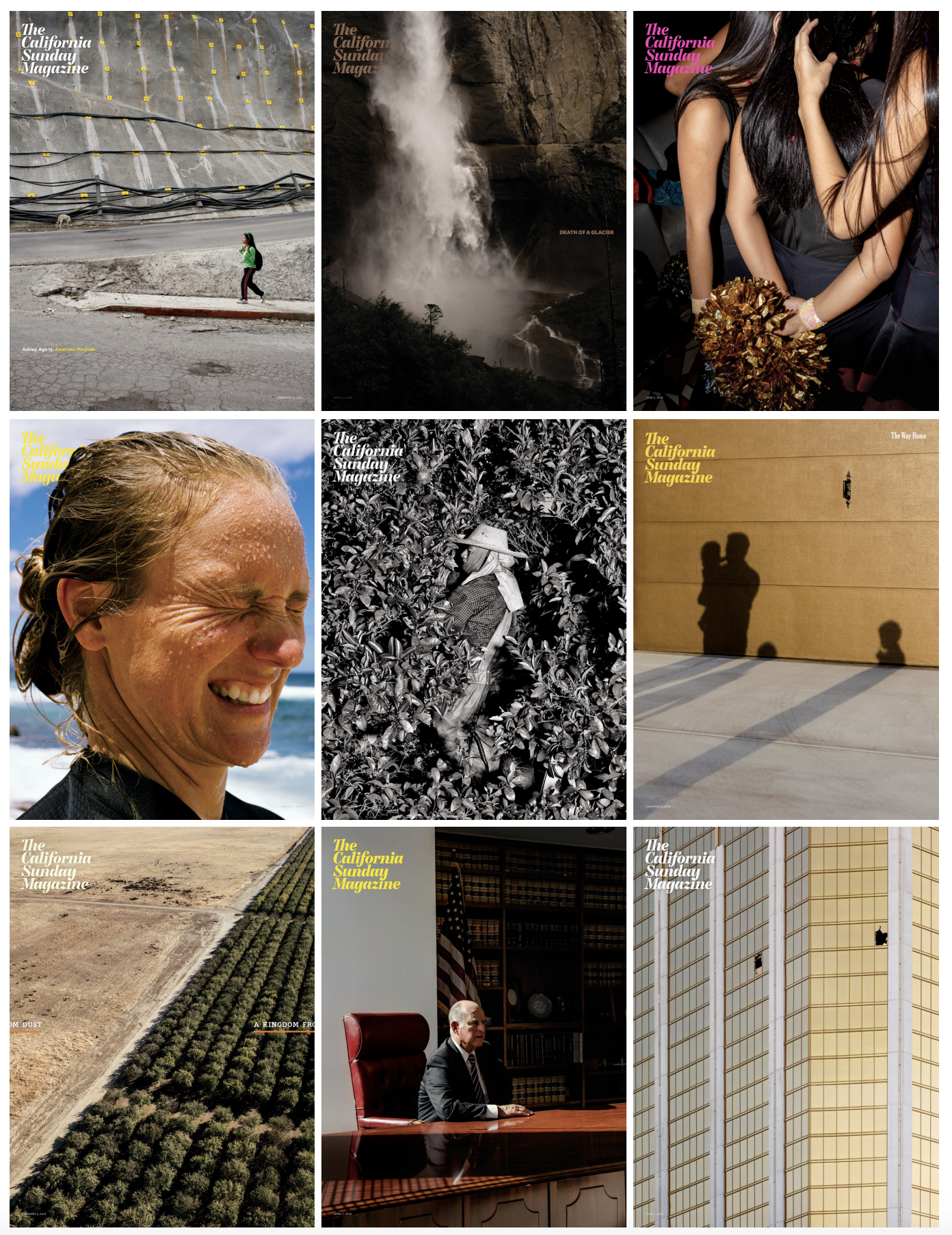 There is, undoubtedly, something about California. The land, the climate, the people, even—especially—the light.
"It has this golden quality to it," says Jacqueline Bates (MFA 2009 Photography, Video and Related Media; BFA 2004 Photography), photography director for The California Sunday Magazine. "We've always said, from the very beginning, that when you get off the plane in California the light feels different."
Bates, a fine-art photographer herself, is part of the award-winning team responsible for capturing and making meaning out of such phenomena—that is, the who, what, where and why of the West—for the five-year-old magazine, a publication decidedly of California but with broad appeal and big ambitions.
Launched in 2014, California Sunday produces wide-ranging features about California, the American West, Asia and Latin America for an international audience. It's stories for your nights and weekends; it's long-form journalism and diligently sourced images that go beyond the editorial; it's cinematic.
"We're inspired by California and by our view of the world from here. So much American journalism comes from New York, yet the West Coast is the center of so much of American culture, politics, technology and the economy," executive editor Raha Naddaf says. "We're dedicated to telling stories first and foremost, and those stories should feel relevant and compelling to people beyond the territories we cover."
Rising housing costs, worsening wildfires, immigration crises—the stories coming out of the West are those of extraordinary circumstances and everyday existence. Recent issues of California Sunday have included pieces on the demise of a glacier in Yosemite, a cheerleading team in Venezuela fighting to make ends meet, Rohingya women in refugee camps, dispatches from recent college grads on the job market, U.S.–born children deported to Mexico with their undocumented parents and the affecting comedy of animated adult TV series. This year, a feature about a Central Valley agricultural tycoon and California's history of water usage won a James Beard Foundation Award. Across issues, the reporting remains topical and eclectic, but intimately framed and told.
Art and photography are fundamental to the magazine's storytelling. "We like the stories to unfold like movies," Bates says. A photo editor at publications like W and Elle in New York before she moved to San Francisco, where California Sunday is produced, Bates was the second hire at the magazine and, with creative director Leo Jung, was given the role of shaping the magazine's aesthetic. This has meant, in her words, letting images breathe. Commissioned photographers—always a mix of emerging and established, fine art and editorial—rarely shoot in the studio, instead keeping the focus on the people and the places they inhabit, together, in their environment, in context. Each feature looks different, and the goal is to have each issue be surprising for the reader.
Bates and her art department colleagues, including art director Annie Jen (BFA 2013 Design), have been nationally recognized more than once already. The magazine won a National Magazine Award for design in 2017 and is the first title in 25 years to win for photography in consecutive years, in 2016 and 2017. (California Sunday has also been a finalist for several other National Magazine Awards, including General Excellence and Magazine of the Year.) The Society of Publication Designers named it Magazine of the Year two years in a row, 2018 and 2019. Jen adopts a similar approach to art direction as Bates does to photography: finding the right artist for the story by seeking out underrepresented, even unknown, genre-crossing illustrators. The magazine's leadership, says Jen, is "very open to different forms of media influencing how they do things—that really reflects how the magazine looks."

California Sunday is published every two months in print and online. Contrary to today's norm, there are no web updates outside out of each issue, no news ticker–style reporting. The circulation model is also unique: the magazine is distributed via Sunday inserts in The Los Angeles Times and San Francisco Chronicle. This has given it a print circulation of roughly 350,000 and as such made it attractive to advertisers from the onset. (Copies are also available in bookstores from Seattle to San Diego.) Even the advertising content is novel, with the in-house Brand Studio designing artistic stories, photo essays and short films for corporate clients from MailChimp to Chanel. "None of us see this as a print launch," co-founder and editor in chief Douglas McCray told the Columbia Journalism Review soon after California Sunday's debut. "We have a print edition, and it's beautiful and we got a great response to it. It's one piece of what we're doing."
Another big piece is Pop-Up Magazine, California Sunday's progenitor and counterpoint, a live storytelling event, a magazine in real-time. If the deeply reported stories and evocative photo essays of California Sunday are meant for spending time, Pop-Up—established in San Francisco in 2009 and now held in theaters across the country—is a dizzily immediate, you-have-to-be-there experience. Nothing is recorded, and audiences, which can now number in the thousands, are encouraged to stay off their phones. Each show runs about 100 minutes and consists of 10 to 15 true stories about a wide variety of subjects from journalists, storytellers and artists; a live score and sound effects by the house orchestra; and specially created visuals, from photographs to films to dance performances. There are about seven stops per tour and three tours a year. This year's spring/summer season kicked off in the Bay Area with stories about domestic workers in Hong Kong, a ride-share in wartime Benghazi and the performative lavishness of many Indian weddings. While there are separate editorial and production teams for California Sunday and Pop-Up, the same art department supports both endeavors, making for a truly multimedia approach to storytelling.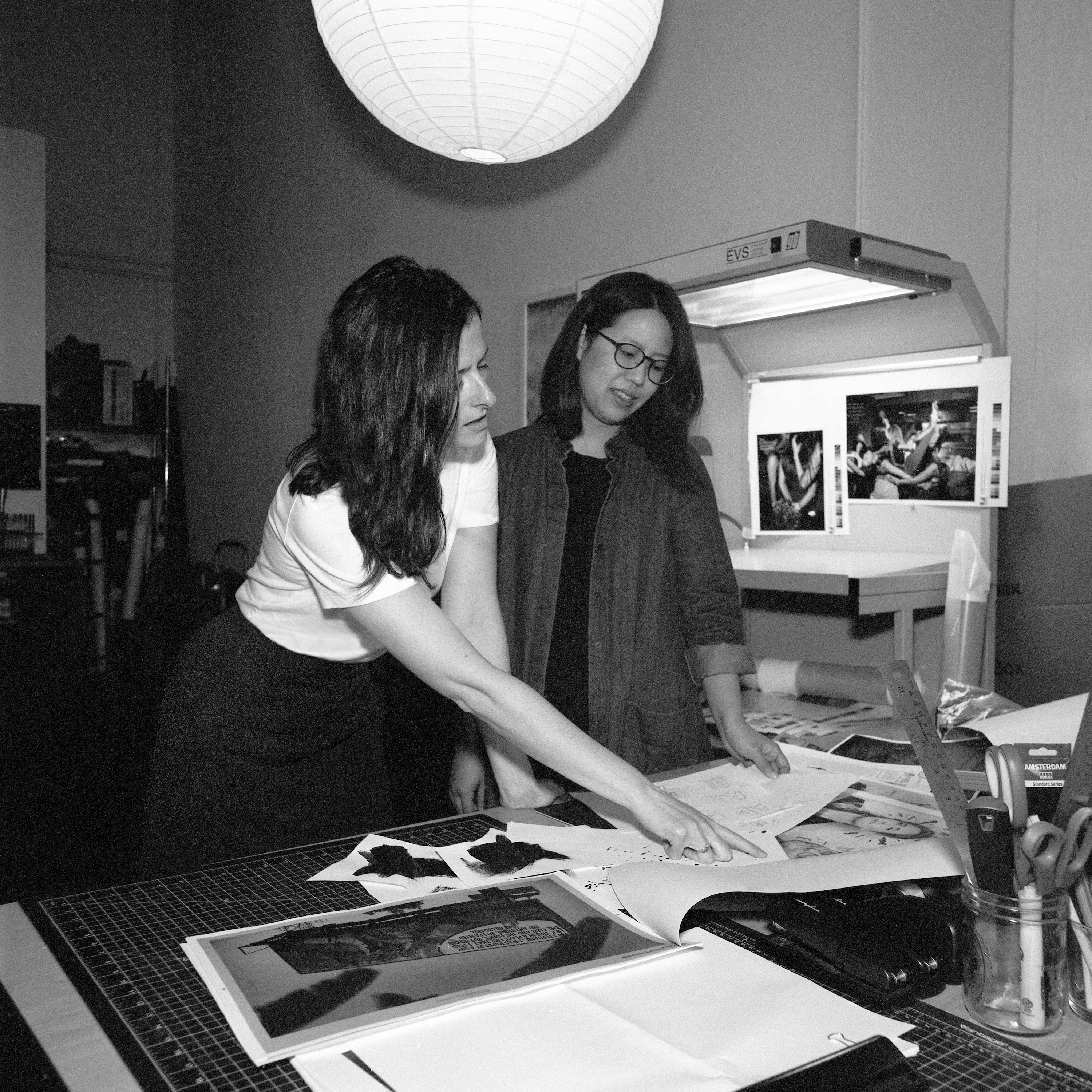 "It's a lot," says Jen, who works with Pop-Up performers to develop original images and animations for their stories. "But when I saw the show [during the interview process], I knew it's what I should be doing." Her approach to layout design now reflects the time-based work and editing she does for the live shows, and vice versa.
The audacity of McCray's take on new-media storytelling with Pop-Up, as well as the buzz generated by its sold-out shows, bolstered his and his partners' ability to start California Sunday. As foil and complement, they have only helped one another. Both venues explore the craft of nonfiction narrative in thoughtful and inventive ways; some stories are for a night out, others for a quiet afternoon or evening in.
An unwavering commitment to experimentation connects the two, under the auspices of Pop-Up Magazine Productions. Naddaf describes a workplace ethos of constant invention, Bates of openness and a sense of trust from the top down. In a media landscape in flux, Jen stresses the embrace of different ways of reporting and making a story with media. "This is more about storytelling than fixating on whether this is a website or not, for example," she says.
Innovative in both form and content, California Sunday follows in Pop-Up's footsteps by taking the magazine beyond its usual presentation, and in the process changing the way it is experienced. One issue was dedicated to the sounds of the West and featured online audio footnotes for each story; last December, a photography-based issue centered on the idea of home was turned into a Bates-curated gallery exhibition at the Aperture Foundation in New York, also with audio clips from interviewed subjects. The resulting multisensory stroll through the pages of a magazine come to life was one of Bates' favorite accomplishments thus far.
"We're so invested in telling stories that you've never heard before," she says, "and doing it in a way that you've never seen before."
A version of this article appears in the fall/winter 2019 Visual Arts Journal.

SVA Features: Golden State Stories