Updates on the 2020-2021 Academic Year
SVA continues remote instruction, with select facilities accessible by appointment. Click below for updates.
New 'Joes@Moe's': SVA Library Director Caitlin Kilgallen [Video]
Joes@Moe's
January 11, 2018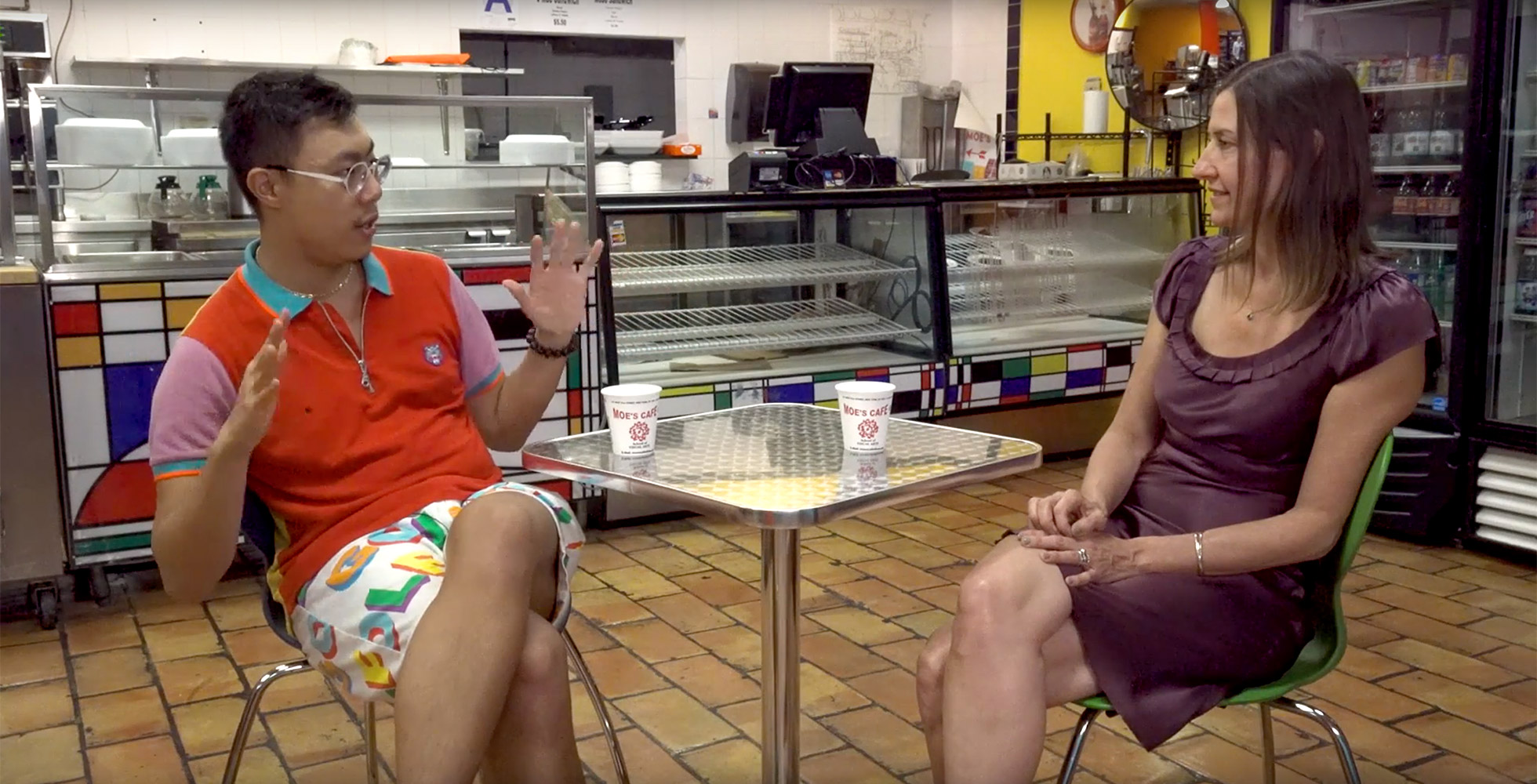 The latest edition of SVA's web series Joes@Moe's finds host Zipeng Zhu (BFA 2013 Design) in conversation with Caitlin Kilgallen, director of the SVA Library since 2016. Over the last six decades, the SVA Library has been an indispensable resource for students, alumni and faculty looking for inspiration and direction and to inform and improve their creative practice and understanding.
The SVA Library is a place to discover, create, collaborate, relax—even enjoy some occasional dog therapy. Kilgallen's helped rethink the idea of a library as a sacrosanct place, with strict librarians and rules of absolutely no talking while still maintaining its integrity. "I feel like books are to live with. They're livable objects not to be locked away," she says.
The facilities have expanded, too, with a new wing recently opened up on the West Side of campus, on the lower level of 133-41 W. 21st Street. People are allowed to drink coffee, the space offers extended hours during finals and you can renew your books online.
"The SVA library is an active place. More than me shushing, I get shushed," she says with a laugh. "I'm the loud librarian." Check out the video below to hear Kilgallen's refreshing thoughts on modern library life and why it rivals even Netflix as a visual resource.
Stay tuned for future episodes of Joes@Moe's with Zipeng Zhu for more engaging conversations with other members of the SVA community.
For more SVA videos, visit sva.edu/videos.

SVA Features: New 'Joes@Moe's' Checks Out SVA Library Director Caitlin Kilgallen [Video]
SVA Features asset