Updates on the 2020-2021 Academic Year
SVA continues remote instruction, with select facilities accessible by appointment. Click below for updates.
New 'Joes@Moe's': SVA VASA Representatives [Video]
March 22, 2018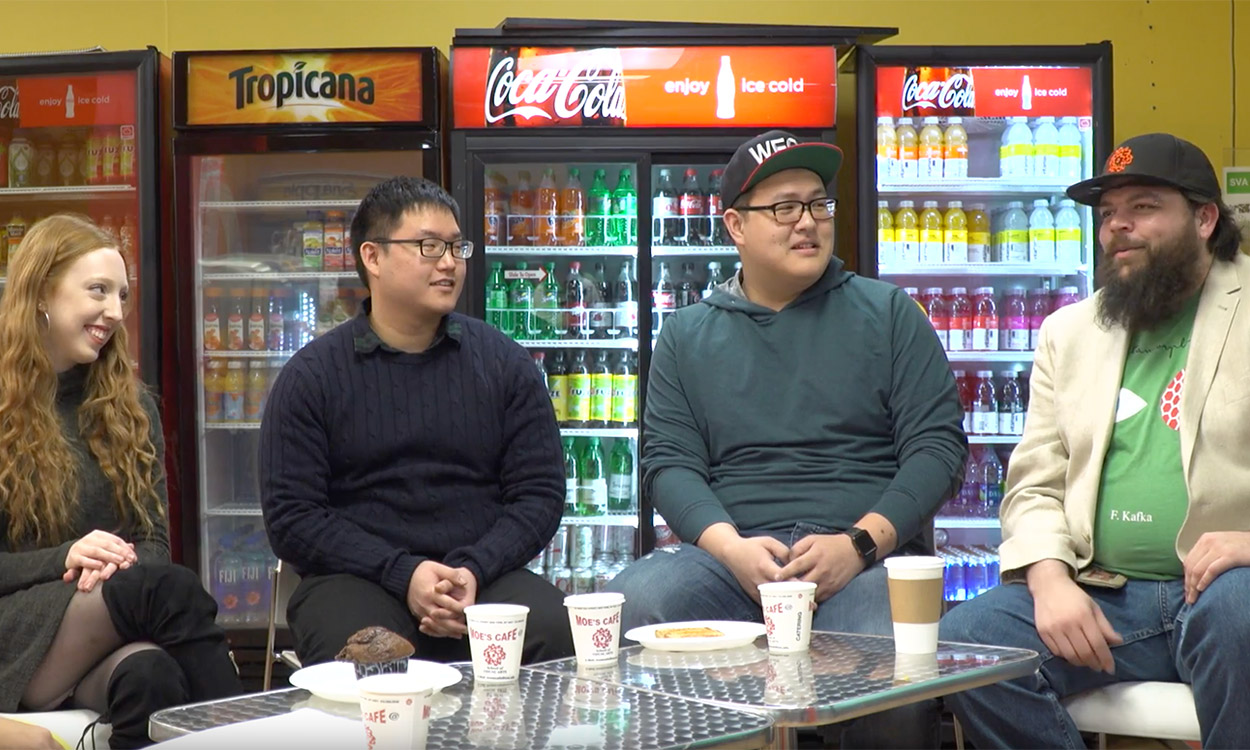 The latest edition of our web series Joes@Moe's finds host Zipeng Zhu (BFA 2013 Design) in conversation with the 2017-2018 The Visual Arts Student Association (VASA), the governing body designed to represent the interests and needs of students at SVA. Inspired by the revolutionary spirit of the times, VASA started in the 1960s as a grassroots student government and as a means to give voice to the student population while listening to their concerns and needs. VASA acts as a liaison between students, faculty, administration and staff; and they oversee student clubs and Student Senators. They also organize events designed to help students interact and meet their peers, and they apparently throw a mean Halloween party, too.
With VASA elections just held for the 2018-2019 year (results to be announced soon), Zipeng sat down with the current elected VASA officers President Kenneth Varvel, Vice President Amy Fields, Treasurer Eugene Lee and Senate Chair Wega Chen. VASA also have monthly meetings with the President of the College, President David Rhodes, to discuss student issues and new initiatives.
Why VASA and such an intensive extra-curricular activity? As Zipeng quips, "Too much time on your hands?" Quite the opposite. "We all saw an opportunity to help and engage with the student body, hear the concerns and interests of the students while providing fun experiences for them," Varel, VASA President said. "I love that we have an impact."
It's a sentiment shared by the group. "The opportunity to help students is my favorite thing," Vice President Fields echoed. "A lot of them will be nervous about things… but because I'm in VASA, I can help them and make them more comfortable." Check out the video below to hear VASA's refreshing thoughts on the SVA community, the events they throw and their much-talked about Halloween parties.
Stay tuned for future episodes of Joes@Moe's with Zipeng Zhu for more engaging conversations with other members of the SVA community.

For more SVA videos, visit sva.edu/videos.
SVA Features: New 'Joes@Moe's': SVA VASA Representatives [Video]
SVA Features asset