Updates on the 2020-2021 Academic Year
SVA continues remote instruction, with select facilities accessible by appointment. Click below for updates.
Street Artist Michael De Feo's Collaboration with J.Crew in Full Bloom
January 30, 2017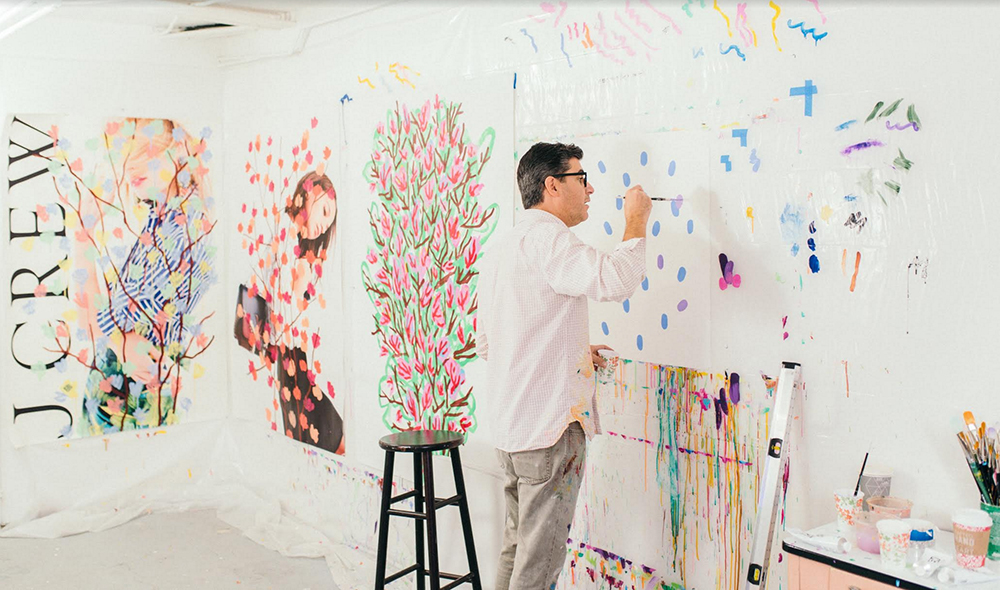 The most recent iteration of Michael De Feo's (BFA 1995 Graphic Design) signature floral paintings popped up somewhere new recently—not on the walls and tucked-away corners of buildings he typically adorns nor the large-scale fashion ads he covertly embellishes. For its spring collection, J.Crew enlisted De Feo to create a line of t-shirts incorporating his floral work, and "all three shirts really have a look and feel that's equal parts J.Crew and Michael De Feo," he is pleased to report. All J.Crew stores in the U.S.—almost 300 of them—as well as in London and Paris, will also feature the window displays and treatments De Feo designed based off of his work, promoting the campaign.
While his single-stemmed flower has appeared in unexpected places in more than 60 cities around the world (including above SVA's administrative buildings on East 23rd Street), De Feo is also well-known for another guerilla art move: using the advertising space and attendant images hung in bus-stop shelters around New York City. Below, De Feo discusses how those renegade origins led to such a high profile collaboration and talks about his crossover experience in the world of commercial fashion.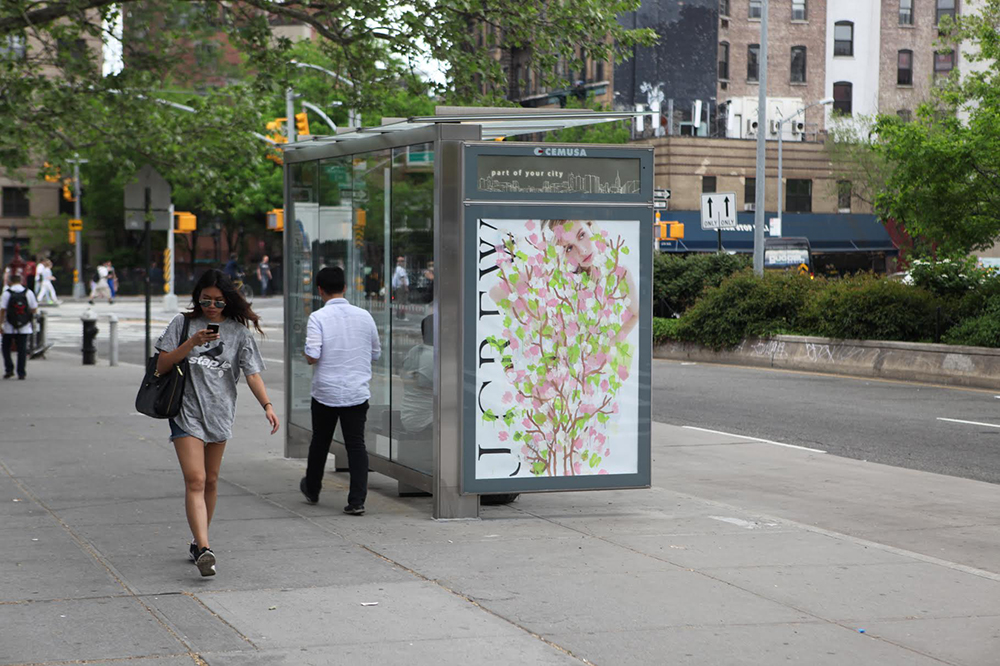 How did the J.Crew project come about and what was the collaboration process like?
Back in the spring of 2015, my pal Jordan Seiler gifted me a key that opens the glass advertising enclosures of the NYC bus-stop shelters. He's the founder of Public Ad Campaign, an ongoing effort to distribute the tools needed to reclaim outdoor advertising infrastructure for the public's use. Using this key, I began removing the ads from these spaces and replacing them with my original paintings. After doing a handful of these illegal installations, I realized I had a budding collection of fashion ads that I had previously removed. I decide to paint on top of those and really liked the results both aesthetically and conceptually so I reinstalled the painted ads back into the bus shelters.
One of those ads was for J.Crew and when they saw it on my Instagram feed (@theflowerguy), they regrammed it on theirs. Soon after they invited me to collaborate on a line of shirts. We had a series of meetings to discuss how the collaboration would possibly look and feel. From those meetings, I made a series of floral paintings on paper. Some of the paintings were used exactly as they were created whereas others were turned into patterns by their design team. As with any collaboration, it took some back and forth to finalize the designs. The fashion world is always creating things a few seasons ahead so it's a long time from when you design something to when you eventually get to see it come to life.
What was new about this project for you? I'd be particularly curious about the challenges in designing and creating so many different elements—shirts, paintings, treatments, etc.
In addition to the shirts, J.Crew and I decided to expand our collaboration to include their store window displays. We came up with what I think is a unique and interesting way to create and present my paintings in a sort of three-dimensional way. The background space of the windows will have paintings of mine that I created on top of a series of seven different J.Crew photos and in the foreground, on the storefront glass, will be elements of each respective painting reproduced as a vinyl sticker. The mannequins are in the space between the foreground and background. It's almost like a diorama technique and it kind of creates a gentle moiré effect when you encounter it as you're walking by. I'm very happy with how it turned out and am excited that it will be installed at all 270+ stores in the U.S. as well as their shops in Paris and London.
What are you particularly excited about seeing come to life as it were?
I've always wanted people to enjoy and experience my work in a variety of ways. What's unique about the world of fashion is that people can touch and wrap themselves in my art. When people purchase my paintings for their homes, the work is protected and of course, nobody touches them at all. I like the tactile and three-dimensional aspects of working in fashion.
You've gone from choosing and using ads off the street and in magazines to working at times with companies and brands to make images and designs together, as with J.Crew. How is the dialogue different when you're in direct contact with the brand and designers, as opposed to having to be more covert about it?
With the exception of the street pieces being unsanctioned, there wasn't much of a difference in my approach or work process when collaborating with J.Crew. From the very beginning they've given me creative freedom to do what I want and although the collaboration required the input and work of so many different people and departments, it really was one that also respected my vision and what I do. It's been a wonderfully rewarding experience and I'm thrilled to see the various facets come to life.
For more information about De Feo's collaboration with J.Crew, click here.