Updates on the 2020-2021 Academic Year
SVA continues remote instruction, with select facilities accessible by appointment. Click below for updates.
SVA Subway Series: Peter Ahlberg Captures An 'Impossible' Moment [Video]
August 23, 2019
SVA Features: SVA Subway Series: Peter Ahlberg's Journey to Handmade [Video]
SVA Features asset
SVA alumnus, graphic designer and BFA Design faculty member Peter Ahlberg (BFA 2003 Graphic Design) strongly believes in the importance of a rigorous and exploratory workflow through trial-and-error and experimentation. For every project, Ahlberg goes through his exhaustive process to create work coming from an "unknown place" that gives each of his designs something unique. Tasked recently with creating SVA's latest "Art Is!" subway poster, he decided to aim for a tactile feeling, something homespun—"of-the-hand and made by a human being," he says—that captured fleeting moments that pass by in the blink of an eye.
Artists who receive an SVA subway poster commission are given complete creative freedom, which Ahlberg found both inspiring and daunting. "For most graphic designers it's something we long for, I think, but it's also a terrifying thought," he says in our latest SVA Subway Series video feature (above). Working through various plans and styles, he initially focused on form, type and language before settling on the idea of "an impossible moment," whether it's the instant you pop a water balloon and briefly hold water or the moment you have left the diving board and are midair over a swimming pool.

By implementing elements of New York City—bridges, buildings, pools and, if you look closely, pigeons wearing sneakers—Ahlberg's poster took its final form. "This idea of something fun, something thrilling, something universally terrifying and exciting, seemed like a perfect metaphor for art school," he says.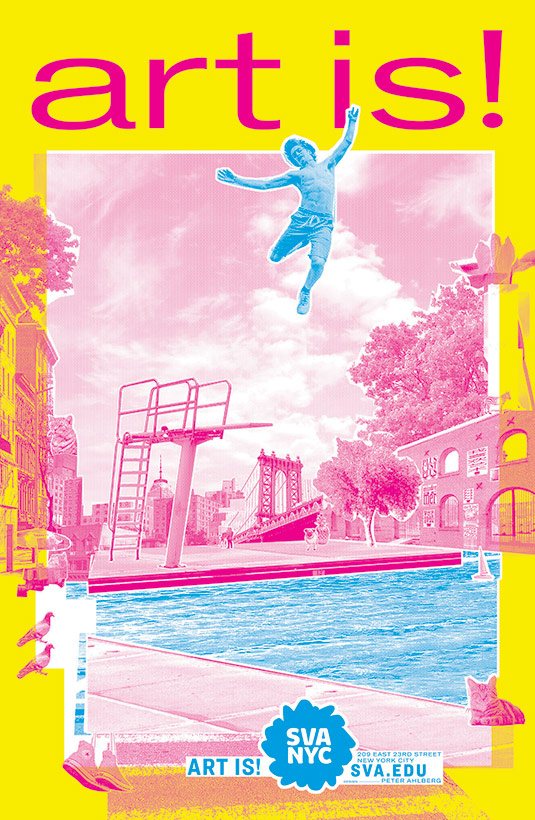 Since graduating with honors from SVA, Ahlberg has become an award winning designer, educator and author and has worked for a multitude of clients, some being Prestel USA, Abrams Books, Menil Collection, and Starbucks, for which he designed their first book titled Art + Coffee: A Coffee Journey Through the Eyes of Four Artists. He is the creative director of AHL&CO, a creative studio in New York City that he co-runs with his wife, Joanna Ahlberg. He returned to the College in 2007 and for more than a decade he has taught graphic design and typography. With the poster on view until October, Ahlberg is enthusiastic about the potential for discovery within its finer hidden details. "My hope is the color, the sense of place [and] the energy of [makes it] feel like it's made by a person."
Check out our new video feature with Peter Ahlberg discussing his "Art Is!" poster.