Updates on the 2020-2021 Academic Year
SVA continues remote instruction, with select facilities accessible by appointment. Click below for updates.
The Cosmopolitan and Cool Work of SVA Alumnus Blanda
The L.A.-based artist's work with brands helps her build her own
April 10, 2020
Credit: Photo by Karl & Kristof Forag Jeans
Born in Switzerland, educated in Zurich and New York City, and now living in Los Angeles, Blanda (BFA 2010 Graphic Design) has built a career as enviably cool and cosmopolitan as her background. Her work, which combines elements of illustration, fine art and design, has appeared on shirts for Topshop, coffee sleeves for hip California coffee chain Alfred and a customized car for the 2013 Volvo Art Session series.
During a visit to her studio last spring, she was working on pieces for an upcoming gallery show and preparing for a collaboration with Soho House in LA. "While I like to think that my personal work informs the commercial work," she says, "I know that it is all in constant flux, and I will have new ideas and inspiration for personal work after wrapping a commercial project."
After graduating from SVA, Blanda was hired as an art director at The New York Times, a job she found rewarding but limiting. "It launched a rocket of desire for creative freedom," she says.
Not long after, she got her work in front of the head of Obey Clothing's women's department, which led to a commission designing T-shirt graphics and jewelry. "The process of working with a brand, seeing this collaboration come to life and the freedom I was given was a huge eye-opener for me," she says.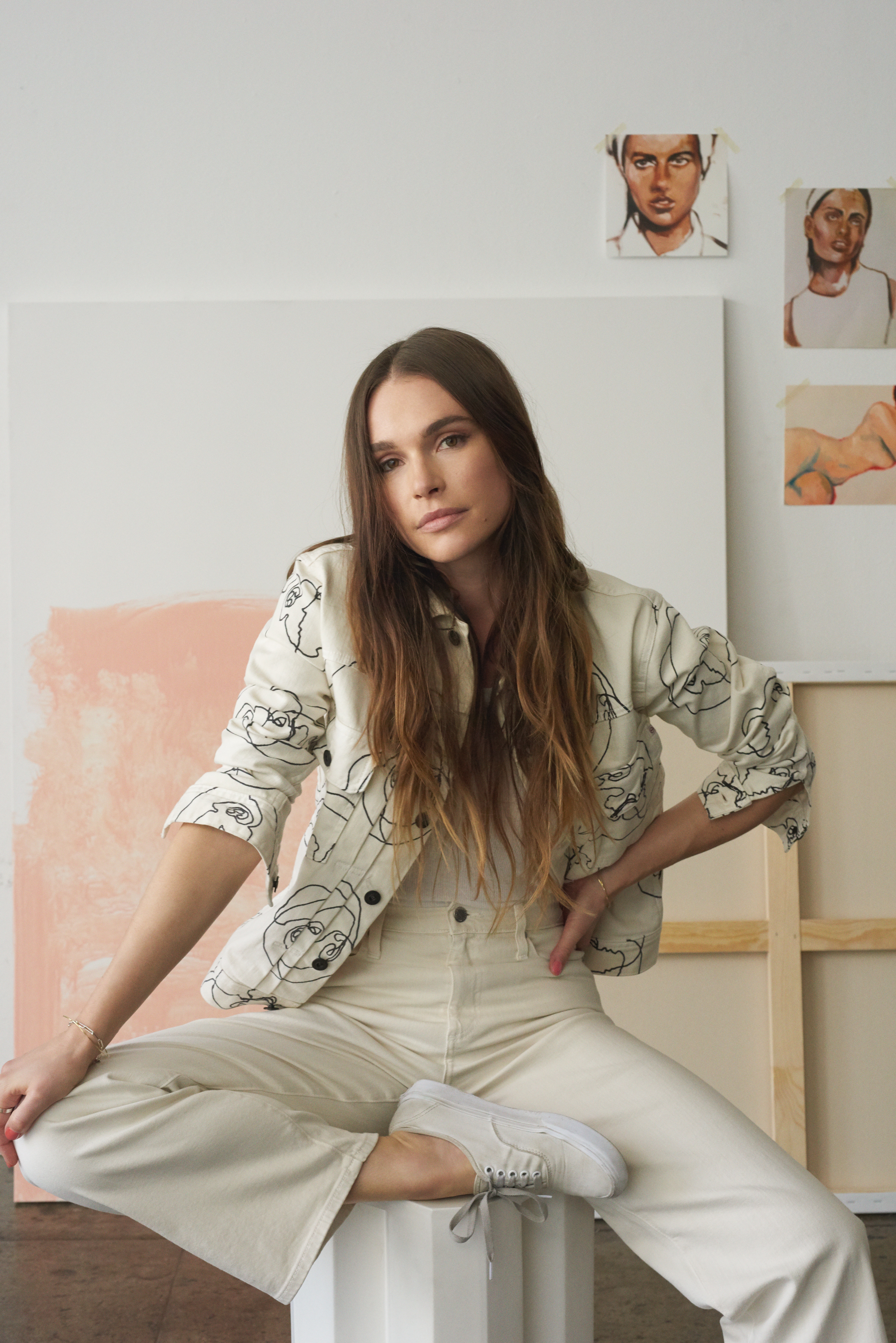 She soon decided to pursue brand collaborations full-time, and has since worked with Kiehl's, DC Shoes, Barbara Bui, Elena Ghisellini and other international labels. Recent projects include a limited-edition capsule collection with AG Jeans—featuring black-and-white graphics of simple, sinuous drawings of almost-intertwined female bodies—and a mural for the Beverly Hills location of HANRO, a Swiss luxury intimate clothing and loungewear brand, that made use of three walls and a skylight to create an immersive installation.
To maintain her artistic identity, Blanda imposes certain criteria for collaborations: Creative freedom is key; for each project, she listens to the client's needs and desires first, but afterward "they have to trust me," she says. Any brand she works with must sell or represent something that aligns with her own tastes and values—for instance, her collaboration with AG Jeans promoted the label's sustainability and water-conservation efforts.
Seeking more space both physically and mentally, Blanda moved to LA from New York in early 2015. After working out of her living room for several years, she got her studio, in the city's historic Lincoln Heights neighborhood, in 2018, which has enabled her to expand her personal art practice and work in bigger scale.
This year, Blanda is reorienting and primarily focusing on building a new body of personal work. In all of her art, be it commercial or personal, she tends to make female figures a focal point, and she says her aim is to encourage "collaboration instead of competition with other women.
"I would like for us all to realize that we can uplift each other, rather than take each other down."
A version of this article appears in the fall/winter 2019 Visual Arts Journal.