Updates on the 2020-2021 Academic Year
SVA continues remote instruction, with select facilities accessible by appointment. Click below for updates.
Timothy Goodman on His 'People Love' Mural for the 'Street Smart' Alumni Exhibition [Video]
November 29, 2017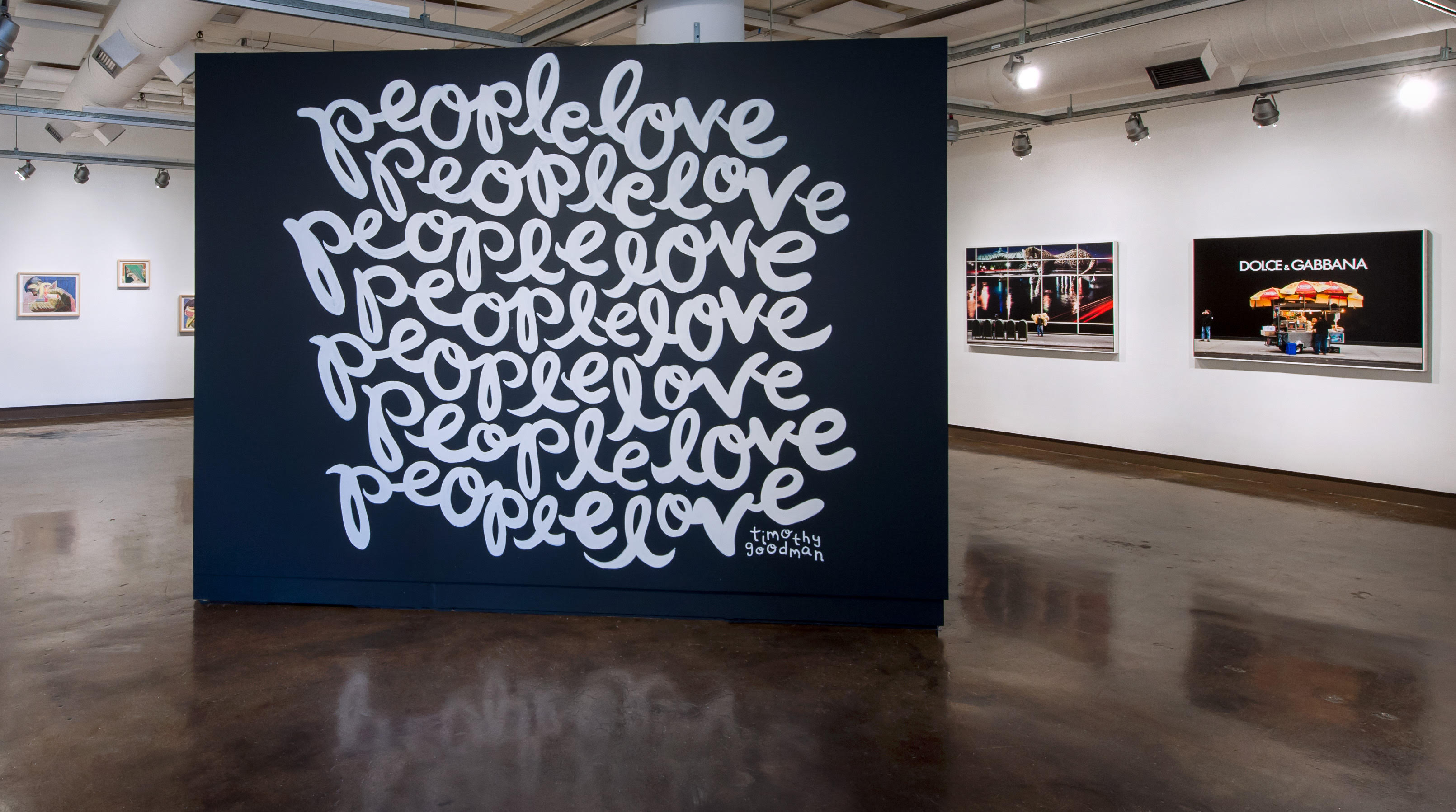 Boisterous, busy and often emotionally raw, the text-based work of BFA Design faculty member and SVA alumnus Timothy Goodman (BFA 2007 Graphic Design) reflects the mind and milieu of its maker, bringing to audiences the world over a glimpse of the chaos and creativity that defines Goodman's life as an artist in New York City. Teeming with words and images, Goodman's murals in particular convey the energy that drew him to New York as an SVA undergrad and kept him here, making him an ideal candidate for this year's alumni exhibition, "Street Smart: The Intersection of Art and Design in the City," currently on view at the SVA Chelsea Gallery, 601 West 26th Street, 15th floor. A reception for the exhibition and its artists will be held at the gallery on Thursday, November 30, from 6:00 to 8:00pm.
As Goodman relates in the "Street Smart" catalog, "In my third year, [BFA Design Chair] Richard Wilde told me something I never stopped thinking about. He said, 'You can worry about fitting into the industry or you can invent who you want to be.'" And invent Goodman has. His drawings and words—rendered in pen, paint or tape—have appeared on walls, clothing, cars, packaging, book jackets, magazine covers and in galleries worldwide. His clients have included Google, Samsung, Uniqlo, Target, Airbnb, The New Yorker and The New York Times. Goodman's work is as recognizable for its formal playfulness and interlocking arrangements of letterforms and doodles as it is for a willingness to talk about his feelings. He's the co-creator of the blog and book 40 Days of Dating, and the social experiment 12 Kinds of Kindness, and has taken to Instagram with Instatherapy, a series of hand-drawn texts that explore the depths of his emotional life, cheekily touching on romance, career advice and the ways of the world today.
Goodman created a new mural specially for "Street Smart," once again adapting the language of street art and hand-painted lettering to send a message suited to our current socio-political moment and to the city itself. "I feel like everyone is someone here, in some way, and I like that," he says. "It's all about legacy in the end. It sounds silly, but if you make work in the face of your own death, how does that perspective change the way you approach things? New York is completely unique, and it's also completely ubiquitous because you see it everywhere. People are no different. So what stories are you passing down? What lineage are you leaving? How are you affecting things, both big and small?"
Goodman took some time during the mural installation process at the gallery earlier this month—as seen in the video below—to answer some questions about his inspirations and process.
SVA Features: Timothy Goodman on his "People Love" mural for the "Street Smart" exhibition [Video]
SVA Features asset
This show is about artists whose work is for or about the urban environment—what aspects of city life do you find particularly inspiring and compelling? I'm thinking about signs, lettering or more conceptual inspirations.
I think it's a combination. There's a lot of everything in New York, and so you kind of get in where you fit in. New York inspires me in ways that no other city can because of the energy. I have a lot of energy, I'm a hustler, I'' always constantly trying to find ways to do things and get my work seen and there's no better place for that than New York.
I think that I'm super-inspired by pop culture, coming from the design world, [but] nothing inspires me more than music, specifically jazz and hip hop. [New York] is kind of the Mecca for both. That has always inspired my work a lot. I love going to jazz clubs, small little jazz clubs that people don't know about and all that kind of stuff.
In terms of visual art, there is an artist, Red Grooms, [who] I learned about when I was going to community college in Cleveland, Ohio. He was kind of popular in the '60s, at the beginning of the pop art era and around a lot of happenings that were going in New York. He did these really great, busy paintings but also small sculptures of New York, capturing the feeling of people in the city and the energy and the abundance of all of it. That always really inspired me. I do different kinds of styles but it's generally always very dense, things puzzle-pieced together, whether it's images or words; I think that that energy always comes out in my work.

I'm not sure whether it's more apt to say your work is suited to the city or vice versa.
When you live in New York there's just an abundance of visuals that you see every day that you can't get away from. Going to school here and being here for the last 12 years I think obviously you pick up on that. You can't help it. I think that I've always been someone who before I moved here I felt like this was my home, before I had even been here. I grew up in Cleveland and I still thought this was my home. You pick up on a vibe whether it suits your song or not. I think I've always played along to New York in that way.
You moved to New York City to attend SVA. How else have you seen New York influence your art-making?
New York inspires me to have an opinion. With my work I do a lot with words and my own writing—I generally author all my own content and my own murals—and so New York really gets that out of me. I want to challenge people with my work and through my words, and I have to have an opinion and I want to stand for something. I'm not afraid to do that [here] because it's easy to find a community that will stand behind you. It just really inspires me to give a damn and have an opinion.
Tell me a little about this mural—where is it coming from?
The conversations that I've been having with a lot of friends are—with me being in the design and illustration community—about me having a platform. A lot of conversations have been about inclusivity in the design world, how we can make it more inclusive, and just dealing with everything that this administration is throwing at us right now. I do a lot of writing on Instagram and I'm pretty vocal about a lot of social issues and politics. I've made a lot of different kind of things and this is one of the pieces that [is] on a lighter note—generally not all my work is positive per se. Sometimes I'm more interested in challenging people. But this [mural] kind of came from those conversations and out of the idea that people love people. Everyone should have the luxury of loving someone and the privilege of loving someone, whether you're trans, whether you're bi, whether you're gay or lesbian, no matter what color you are, all these things. This came from those conversations and those feelings.
What does being in this show as an SVA alumnus and faculty member mean for you?
Anytime I have a chance to do something for SVA I jump at it because [the school is] my roots. I think that it's important to give back. I'm just always honored because I remember being a student and going to shows like this and thinking, "Oh wow, would I ever be able to do something like that?" Now that I can it's an honor and privilege to come in and be a part of it.
Lastly, whose work are you excited to see and share a space with?
I love Natasha Jen (BFA 2003 Graphic Design). Her work is just amazing.

This interview has been condensed and edited.
The reception for "Street Smart: The Intersection of Art and Design in the City" will be held on Thursday, November 30, 6:00 – 8:00pm, at the SVA Chelsea Gallery, 601 West 26th Street, 15th floor. A panel discussion featuring participating alumni will be held on Wednesday, December 13, 6:00 – 8:00pm, and the exhibition will be on view through Wednesday, December 20. Admission to "Street Smart" and its related events is free.
For more information on SVA's BFA Design program, click here.
SVA Features: Timothy Goodman on his 'People Love' mural for the 'Street Smart' Alumni Exhibition [Video]
SVA Features asset
---
In this Joes@Moes video, BFA Design faculty member and SVA alumnus Timothy Goodman talks about his unconventional design projects and his time as a student at SVA. For more SVA videos, visit sva.edu/videos.
---