Updates on Reopening SVA
Click below for info on our plans for 2021-2022, including the vaccine requirement for all students, faculty and staff.
Artist and SVA Alumnus Erwin Redl on the Kinetic Lights of 'Whiteout'
Erwin Redl
January 12, 2018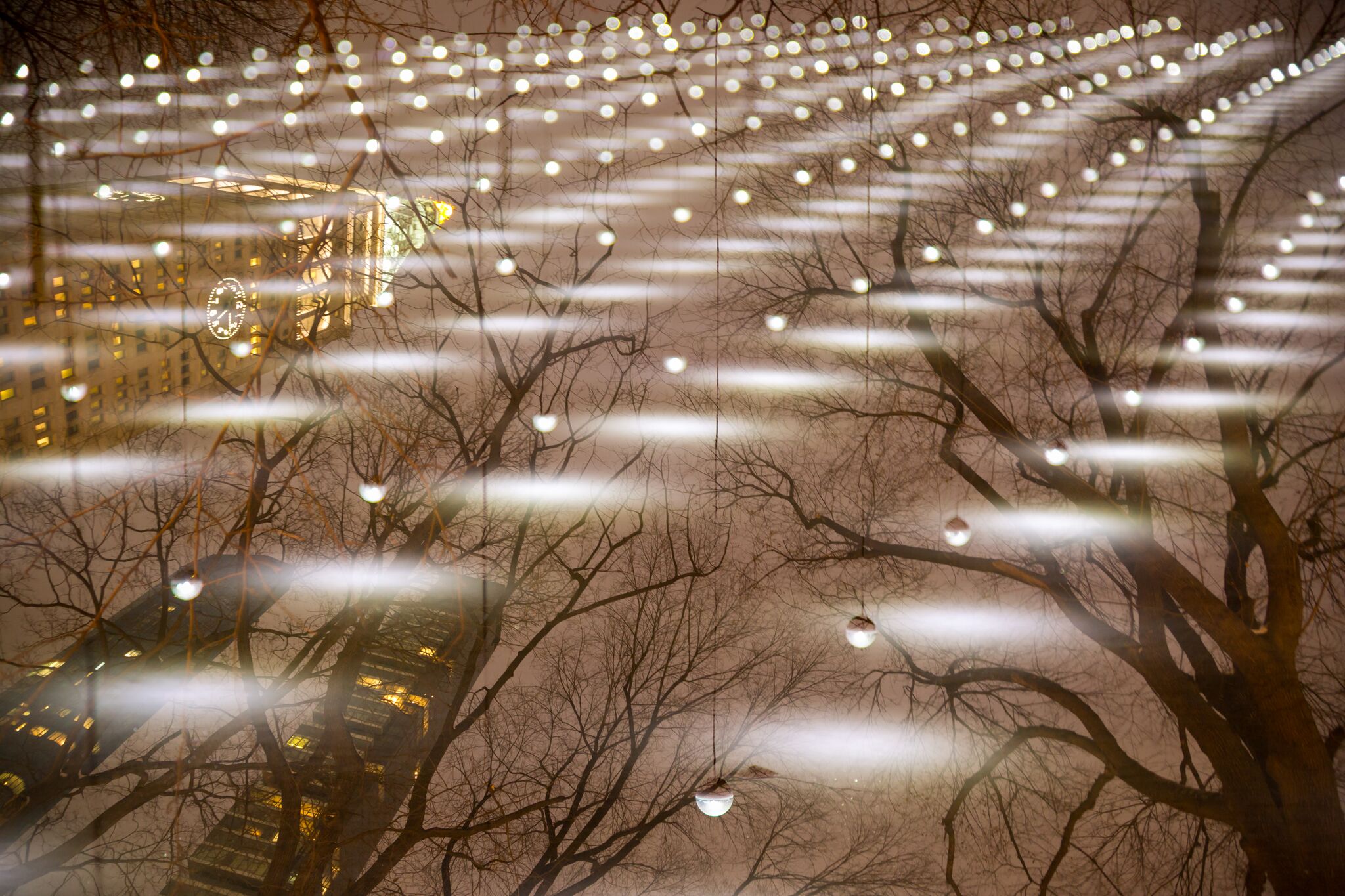 Amidst the chill of New York City's winter, nearly 1,000 suspended spheres of light glow serenely in the middle of the Flatiron District as part of Erwin Redl's (MFA 1995 Computer Art) Whiteout, a commissioned public art project at Madison Square Park.
Inaugurated in November and on view through March 25, Whiteout is comprised of hundreds of transparent white spheres, each embedded with a white LED light and strung from a square grid of steel poles and cabling. The orbs, positioned one foot above the ground, sway with the wind, while the LEDs are programmed to let large-scale wave patterns emerge throughout the installation. As a result, "the natural kinetic movement of the spheres merges with the virtual layer of the animated lights," Redl says.
Redl often works with light projected on facades of buildings, or pixelated into many points within the confines of a contained space; he sees himself much more as a reinterpreter of Land Art than in a strictly technological context. Below, the artist, whose varied background includes furniture making and interior design as well as composition and electronic music, discusses Whiteout, his process, and his path from SVA to Madison Square Park.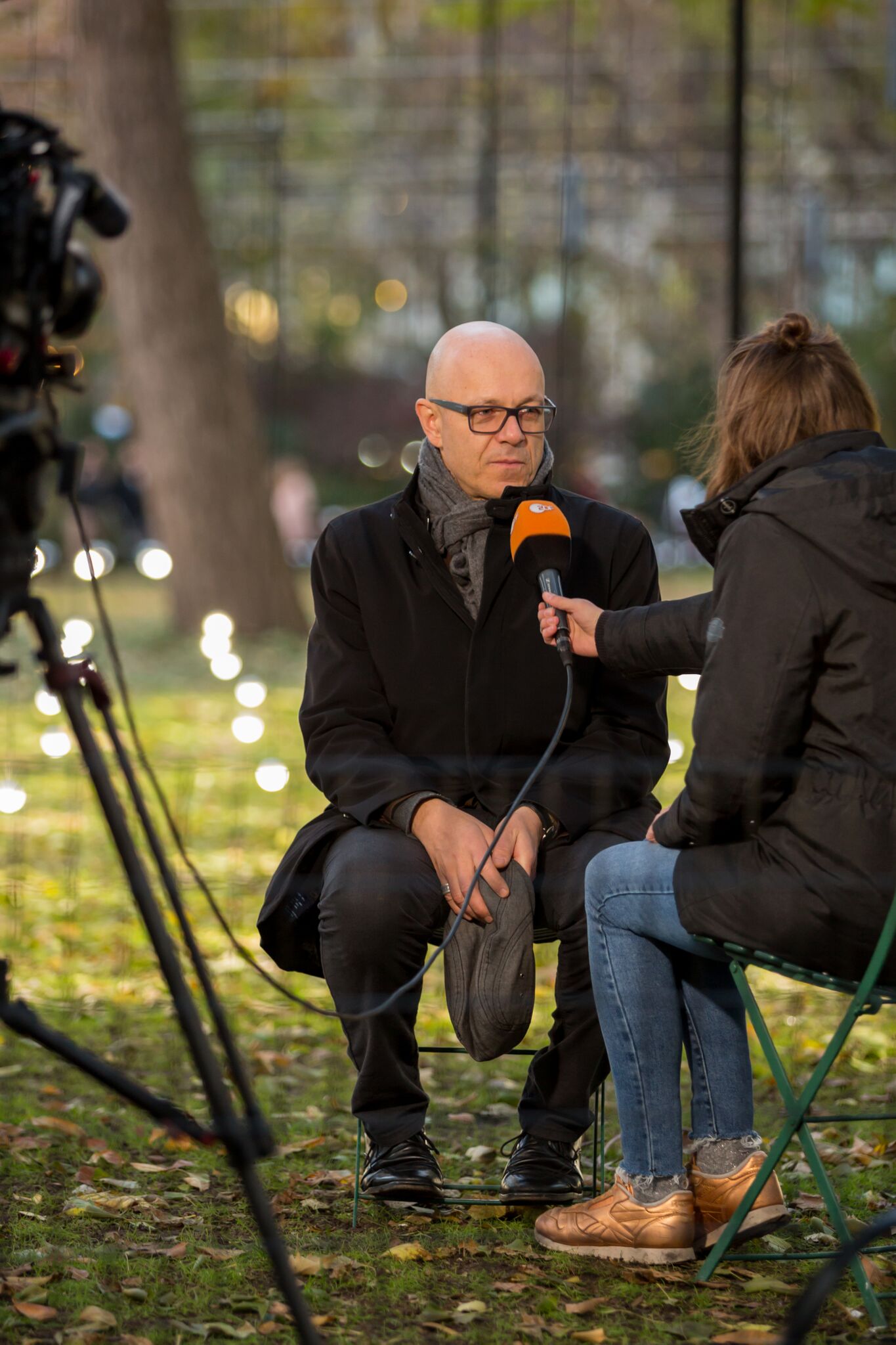 How did this project with the park come about?
I've worked on several, radically different proposals for Madison Square Park since early 2015. The kinetic light installation Whiteout, with 900 suspended light spheres triggered by the movement of air, is extremely tied into every detail of the site. From the topology of the location to the movement of people within and the traffic outside the park, everything is based on constant change, either naturally throughout the seasons or the man-made perpetual urban dynamism. The installation pushes this kinetic aspect to a perplexing extreme by presenting the main aesthetic component, the suspended light spheres, in constant motion.
What were your particular sources or initial inspirations for Whiteout?
The project is part of my recent series of works investigating emergence, the way complex systems and patterns arise out of a multiplicity of simple interactions. As for all of my installations, the most important parameter is site-specificity.
What was it in particular about Madison Square Park that influenced the work?
In the case of Madison Square Park, I utilize the wind as the dominant ephemeral force that forms the dynamism of the installation. The motion [of the light spheres] is caused by the movement of air through the park, [so] this flow is very organic, similar to a school of fish or a flock of birds.
Your artist's statement discusses the spaces you create being experienced as "a second skin, a social skin." You're often working with architecture and environments, but does your approach change when working on a public art installation?
Public art installations work in a completely different framework than museum, gallery or private installations. Aesthetically and conceptually the public art audience has a much greater diversity compared to an audience that consciously visits fine art institutions. This doesn't necessarily mean that those different spheres require a different kind of work. It simply means the perception of the work will be shaped by the environment it is perceived in and by the people it is perceived with. On a practical level public art simply has to be able to deal with environmental factors such as wind, rain, snow, etc., and the possibility of vandalism.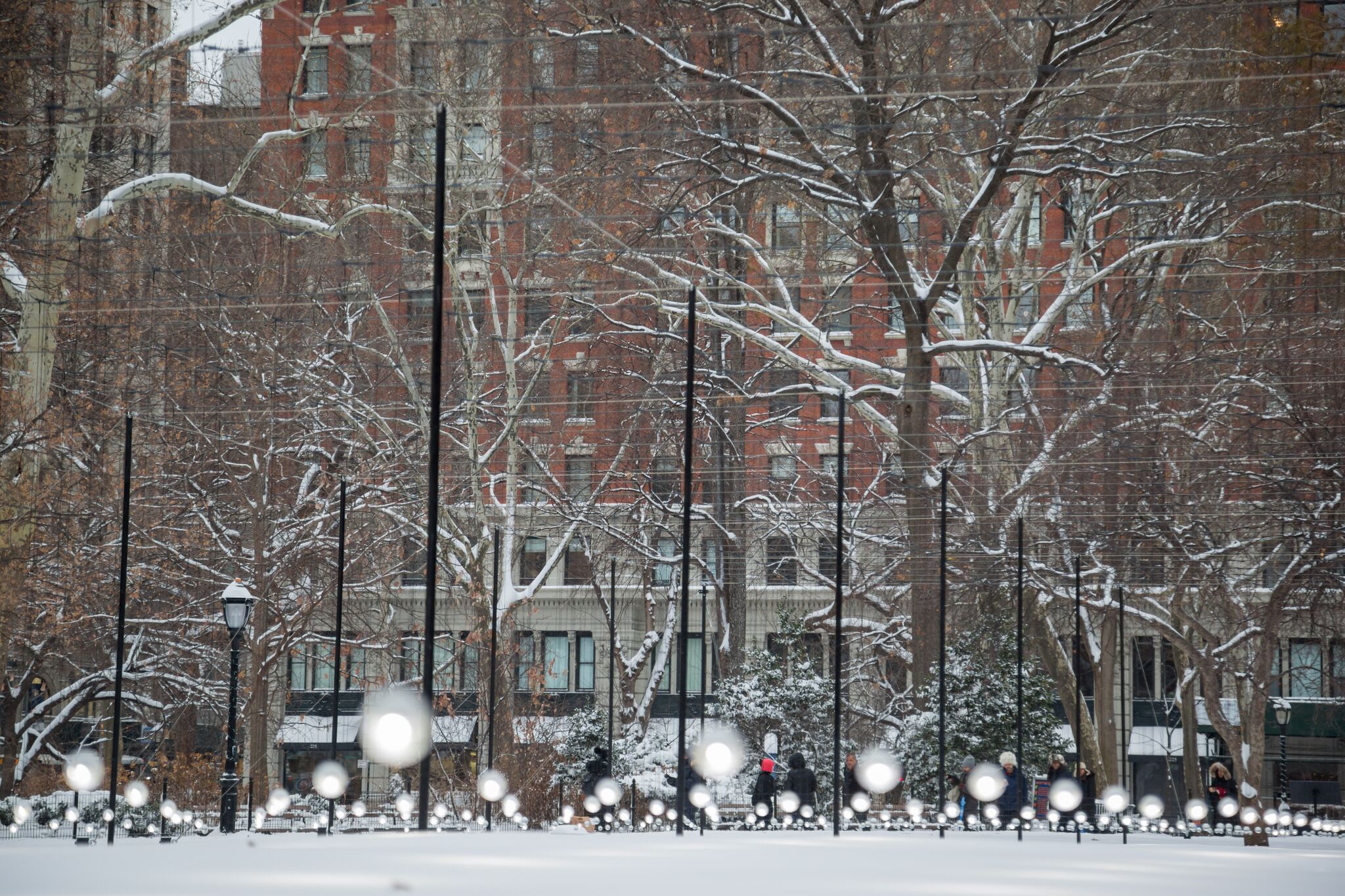 Lastly, can you tell me a little about your computer art background at SVA and how that got you to your large-scale light installations?
Initially at SVA I focused on screen-based work and also used large-scale projections. After the first year I became more and more interested in larger installation settings driven by computer technology but without the screen as the primary display medium. The transition to purely light-based work came through seeing Fred Sandback's work, [particularly his yarn drawings in space]. I first encountered Sandback's work in an exhibition at the Dia Center in the fall of '97. It was a time of artistic crises for me. I was frustrated with being cornered in the computer art niche, with its techno-centric reputation, despite the fact that technology in general and computer programming in particular had a large influence on my work. Computer programming requires a certain structured and analytical way of thinking within a very minimal(istic) aesthetic computer interface that fascinated me and seemed related to art work that influenced me tremendously, e.g. Sol LeWitt (G 1953), Donald Judd, Mel Bochner, Hanne Darbhoven, etc. (or on the music end of the equation John Cage, Steve Reich and J.S. Bach).
My frustration with my work at the time was based on the fact that I didn't see a way to translate this highly structured language of the binary computer programming world into a corporeal setting. I metaphorically and literally hit my nose on the computer screen. I wanted to be in that abstract world as a body, not just inventing it for pure abstract reasons. And that's when I saw Sandback's work, a total revelation—absolute abstraction, absolute body, absolute space. Every molecule of his exhibition space was charged. And everything [was] done with some simple yarn stretched in abstract geometric shapes. My reaction was immediate. I went to my studio, packed away all my computer gear, started to string thin copper wires from floor to ceiling and soldered little LEDs to those wires. And I haven't done much else since.
Erwin Redl's Whiteout is on view through March 25 at Madison Square Park in New York City.
This interview has been condensed and edited.
For more information on SVA's MFA Computer Arts program, click here.