Updates on Reopening SVA
Click below for info on our plans for 2021-2022, including the vaccine requirement for all students, faculty and staff.
Electric Encounters
MFA Computer Arts Fall Exhibition
October 20, 2017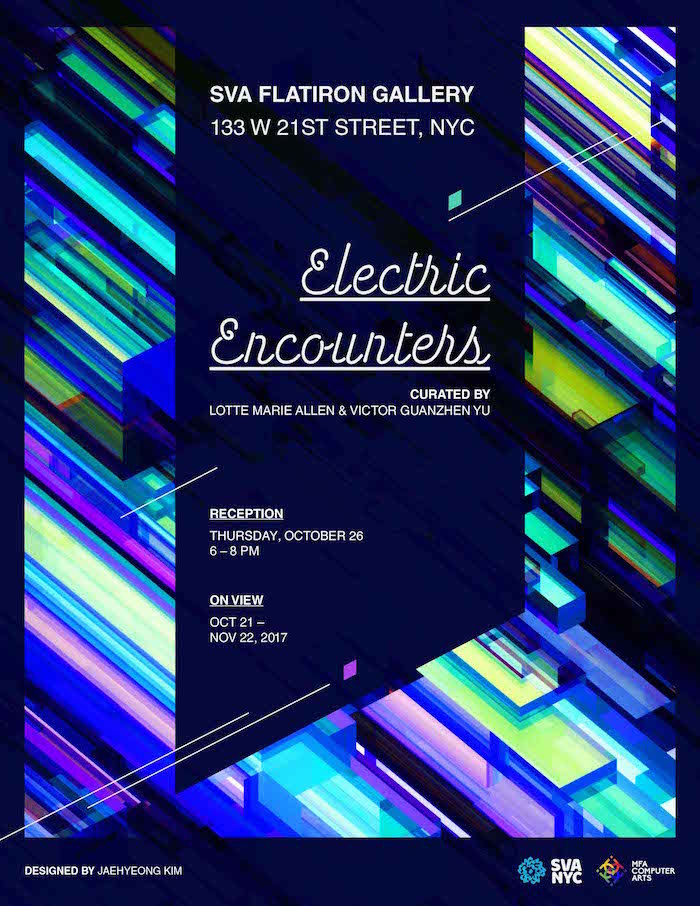 School of Visual Arts presents Electric Encounters, an exhibition of videos, prints and interactive installations by MFA Computer Arts students, faculty and alumni. Curated by Lotte Marie Allen, department project coordinator, and Victor (Guanzhen) Yu, a current MFA Computer Arts student, the exhibition will be on view from October 21 to November 22, 2017 at the SVA Flatiron Gallery 133/141 West 21st Street, New York City.
Electric Encounters explores the varied connections between humans and technology, and how machines influence our experience and connections. Artists in this exhibition create works examining these subjects by using a variety of media, including virtual reality, animation, prints and interactive installation.
By creating colorful stop-motion animations from handmade sculptures and sets, Taili Wu (MFA 2009 Computer Arts) celebrates curiosity and imagination. Beyza Boyacioglu (MFA 2012 Computer Arts) taps into Turkey's collective memory through an interactive web experience, organizing and displaying telephone messages about the famous Turkish pop star, Zeki Müren. Faculty member David Mattingly illustrates the iconic science fantasy series, Animorphs with digital painting. These works, among the many others, contribute to the conceptual and visual framework of the exhibition.
Other artists in this exhibibition include current MFA Computer Arts students Catherine Lee and Xinyue Song; department faculty Benton Bainbridge and Carl Edwards; and alumni Ka Wo Cheang (2015), Milan DelVecchio (2013), Trish Gianakis (1999) and Kurt Young (2013).