Updates on Reopening SVA
Click below for info on our plans for 2021-2022, including the vaccine requirement for all students, faculty and staff.
Four Cities, 140 Alumni, 13 days: SVA in Asia 2018
Connections with companies, schools and alumni were highlights
October 30, 2018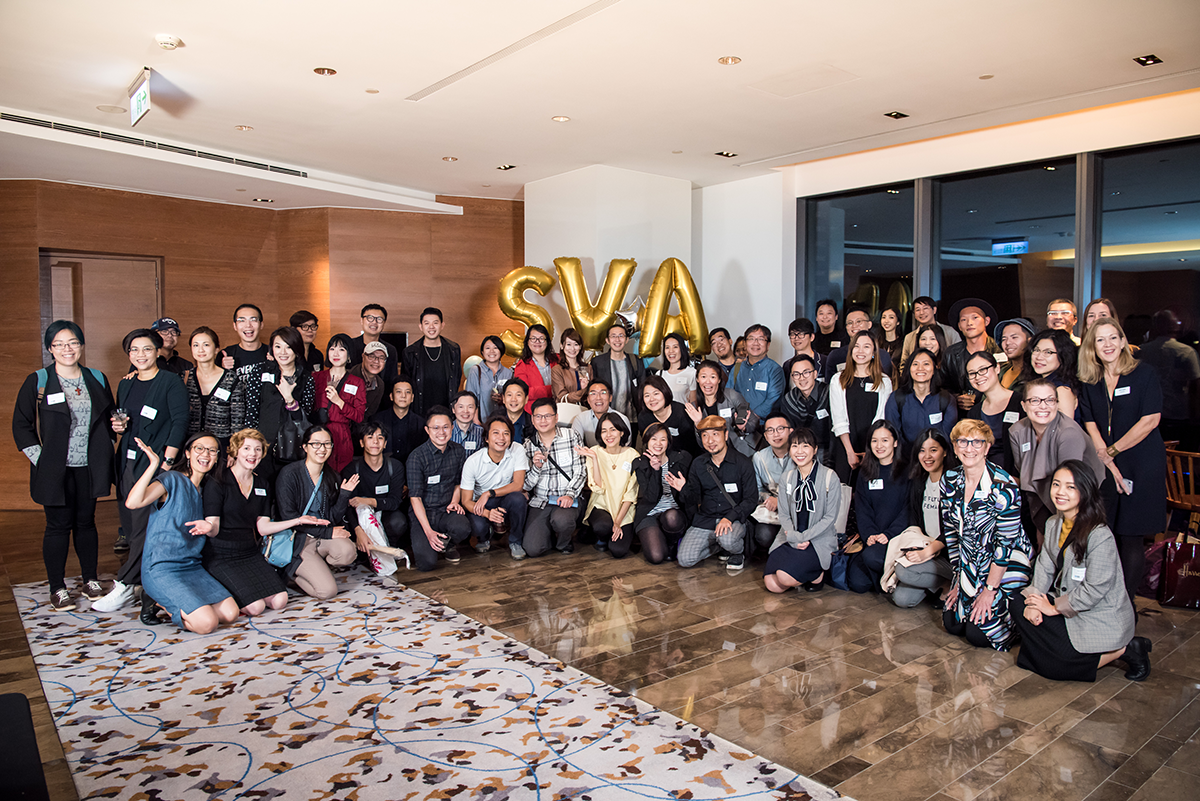 South Korea, Japan and Taiwan are among SVA's largest hubs for international graduates to live and work. From October 7 – 19, a delegation of nine representatives from the College touched down in those countries on a mission to increase alumni connectivity, share career development strategies and strengthen relationships with local employers and schools. During the fast-paced, four-city tour, which covered Tokyo, Kyoto, Seoul and Taipei, the group met with more than 140 alumni (representing 17 degree programs), 80 students from eight different schools, 12 companies and five libraries. Read on for city-by-city highlights.
SVA Features: Four Cities, 140 Alumni, 13 days: SVA in Asia 2018

Four delegates then traveled to Kyoto, the former Imperial capital of Japan known for its abundance of Buddhist temples, Shinto shrines and verdant gardens. The city is also home to the headquarters of Nintendo and SVA exchange partner institutions Kyoto University of Art and Design (KUAD) and Seian University of Art and Design, in the nearby Shiga prefecture. Wojak, Calhoun and Uchisaka presented a talk to 50 students in KUAD's anime, gaming, manga and design departments about SVA's computer animation programs and the ways in which the College helps students connect with jobs and internships. In a panel discussion with KUAD faculty that followed, the participants talked about the ways that U.S. and Japanese cultures and their histories of theater, film and art influence the different approaches the countries take with animation and comics/manga, and about anime's influence on U.S. animation and comics and SVA students' work. At Seian University, Calhoun and Uchisaka discussed opportunities for students of both schools to study abroad and learn from each other. While in Kyoto the team also met with Nintendo representatives to learn about its hiring approach for creative talent, discuss future participation in animation/gaming/tech festivals and chat with alumnus Ko Takeuchi (BFA 1998 Cartooning), who does character design work at the company.
Nearly 2,000 South Korean students have graduated from SVA, and the country's capital has a large and active alumni association that regularly gathers at SVA's office in Gangnam's Hyewa-dong neighborhood for events and networking. On October 12, Andrew Chang (MFA 1987 Illustration as Visual Essay), director of the College's Office of Programs for International Students and an SVA faculty member, and manager/counselor Heewon Seo (MFA 2012 Fine Arts) hosted an alumni exhibition opening, with many artists in attendance, followed by a dinner with board members of the Korean Alumni Association. Solo exhibitions to the north and south were also visited by Nuzzo and SVA Communication Director Joyce Rutter Kaye, who traveled to Incheon with artist JeongMee Yoon (MFA 2006 Photography, Video and Related Media) to see "Human-Space-Relationship," at Incheon's Space Imsi, featuring her black-and-white photography series and vibrant diptychs. In the southern city of Busan, leading portrait photographer SoonChoel Byun (BFA 1999 Photography) gave a lecture and walk-through of his solo show at the GoEun Museum of Photography, including seminal work that he shot in Coney Island while attending SVA. Back in Seoul, hip creative arts group House of Collections, founded by Jungmi (Jori) Cho (BFA 2009 Graphic Design), Ji Youn (Tiaa) Hong (BFA 2010 Fine Arts) and Jina (C.na) Lee (BFA 2010 Fine Arts) debuted their brand-new, pocket-sized retail shop Art in House. Moe took the opportunity to reconnect with Hyung Gyu Kim (MFA 2012 Computer Art), Chair of Media Communication Design at Myongji University, where she met with 30 undergraduates and spoke about SVA's animation, motion graphics and fine arts programs. She also visited the Seoul Broadcasting System network and Dexter Studios, two of South Korea's leading entertainment companies. On the final night, a dinner with 17 Korean alumni working in the computer arts industries was hosted by Moe at Chung Ang University, following a meeting with Chung Ang faculty member Takhoon Kim (MFA 2005 Computer Art) and a visit to Sangmyoung University and Hyundai libraries with Sangmyoung faculty member Jieun Kwon (MFA 2007 Computer Arts). There was also time for touring Seoul's cultural highlights, including Gyeongbokgung Palace, where millennials gather to don colorful hanbok (traditional garments) and pose for—what else?—selfies.
Taipei is one of the world's leading centers for electronics and technology, and many SVA alumni there are employed in computer animation and CGI, working for global companies and on major animated film and television productions. The delegation visited a range of studios where SVA graduates are in house, including Chen-Ming Chen (MFA 2004 Computer Art) and Chun Wei Gou (MFA 2014 Computer Art) at CGI house CGCG, Inc. (Trollhunters, Star Wars Resistance), where they toured the studio and the CG Creation Institute, a learning center for young talent. The next stop was Moonshine, where compositing supervisor Jimmy Chen (BFA 2001 Computer Art) provided a tour and presented the company's work in games, motion graphics, character development and proprietary technology. At the design-driven motion graphics production company Bito, founder and creative director Keng-Ming Liu (MFA 2006 Computer Art) discussed making music videos for Taiwan's top recording artists and motion graphics for TED talks and major awards shows. There were also visits to Shih Chien University and several secondary schools for enrollment outreach, as well as the eco-friendly Beitou branch of the local public library. Most importantly, the delegation got to learn about Taiwanese culture by visiting the National Palace Museum, Lungshan Temple of Manka and the city's night markets. SVA school spirit was in abundance at the trip's closing reception and dinner at the W Taipei—the first-ever such event held in Taiwan—where 59 alumni reunited with classmates, some of whom they hadn't seen since their days in New York City, sharing business cards, Instagram handles, handmade swag and lots of memories.
Making the final toast of the trip, Nuzzo paid tribute to the talent of the assembled graduates and their fellow alumni around the world. "SVA has graduated nearly 37,000 artists, designers, writers, filmmakers, photographers and other creative professionals," she said. "We are extremely proud of the hard work and exceptional achievements of our alumni. To all of you: We are honored that you chose SVA to learn and grow as creatives and individuals. It's wonderful and inspiring to watch you accomplish many incredible things … supporting each other as an unparalleled international alumni community."