Catching Up
Filmmaker and Painter Get Reacquainted and Collaborate
March 1, 2019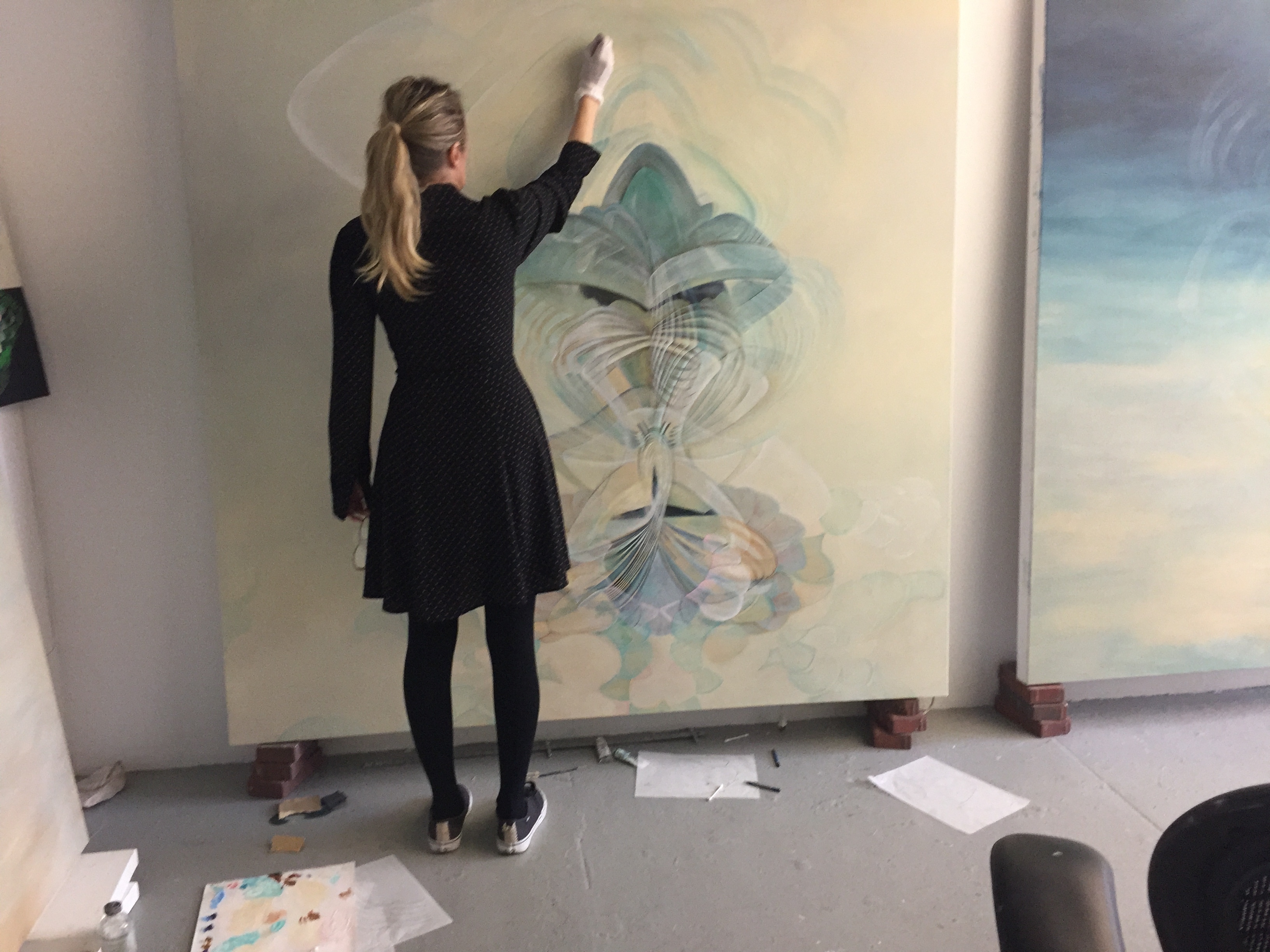 The residents' enthusiasm is infectious and easy to reach and connect with . . . because of this connectivity, there is a generous flow of energy and ideas.
When filmmaker Karen Bullis came to New York last summer to participate in the Summer Residency Program, she ran into an old friend from Los Angeles, artist Amy Myers—who happened to be teaching in a different Summer Res program, Painting and Mixed Media. Bullis had come to take the inaugural program Documentary Filmmaking: The Art of the Interview, so she thought, why not ask Myers to be the subject of her film?
Myers, who has been on the faculty for 16 years, gained recognition through her often large-scale biomorphic drawings. However, about a year ago, and despite some trepidation, she decided to abandon drawing and take on oil painting as her primary medium. To some, Meyers' shift may not seem particularly radical, but when we consider the myriad technical considerations that come into play, her sea change is anything but minor. So this seemed a worthy topic of exploration for Bullis' film.
In Documentary Filmmaking: The Art of the Interview, a two-week intensive program, participants create a short documentary structured around an interview. Myers agreed to be Bullis' subject, resulting in a moving portrait of a seasoned artist in the midst of her own creative reinvention. Myers said, "Karen is probably the only person I would trust putting a camera on me and my studio. It is my trust in her as a person and her artistic capabilities that allowed the whole thing to happen." The footage and interview were mostly shot at Myer's studio at the Elizabeth Foundation for the Arts in midtown Manhattan. The film opens with a classic cinema verite scene: Myers waits for a guest who is late, paces the street, checks her phone and chats with the doorman. From the first shot, we are thrown into Myer's world: dynamic, passionate and full of art. The enthusiasm Myers has for her own work comes across in Bullis's film as Myers discusses her path as an artist and her transition from drawing to painting.
The ethos of the Summer Residency Program is founded on the belief that collaboration and cross-pollination are essential ingredients in an artists' development. While most of these collaborations occur between residents, the extent to which creative partnerships develop takes many forms, as evidenced in Bullis' film. In many ways, the relationship between faculty and participants becomes a sort of collaboration in itself. This became evident when I asked Myers how teaching influences her own work. "The residents' enthusiasm is infectious and easy to reach and connect with . . . because of this connectivity, there is a generous flow of energy and ideas." For Myers, who has entered something of a second act in her career as an artist, teaching provides "an opportunity to clarify where we stand in the creative arts."