From Eisenhower to Trump: Why Two Artists Have Been Re-Editing Political Ads for Decades
November 1, 2016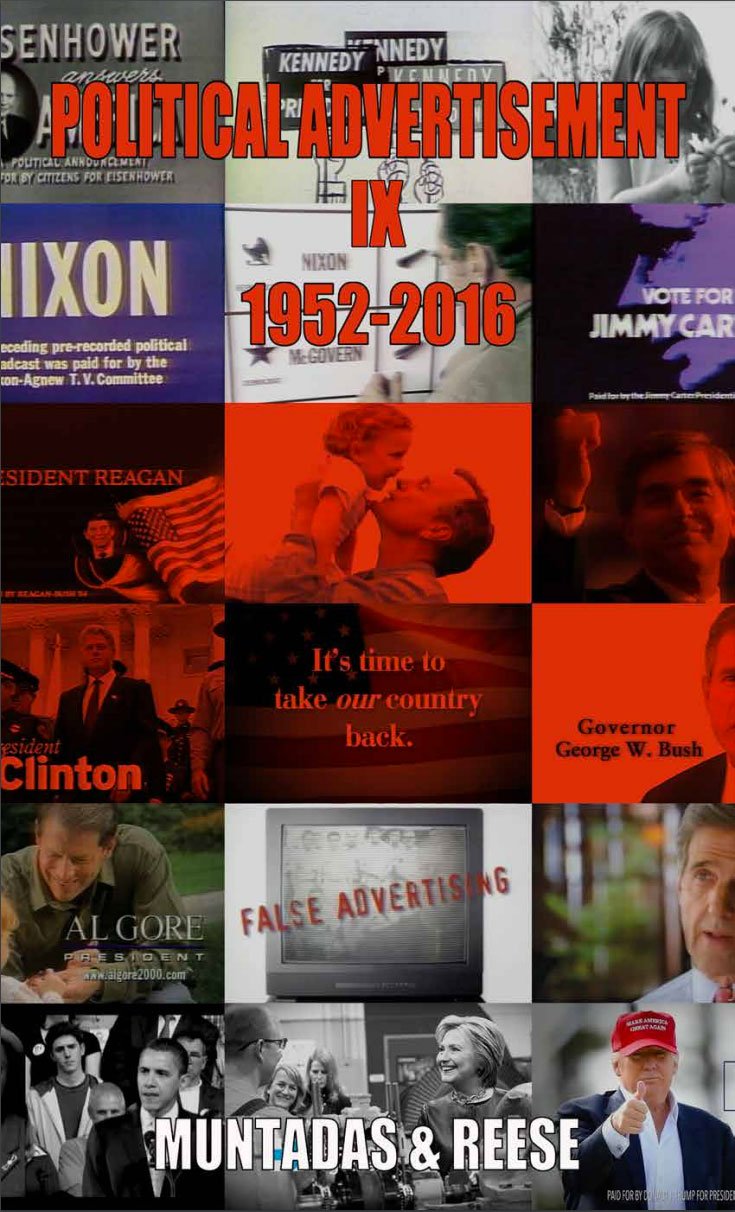 For over three decades, artists Antoni Muntadas and Marshall Reese have watched, studied and culled from the seemingly infinite expanse that is televised political advertising. As forms of media have proliferated, so have politician's attempts to win your vote; every four years, Muntadas and Reese re-edit their archive of presidential campaign ads, reworking the images and slogans into a tight 75-minute reel of promotional material, moving-image magic and madness that only politics can provide.
The latest iteration, Political Advertisements IX, 1952 - 2016, will be screened at the SVA Theater on November 4, and a discussion about the project with Muntadas and Reese—moderated by Michelle Goldberg, senior contributing writer at Slate—will follow. In preparation for this week's event and with Election Day just around the corner, the two artists reflected on their ongoing project and what they have seen throughout the years.
How was this project initially conceived?
Antoni Muntadas: In 1984, Ed Diamond, a media critic and professor of journalism, published a book called The Spot, on the history of presidential television campaign advertising. I was a friend of his—we both taught at MIT—and I told Diamond I wanted to publish a video counterpart to the book, feeling that there would be a great deal of interest to see the ads for themselves. I proposed to do that and he granted me access to his archives.
Marshall Reese: I met Muntadas shortly after he began working on it. He showed me a rough cut; I was very excited by the material and vividly remembered a number of the spots. Shortly after that, he asked me if I wanted to collaborate on it and here we are 32 years later.
Could you describe the process of making Political Advertisement?
Reese: We follow the elections very closely from the start of the primaries, which are happening earlier and earlier—each edition of Political Advertisement now begins 15 months or more in advance of the election, from the first days when candidates begin to declare their ambitions to run for the presidency to the final month of the election.
Muntadas: Collecting (developing an archive), selecting and editing are the acts of the process and form the decision-making that makes this work. For us a work of art is always defined in the last edit; whether it's painting or sculpture, the last act is the most important decision. The final cut.
Reese: We're conscious of the fact that we are building a narrative arc [and] mindful of stylistic trends, recycling of themes and imagery. This is what makes Political Advertisement a powerful commentary on how politicians project themselves and their policies through media.
Muntadas: We include as much as we have access to and, over time, have tried to get materials to make the picture as complete as possible.
What do you think has changed the most about political advertising as you've seen it?
Reese: Certainly the Internet as a medium for diffusing messages. In the past, due to broadcast time constraints and expense of buying time in media markets, messages were one minute or less. With the Internet there can be five-minute spots—Sanders' mini-documentaries, for example, or Hillary's longer spots. Also, the ability now to fine-tune messaging according to demographic data with advanced metrics is a science unto itself.
The amount of money dumped into the campaigns is staggering. It basically subsidizes the media and television. This is an outgrowth of the Citizens United Supreme Court decision, equating the ability for a corporation or political-interest group to spend money to promote a political idea as the same as an individual expressing free speech. Ads by PACs [political action committees] . . . are more prevalent and continue to grow.
But above all, this year we see a new movement, even more disturbing than the money that's flooding the electoral process, and that's the impact of celebrity culture on politics and the growth of "post-truth" politics. This is something we fear will have long-term consequences on our political system.
How else has the Internet affected the type of ads put out?
Reese: There is the possibility for outsiders—i.e., non-campaign people—to broadcast their message, which, if it goes viral, can really change the playing field. One of our favorites is the mash-up of the Ridley Scott 1984-inspired ad introducing the Apple Macintosh, which was re-edited as pro-Obama and anti-Hillary in 2008 by a video editor in Washington, DC [watch below].
SVA Features: From Eisenhower to Trump: Why Two Artists Have Been Re-editing Political Ads for Decades
SVA Features asset
That spot changed the rhetoric around the candidates: Obama became a Mac, Hillary a PC. Even more significant is the symbolism, equating Obama with Apple, one of the most cherished brands in America.
Is there anything particular to the current cycle of campaign material? Has Clinton's long history in politics factored into any distinct ad making? Or Trump's media experience?
Muntadas: Looking at the 60-plus-year history of political advertising shows us that politicians, or more likely their advisors, often make ads referring to publicity from previous elections. This year saw a heightened use of negative ads. Rubio remade Reagan's "Morning in America" ad [watch the original here; watch Rubio's below], recasting it in a dour light. Clinton remade the anti-Goldwater spot "Confessions of a Republican." Citations and quotations from previous campaigns abound.
SVA Features: From Eisenhower to Trump: Why Two Artists Have Been Re-editing Political Ads for Decades
SVA Features asset
Reese: During the primary, Clinton's ads seemed almost prosaic. Sanders' spots were much more interesting stylistically. Trump relied mostly on his celebrity to carry him. Both he and Clinton under-spent in television media.
It's been over 30 years since the book that inspired your archive, and even longer since Marshall McLuhan's famous dictum, "The medium is the message." Who are the other people figuring things out and theorizing about media, politics, and art today and who are you in dialogue with?
Reese: Regrettably, there aren't many people doing what we are doing and have done: a combination of cinema studies with political science. And for many years we've been intrigued and interested in looking at the political consultants and the branding of representational democracy, which is a big industry.
Do you have any all-time political ad favorites? Any truly outstanding examples—good, bad or bizarre?
Reese: I personally like the 1968 spot "What Has Nixon Done for Me?" That's one of my favorites [watch below].
SVA Features: From Eisenhower to Trump: Why Two Artists Have Been Re-editing Political Ads for Decades
SVA Features asset
That [and the] Obama mashup and Reagan's 1984 "Morning in America." This year, I thought that Ted Cruz surprisingly had some good spots; we show one.
Muntadas: In 1960 Kennedy used pop culture to address an optimistic feeling to the elections, then in 1976 Ford was more conceptual, running a negative ad against Carter referring to newspaper endorsements; this was also a different approach.
How does this project intersect with your individual practices?
Muntadas: Political Advertisement definitively is part of our individual cycles of work. It's a four-year collaboration and we make room for it in our schedules.
Reese: It follows our interests both jointly and apart. We're concerned about communication—how images affect society—and want to make art that reflects the currents of our times.
This conversation has been edited and condensed. Political Advertisements IX, 1952 – 2016 is presented by MFA Art Practice, MFA Computer Art, BFA Fine Arts, MFA Fine Arts and MFA Social Documentary Film. For more information, click here.