New Year's Resolutions: SVA Department Chairs Share Their Hopes For 2019
SVA NEW YEAR'S RESOLUTIONS
January 3, 2019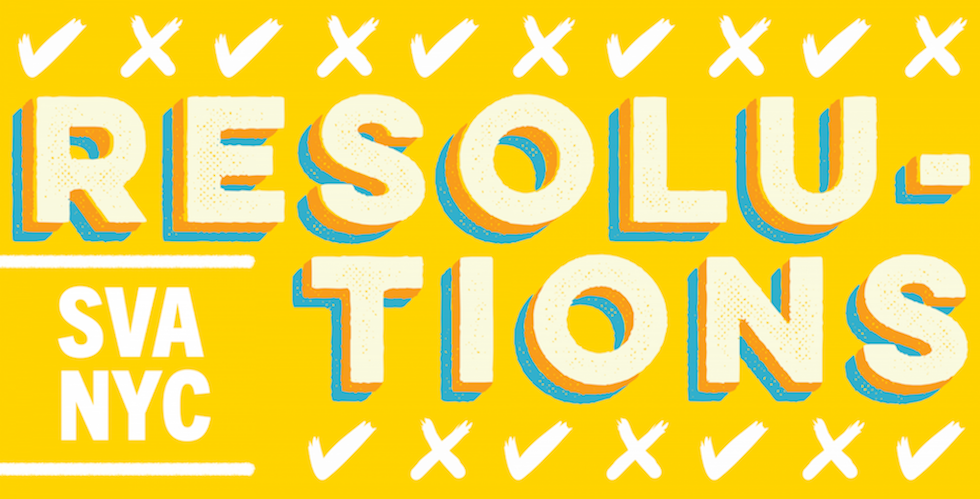 Whether you're sad to see it end or grateful that it's finally over, 2018 has come to a close. To ring in the new year we asked some of SVA's department chairs about their hopes for 2019 and what they plan to devote their time and energy to in the months to come. Here is a selection of resolutions for the coming year from across the College.

"Here are a few: I want to start a James Baldwin book club. I want to remember that vulnerability allows us to connect—in art, in teaching, in creating education for change. I want to put hope into action."
-Mary Lee Grisanti, acting chair, BFA Film and BFA Animation

"I resolve to do everything I can to help end the rape kit backlog. I am the Chair of the Board of Directors, so I have a front-row seat in trying to make this happen!"

-Debbie Millman, chair, MPS Branding

"I will personally re-educate 25 people who don't believe in climate change, using science and circumstance as the backbone of the argument. I will see seek more consistent efforts to mitigate stress. I will tell my daughter every day of 2019 how much I love her and how capable and strong she is. I will inspire and support my students to be the strongest and most coherent and creative filmmakers they can possibly be—and to never stop going after the story—because they care about the world around around them."
-Maro Chermayeff, chair, MFA Social Documentary

"In 2019, I would like to pay more attention to my surroundings when I'm on the subway or walking on the street. I want to make more eye contact with passersby and smile (in a non-creepy way) at strangers so I can build a sense of community in my own small way in this big city."
-Catherine Rosamond, chair, MAT Art Education

"My resolution is as follows: To hope and to work for a government of rational and honorable leaders."
-Charles Traub, chair, MFA Photography, Video and Related Media

"I resolve to read more fiction for pleasure, to write more letters for gratitude, and to listen to more than I speak."
-Allan Chochinov, chair, MFA Products of Design
"My New Year's resolution is to have our Interior Design students experience in-the-field construction sites as a regular part of their education in 2019. Students should spend a greater percentage of their time outside the physical classroom and in the classroom that is New York City."
- Carol Bentel, chair, BFA Interior Design
"Politics and resistance aside, my New Year's ambitions are to (as most food-loving humans resolve to do this time of year) finally get myself back into shape, do better when it comes to work versus play and, with any luck, finally have the opportunity to discover what this whole "vacation" thing is really about."
- Nathan Fox, chair, MFA Visual Narrative
"May we all grow and change in our own ways, and may the world around us continually accept its vulnerability and grow and change with us."
- Jimmy Calhoun, chair, BFA Computer Art, Computer Animation and Visual Effects
What are your New Year's resolutions? Tweet them to us at @SVA_News.