See the Music: A Sneak Peek at 'Soundbreaking,' the New PBS Doc Series
November 2, 2016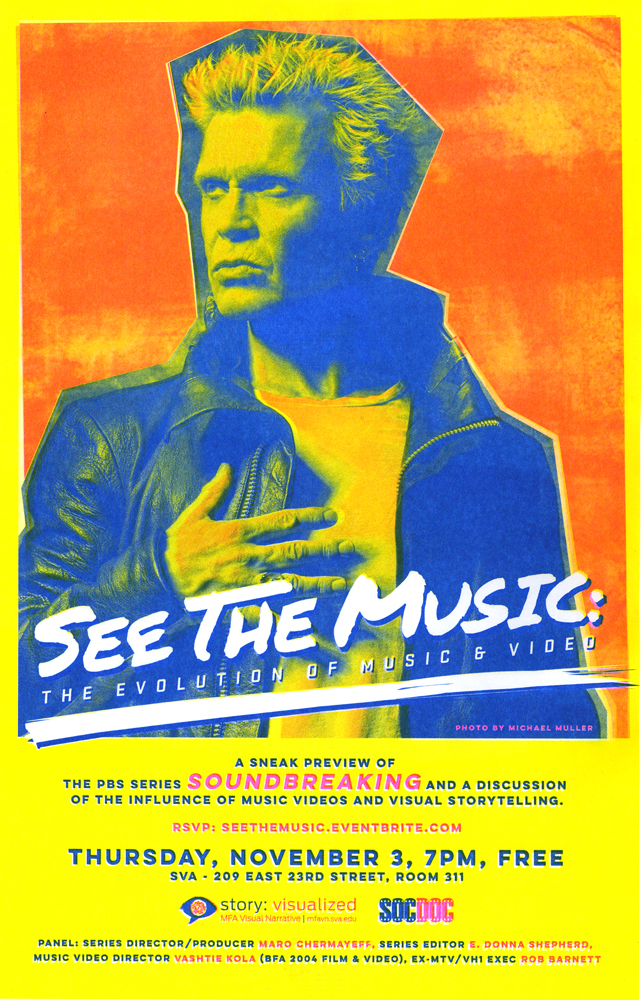 It might be easier to name the American and British popular music stars who don't appear in Soundbreaking, the eight-part documentary series premiering Monday, November 14, on PBS. Whether through original interviews or rare archival materials, the series—directed and produced by Maro Chermayeff, chair of MFA Social Documentary Film at SVA, and Jeff Dupre, her partner at Show of Force, their production company—presents dozens, if not hundreds, of the producers, writers and performers who have shaped the history of what the series' creator, the late, famed Beatles producer George Martin, called "100 years of recorded sound."
But Soundbreaking's aim is not to set down a straight chronological survey. Instead, its episodes are arranged thematically, and all organized around the idea that technological advances—whether the development of the electric guitar and the drum machine, or the inventions of the Walkman and the MP3—have been the primary driver behind pop music's progression and expansion. Throughout, varied influential figures discuss their personal and professional experiences with such changes. Rocker Tom Petty airs his grievances with music videos and the lopsided influence they had on the industry during MTV's heyday. Producer and rapper RZA talks about his love for an early-model sampler, which he used to produce some of The Wu-Tang Clan's best-known songs. And Merrill Garbus (a.k.a. Tune-Yards) explains how looping pedals, which she uses in live performances to create many-layered rhythms, are integral to her art.
SVA Features: Soundbreaking
SVA Features asset
Tomorrow, MFA Social Documentary Film and MFA Visual Narrative will present "See the Music: The Evolution of Music and Video"—an advance screening of Soundbreaking's seventh episode, "Sound and Vision," which focuses on the origins and influence of music videos, followed by a panel discussion on the topic and the series. The discussion will be moderated by Rob Barnett, a former executive at MTV and VH1, and feature Chermayeff, Soundbreaking's editor E. Donna Shepherd (who is also an MFA Social Documentary faculty member) and SVA alumnus Vashtie Kola (BFA 2004 Film and Video), who has directed videos for such artists as Justin Bieber, Kendrick Lamar and Solange.
"See the Music: The Evolution of Music and Video" will take place Thursday, November 3, 7:00 - 9:00pm, at the 3rd-floor amphitheater at 209 East 23rd Street. This event is free and open to the public but seating is limited and registration recommended. Click here to RSVP and for more details.
A version of this article appears in the fall 2016 issue of the Visual Arts Journal.