Summer Recap: SVA Faculty Work and Find Inspiration at Home and Abroad
September 10, 2019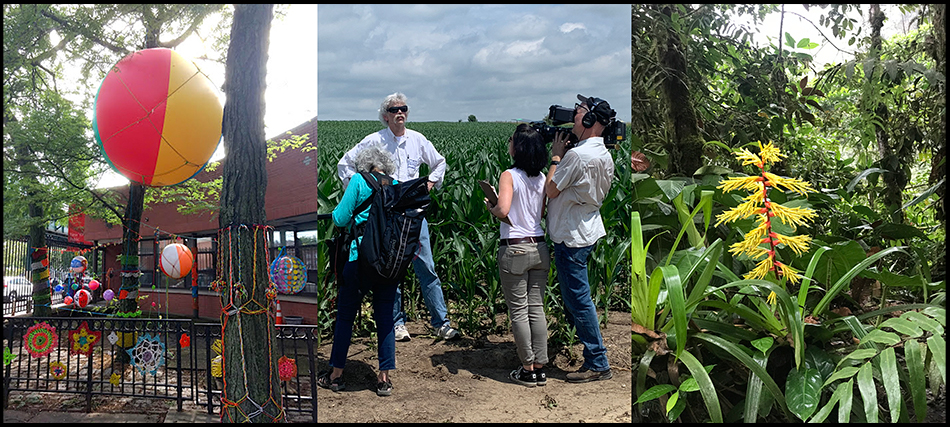 Summer is no idle time for SVA faculty members and some seem to be busier than ever between semesters. Whether starting new projects, traveling for work—and sometimes play—or recharging for the upcoming school year, faculty across departments spent the past few months away from campus working hard to creatively refuel.

Spencer Bailey, MA Design Research, Writing and Criticism
In May, Andrew Zuckerman and I co-founded and launched the "conscious entertainment" media company The Slowdown. What we do is short-form content with a long view. Our first platform, the Time Sensitive podcast, features candid, revealing portraits of curious and courageous people in business, the arts and beyond who have a distinct perspective on time. Over the past few months, I've had the pleasure of speaking with people like artist Teresita Fernández, architect Elizabeth Diller, New York Times architecture critic Michael Kimmelman, and MIT Media Lab polymath Neri Oxman. [Oxman's episode dropped last week]. Running a startup and building it from scratch has been many extremes—creatively fulfilling, mentally exhausting, just plain daunting—and a complete joy. We've also been busy at work on our next platform, The Slowdown newsletter, which will come out weekly starting this fall.
SVA Features: SVA Faculty Members Share What They Did This Summer To Get Reinspired

This summer, I received two grants from the Bronx Council on the Arts to run a free art program in my local Bronx library in Parkchester. Called "Art in the Air," it was my third year running the program, and I was super-excited to collaborate with another local Bronx artist, poet Orlando Ferrand. With his creative writing expertise and my experience in the visual and sculptural arts, we combined our talents to work with library patrons to produce poems which are then developed into calligraphy and then written, stenciled and drawn onto latex and mylar balloons, as well as three to six-foot giant beachballs. It's been fun to work with lots of different people, from children to older adults, all from diverse backgrounds. The Parkchester area has a lot of Bengali Indian people and other migrants, and immigration has been a recurring subject in the writing. We are having a balloon party at the end of October to celebrate the outdoor installation—attend and get a balloon!
SVA Features: What I Did On My Summer Vacation

Jerry Risius, MFA Social Documentary Film
My summer started with a short week in Oslo to film Denise Ho receiving The Oslo Freedom Award, for her work as an activist and leader of Hong Kong's Umbrella Movement. Denise Ho is a charismatic Cantopop singer who's become one of the de facto voices of the protest movement as Hong Kong tries to maintain its independence while the velvet glove of China slowly chokes its identity. It is a work-in-progress documentary and we have been filming her over the past 18 months.
In early June, I went to Mumbai to film with David Letterman for his Netflix series, My Next Guest Needs No Introduction. Our team traveled there to meet with Shah Rukh Khan (SRK), during Eid and experience a "day in the life" of the enormously popular Bollywood superstar (think Beatles at Shea stadium). The throngs of fans for SRK were so overwhelming that many additional police had to be organized for a mere five-minute shore-front stroll.
In early July, I went to Iowa to direct and shoot my own documentary on the Pulitzer-prize winning journalist Art Cullen and his family and their newspaper in Storm Lake, Iowa. It's a documentary about a small-town newspaper and how one family is trying to keep their community alive and informed. We filmed Democratic presidential candidate Mayor Pete Buttigieg's visit to town for the July 4th parade and followed Art's son Tom as he interviewed Charles Grassley on immigration issues during the senator's visit to Storm Lake. We also filmed Art as he interviewed a local farmer about his expected corn yields given the spring of torrential rains. I spent the last half of July working with my team (including fellow MFA Social Documentary Film faculty member Beth Levison) to create a short fundraising reel to raise money to continue filming this story as it unfolds. Fingers crossed!
SVA Features: What I Did On My Summer Vacation

Suzanne Anker, BFA Fine Arts Chair
During my trip to Ecuador and the Galapagos Islands, I began re-reading The Origin of Species by Charles Darwin. The experience of visiting the Charles Darwin Research Center and its scientific curators further led me to realize how the concept of evolution continues to boggle the mind. As artists are interested in both representation and the invisible, Darwin's theories are in sync with creative transformation. Also, I read Darwin's biography, which surprisingly pointed out his rebellious nature. It is no wonder that great thinkers are made from revolutionary cloth.
SVA Features: What I Did On My Summer Vacation- Faculty

Jim Rugg, MFA Visual Narrative
I started a YouTube channel with cartoonist Ed Piskor called Cartoonist Kayfabe. We produce three to four shows a week that cover comics history; interviews with creators, retailers and promoters; reviews, process and our own work. This summer we did a couple of live events at HeroesCon in Charlotte, North Carolina, and Dartmouth Comics Arts Festival in Nova Scotia.
Creating video, public speaking, merchandising and promoting comics has been a wild ride. The development of a community around Cartoonist Kayfabe and the enthusiasm we have found for comics has been a massive boost to my creative output. The channel has also made me develop critical thinking and speaking skills in regards to the art form. We created the channel as a means to grow and sustain our audience. However, we also see it as a place to contribute to the health of the comics medium and industry by spotlighting interesting comics, creators, and historical aspects of comics. Comics lack an active critical community. Cartoonist Kayfabe is a small effort to add to that dialogue and to share the comics and stories that we love.
SVA Features: SVA Faculty Members Share What They Did This Summer To Get Reinspired

Diego Vainesman, MFA Visual Narrative
At the beginning of the year, the whole design and art community was aware of the Bauhaus' 100th anniversary. Many places around the world were/are celebrating the event. The Bauhaus' director Markus Weisbeck and four professors decided to go on an international tour, visiting five different cities. The only place they visited in Latin America was the Universidad Católica de Bolivia (UCB) in La Paz. I had a dream to go to Germany to visit Weimar to be part of the Bauhaus' celebration, but because of work and other duties, I couldn't come up with a plan to be part of that dream trip. Then one day in August I got an email from the UCB's director of design, Cecilia Mariaca, inviting me to be part of the Bauhaus' event! I was able to attend the Bauhaus' workshops and to learn from its professors. Sharing the experience with them made me feel like I was in Weimar, except for the 12,000 feet altitude.
SVA Features: What I Did On My Summer Vacation- Faculty

Amy Wilson (BFA 1995 Fine Arts), BFA Visual and Critical Studies
I spent most of my summer working in my studio in Jersey City on a new body of work. Some of that was shown during a group show at T532 Gallery Thomas Jaeckel in Chelsea and some of it I'm still struggling to finish before the semester really takes over. I did manage to get away for a quick trip to Asbury Park, which is always an amazing destination and a great place to recharge.
SVA Features: What I Did On My Summer Vacation- Faculty