SVA Filmmakers Abound at the 2019 DOC NYC Festival
November 6, 2019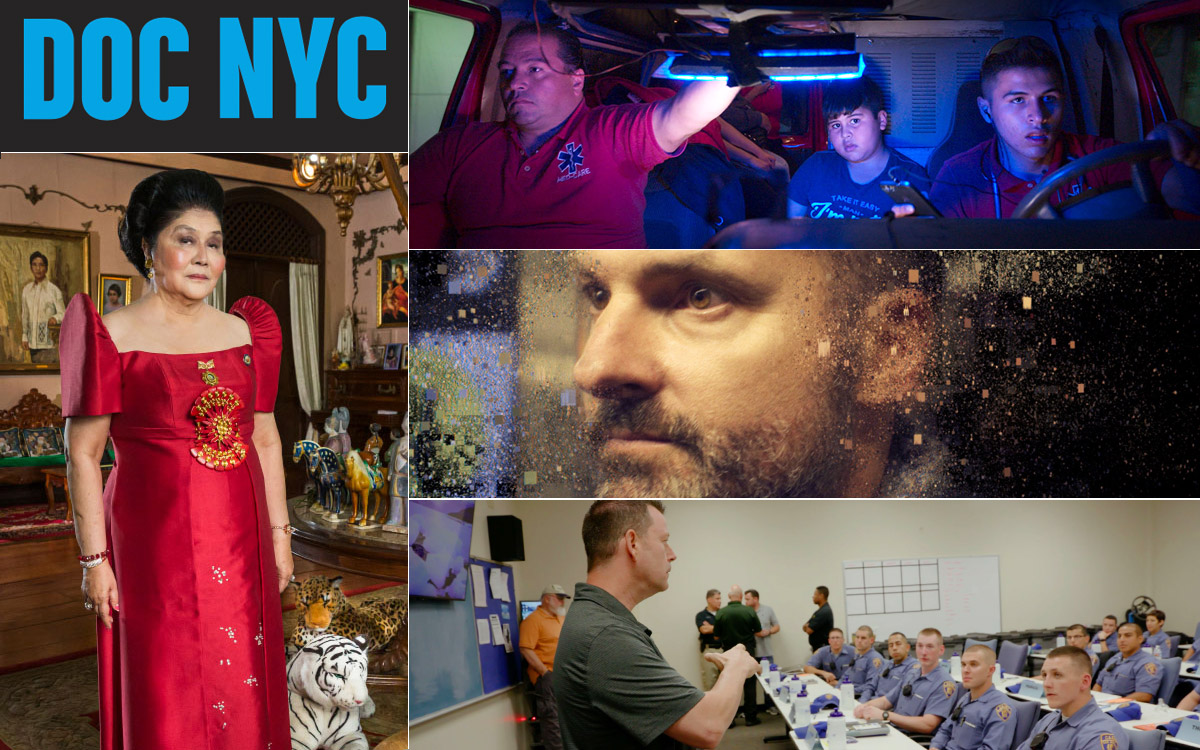 Doc NYC, the United States' largest documentary film festival, is celebrating its 10th anniversary this year and it is intrinsically tied to SVA. Co-founded by MFA Social Documentary Film faculty member Thom Powers, along with his wife, Raphaela Neihausen, Powers also serves as the festival's artistic director, screening and programming films and generally trying to curate an exciting, inclusive and diverse lineup of documentary films that speak truth to power. Powers is North America's premiere documentary programmer—Mr. Documentary, or "Kingmaker of Documentaries," according to The New York Times. The doc programmer for the Toronto International Film Festival (TIFF) since 2006, Powers also curates the digital streaming platform SundanceNow Doc Club and serves as the artistic director of Pure Nonfiction at IFC Center, among various other documentary and film-related roles he juggles. But DOC NYC, hosted in his home of New York City and with screenings often taking place at the SVA Theatre, is near and dear to him. "I don't get to sleep much, but I do get to sit back and enjoy it once it's over," he said.
Running this year from November 6 through 15, DOC NYC features two components: a regular film festival, with major world premieres of projects by notable filmmakers, and DOC NYC PRO, an eight-day industry event featuring documentary panels and master classes, including an expanded initiative to support works-in-progress, with a section called "Only in New York."
This year's DOC NYC lineup is heavy with MFA Social Documentary Film alumni, faculty and students. Department Chair Maro Chermayeff co-directed, produced and executive produced Tightrope: Americans Reaching for Hope, a film about America's opiod-abuse crisis, which makes its world premiere at the festival this week. Chermayeff will also take part in a Journalism and Documentary panel on Friday, November 8, that is dedicated to the film (see below). Tightrope was edited by alumnus David Hoon Newman (MFA 2015 Social Documentary Film) and additional faculty who worked on the project include Mira Chang (consulting producer), Amy Schewel (archival consultant) and Axel Baumann (additional camera).
Some DOC NYC films have already made a splash at renowned film festivals around the world. Picked up by HBO after its SXSW Film Festival premiere, Ernie & Joe: Crisis Cops—a look at two San Antonio, Texas, police officers in their department's special mental-health unit—was edited by MFA Social Documentary Film faculty member Toby Shimin. Director Lauren Greenfield's profile of Imelda Marcos, The Kingmaker, was acquired by Showtime not long after its debut at the Venice Film Festival; its director of photography, Jerry Risius, is also faculty. Midnight Family, which follows a father-and-sons paramedic team in Mexico, premiered to acclaim earlier this year at Sundance; its producer is alumnus Daniela Alatorre (MFA 2015 Social Documentary Film). And Letter to the Editor, a documentary by faculty member Alan Berliner, about his longtime habit of clipping and saving photos from The New York Times, made its ballyhooed premiere at the 2019 TIFF.
Busy Inside, a documentary about dissociative identity disorder, which makes its New York City premiere at the festival, has multiple MFA Social Documentary Film connections. Directed, edited and filmed by alumnus Olga Lvoff (MFA 2013 Social Documentary Film), the movie's team includes producer Victor Ilyuhkin (MFA 2014 Social Documentary Film), cinematographer Justin Ervin (MFA 2012 Social Documentary Film), co-producer Rose Vincelli Gustine (faculty and staff member, MFA Social Documentary Film) and associate producer Sarah Rachael Wainio (MFA 2016 Social Documentary Film). Another touted picture, currently going by the working title Christian Scott aTunde Adjuah, was directed by faculty member Amitabh Joshi (MFA 2013 Social Documentary Film) and Erik Spink (MFA 2013 Social Documentary Film).
Additional DOC NYC titles boasting contributions from MFA Social Documentary Film alumni include The Great Hack, with additional editing by Andres Aria (2013); Ask Dr. Ruth, with additional camera work by Jenni Morello (2011); Lydia Lunch—The War Is Never Over, with camera work by Nottapon Boonprakob (2017) and Megan Orr (2016), camera work and additional editing by Prapaporn Pinyopusarerk (2016), as well as Kickstarter management by Sarah Wainio (2016); and Mr. Toilet: The World's #2 Man, featuring cinematography by Siyan Liu (2015). Liu, Lulu Men (2016) and Danni Wang (2015) all served as field producers and additional camera operators on American Factory.
DOC NYC's student section features an entire MFA Social Documentary Film student showcase, DOC NYC U: SVA. Its lineup is comprised of shorts by current program enrollees Jamie Deredorian Delia (A Little Mess), Adam Evans (All About Evie), Catherine Finsness (Prospect Park), Oxana Onipko (Kostya), Rohan Shrivinas Rao (Drive), Shuming Zhang (Wood Carver: Deborah Mills), and Yingzi Zhang (The Cure).

Finally, SVA alumni are also well-represented on DOC NYC's second annual "40 Under 40" list. This year's honorees include Bennett Elliott (BFA 2010 Film and Video), Yuqi Kang (MFA 2015 Social Documentary Film) and Crystal Moselle (BFA 2002 Film and Video).
Here's a list of DOC NYC Pro Panels to keep an eye out for:
Tomorrow, November 7, as part of the First-Time Filmmakers event, Rose Vincelli Gustine will be on the "Building Your Team" panel, and program alumnus Chelsi Bullard (2017) will speak on the "Funding an Independent Documentary" panel.
On Friday, November 8, as part of the Journalism and Documentary event, Maro Chermayeff will appear on the "In-Depth with Nicholas Kristof and Sheryl WuDunn" panel to discuss her film, Tightrope: Americans Reaching for Hope.
On Saturday, November 9, for the DOC NYC Pro: Editing event, there will be an "In-Depth with Alan Berliner" panel, featuring the filmmaker and faculty member, and Toby Shimin will participate in the "Editing to Develop Characters" panel.
On Sunday, November 10, as part of the Cinematography event, MFA Social Documentary Film alumni Jenni Morello (2011) and Amitabh Joshi (2013) will take part in the "Building Your Career: Cinematography" panel.
On Monday, November 11, during the Focus on Documentary Series event, Mira Chang will speak as part of the "Developing Your Series" panel and fellow faculty member Judith Helfand will moderate Pitch Perfect, a program about pitching documentary projects.
On Tuesday, November 12, for the DOC NYC Pro: Producing event, faculty member Beth Levison will participate in the "Creative Producing" panel.
On Thursday, November 14, as part of the DOC NYC Pro: Podcasts event, Thom Powers will moderate the "In-Depth with Brian Rees on S-Town" panel.
Congratulations to all SVA community members taking part in this year's DOC NYC!
SVA Features: DOC NYC: The SVA Soc Doc 2019 Preview
SVA Features asset
SVA Features: DOC NYC: The SVA Soc Doc 2019 Preview
SVA Features asset
SVA Features: DOC NYC: The SVA Soc Doc 2019 Preview
SVA Features asset
SVA Features: DOC NYC: The SVA Soc Doc 2019 Preview
SVA Features asset
SVA Features: DOC NYC: The SVA Soc Doc 2019 Preview
SVA Features asset