Updates on the 2020-2021 Academic Year
SVA continues remote instruction, with select facilities accessible by appointment. Click below for updates.
Faculty Feature: Panayiotis Terzis
Get to know this artist, illustrator, publisher, Risograph wizard
January 8, 2019
Panayiotis Terzis teaches RISO Printing: Zines and Small Publishing, where SVA Continuing Education (SVACE) students learn to print, self-publish and communicate ideas in a book format. An alumnus of BFA and MFA programs at SVA, Panayiotis — nicknamed "Pan" — runs Mega Press while also producing original art and commercial illustration work.
With Mega Press, he participated in recent fairs, including Comic Arts Brooklyn and the New York Tech Zine Fair, and new releases from Mega Press are available at Printed Matter. Pan exhibited artwork in "Prometheus' Admission," a group show at Robert Blackburn Printmaking Workshop, and his work is featured this month at BOOOOOOOM.
As a faculty member, artist, and entrepreneur, Pan has much to offer our community, so we invited him to open up about his ideas, process, inspiration — and the brave new world of Risograph printing.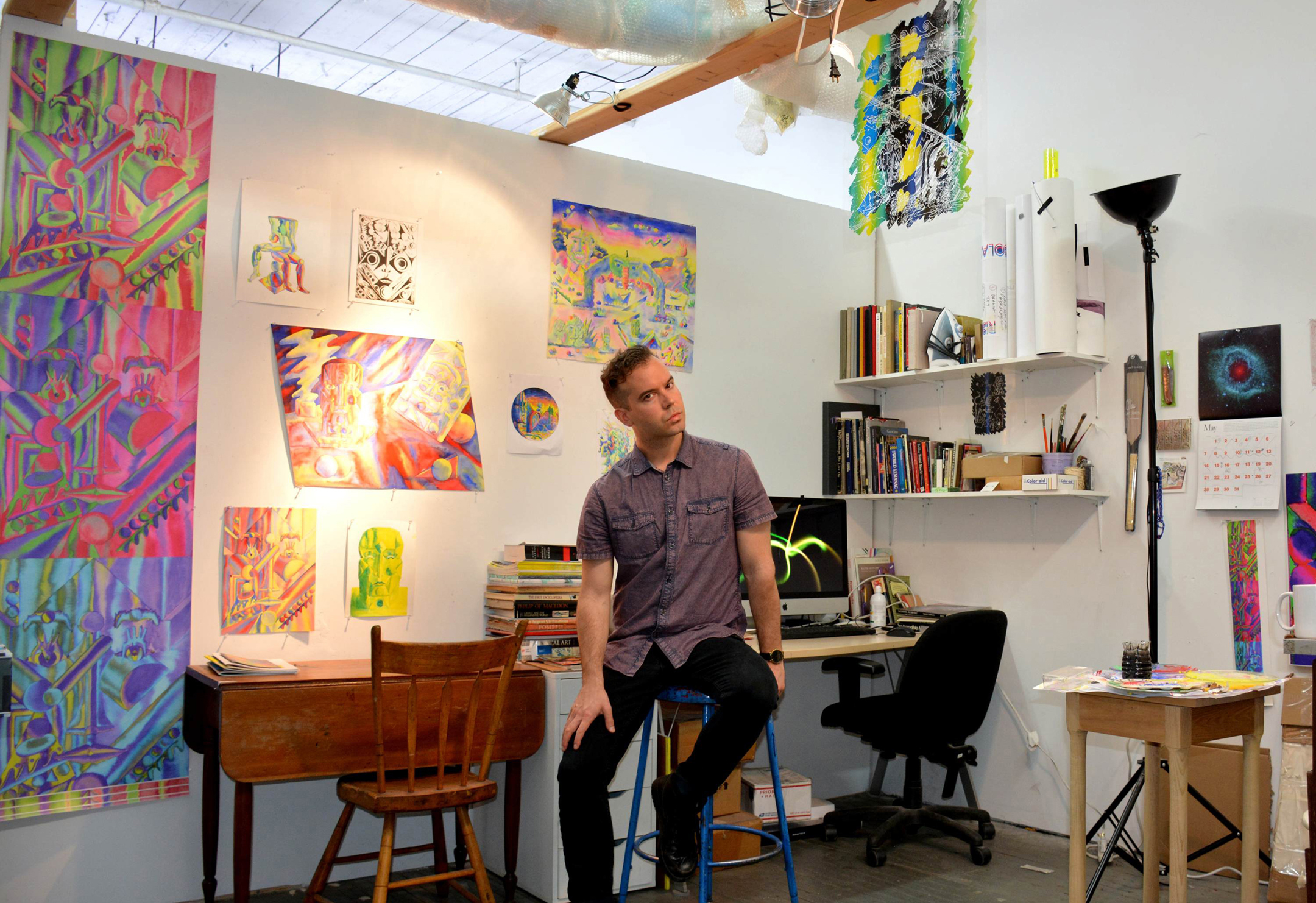 SVACE: In terms of medium and materials, how would you describe your art to a new person?
PT: Drawing is always my starting point. I try to draw every day so that I can capture fleeting ideas, images, interesting objects that I might come across during the day. I draw from observation, from my head, and reference — whatever catches my attention for whatever reason.
I've been deeply involved in print media for over a decade, so while I do make stand alone paintings, I'm always processing my images using various printmaking media, including screen print, photolithography, inkjet printing, Risograph, etc. There are usually many stages of transformation and layering that occur as a piece passes from analog to digital to analog form, emerging as a Riso zine or print, screen print on fabric or drawing or painting to be worked back into. Working with print media has allowed me to resolve the tension of working by hand in a world that has become so dominated by our now monstrous technological infrastructure. The printing press, photo exposure process and Risograph duplicator become my collaborators and rivals, extending my range but stubbornly forcing me into visual combat with them on their own terms. In their limitations, these techniques also give me a structure to work against, and their limitations force me to sharpen my focus and shed any unnecessary visual elements from my work.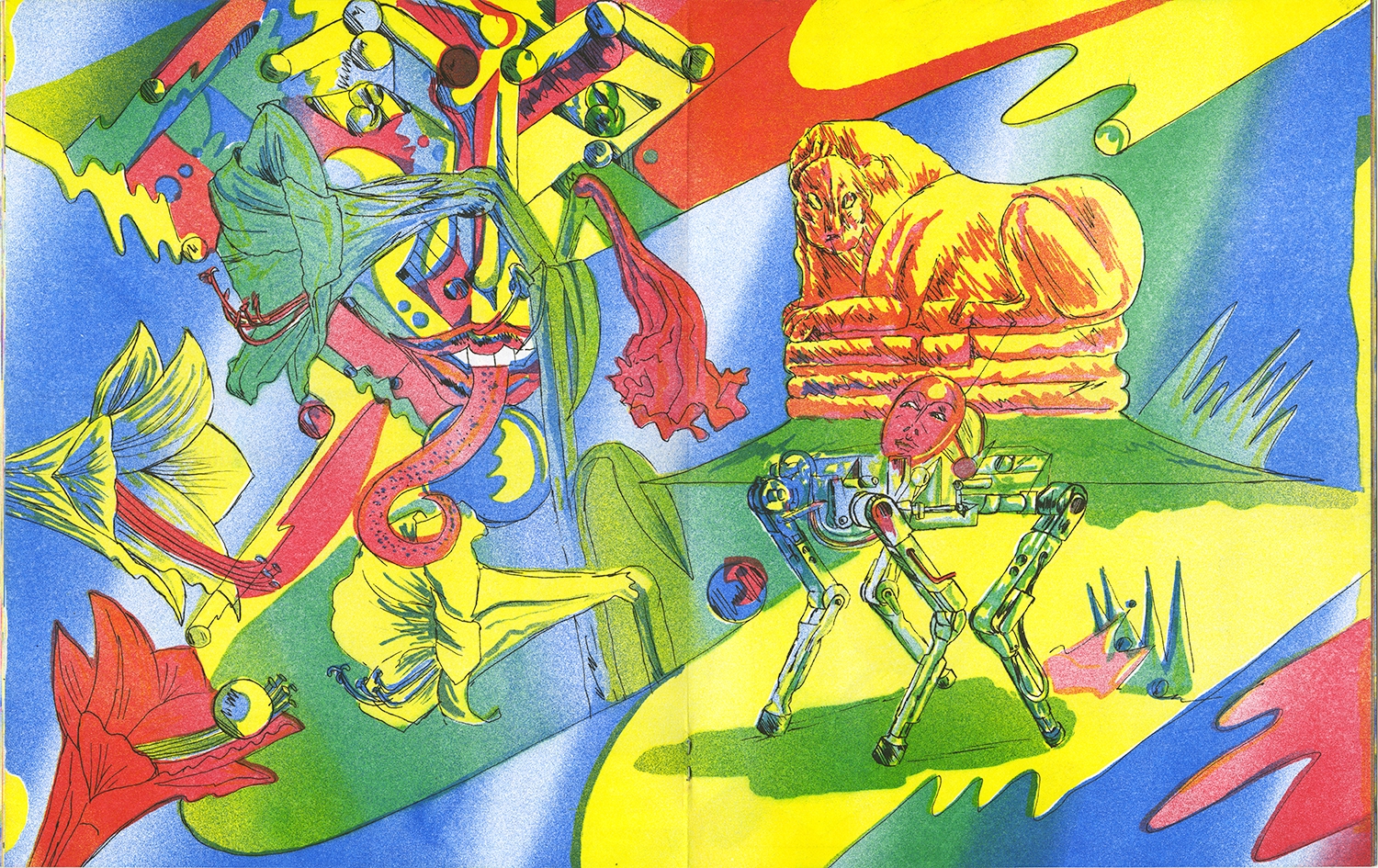 SVACE: And how about subject matter and content?
PT: I'm fascinated by relics left behind by cultures that rose and fell long before our own — in particular, the Pre-Columbian civilizations and the Greco-Roman sculptural tradition. Science fiction is also a huge influence, from obvious classics like Blade Runner to big blockbuster sci fi of the 90s that I grew up with, like Terminator 2. These influences form the basis of imagery that might be recreated as a painting or a more refined drawing, or mixed with appropriated imagery from old books and magazines, newspapers and printouts of screenshots.

A core focus of my work is the idea of extended timelines that can be experienced all at once. The ancient past and the distant future collapse into a chaotic present. I'm endlessly fascinated by how objects, images and symbols are rediscovered by future cultures, misinterpreted, and take on new meanings and functions. In ten million years, who or what will dig through the plastic strata left by our century to discover the ruins of New York, Shanghai, Tokyo? What narratives will the objects we leave behind reveal to those who find them?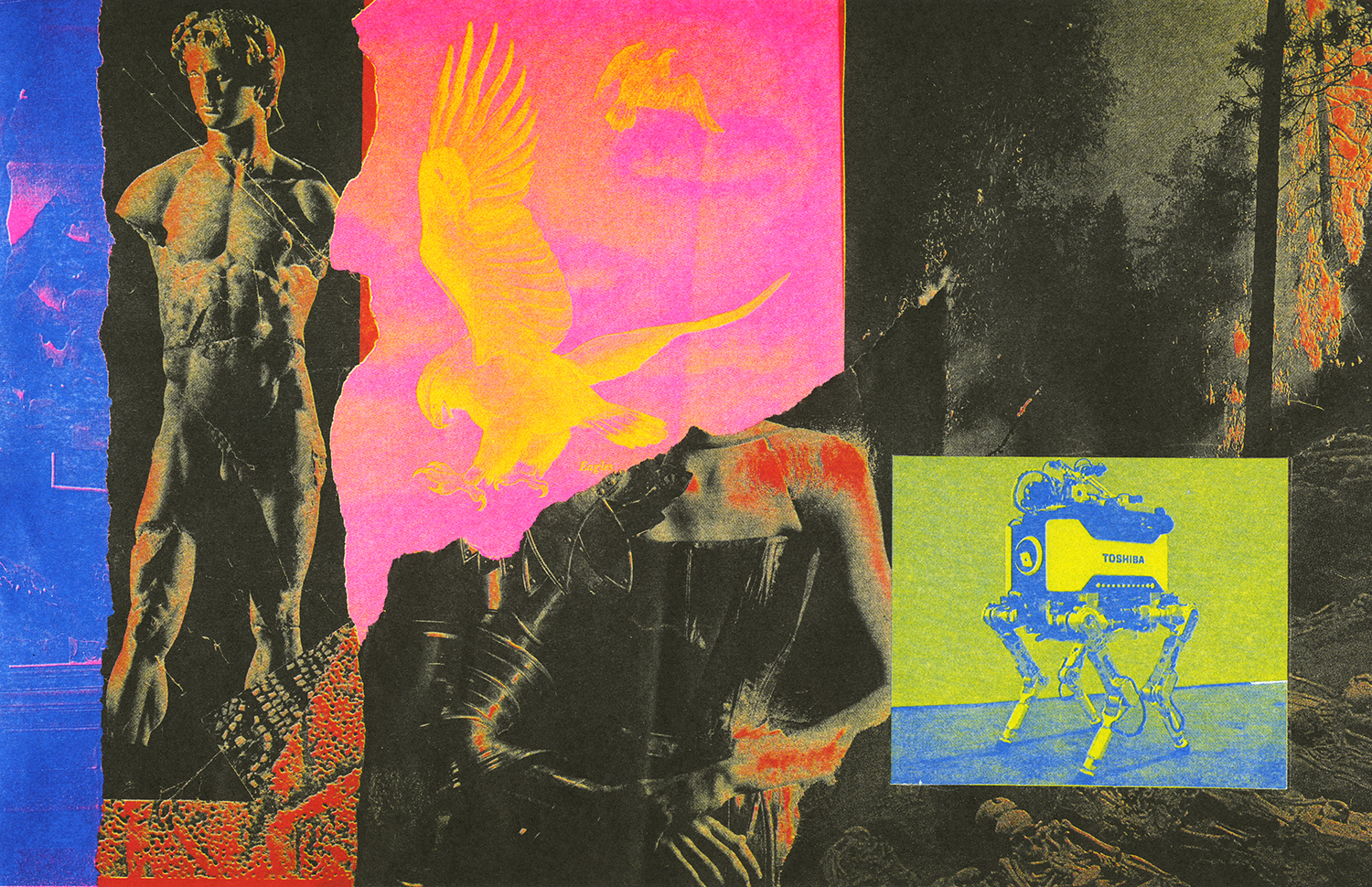 SVACE: What are you working on now?
PT: I'm working on a new suite of numbered Risograph prints for the new year and planning some larger screen print and painting work on fabric and canvas. I have some narrative projects that I've wanted to get moving on for a long time that will probably emerge as graphic novels or comics, with the potential to be realized as screenplays for film if I can find anyone interested in collaborating. And of course I am drawing every day and working on small gouache paintings as my regular practice. Apart from that I have some commercial illustration projects in the works.
In terms of my publishing and Riso printing practice, I published five Risograph zine editions with Mega Press in 2018, including three solo editions by individual artists; and a new issue of my dystopian science fiction series Trapper Keeper, which collects work from a dozen to twenty different artists per issue; and a new book of my own. I participated in six book fairs and spent a lot of time attending to wholesale distribution, online orders, paying artists and shipping books and prints all over the world.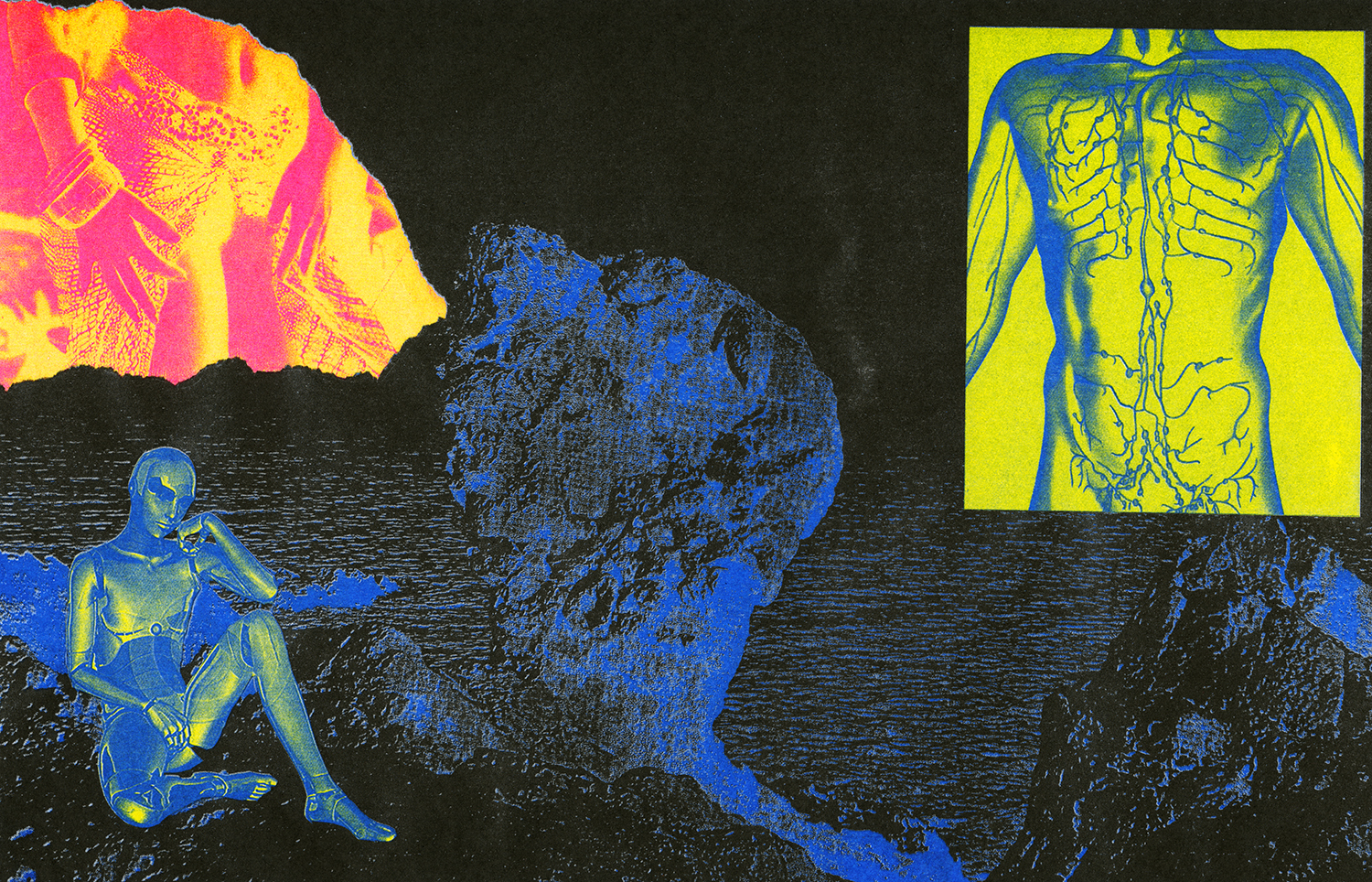 SVACE: Is it a challenge to simultaneously work between printing, publishing, teaching, and making art?
PT: This activity has grown out of my personal artist's-book publishing practice, but I never intended to become a publisher and business man. When you are making multiples and trying to sell them and make a profit, you are put in that position. At a certain point, you have to become an entrepreneur if you want to make any money back to make it all worthwhile. It's been amazing to see the spread of the project, but I became completely exhausted. So for 2019, I had vowed to myself that I would let Mega Press cool off for a bit and focus 100% on my studio practice.
That being said, I'm currently speaking to some larger publishers about collecting the first six issues of Trapper Keeper to be published as a larger book edition, and I am collaborating with Cullen Beckhorn, an artist and performer based in Seattle, on curating and publishing a huge book and exhibition project that will be realized in early summer 2019 with contributions from many of the most active and interesting artists working in the underground publishing scene across the US and internationally, in addition to my own work.
SVACE: You recently exhibited work in "Prometheus' Admission" at Robert Blackburn Printmaking Workshop. What exactly did you show?
PT: I showed four Risograph prints, four small gouache paintings, a large screen print on canvas and a screen print on plexiglas. All of the work in the show had also been previously published in recent zine editions. The large screen print originated as a small drawing for which I created color separations in order to include it in my recent publication Megalith V. I re-scanned all the separate elements of the work at a higher resolution so that I could take the same image and blow it up to reprint by hand as a giant screen printed painting on canvas.
The paintings were original works that had later been slightly transformed by the photo color separation process so that I could reproduce them in the same publication. I also presented copies of the two most recent zines, Megalith V and Megalith 4. Exhibition visitors could see the original work and see how it was transformed by the Risograph process, or further amplified by other forms of printmaking after being created specifically for Riso. The imagery rhymed and repeated between different works as well. For example, an appropriated image of a Boston Dynamics robotic prototype appeared in a photocollage-based Riso print while showing up in a hand rendered screen print hanging a few feet away in the gallery.
SVA Features: Faculty Feature: Pan Terzis

SVACE: How does this work fit into your larger vision?
PT: The subject matter and energy of all of the work was connected by my reaction to the mood of urgency and chaos that I've been feeling since the turn of the millennium, expressed in dynamic compositions and explosive colors. All of the work, especially the suite of four photocollage-based Risograph prints, felt like my attempt to capture this demonic energy and purge it from myself by allowing it to pass from me to these prints and paintings.

One really nice aspect of this show was that it brought together three artists from three separate generations. I felt honored to be exhibiting with Mary Frank, the famous mid century modernist sculptor, and Peter Hristoff, who is an amazing painter and beloved faculty member here at SVA. What tied the three of us together was our use of print media and interest in using myth, allegory and symbols to capture that sense of cataclysm that's been such a driving motivator for my own work.
SVACE: Risograph printing is thirty-year-old technology, yet it's being revived by many artists — including in SVA's RisoLAB. How would you describe the Riso process and its appeal to artists?
PT: Risograph printing allows artists to use beautiful, vivid spot color printing to reproduce any texture, tone or graphic effect imaginable. It's incredibly fast, and the print resolution on newer machines is comparable with any form of printmaking, even high resolution inkjet printing. Unlike inkjet or offset printing however, it forces the user to get deeply involved in the printing process, since each image has to be designed and printed layer by layer. It doesn't allow you to simply click "print" and send a full color image to the Riso. You have to build it from the ground up or separate an image into separate color layers using a photographic color separation process.
The more you learn about color separations, halftone dots, overlapping colors and layering strategies, the more complicated and interesting results you can achieve. There is no learning curve of manual skills as in most traditional printmaking techniques, where you might spend years learning how to properly hold a squeegee or spend an entire semester learning how to coat a screen, so artists are freed up to spend more time creating interesting and powerful content specifically designed to take advantage of the possibilities opened up by the Risograph process.
SVACE: What might artists be surprised to learn about Risograph printing?
PT: The medium was never intended to be used as a publishing tool for artists. It was, and still is, primarily marketed and sold to small businesses and institutions, such as restaurants, copy shops, offices, churches, schools and libraries; and to large governmental contractors, such as the United States military. In the developing world where print is still very important — as it continues to be in the west — the Risograph is often used as a cheap alternative to offset printing. A large-format Risograph is available in the Russian and Ukrainian market, where it's used to print and publish newspapers. These applications form 99% of the actual sales and uses of Risograph. Artists tend to buy older, broken-down machines and fix them up so that they can start a press or print studio.
I'm also constantly informing people that it's not a vintage technology. New models come out every few years. The newest Risographs are able to achieve decent registration compared to older machines, especially the two drum units. We can print at 600 dpi with the ME 9450U duplicators that we have at the SVA RisoLAB.
Finally, there is no Risograph "look." Artists can achieve any kind of graphic effect imaginable.
Approach your work like an athlete training for the Olympics.
SVACE: Specifically where do you see particularly interesting Risograph printing? Are there publishers, presses, or galleries leading the way?
PT: Colour Code Press in Toronto, Corners Press in Seoul, TXT Books here in NYC, Tan and Loose in LA, Colorama in Berlin, Issue Press in Grand Rapids — too many to list them all!
SVACE: Who (or what) are some of your creative influences?
PT: Again, too many to list! I'll just throw out a few and you might get an idea of the kind of soup of visual stimuli that I've sloshed around in for the last few decades: Eduardo Paolozzi, Hokusai, Gary Panter, Max Beckmann, Adolf Wölfli, Howard Finster, Nancy Spero, Bridget Riley, Heinz Edelmann, Gretchen Bender, Paul Thek, Paper Rad, Leon Golub's Sphinx and Head paintings, Robert Mapplethorpe, H.C. Westermann, Huma Bhabha, the Hairy Who, anonymous Aztec sculptors and craftsmen, the Classical Greek sculptor Polykleitos, Ryuichi Sakamoto, early Cronenberg, and most recently, I was devastated in the best way by the Hilma af Klint show at the Guggenheim.
SVACE: For the person up late at night, sketching at his/her/their table or sketchbook: what message would you send?
PT: Forget about any romantic ideas about what it means to be an artist. Approach your work like an athlete training for the Olympics. A good instructor is like a personal trainer. You have to hit the gym hard in order to be ready for the arena. Everything is a process, everything is training, and the process never ends. You are an instrument through which the work will pass from somewhere else.