Updates on the 2020-2021 Academic Year
SVA continues remote instruction, with select facilities accessible by appointment. Click below for updates.
SVA Alum Craig Coss Illustrates Tarot Cards For 'Game of Thrones'
March 29, 2018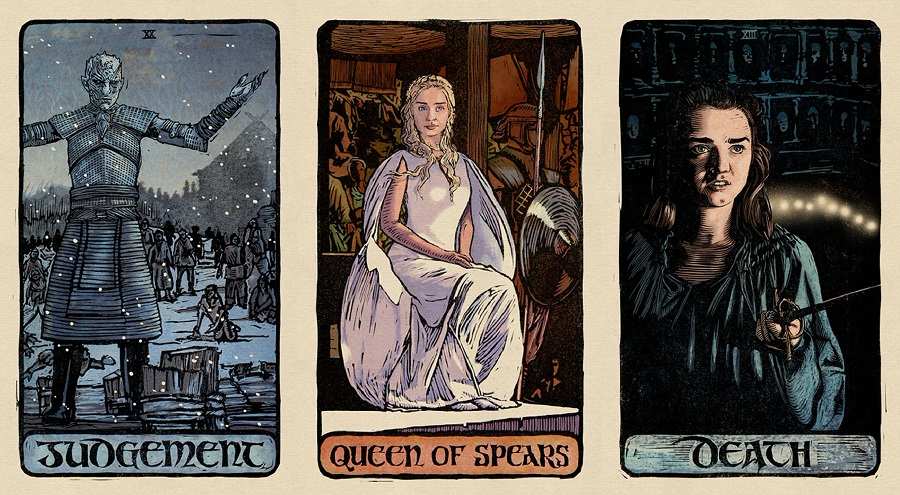 Winter is coming for HBO's mega-hit television show Game of Thrones. That's right, the series is almost over and its final season will air sometime in 2019. Will it be Jon Snow, Daenerys Targaryen or Cersei Lannister who sits on the iron throne when all is said and done? Peering into a crystal ball to glean what's in store for the last season is a shadowy task, but new Game of Thrones Tarot could perhaps gain some insight into predicting the future of the show. Authored by Liz Dean, the deluxe boxed set Game Of Thrones Tarot are illustrated by SVA alum Craig Coss (MFA 2015 Visual Narrative), who can now add HBO and Chronicle Books to his impressive line of credits that include work for Banana Republic, Nike, Target, Pottery Barn Kids and more.
With the deluxe Game Of Thrones box set available now through Chronicle Books— a gorgeous box with a hinged lid, 78 full-color tarot cards and an accompanying 114-page hardcover two-color booklet— SVA caught up with Coss to discuss his involvement in the set, his work in creating a "hybrid analogue-digital" work and how Game Of Thrones became the first television show he's watched since he was a teenager.
How did you get involved in the project?
Through an MFA Visual Narrative connection at SVA. I wrote and illustrated a draft of a graphic novel in the fantasy genre for my thesis project. One of my alternate ideas was a tarot deck, and several of the projects I worked on in that program had fantasy-based themes, so when the editor at Chronicle Books went searching for an illustrator in New York who might be a good fit for the job, my name came up. The Chronicle editor contacted me with a vision for the major arcana, but the minor arcana wasn't really developed. I couldn't do it. So, I pitched a different concept back: to match all of the traditional meanings of the cards in the minor arcana with characters, moments, or locations from the series. "Can that actually be done?" she asked me. I didn't know—but that was the deck I would be interested in; the impossible puzzle of it made it all the more exciting to me. And Chronicle Books let me take a stab at it.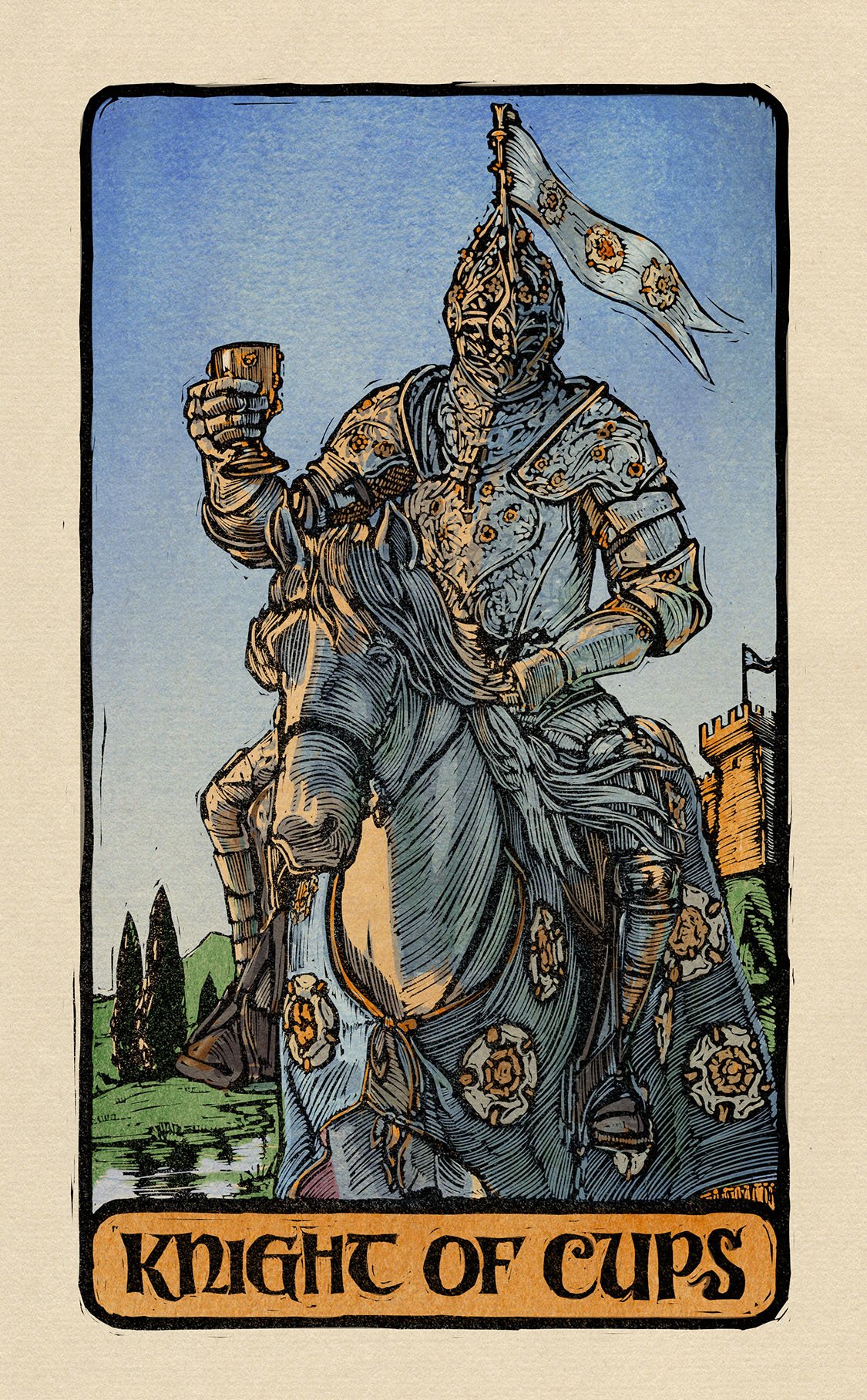 Are you a big fan of Game Of Thrones?
So many of my SVA peers were talking about Game of Thrones that felt I had to watch in order to take part in the conversation. And this was a serious decision for me, since [my wife] and I have never owned a television, and Game of Thrones was actually the first TV I'd watched since I was a teenager! If Chronicle Books had asked me to illustrate any other TV show, I wouldn't have been able to do it. All the characters, details, and subtleties are worth studying over several viewings, and now I can appreciate many of the exquisite nuances of the storytelling. After I shared on social media that I was working on the tarot deck, some childhood friends reached out to say they were serious fans of the series, and they desperately needed someone they could talk to about the machinations and plot twists! So, I've rekindled several old friendships over the series, which has been a fun surprise. Now we are all eagerly awaiting the final season.
Were you knowledgeable about Tarot Cards before you started the project and if not, how did you research and get up to speed?
When I was ten years old, my father picked up a deck of tarot cards for a dollar at a garage sale. When he got home, he threw them in my lap, saying, "I have no idea what these are, but they reminded me of you, and I thought you'd like to have them." Never had I looked at artwork and felt that I was looking at a mirror; each card seemed to reflect a different part of myself. That sense of familiarity with the imagery and archetypes drove me to learn all I could about tarot in my teens, and I started collecting different decks. I learned many years later that the tarot deck my dad gave me is now a collector's item—illustrated by an unknown artist.
I was also fortunate to be able to work closely with the author of the guidebook, British intuitive Liz Dean. Having given over a thousand readings, Liz has noticed how certain cards reappear in situations with people and questions, and Liz taught me nuances of meaning that come from her decades of experience. Liz had a strong vision for some of the cards and was very receptive as well—a delight to work with. The result was a true collaboration with HBO, Chronicle Books, and Liz.
What was the biggest artistic challenge in creating these cards?
My original vision for the deck was to do the whole thing as hand-printed woodcuts, printed to-scale as the Marseilles decks, but hand-colored in the tradition of the Sola-Busca. Ultimately, for the sake of time, I had to let go of my dream of going completely old-school and developed a hybrid analog-digital means of getting a similar result in less time. But the original woodcuts made it into the finished deck, so that effort was not wasted.
An equally great artistic challenge was figuring out just what should be depicted on each card. The responsibility I felt was tremendous. Liz and I both wanted the traditional meanings of the cards to apply to this deck, and that meant that we had to find a situation—somewhere in the GOT series—that paralleled traditional tarot decks. Understand that it can't always be a perfect fit: for example, there's no chariot in Game of Thrones, and no matter who I depicted on certain cards, I imagined that there would be some fans who would protest. But I love artistic puzzles, and this was a good one.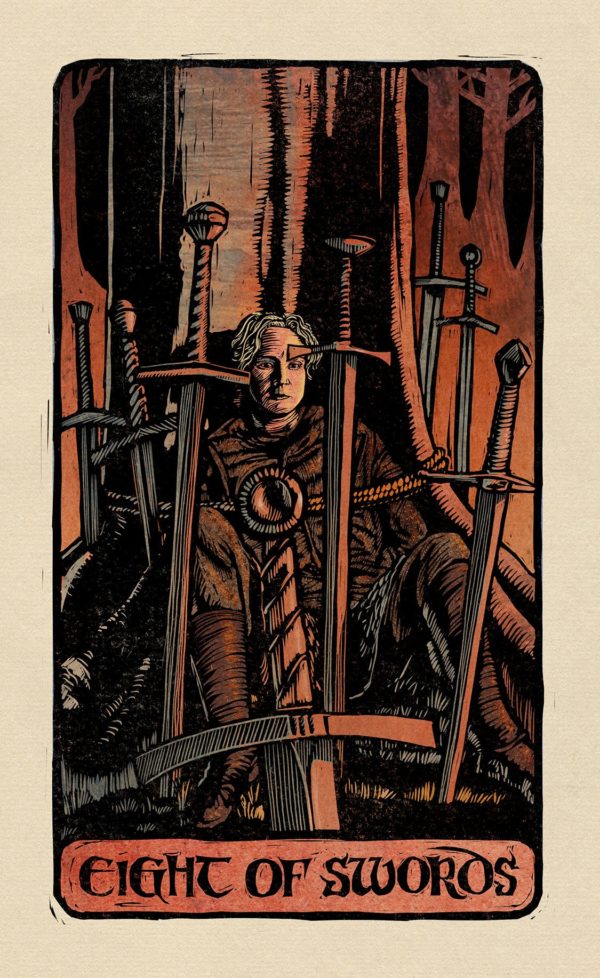 What's your biggest hope for those who purchase and use these cards? What would be their ideal takeaway?
Never has a tarot deck tapped into a visual mythology of this magnitude, shared by the entire world. I've tried to play to that strength and knowing that I could do something new with tarot. In most tarot card illustrations, the artist packs each card with symbols and a visual narrative that evokes nuances of meaning; each card is a little world into itself. The sum of those symbolic associations—including color symbolism—work together to point to a card's meaning in the context of a reading or to define a card's scope of interpretation.
But our deck doesn't have to do that because it references something beyond the frame of the cards themselves: the mythology of the series. Instead of creating a little world within each card, I could illustrate a certain moment in a character's narrative arc and, if you remember that moment or location, the image can flood you with narrative meanings. And as the characters change and grow over the seasons, they also express different archetypes.
The more you know the series, the more you will be able to step away from traditional card meanings and embrace interpretations specific to this tarot deck. Mind you, the deck should work fine even if you don't know the series, or watched only one season years ago. But if you know the series well, you can tap into that narrative wellspring, and that's the real magic of this deck. Several cards can be read on different levels, and I've scattered a few Easter eggs in there too. I'm eager to learn about what people see in them, and hear the associations readers and collectors bring to the deck.
What are you hoping to see most in the final season of Game Of Thrones?
I wasn't given any hints about what's coming next, so I'm in the dark as much as anyone else. I'm interested to see if Jamie will be placed in a position where he must choose between his loyalty to Cersei and his admiration for Brienne and the chivalry she stands for. I'm also wondering how Jon will learn of his true heritage. There's so much to look forward to.
For more on Coss' work watch this video about his days in the MFA in Visual Narrative program. This interview has been condensed and edited for clarity.
SVA Features: Game of Thrones Tarot Card
SVA Features asset