Updates on Reopening SVA
Click below for info on our plans for 2021-2022, including the vaccine requirement for all students, faculty and staff.
SVA's BFA Design and BFA Interior Design Create 'Chairousel' for NYC X Design
May 14, 2019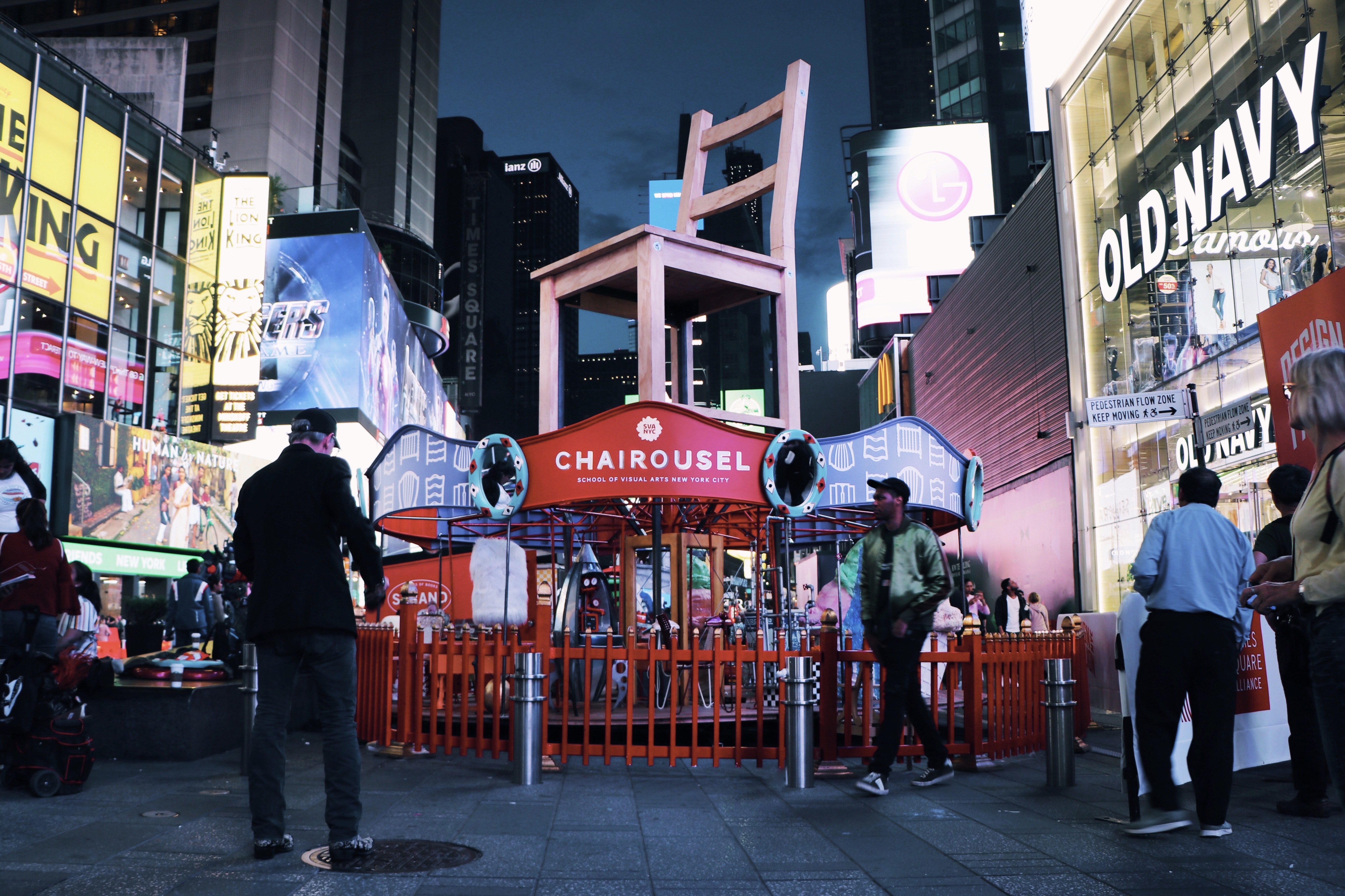 Two new exhibitions of inventive 3D works by students from SVA's BFA Design and BFA Interior Design programs are stopping the public in their tracks during this month's NYC X Design. Each shows imaginative and whimsical interpretations on a theme. For "Chairs that Inspire on the Chairousel," currently up in New York City's Times Square, students created sculptural chairs representing their wide range of inspirations—food, space rockets, furry creatures, found objects, lollipops—to spin on a refurbished, operating 1960s carousel. Topped by a comically oversized chair, the full piece rises almost three stories tall and can be seen from blocks away.
"Chairousel" is co-curated by SVA alumnus and 3D Design Chair Kevin O'Callaghan and BFA Interior Design Chair Dr. Carol Bentel, and is one of 16 installations displayed within the Design Pavilion, a central hub for NYC X Design, New York's citywide design celebration through May 22. The Pavilion, stretching from West 42nd to West 47th Streets across five plazas, provides a showcase for prominent and emerging designers alike to collaborate and innovate and for the public to engage with their imaginative built environments. This year, more than 5 million people are expected to pass through the free displays in the heart of Times Square, Manhattan's historic "crossroads of the world."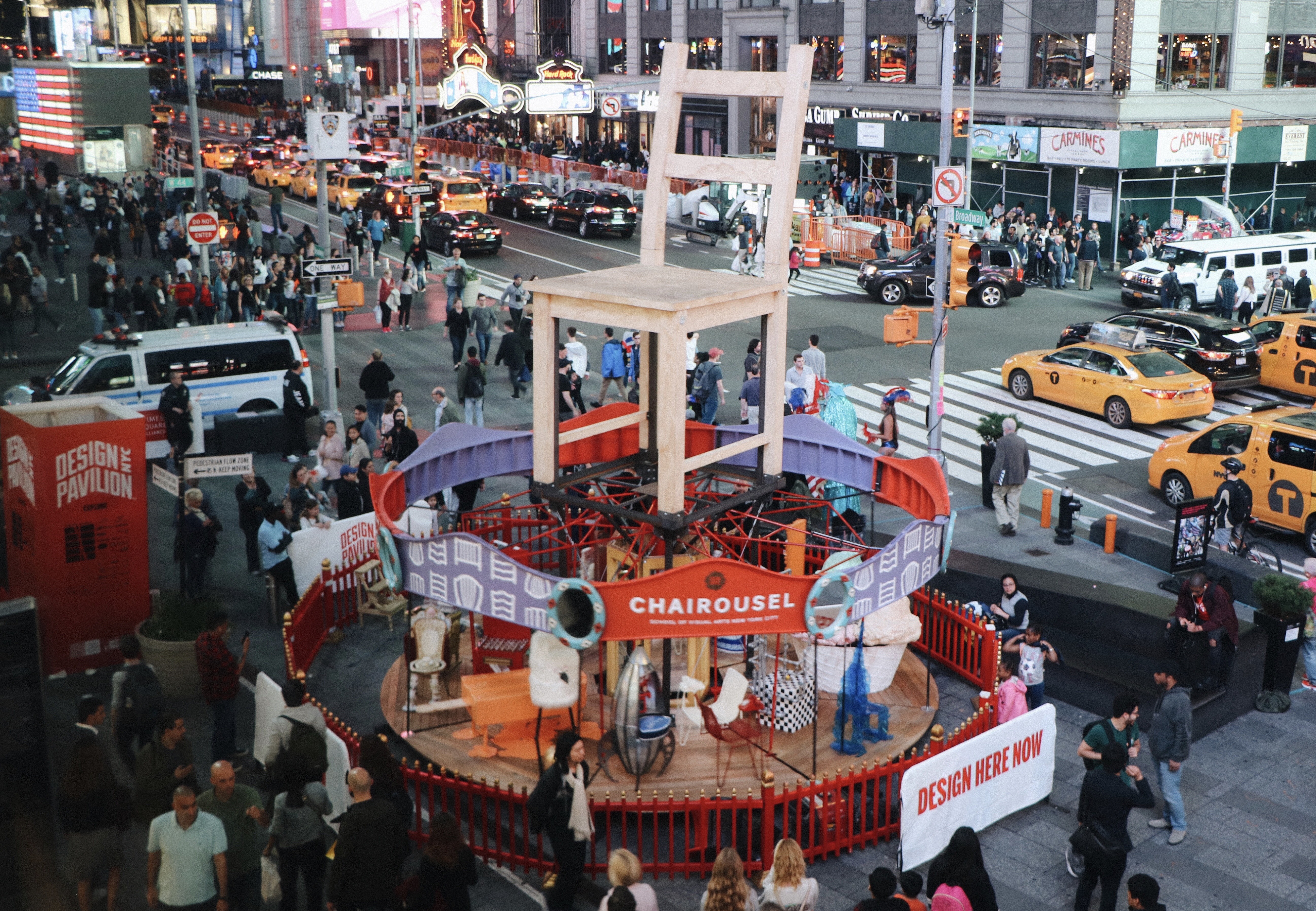 "For our students and our department, it is meaningful to be in such an iconic location as Times Square—it is the one outdoor 'room' that everyone knows—quite the 'interior!,'" Dr. Bentel says. "Most meaningful has been the collaboration between our two departments, and for our BFA Interior Design students to work with the masterful Kevin O'Callaghan and his 3D Design students. My goal this year was to bring 'making' to the forefront and Kevin's passion and fearlessness about 'making' greatly contributed to our students' education." The exhibition's roots came from a "Chairs that Inspire" 3D Design exhibition held along Madison Avenue last fall, in collaboration with the Madison Avenue Business Improvement District during its Gallery Week. Some chairs from that installation have been incorporated into the carousel, together with new pieces by students from both programs.
Further east in Manhattan, a second collaboration between the two SVA departments and the Madison Avenue BID is "Hemlines from Skylines: Architectural Fashion," taking place May 16-31, along the avenue's premier shopping corridor, from East 63rd Street to East 70th Street. The exhibition shows 1930s-style fashion inspired by New York's iconic art deco architecture, such as the Empire State Building and the Chrysler Building, placed within 8-foot tall glass cases and set along a runway. The show references costumes worn by attendees of the 1931 Beaux-Arts Architects ball, which celebrated the new age of skyscrapers in Manhattan. "Hemlines and Skylines" will embrace that era while also incorporating modern-day architectural elements and developments.
For all of his 3D projects, O'Callaghan challenges students to push the limits of their imaginations. "If you learn the integrity of materials, you learn what they can and can't do, and there isn't any project that you can't tackle," he says. O'Callaghan is a 2014 inductee into the Art Directors Hall of Fame and the award-winning set and exhibition designer, known, among other things, for creating the "moon man" MTV Movie Award.
SVA Features: SVA's BFA Design and BFA Interior Design Create 'Chairousel' for NYC X Design