Updates on Reopening SVA
Click below for info on our plans for 2021-2022, including the vaccine requirement for all students, faculty and staff.
Digital ID, Access & Security
COVID-19 Update: Transitioning Courses Online
SVA is closely monitoring the outbreak of COVID-19. (For College-issued updates on the virus, click here.) As such, precautions have been put in place to keep the SVA community safe and minimize potential academic disruption. Below is information about transitioning courses online.
Transitioning course content, activities and discussions to an online environment has never been easier due to the variety of tools and resources that are now available.
To begin transitioning your course to Canvas, click this link and then enter your SVA credentials to log into Canvas. You will be taken to a landing page where video and text-based instructions will cover:
Importing a template into your course to get you up and running quickly
Sending an announcement to your students with information to help them prepare for online learning
Delivering course content (virtual lectures, files, assignments, etc.) with your students
Providing an online space for students to participate in live video conferences, text-based discussions, group critiques of art work, etc.
Faculty are encouraged to take full advantage of the training material provided. Also, we encourage you to work closely with your department and the instructional designers in the Office of Learning Technologies (OLT) to identify the best parts of your course to initially move online. If you need assistance logging into Canvas, contact OLT at 212.592.2313 or olt@sva.edu.
MyID is the new single sign-on (SSO) and multi-factor authentication (MFA) solution at SVA. Your myID dashboard provides links to commonly used applications. The system also offers account management features such as 'forgot password' and 'password reset' functionality. myID is powered by Okta, a leader in the SSO/MFA space. Gmail is no longer accessible through the my.sva.edu portal and webmail.sva.edu. Be sure to update your bookmarks with myid.sva.edu for quick access. The login process has changed. Please read the information below containing instructions on what to do.
Please note: MyID services are for matriculated, registered students taking a course; SVA alumni; and active staff and faculty.
The GoSVA app helps you stay connected to SVA like never before. You'll have great features that make your campus experience more effective, more efficient, and more fun: academic info, getting around, social events, and more.
Some key features include:
Courses: View your course schedule and connect to your classmates/instructor within the course roster

Grades: Check your grades on the go.

Notifications: Stay informed about any holds on your student account.

Department Directory: Easily find all numbers and addresses to offices you need.

Emergency Numbers: Quick access to emergency contacts on campus.

Campus Map: Know your campus and building locations like the back of your hand.

Directory: Find contact info for faculty or students and call them right from the app

News: Dial into everything happening at SVA

Events: Never miss another important event

Social Media: Tie your school experience right into your social network
SVA Administrative and Network services provides secure and convenient certificate-based authentication.
Devices such as computers, tablets, smartphones, etc. should connect to the SVA Secure WiFi network for wireless internet access. This uses an 802.1x EAP-TLS security certificate as its method of authentication. The certificate tells SVA's networks that your device is permitted on the wireless network as a trusted and authenticated device without the need for repeated logins. The certificate does not interact with your device in any other fashion. For convenience, you are able to install the secure certificate on your devices either while on or off-campus.
Please visit the SVAIT User Guides site technology.sva.edu for more information and device-specific instructions.
CANVAS: Online Courses and the Student Knowledge Base
SVA NYC runs Canvas, a learning management system available for all SVA students and faculty. Log into MyID.SVA.edu and click on the Canvas icon to get started.
Once logged in, you will find all of your active courses under "Courses" in the lefthand navigation bar. Also, visit the course entitled "Student Knowledge Base" to find answers to many of your questions, or to view video tutorials and study tips based on learning science.
What's so great about Canvas?
Canvas simplifies the learning experience by connecting most digital course tools in one easy-to-find place.
Customizable settings let you receive emails or text messages about upcoming assignments, grades, etc.
Mobile-friendly interface so you can chime into course discussions, check your syllabus, or ask the teacher questions on the go.
When faculty use the Canvas gradebook, you can find out immediately when new grades and assignment feedback are available.
Setting Up Your Canvas Profile
From anywhere in Canvas, select Account on the left and then Settings.

From the Settings page, you can add a picture your account at the top left.

On the right, click Edit Settings to change how your name appears in Canvas.

Under Ways to Contact, add an alternate email address or phone number for receiving Canvas alerts. After adding a new email address, click the star next to it to set it as your primary Canvas email address.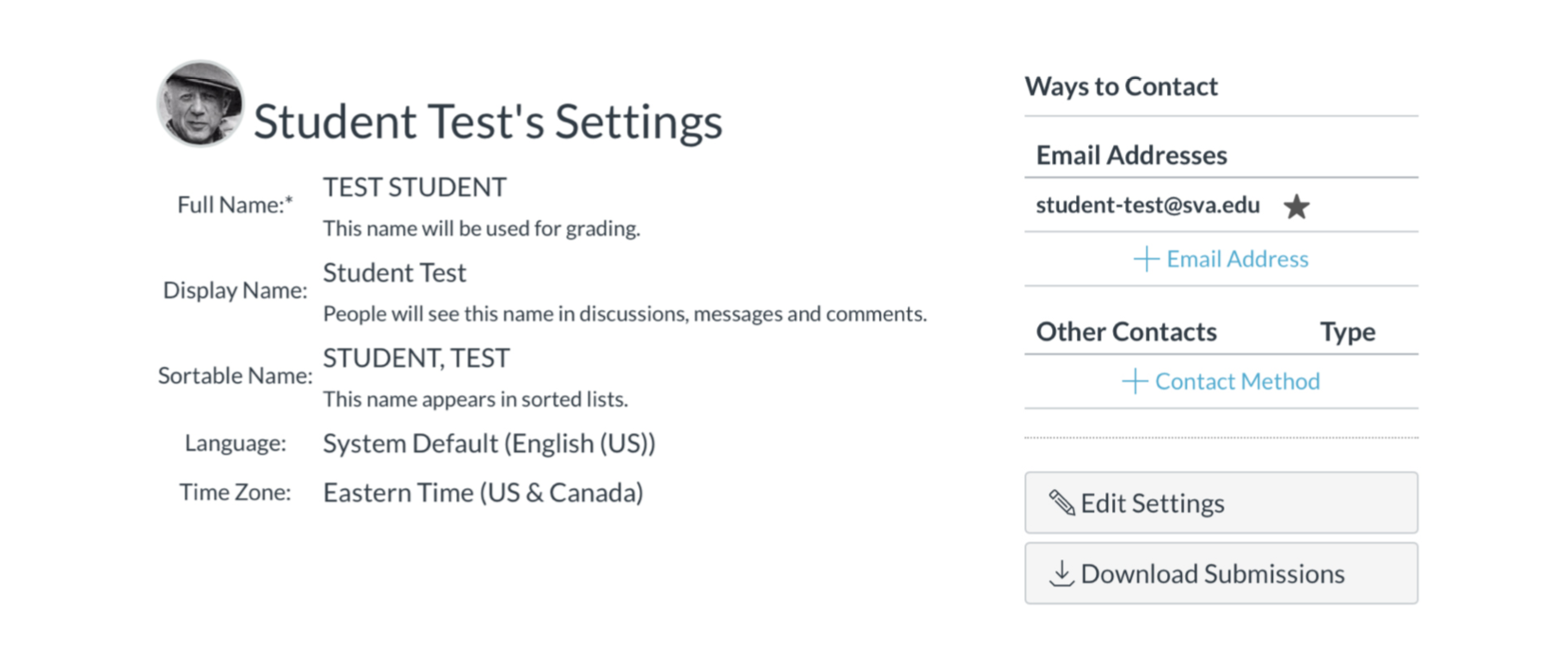 Forwarding Your SVA Email
It's important to keep up with your SVA email, since you'll be receiving important information there from SVA, your instructors, and Canvas. You can easily access your SVA email via myid.sva.edu, but it's also easy to forward those messages to the address you check most frequently. Just follow these steps:
From your email Inbox, click the gear icon on the right to access your settings.
After selecting the Forward and POP/IMAP tab, click the Add a forwarding address button and follow the instructions.
SVA students have access to a full suite of Google Apps associated with their SVA accounts. Log into myID.SVA.edu and you will find SVA email, Google Calendar, and Google Drive on your dashboard. You can access additional tools from within Google Suite. Also, training videos explaining some of the most-used Google apps can be found in the Student Knowledge Base in Canvas. If you have additional questions, please contact the IT Helpdesk at helpdesk@sva.edu or the Office of Learning Technologies at olt@sva.edu.
SVA students have unlimited access to LinkedIn Learning, an on-demand library of high-quality instructional videos covering a vast range of software, business and creative skills.
LinkedIn Learning is a terrific complement to your SVA course work and is available whenever you're ready to learn. Log in using your SVA email and password and contact the Office of Learning Technologies for technical assistance or to discuss ways to find recommended videos based on your interests: olt@sva.edu or 212.592.2313.