Updates on the 2020-2021 Academic Year
SVA continues remote instruction, with select facilities accessible by appointment. Click below for updates.
Alumni Scholarship Award Winner Ora Xu Explores Human Struggle Through Surreal Paintings
"I want to visualize the challenges we all face with paintings of ... bizarre fairytale environments."
April 20, 2018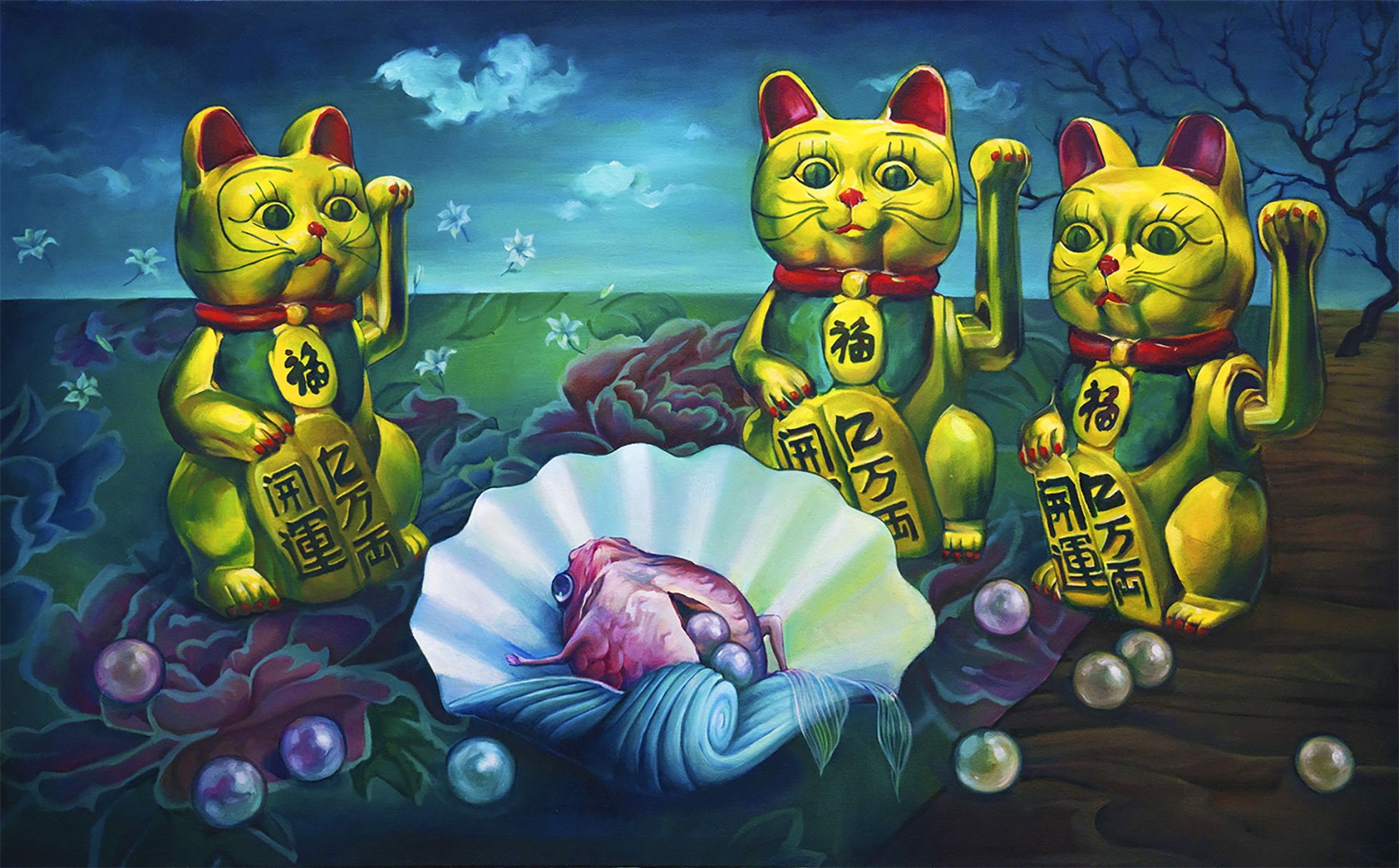 Over the next few weeks, SVA will be highlighting some of the many outstanding projects by 2018 Alumni Scholarship Award winners. First up is BFA Illustration student Ora Xu on her project "There Are SO Many of Us," which explores the challenges of self-expression and the pressures of society through a series of surreal oil paintings.
Tell us about your project. What inspired the idea?
My thesis project represents social and individual struggles coming to terms with the question of what comprises human experience. I aim to capture intense emotions that should be interpreted within a moral and cultural context. Freud said that an individual's ambition can never be fully satisfied in civilization, so the individual must choose between pursuing their passion with hardship or compromising for civilized life. As I consider my identity and find similar struggles echoing in society, I want to visualize the challenges we all face with paintings of representational creatures and objects placed in bizarre fairytale environments. In this series, I created fish with human torsos dying on eerie lands as a metaphor for people who struggle to challenge themselves. I intentionally made all the paintings with beauty and harmonizing color, to reflect the fake impressions people put on to mask their true feelings. As viewers spend more time on each painting, they will hopefully start to notice the less-pleasing, eccentric details.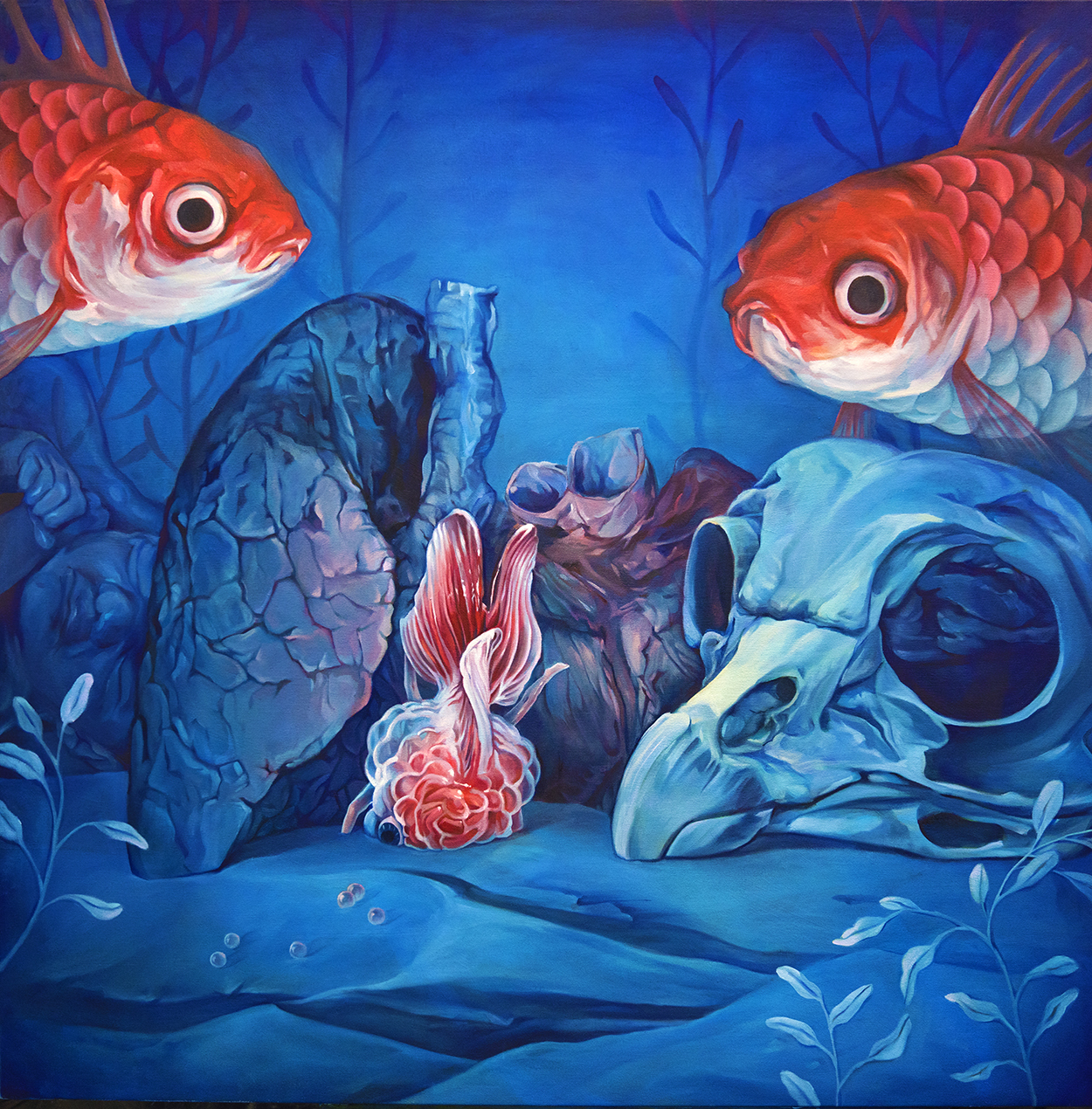 What most surprised you once you started working on the project?
This project was a big challenge to me both conceptually and personally. It involved a lot of intense thinking and self-exploration that could be exhausting, but it turned out to be very rewarding. As I worked on the paintings, I became strongly attached to them emotionally. I am also quite amazed by how fast I can paint [laughs]. My friends from the studio are surprised that I could still function because I never seem to sleep.
What was a highlight of living and studying in New York City?
I enjoy living in the craziness of New York. After living here for a couple of years, I am used to experiencing the unexpected and things that I cannot imagine happening everywhere else. Before I came to New York, I had never seen someone dancing on a subway car with a pigeon on their head. I'd never seen a group of chefs in uniform from different restaurants running along the East River together every day at 6:00am, or a plane writing "Marry me" in the sky. But because it's New York, they fit in perfectly and no one seems to be surprised. New York doesn't judge you and allows you to show your own personality and I think that's quite amazing.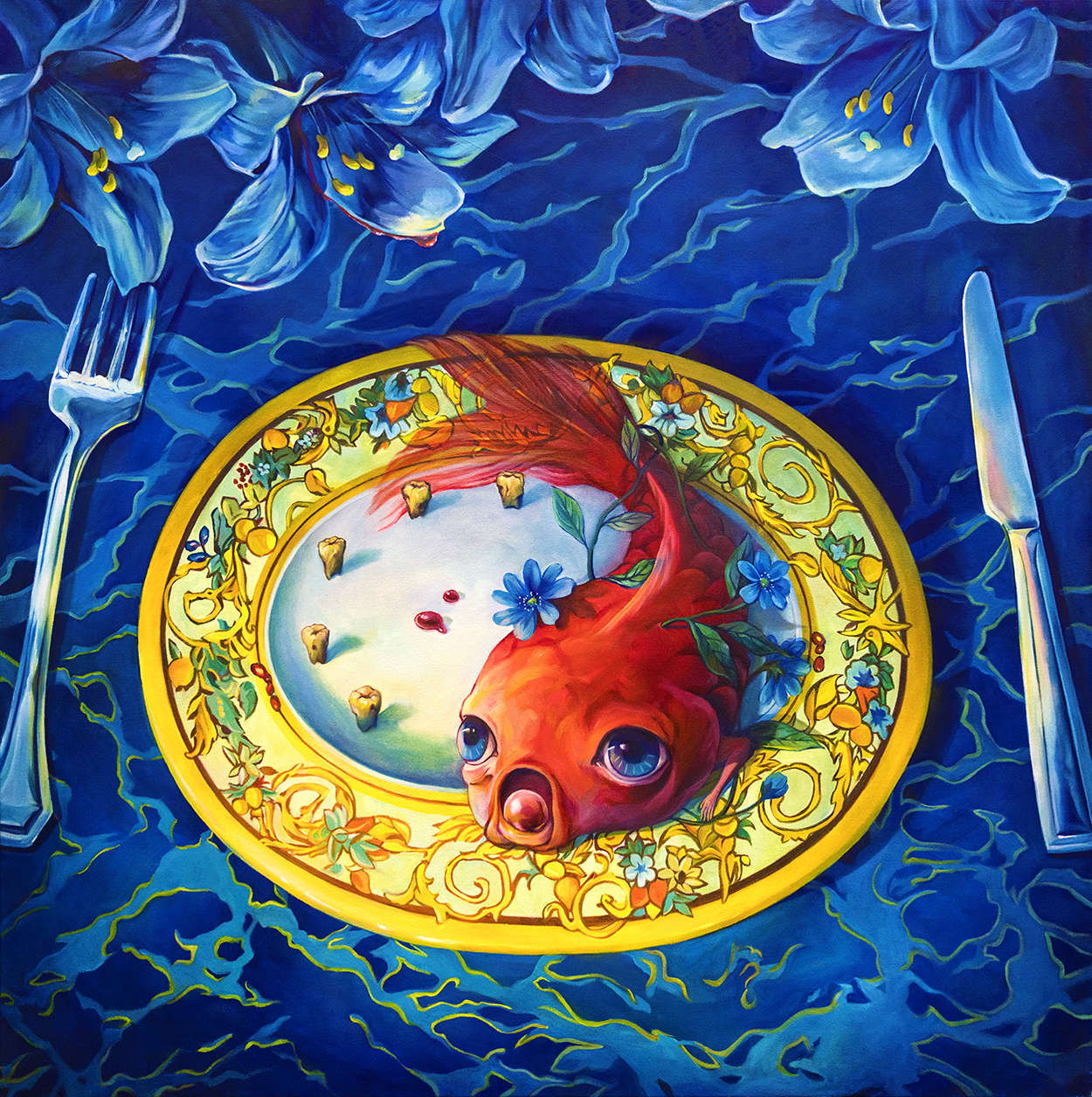 What is something you learned at SVA that you'll always take with you?
Always be brave, take on challenges and appreciate critiques from other people.
Was there a teacher or class that was essential for you?
I loved every class I took at SVA! I feel especially grateful to have had Nancy Chunn in my first year. Her foundation painting class provided me with the opportunity to explore concepts and styles I never knew I was capable of doing. Frances Jetter, Peter Fiore, Marvin Mattelson, Amy Taubin and David Soman also had a great impact on me. They're all experts in different fields. Not only were they generous with their advice, knowledge and experiences working as professionals, they also respected my personality and gave me the space to develop my own ideas.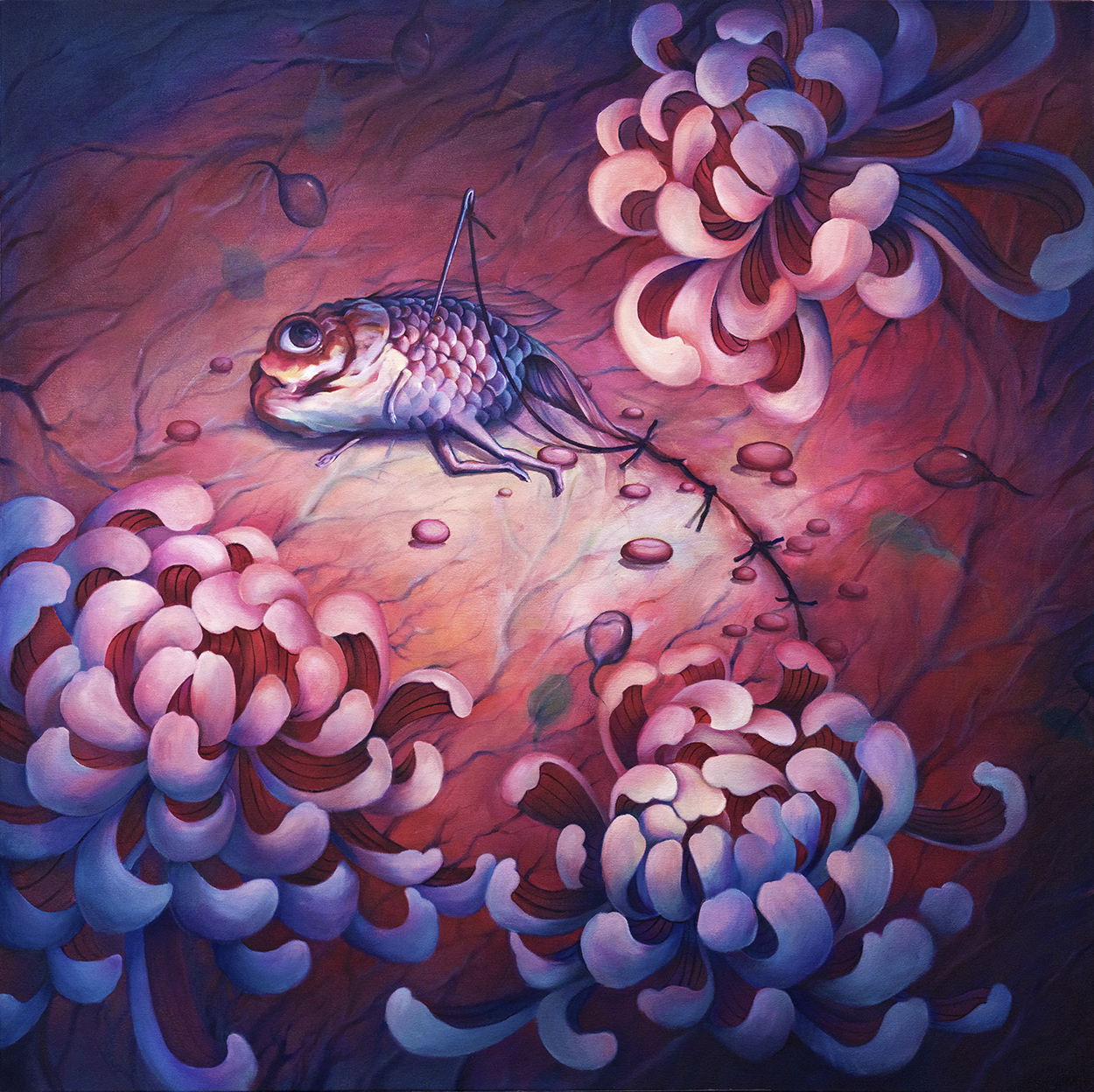 What was your favorite piece of advice a teacher or student shared with you?
Don't let your style limit your creativity. It's ok to make changes at any point in your life.
What advice do you have for next year's students going through your program?
Don't waste any opportunity that might get your work exposure. Apply to everywhere you can, big or small. A lot of times it might not benefit you right at the moment, but some can help you in the long run. Another suggestion: Don't forget to eat and sleep. It's important!
This interview has been condensed and edited.

For this year's SVA Alumni Scholarship Awards, a record 66 students were chosen from a pool of over 250 applicants and were granted scholarships worth more than $64,000 for projects as varied as design products, animation, painting and photography. For more information about the Alumni Scholarship Awards and to see a complete list of this year's recipients, click here.
For more information about SVA's BFA Illustration program, click here.