Debbie Millman's Top 5 Influential Pieces of Typographic Art
September 4, 2019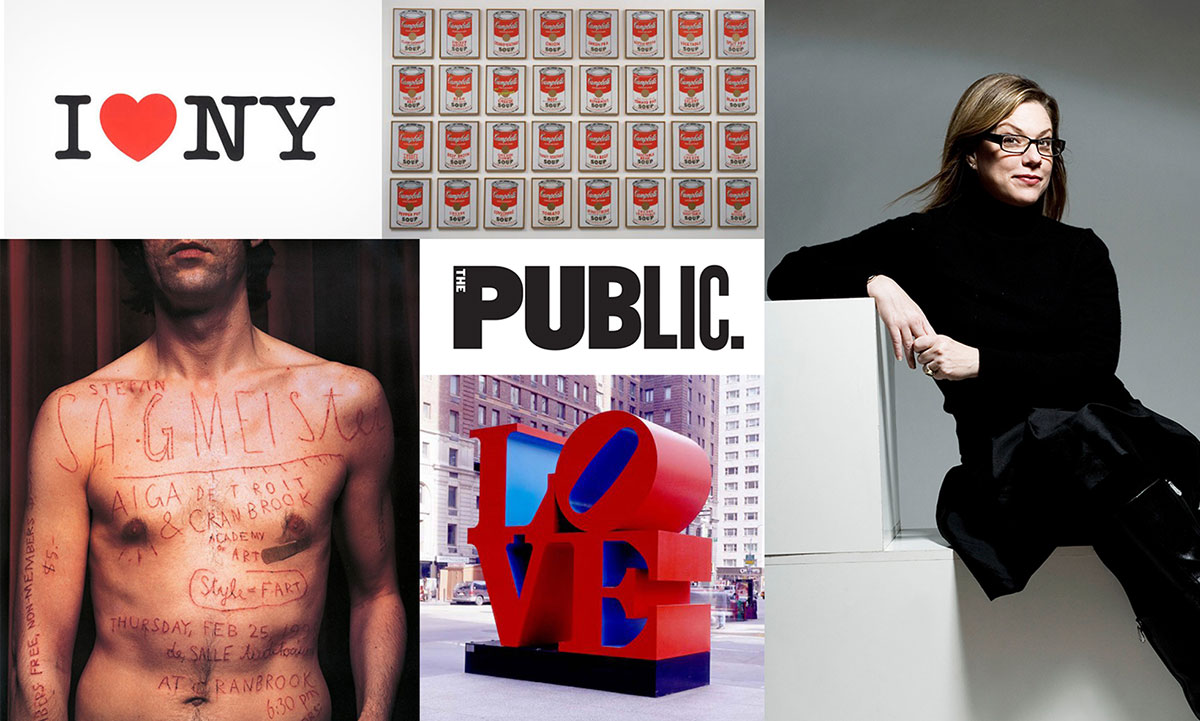 Designer, educator and podcast host extraordinaire Debbie Millman brings together bold, text-based work in the new typographic exhibition Look Both Ways: The Illicit Liaison Between Image and Information. Curated by Millman, Look Both Ways features a wide range of artwork from 60 prominent artists, including a number of pieces from her personal collection. The exhibition is now on view at the SVA Chelsea Gallery.
Millman is a prolific designer and writer whose work has been published in The New York Times, New York Magazine, Print magazine, and Fast Company. She served as president of Sterling Brands for 20 years and in 2019, was honored with an AIGA Medal. Millman is the author of six books, including the illustrated essay from which the exhibition borrows a title: Look Both Ways. She has been an influential force in the design industry as chair of the MPS Branding program at SVA—the world's first graduate program in branding—and host of the acclaimed podcast Design Matters.
The reception for Look Both Ways takes place on September 6, from 6:00 – 8:00pm. We spoke to Millman about her influences and the show shortly after it opened last month.
Look Both Ways includes work by an impressive range of artists, including Jean-Michel Basquiat, Shepard Fairey, Dave Eggers, Deborah Kass, Jenny Holzer, Miranda July, Kim Gordon and more. Can you speak to the process of curation and how you decided on the pieces included in this exhibition?
The pieces in this show were chosen with one criterion: they moved me emotionally and I admired them aesthetically. About one-third of the pieces come from my own collection, another third are from artists and designers that I know personally and admire tremendously, and the rest are from artists and designers whose work I both revere and also believe fit into the intellectual and visual intent of the exhibit.
As many of the works in this exhibition come from your collection, could this exhibition be viewed as an insight into your understanding of cultural communication and connection?
Absolutely. I believe that now, at the beginning of the 21st century, visual communication of every kind—of objects, in design and art, in fashion and on bodies, in democracy, journalism, entertainment, finance and even sports—have become inscribed with messages of our humanity. I am hoping that this exhibit successfully showcases the many ways in which words, text and information influence the understanding of who we are and what we believe. The exhibition also attempts to showcase how the condition of our visual communication now reflects the condition of our culture.
What draws you to text-based art, personally?
Text-based art combines narrative text with creative elements to augment and enhance the traditional visual messaging process. By design, it is a co-creative process resulting in an intimate, interpretive expressive technique. Text-based art utilizes both language and art to assess and interpret events, experiences, and concepts from minor moments of daily life to the grand nature of the human condition. It is an intrinsic and basic form of human communication.
You've been hosting your podcast, Design Matters, for more than 14 years. You describe it as being about "how some of the world's most creative people design the arc of their lives." How have you designed the arc of your life?
Up until the last decade, I would not have ever said that I designed the arc of my life. My life has mostly been circuitous and serendipitous. It is only since I took Milton Glaser's summer intensive at SVA in the Summer of 2005, wherein I created a five-year plan for the direction of my life. That plan resulted in a fundamental shift in my direction, in every way, and has not only led to a more intentional plan for my future; it has also led to my teaching others to create their own ten-year plans (five more years, for a bit more runway).
Finally, what do you consider to be the top 5 most influential pieces of typographic art, and why?
1. Robert Indiana's LOVE sculpture, which is one of the most iconic text-based messages of the 20th century.
2. Milton Glaser's I Heart NY logo, which forever changed tourism marketing and launched thousands of copycat logos.
3. Andy Warhol's Campbell's Soup Cans, which merged commerce, fast-moving consumer goods and art.
4. Paula Scher's work for the Public Theater in its entirety, which influenced how theater is designed and marketed.
5. Stefan Sagmeister's AIGA Detroit 1999 poster which catapulted his work into the visual vernacular of the time—and beyond.
SVA Features: Debbie Millman's 5 Most Influential Pieces of Typographic Art