Dining By Design: SVA's Interior Design Students Transform A Space
March 27, 2018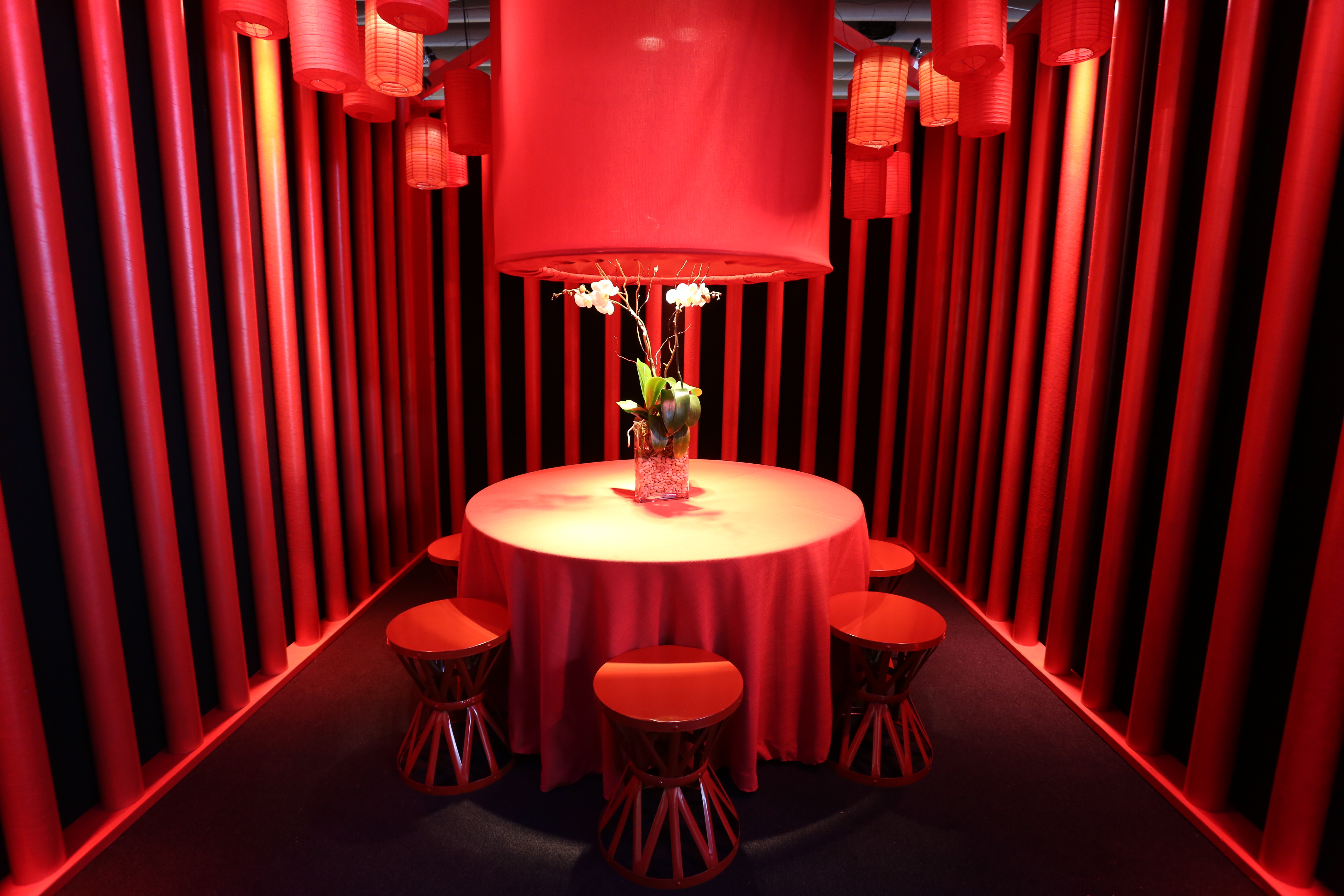 A small group of BFA Interior Design students presented their work this past weekend, March 22-26, as part of Dining by Design, an industry-leading event known for its worthy cause and successful fundraising as much as its exceptional design. The exhibition event invites participants to transform a raw space into an immersive dining exhibit and is the signature fundraiser of Design Industries Foundation Fighting AIDS (DIFFA), a coalition of design companies and firms that raises awareness and funds for HIV/AIDS research, education, treatment, and advocacy. Held within the Architectural Digest Design Show, industry professionals and members of the public were able to view the nearly 40 installations before the showcase closed with a gala dinner on Monday, March 26, wherein patrons dined at the styled tables, in support of the organization's cause.
Third-year Interior Design student Erin Checkosky and fourth-year Interior Design students Anna Harea, Rita Guo, and Brandon Perler represented the College and built "The Red Room," a circular setting meant to create a sense of unity and act as a visual representation of the HIV/AIDS awareness movement. Advised by Interior Design faculty member Maureen Crilly and DIFFA-mentor Tyler Wisler, the students designed, fabricated, and installed their entry in roughly six weeks, and with a tight budget. As one of the three schools invited to take part, along with graduate programs from Pratt and Parsons, the team was awarded a $2,500 stipend to complete the project.
"It was great to work alongside the other schools, and to get outside SVA and intermingle with other professionals in the industry," said Checkosky. SVA had not participated in Dining by Design for several years and former/returning provost Christopher Cyphers reconnected SVAID to the event.
SVA Features: Dining by Design

Limited time and funds meant students had to budget and strategize; this required getting creative with materials, writing to companies for donations, and turning to classmates for help with fabrication processes and installation. The final product is a compact space saturated in a vibrant red and dominated by cylindrical elements—architectural tubing, stools, a round table, and scores of hanging paper lanterns. The students, as written in their description, hoped to create "a celestial aura that emphasizes the feeling of hope and prosperity." The room-defining paint was donated by Benjamin Moore, draping fabric by Carnegie Fabrics, and lighting—which Guo deemed the most important aspect—by Interior Design faculty member John Newman.
"I remember checking in at one point and it was a lot of work—it's not only designing and fabricating, but they're doing a lot of project management," said Director of Operations Lucas Thorpe, noting that the three senior students are also in the midst of completing their theses. "But they still were super positive about it, super excited."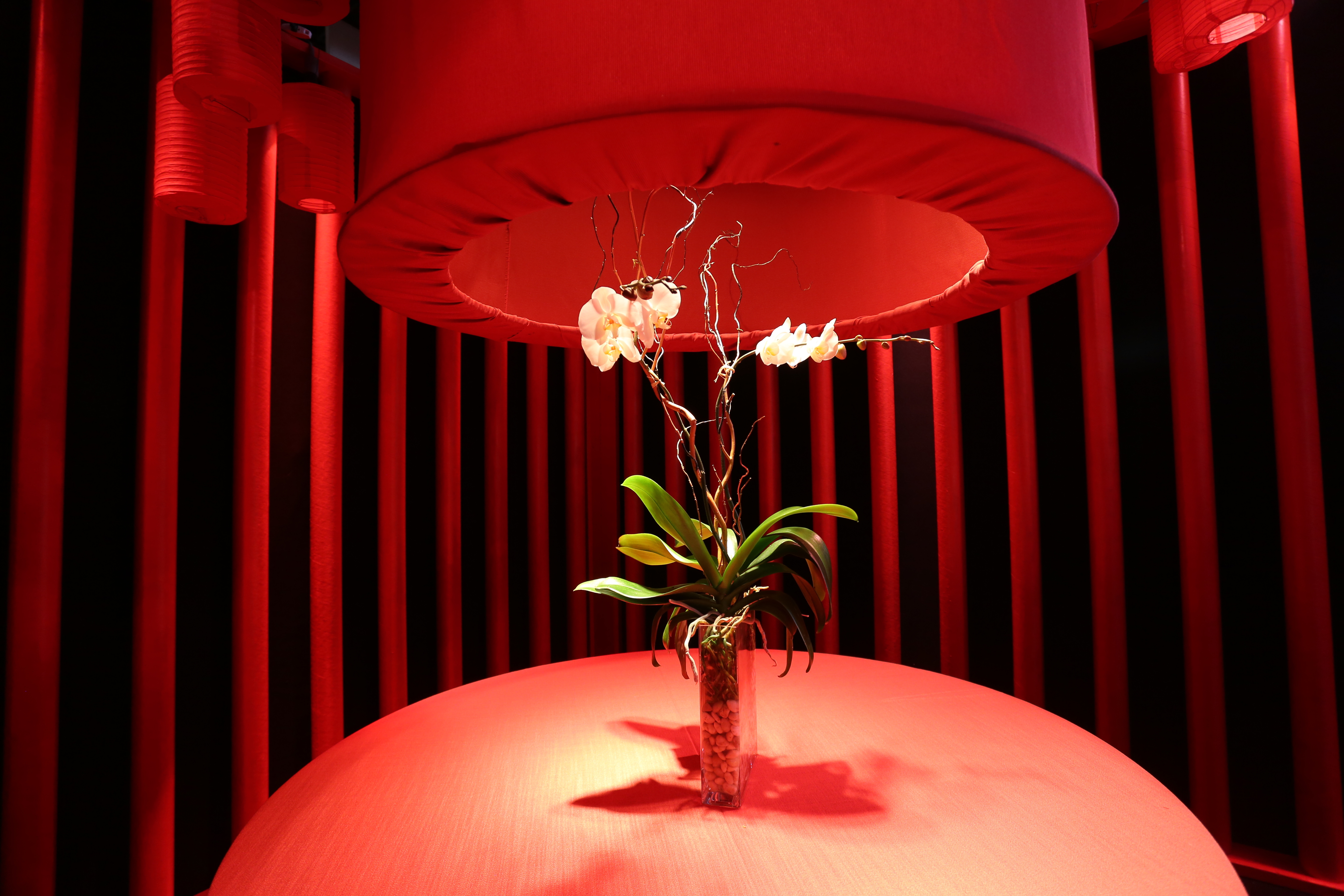 Visitor response to the Red Room has also been positive, with Guo and Checkosky both overhearing more than a few event attendees at the opening cocktail reception and public viewing hours surprised to learn the project was completed by students.
"Working towards such a great cause like this is just very humbling," said Checkosky. "It came out very beautiful, and we were all very happy with the results."
"We really suggest that SVA students do this project again if they have the chance," added Guo.
"Participating in Dining by Design was a fantastic experience for our students," said Interior Design chair Jane Smith. "I'm so proud of the passion and effort they brought to the project for such a worthy cause. They envisioned and built an awesome dining experience."
For more photos and context of BFA Interior Design's work on Dining By Design be sure to check out the department's Instagram account.