Updates on the 2020-2021 Academic Year
SVA continues remote instruction, with select facilities accessible by appointment. Click below for updates.
Dive Into Illustrator Yuko Shimizu's New NYC Subway Posters [Video]
December 16, 2016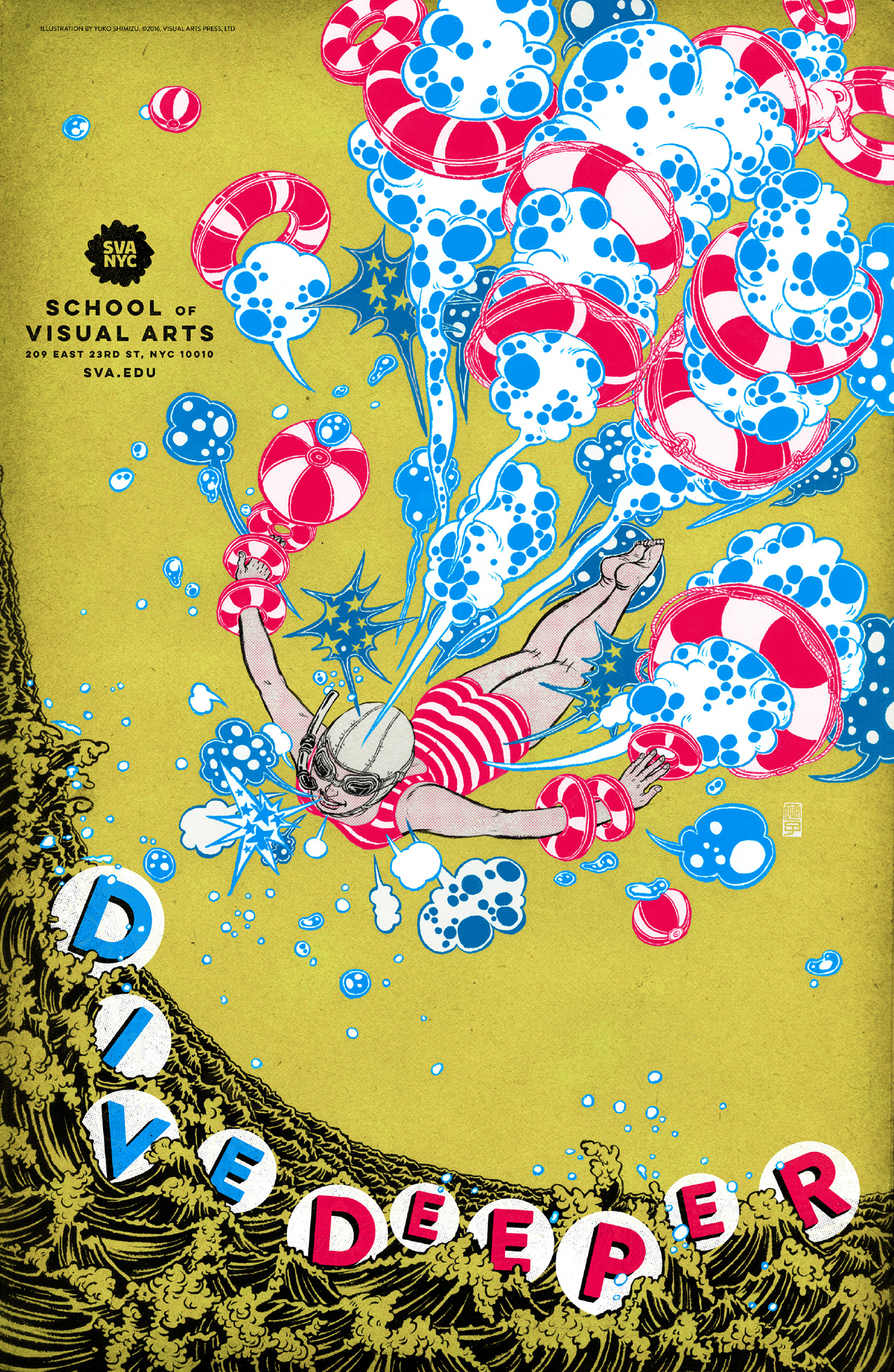 BFA Illustration faculty member Yuko Shimizu (MFA 2003 Illustration as Visual Essay) is the latest member of the SVA community to bring her artwork to the streets of New York City—or below them, to be more precise. Three posters designed by Shimizu for the College currently grace subway stations around the city.

In the mid-1950s, SVA took to the platforms of New York City's subway with advertising posters that were both thought-provoking and visually exciting, featuring the work of legendary artists like Ivan Chermayeff, Milton Glaser and George Tscherny. All practicing professionals on the faculty at SVA, they used the poster commission to explore what it means to be an artist and to hone their own artistic voices. SVA Executive Vice President Anthony P. Rhodes has served as creative director for the posters since 2007.
The subway series also offers faculty a chance to give their creativity free rein. "SVA was like, 'Do whatever you want,'" Shimizu notes in the short video below about her commission. "Which is sometimes the hardest thing."
I recently spoke with Shimizu to find out more about the project and her process.
SVA Features: Dive Into Illustrator Yuko Shimizu's New NYC Subway Posters [Video]
SVA Features asset
You have had a long tenure at SVA—from BFA student to professor. Could you speak a little to what it means to you to be asked to contribute to the series?
I have been living in New York for 18 years at this point. I came here with a student visa as a BFA Illustration student, then four years later I graduated with an MFA from the Illustration as Visual Essay program. That summer, [BFA Cartooning and BFA Illustration Chair] Tom Woodruff asked me to teach the summer cartooning Pre-College Program, and then I started teaching little by little in the BFA Illustration program. From an incoming international student to my current teaching position, I have never left SVA. I look back, and I realize my life in New York equals my life at SVA. It is very special.
When I was still in the BFA program, Tom did a beautiful series of three posters. And I, as well as my roommates, who were in the same program, begged him to give a set to us. They stayed up on a wall in our apartment for a long time. I am honored to be asked to make them myself now.
What inspired you or what were you thinking about when designing these posters?
I brainstormed multiple ideas that went into the posters: They are for everyone who takes the New York subway system; everyone who likes art, or is curious; and perhaps looking at the posters makes some people curious about taking a class at SVA.
I take the subway myself, and sometimes you miss a train and have to stand on the platform for a long time until the next train arrives. This made me think of making the images in a way that, if someone stops and spends a bit more time, there are more things they can find in there. All the monsters [in the "Unleash Ideas" poster] look slightly different from each other, for example.
All in all, I wanted to create something where passersby would feel inspired to pick up a pen, a brush, a camera or computer . . . to make something for the fun of it. Because creativity is in every one of us.
What were some of your graphic influences for these designs and how are they different than your other work?
The most important thing for me was that the posters needed to come off as accessible, easy to relate to. I decided to make these posters in a style a little bit more accessible than I would normally draw. I thought about making them appear a bit more like pages from a comic book, with strong and crisp black outlines.
Why do you think the subway posters are such an important tradition for the College?
SVA is a special and unique art school in that most of the instructors here are first working professionals in the field in which they teach. There are so many classes and instructors to choose from, and students can always find instructors and classes that are good matches for them.
I love seeing SVA posters around subway stops. Some are done by artists I personally know and some are done by those I respect but have never actually met. Regardless, if you are a student or you are an instructor, you can get excited about spotting the posters around town.
This interview has been condensed and edited.

To see more of Shimuzo's work, visit yukoart.com.
Related post: Louise Fili's Newest NYC Subway Poster Will Make Your Mouth Water [Video]