Updates on Reopening SVA
Click below for info on our plans for 2021-2022, including the vaccine requirement for all students, faculty and staff.
MFA Computer Arts 2018 Info Session & Related Events
October 11, 2018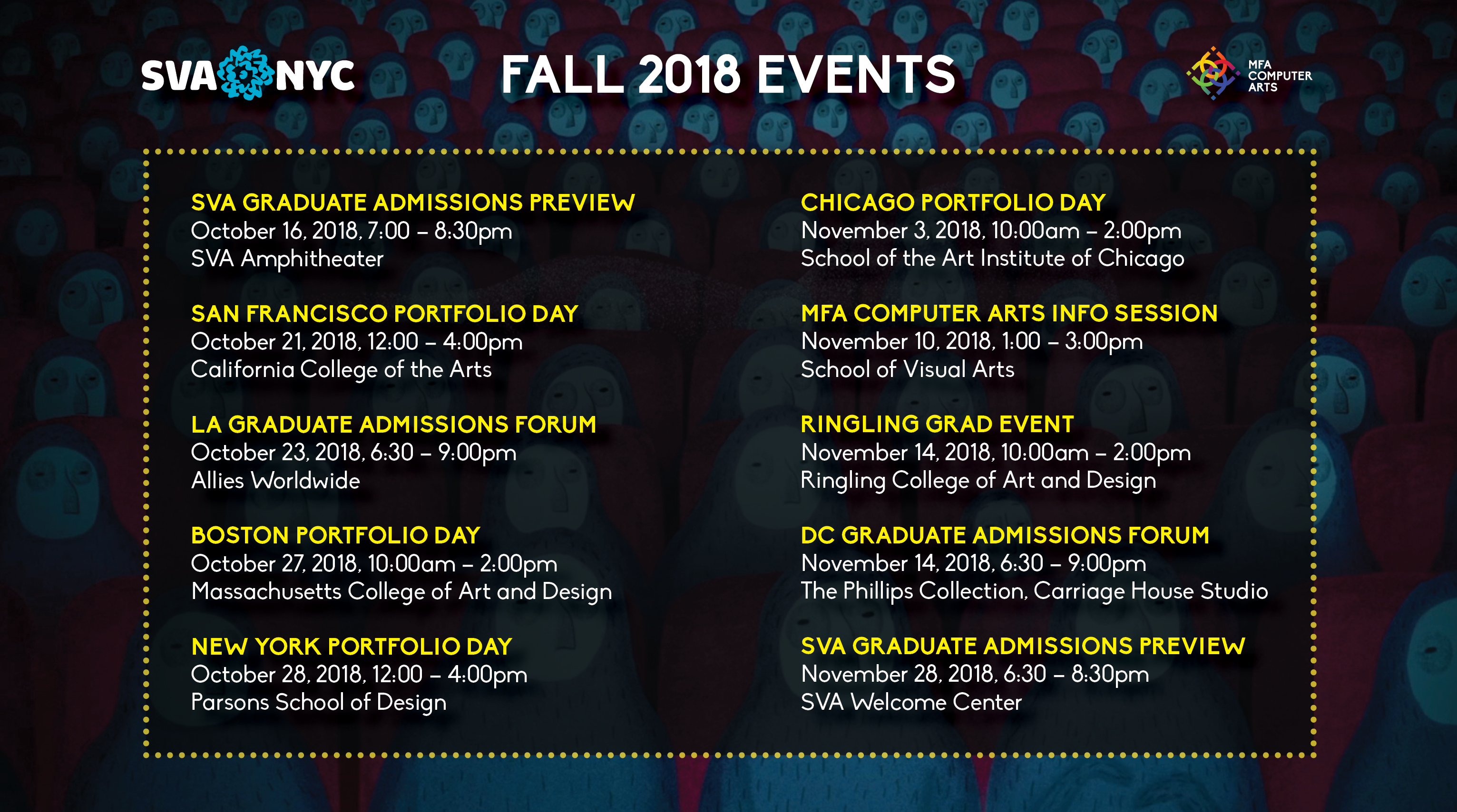 The School of Visual Arts MFA Computer Arts Department will be hosting our annual Info Session where prospective students can meet with faculty, staff, current students, and alumni in order to learn more about the program and what our department has to offer. The event will take place on Saturday, November 10, 2018 from 1-3pm in the MFA Computer Arts Lab, 133 West 21st Street, 10th Floor, Room 1022C, New York, NY 10011. If you are interested in attending, please take a moment and register ahead of time. We look forward to seeing you!
If you can't make it to our Info Session, don't worry! There are several upcoming events, including the Graduate Portfolio Days and Grad School Fair where you will have the chance to meet with faculty and receive a portfolio review:
Tuesday, October 16: SVA Graduate Admissions Preview Night: New York, NY, 209 East 23rd Street.
Sunday, October 21: National Portfolio Day: San Francisco, CA, California College of Arts

Tuesday, October 23: SVA Graduate Admissions Forum: Los Angeles, CA, Allies Worldwide
Saturday, October 27: National Portfolio Day: Boston, MA, MassArt
Sunday, October 28: National Portfolio Day: New York, NY, Parsons School of Design
Saturday, November 3: National Portfolio Day: Chicago, IL, School of the Art Institute of Chicago
Wednesday, November 14: Grad School Fair: Sarasota, FL, Ringling College of Art and Design
Wednesday, November 14: SVA Graduate Admissions Forum: Washington, DC, The Phillips Collection, Carriage House Studio
Wednesday, November 28: SVA Graduate Admissions Preview Night: New York, NY, SVA Welcome Center
Friday, November 30: National Portfolio Day: Online Portfolio Review