Updates on Reopening SVA
Click below for info on our plans for 2021-2022, including the vaccine requirement for all students, faculty and staff.
'Obsessorize': SVA Students' Stylish 3D Sculptures Hit the Madison Avenue Catwalk Again
October 3, 2018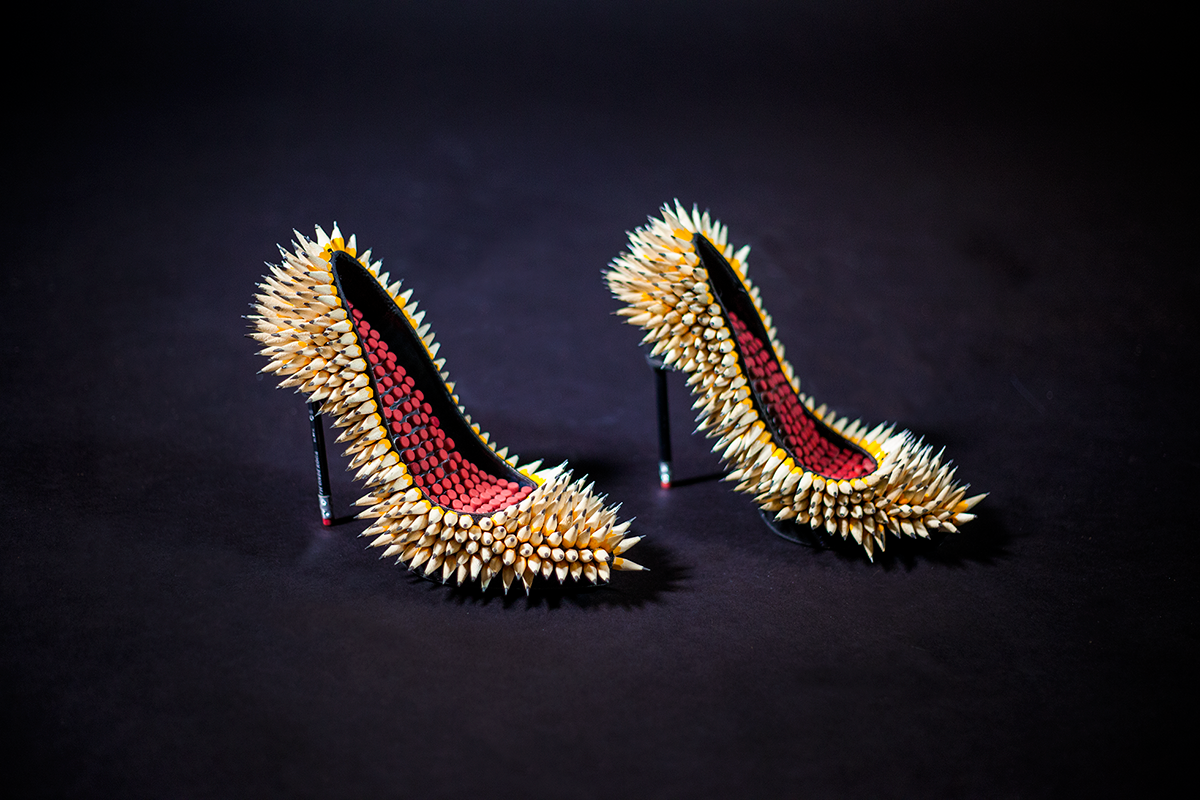 "Obsessorize: Common Objects Uncommon Accessories"
Fall's the time to fixate on fashion and "Obsessorize." SVA 3D Design Chair Kevin O'Callaghan (BFA 1980 Media Arts) and his BFA Design students are back at it with their hyper-imaginative works. Inspired by past decades of iconic head-to-toe accessories, SVA's "Obsessorize: Common Objects Uncommon Accessories" public art exhibition on Madison Avenue hits the streets on Thursday, October 4, through Friday, October 26.
"Obsessorize" is a celebration of art and style timed to coincide with Marie Claire magazine's blockbuster October 2018 issue. 39 participating stores within the Madison Avenue BID will bring to life the intersection of art and shopping via this 3D experience on the sidewalks and in stores running all the way from 86th Street down to 58th Street (more details here).
Supervised by O'Callaghan, the exhibition will showcase 28 student-designed sculptures on view in plexiglass cases positioned along these 29 blocks. The "Obsessorize" festivities kick off with an opening-night shopping event and the unveiling of the SVA public art installation from 6pm-8pm on October 4 at 625 Madison Ave. The event culminates with a VIP Breakfast on "Art & Style" on Tuesday, October 9, from 9am-12pm, at the Surrey Hotel on 20 East 76th Street, hosted by Marie Claire featuring Julia Gall, Marie Claire Accessories Director, in a conversation with Kevin O'Callaghan.
This marks the fifth time that SVA and Madison Avenue have mounted a themed public art exhibition as a focal point of weeklong retail festivals and events. The partnership between the SVA 3D Design department and the Madison Avenue BID began in fall 2016 as six-foot tall sculptures that brought to life the interweaving of fashion and typography and graced Madison Avenue during New York Fashion Week.

SVA Features: 'Obsessorize': SVA Students' Stylish 3D Sculptures Hit the Madison Avenue Catwalk Again

"One of a Kind" at 75 Rockefeller Plaza
That's not all. Further downtown, the BFA Design student's work is also on display at 75 Rockefeller Plaza for "One of a Kind"— a public art exhibition of couture garments that once again proves glamour doesn't have to come at a high cost. "One of a Kind" originally appeared on Madison Avenue as part of SVA's Madison Avenue Bid partnership.
In collaboration with RXR Realty, "One of a Kind" outfits—crafted from non-traditional materials such as tree bark, tea bags and packing peanuts—were created by students in response to a challenge to make couture out of a single material or item for a class project.
Inspired by everyday items found in kitchens, Filipa Mota (BFA 2018 Design) created a 1920s-style dress made from 382 forks, 59 spoons and two ladles sourced from vintage stores. Mert Avadya (BFA 2018 Design) made a dress out of 12,500 pennies to "underline the money that we spend on fashion," says the designer, whose base material cost, apart from the wire used to attach the coins, was under $30. Fernando Alvarenga (BFA 2019 Design) created a white dress out of four gallons of paint through a painstaking process that took 300 pours. All 13 of the stunning garments were conceived and executed within a two-week timeline in 2017.
Viewers can see these eight-foot sculptural achievements through 150 feet of window space running along 52nd Street of Rockefeller Plaza. "One of A Kind" is currently on display through Sunday, November 4.
SVA Features: Obsessorize/75 Rock Exhibition

"Chairs that Inspire on Madison Avenue" at SVA Gramercy Gallery
Finally, the O'Callaghan-led student project "Chairs that Inspire on Madison Avenue" is back on view at the SVA Gramercy Gallery, 209 East 23rd Street. Showcased last May as part of the same Madison Avenue BID's Madison Avenue Gallery Walk, the works on view are personal expressions of each student's inspiration. Viewers will find much to appreciate, from a vintage Broadway theater chair or a window seat in Portugal, to a stop at the corner newsstand and the daily commute, to a look at imaginary creatures and the art of junk. Catch up with the chairs soon; they're on view up until Saturday, October 6.
SVA's BFA Design students are always encouraged to push the limits of design to make the seemingly impossible a reality. "If you learn the integrity of materials, you learn what they can and can't do, and there isn't any project that you can't tackle," O'Callaghan said.
Related: New 'Joes@Moe's': 3D Design Department Chair Kevin O'Callaghan [Video]
Related: Madison Ave's 'One of a Kind' Dresses on View at SVA Galleries
SVA Features: 'Obsessorize': SVA Students' Stylish 3D Sculptures Hit the Madison Avenue Catwalk Again