Updates on Reopening SVA
Click below for info on our plans for 2021-2022, including the vaccine requirement for all students, faculty and staff.
Patternmaker: The Wild, Recursive Art of SVA Alumnus Katherine Bernhardt
May 21, 2019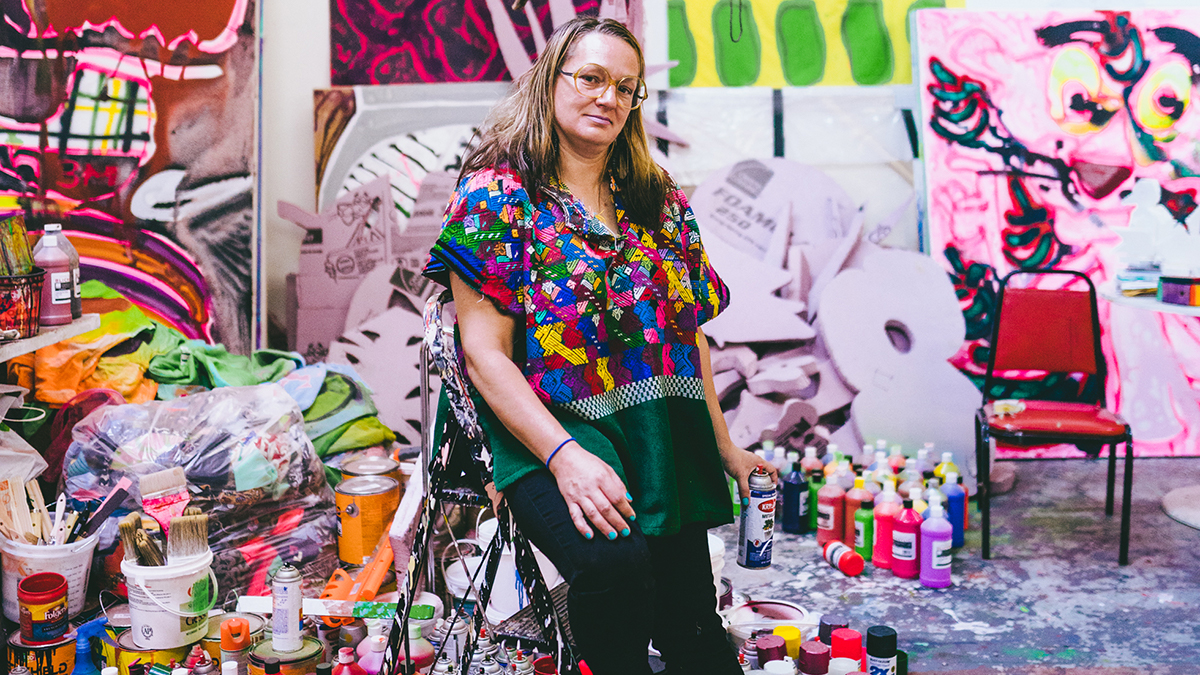 Credit: Jeremy Cohen (BFA 2014 Photography)
Last fall, to celebrate the 90th anniversary of Mickey Mouse's debut, in the animated short Steamboat Willie, the Walt Disney Company presented "Mickey: The True Original Exhibition" in Manhattan, which showed Mickey Mouse–inspired work by well-known artists, including SVA alumni Keith Haring (1979 Fine Arts), James Jean (BFA 2001 Illustration) and Kenny Scharf (BFA 1980 Fine Arts). Also on view was a gigantic mural by Katherine Bernhardt (MFA 2000 Fine Arts). Called 99 Cent Hot Dog, the mural featured multiple simplistic renderings of Mickey Mouse, Minnie Mouse and hot dogs with mustard. It was the latest of what Bernhardt calls "pattern paintings," which she has been making, to great acclaim, for the past six or so years. Inspired by image-based graffiti and textiles, her pattern paintings feature varied objects that are selected, repeated and arranged seemingly at random. Usually, they are drawn out in spray paint and then colored in with heavily watered-down yet vibrant acrylics.
Pop-culture icons have figured in Bernhardt's art before: Babar, Garfield, Pac-Man, Lisa Simpson, the Smurfs. This was her first shot at Mickey and Minnie, though, and she neither hid her newness to the subject nor modified her typically fast, irreverent approach. On the mural, the characters looked distinctly off-brand, misshapen and slightly seedy. Bernhardt later estimated that the mammoth 36-by-10-foot work took her four or five days to make.
This was, for her, a long time. By Bernhardt's own account, she is an art factory. "I always make lots of stuff. I never feel like I have enough paintings. ... I like to be busy," she said in an Art This Week interview. "I don't think about it when I make them—I just make them. ... I make stuff constantly," she said in a talk at the Modern Art Museum in Fort Worth, Texas.
"I'll make five paintings a day," she said to me late last year in her studio, a former car-detailing shop in Brooklyn's Flatbush neighborhood. At that time, she was anticipating the end of construction on her new storage, exhibition and work space in a 17,000-square-foot former car dealership in St. Louis, Missouri, where she grew up and her parents still live. A model of the building on a nearby table showed a large room for some, but not all, of the backlog of work she has generated over her nearly 20-year career, which then occupied, among other places, the rear of her Flatbush studio and several Bronx storage units. There would also be a lofted living space and an exhibition area large enough to fit XXL Superflat Pancake, a huge mural she made in 2017 for an installation at the Contemporary Art Museum St. Louis. In time, she said, she will add a swimming pool.

Against one wall of her studio was an enormous, in-progress pattern painting. In various shades of spray paint she had outlined several MetroCards, Nike swoosh symbols and cups of soft serve from Cha Cha Matcha, a tea and ice cream shop with locations in Manhattan and Los Angeles, and a favorite spot of Bernhardt's. (At one point, she dug through her purse to show off her lifetime supply card, given in appreciation of her portrayals of the brand.) On the opposite wall was another enormous canvas, this one finished and featuring cigarettes, Xanax pills and Scotch tape dispensers. It leaned against an even more enormous blank canvas and next to midsize paintings of the Pink Panther (with bananas) and Darth Vader (on his own), as well as maybe a dozen smaller square paintings, each depicting a single object—R2D2, the Instagram and What's App icons, sneakers, Scotch tape again, Darth Vader again. On the floor was another enormous painting, finished earlier that morning and drying under the breeze of two box fans. This one had cigarettes, Newport cigarette packs and Cha Cha Matcha soft serve.
Critics have interpreted Bernhardt's pattern paintings as critiques of globalism and consumer culture, scenes of a ruined and litter-strewn world. But like other canny artists, she doesn't discourage or endorse any one reading of her work, and whenever she herself talks about it, she tends to focus on its surfaces. Looking at the canvas on her studio floor, she pointed out the puddles and drips of the still-wet acrylic, and one area in particular where a color had bloomed into the field of another.
"I'm really into what the water does," she said. "That's more interesting to me than what I can do, now."
Bernhardt first got serious about making art in high school, but she knew little about the practice or its history beyond the Renaissance works that her father would take her to see in museums. "I would set up still-lifes of Nike shoes," she said. "I made this papier-mâché stuff, like a cake, different objects, and I painted from that." She also painted Michael Jackson and E.T.
She went on to study at the Art Institute of Chicago, and at a landscape-painting exchange program in Italy, where she learned various traditional techniques. But through it all, in her telling, she remained largely self-educated, picking up her direction outside of the classroom. She found impressionism through the Art Institute of Chicago's noted collection. A friend showed her a book of artist Mary Heilmann's colorful abstract works.
"I didn't know anything," she said. "I remember coming to New York once, and my friend was like, 'Don't go in that gallery, that's a bad art gallery,' and I didn't understand what she was talking about. I didn't know anything about contemporary art anywhere."
At SVA, Bernhardt spent much of her free time visiting galleries and museums, a habit she continues today—any space in her studio not dedicated to work or storage is filled with pieces by artists she admires. As a student she interned at the Team gallery, in the Lower East Side, which added her to their roster after she graduated. In 2005, she began showing at Canada, which still represents her.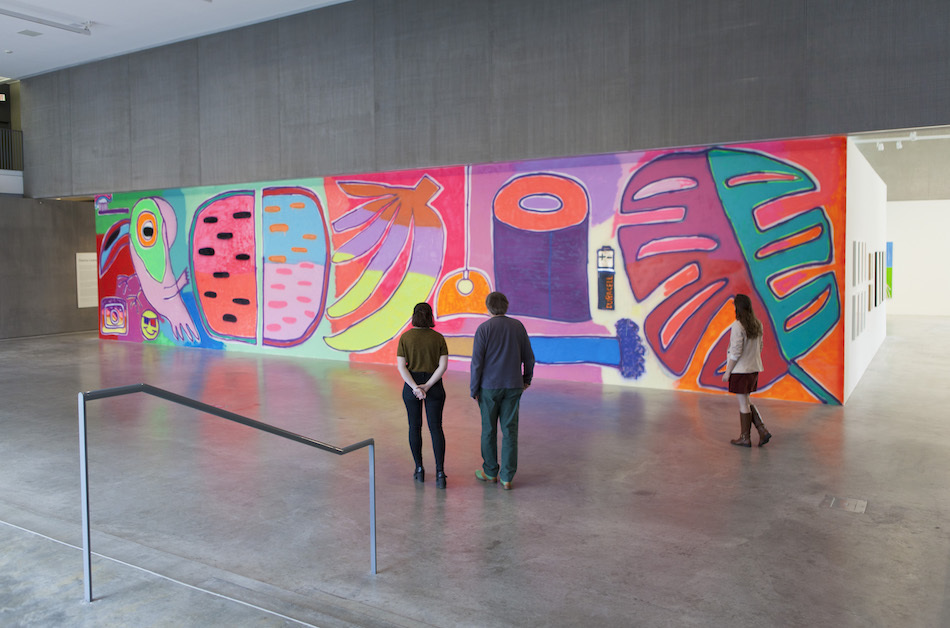 Credit: Contemporary Art Museum St. Louis
Earlier in her career, Bernhardt primarily made deliberately messy, brusque paintings of models and celebrities, based on photographs that she found in fashion magazines. She later made paintings of Swatch watches and of the Moroccan rugs that she imports and sells as a sporadic and wholly unnecessary side business she calls Magic Flying Carpets.
Then, as now, she was remarkably productive. One writer has noted that the quick strokes of Bernhardt's model paintings made the photographs on which they were based look painstakingly "slow." Then, as now, her heedless execution was sometimes read—incorrectly, she has insisted—as a negative commentary on her subject matter. Rather, the speed with which her work is made evinces her love for the work. Bernhardt paints fast so that she can move on to her next painting.
"Some people ask if I hate the models I paint," she told Interview. "I say, 'No, I don't hate them. I'm obsessed with them.'"
"Obsessed" is a key word for Bernhardt. She is "obsessed" with the rappers Juice Wrld and Lil Skies, the latter of whom she has seen perform in back-to-back concerts. She is "obsessed" with Moroccan rugs, which fill her home and are piled high in the front of her studio. She is "obsessed" with the work of architect Luis Barragán and painter Morris Louis, "obsessed" with Cha Cha Matcha. In interviews, she has compared herself to John Laroche, the single-minded horticulturist depicted in Spike Jonze's Adaptation. If she is obsessed with something she will collect it, or paint it, or collect it and paint it.
With the pattern paintings, her criteria for imagery is a bit looser. Any new item added to that iconography—a partial inventory includes emoji; tropical birds, fish, fruit and plants; bottles of Windex or Coca-Cola; rolls of toilet paper; Mr. Coffee coffee makers; cans of Modelo beer; pouches of Capri Sun; slices of pizza; Sharpie markers; sweat socks; Doritos; computers; tacos; blenders; popsicles; fried eggs; tubes of Chapstick; telephones; hamburgers; French fries; Rubik's Cubes; basketballs; Duracell batteries; cassette tapes; tagine pots; and old TVs—meets one of two general qualifications. Do the colors or shape of the object appeal to her? Or, she said to me, is it a good answer to the question, "What is, like, the dumbest thing I can paint?"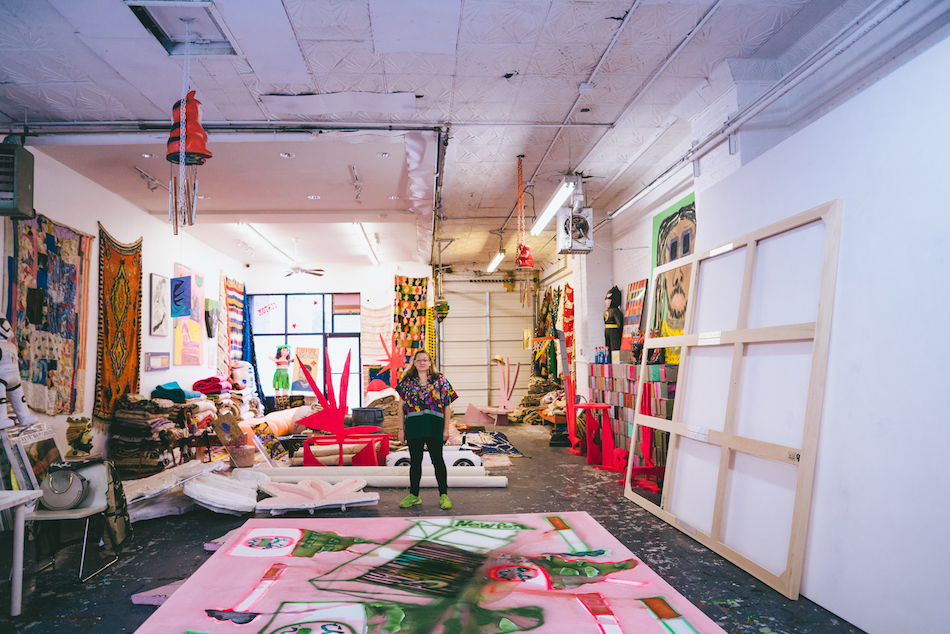 By Bernhardt's own account, you shouldn't take her art too seriously. From an interview with Artspace Magazine: "The best painters don't intellectualize their work. They just make stuff." From an interview with White Hot: "I was trying to make the dumbest or the funniest painting that I could make." From her talk at The Modern in Fort Worth: "I want humor in my artwork. ... I like putting things in that don't make sense." From her interview with me: "There should be humor in art. You should laugh or think it's stupid."
While people may find Bernhardt's paintings funny, few seem to consider it dumb. A semi-exhaustive search of reviews dating back to the start of her career turned up only two that offered anything like disapproval, calling the work "complacent" (Hyperallergic) and "merely retinal" (Flash Art). On the other hand, Roberta Smith of The New York Times has labeled Bernhardt "fearless." New York's Jerry Saltz, who advised Bernhardt at SVA and is one of her most vocal champions, has called her "one of the most exuberant, almost feral, slashing painters around"; in another article, he wrote, "I can't think of another painter whose paintings are more fun to look at." Wayne Koestenbaum, in Artforum, wrote, "I fell in love with Bernhardt's paintings at first sight." There is more where this came from.
Moreover, designers and brands have increasingly approached her for collaborations, raising her profile beyond art-world circles. Interested parties may now own reproductions of Bernhardt's work on home decor, accessories and totes, among other things. Last summer, she visited Cerámica Suro, a ceramics company in Guadalajara, Mexico, to paint a series of tiles, vases and plates. She also created the interiors and plateware for No Aloha, a cafe that opened last fall in the Forty Five Ten boutique in Dallas. This spring, Nike and streetwear label Clot unveiled apparel printed with Bernhardt's art.
Toward the end of our conversation, I asked Bernhardt if she could remember any negative reactions to her work. Yes, she said, when she was at SVA. "One visiting critic came into my studio and he just went off," she said. "I was, like, 'Okay.'"
She paused for a few seconds, thinking. "I think it was only that one."
A version of this article appears in the spring 2019 Visual Arts Journal.